Day 13: AT LAST… MORDOR
When I awoke before the sunrise anxiously hoping the weather was good, I braced for the worst. But one look outside the window and my fears subsided…
…clear skies!
Julie was still asleep as it was a bit early (5am to be exact), but I wasted no time going outside to take some photos. There was Mt Ngauruhoe and its conical shape sitting in the distance behind the Chateau Tongariro. So this was what I had been missing the last few days! There was also the snow-covered Mt Ruapehu towering over the whole seen above Whakapapa Village.
After taking the photographs, I returned to our room to finish packing. By now, Julie was awake and she already got busy. We then loaded up the car and left it after checking out at the Chateau Tongariro. The staff said they never had anyone break in to a car on their property so I sure hoped we weren't going to be the first…
Even though we were told the shuttle would pick us up at 7am, it didn't actually happen until 8am. Since we had to get to Hamilton by tonight, I was a little worried about this delay. But we were still able to do the Tongariro Crossing and we were determined to make it happen!
It was 8:30am when we started hiking from the Mangatepopo Car Park. There were already hordes of other trampers on the track. It almost seemed like a big continuous line of people. Greeting would-be trampers were signs clearly stating that the track passes through private lands and urging trampers to respect the lands by not bathing in the sacred Ketetahi Hot Springs – or else cause the closure of the Tongariro Crossing Track. At this point, it was clear to me that those shuttle companies claiming to let you bathe in the hot springs was bunk. The shuttle company we took to get here was one of them.
The skies looked cloudless and there was Mt Ngauruhoe towering above the track against the sun. So after the initial bathroom break, we enthusiastically embarked on the tramp.
We passed through mostly brown tussock grasslands with some barren areas of volcanic rock. The track was very well defined though a bit crowded. Ephemeral streams flowed alongside parts of the track resulting in a few tiny cascades and waterfalls.
By 9:45am, we made it Soda Springs. It was a weeping spring that came out of a percolating mountain and sprayed its way between more tussock vegetation. The short detour to the falls was a bit nontrivial due to the presence of mud. If you didn't watch your step, you might end up knee-deep in it!
After this brief interlude, we had to continue. Now was the first significant stretch of climbing we had to do. We had to go up a very steep dried up lava flow and ascend what seemed like 1000ft to the Mangatepopo Saddle. We huffed and puffed our way up and eventually made it to the saddle by 10:45am.
Catching our breaths and having a brief snack, we continued onwards through the South Crater. Unfortunately by now, the clouds suddenly rolled in and instantly took away that cheery feeling we started the day with. Boy I really wished we left on time so we would've had an extra hour to enjoy it…
While in the South Crater, there was a signed detour leading to the summit of Mt Ngauruhoe. Seeing how it required at least three hours and the clouds have now obscured its summit, I saw no point in doing this detour. I think we woud've been pressed for time anyways as we had to get back to the Ketetahi Car Park in time for the shuttle pick up.
So onwards we walked. At the end of the South Crater, we had to do more climbing. The Mangatepopo Saddle climb took a lot out of us already and we had to suck it up to endure more of it.
By 11:20am, we made it to a rest stop above the South Crater. Still, there was more climbing to do to get to the top of the climb above the Red Crater. We summited the Red Crater and the highest point of the Tongariro Crossing at about 12pm.
The smell of sulfur was evident up here and we could see steam coming out of the aptly named Red Crater. Looking down in the direction of the trail, we had mind-blowing views of the strangely neon-colored Emerald Lakes. Too bad there was cloud cover because I'd bet the sun really would've brightened up these lakes considerably.
The trail descended very steeply from the Red Crater in a mix of loose volcanic scree and black pebbles. I saw lots of people slipping and sliding and falling on their behinds on the way down. Julie and I slid down to the shores of one of the Emerald Lakes in 15 minutes. There, we had a lunch and pondered the mind-boggling scenery before us.
We resumed hiking at around 12:40pm and walked through the Central Crater, which still had patches of snow. Looking back at the Emerald Lakes and the Red Crater, we could see that profile of that crater and indeed we were on its rim.
At the end of the Central Crater, we had yet more climbing to do. Fortunately, this wasn't as bad as the previous ones and it wasn't long before we were out of the volcanic moonscape and into the brown tussock grasslands of the north-facing slopes.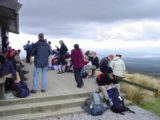 Up ahead was an expansive panorama of various lakes, forests, and farmland down below.
By 2:15pm, we made it to a very crowded Ketetahi Hut. Heaps of people were here catching a break or mingling with other fellow trampers. The queue for the toilet was very long. I didn't bother but Julie had to go.
Contuining down the track, we crossed a thermal stream. The smell of sulfur was strong here but onwards we walked. It wasn't long after this crossing that I noticed an intriguing two-tiered waterfall off to the right. No one ever said anything about this waterfall that I could tell so I took photos of it while trying to stay out of the trampers' way on the narrow track.
Not long afterwards, the track descended into the bush. It was strange to see this much green after all the volcanic moonscapes we had been through. Julie and I finally made it back to the Ketetahi Car Park at 4pm. We unwound along with the rest of the trampers and awaited our shuttle bus, which showed up exactly at 4:30pm as promised.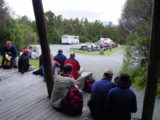 It took a little while before the shuttle took off because the driver was waiting for two more people. After about 15 minutes, we took off – knowing he'd make another stop an hour later anyways.
We returned to the Chateau Tongariro at 5pm and immediately headed for Hamilton. The drive was mostly uneventful, but both of us were tired from the just completed tramp. At one point, we did notice a sign for Omaru Falls, but thought incorrectly it was a roadside waterfall and missed its turnoff. It was only after the trip did I realize the big blunder I made and still wish I could return and do this waterfall!
Finally, we arrived in Hamilton at 7:45pm. Seeing how it was already getting late, we opted to pay for parking and walk around a bustling area where heaps of restaurants were lined up and every one of them was busy. There were lots of young folks catching up with friends or bar hopping. It was not unlike what we'd see here back in the States for Happy Hour or something like that.
Not knowing what place to eat, Julie and I settled on the Lone Star Restaurant. Kinda funny we ended up in a place down under that had to do with Texas. But anyhow, we were hungry and this one had the shortest wait. Inside, it was crowded. The television sets were showing rugby highlights, which was interesting since I was used to seeing ESPN showing NBA, MLB, or NFL highlights. Anyways, we had a hearty but pretty average meal. I got to try out a kangaroo burger, which was unremarkable.
We eventually checked into our accommodation at the Boundary Court Motor Inn, Hamilton at 9:30pm. The accommodation was actually quite nice, which contrasted some of the dumpier ones we had been to earlier on this honeymoon. Anyhow, we slept peacefully as we basked in the memory of our journey through Mordor along the Tongariro Crossing…