20-November 2004 to 22-November 2004:
We had a lot of ground to cover today. Starting off from Hamilton, we had to drive a couple of hours north to Auckland. There, we had to return the hired car, catch a shuttle to the airport, fly to Christchurch, pick up another car hire, then make our way to Greymouth via the Lewis Pass. I wasn't sure we were going to make it to the
Pancake Rocks
in time for sunset – especially given our Maui rental car snafu experience and the probability it might rain on the South Island's West Coast given its wet reputation…
Day 14: GOING FULL CIRCLE THROUGH WAIKATO
Given our late arrival and dinner in Hamilton last night, Julie and I didn't wake up until well after 8am. It actually took us a while to get going. In any case, on today's agenda was to head back south towards the Waitomo Caves, and then head back up to Hamilton before going west towards Raglan to see the Bridal Veil Falls.
So right away after having our brekkie, we went south as planned. We'd eventually reach the Waitomo Caves complex where we booked one of their earlier tours of the day. There seemed to be many options for spelunking and to see glow worms, but we opted for the easiest and most commercialized option, which was their classic Waitomo Caves Tour.
After going through a pretty typical cave tour (apparently, there was one chamber that had such good acoustics that they could hold concerts or performances down there), we then started to see some glow worms up close through their hanging saliva, which devious flies would use to catch their unsuspecting prey in the dark.
It was too bad we couldn't take pictures on the tour because I thought it was pretty interesting.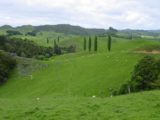 The last part of the tour was through a glow worm cave itself as we were rowed through the darkness. And in the pitch black confines, we could see the blue dots of the glow worms lighting up the cave like the Milky Way skies.
That part of the tour ended pretty quickly, and before we knew it, our tour was over.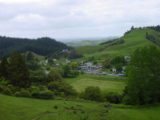 After the tour, Julie and I then went on a spontaneous hike where we weren't quite sure where it was going nor why we all of the sudden decided on doing this hike. Whatever the case, we were amidst some interesting rock formations with some panoramic views of the grassy farmlands that this section of the Waikato region seemed to be known for (besides its glow worm caves).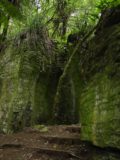 When that was done at 10:45am, we then got back in the car and proceeded to drive further west beyond Waitomo and towards Marokopa Falls. But on the way, we noticed a sign for the Mangapohue Natural Bridge, and we decided to make a stop for this before continuing onto the waterfall. We began our hike at around 11:40am.
The hike went through more bushlands, and the hike was pretty easy to follow. It felt nice to do a self-tour independently again as we thought the Waitomo Caves experience was a little more restrictive. I often wished we could see glow worms on our own somehow, but I had yet to find out how that would be possible during our visit.
We'd eventually make it to the intriguing natural bridge some 15 minutes after we started and we could see that the huge span of the natural bridge was really a collapsed cave. It wasn't easy to photograph as a result given its immense scale and the foliage around it.
We'd eventually have our fill of the cave (and some of the interesting ancient sea-life fossils found here as well) at 12:05pm, and then we were back at the car where we then drove a short distance further to the signposted pullout for Marokopa Falls.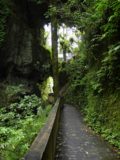 Julie and I took the short walk towards the main lookout of Marokopa Falls, and that was where we saw the much-anticipated block waterfall with good volume. I wondered if there would be other viewing angles for this falls, but we were pretty content with our visit and headed back to the car at around 12:40pm.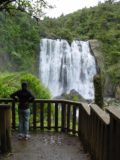 At that point, we headed back towards the Waitomo area for a quick lunch, but our drive back was a bit delayed because there happened to be a bike race on the Marokopa Road. So we had to be real careful about passing the bikers with all the blind turns. But we eventually made it to our lunch spot at Waitomo, and then we continued onwards towards Hamilton before going west for a while to get to the car park for Bridal Veil Falls near Raglan at 3:30pm.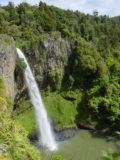 This was another waterfall we anticipated seeing because of its sheer height and free fall. We first noticed the falls from the upper viewpoints which were excellent photo ops of the overall context of the falls. Then, we continued down some steps that eventually led us to some kind of pier-like platform where we got more frontal view of the tall plunging waterfall that barely fit into the frame of the camera from our position.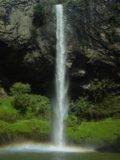 We'd finally have our fill of this falls at around 4:30pm and then drove back to Hamilton for one last pleasant night out while on this leg of the North Island loop of our trip. This time, we wouldn't be eating bar-type food since time was more on our side unlike yesterday. So we had a pleasant sit down dinner, and looked forward to the next leg of our journey as we'd have to drive up to airport near Auckland to return the rental car and then fly south to Christchurch.
Day 15: JUST IN TIME FOR SUNSET
Julie and I got up at around 7am. We knew we had to make the nearly two-hour drive north to get to the Auckland Airport in time for our 12pm flight. So with our loaded up car, we checked out of the Boundary Court Motor Inn, Hamilton and were on our way.
At 10am, we were at the Maui Rental car facility. When it came time to return the keys (after another seemingly long wait), the clerk dropped a bomb…
"You owe us 120 New Zealand Dollars for your speeding ticket," she said.
At first, I thought it had to do with that cop that pulled us over on SH12 as we headed towards Opononi. Maybe we did get ticketed after all even though he didn't hand me one. But when I read the ticket, it said it took place at Waipu Gorge.
This was baffling. We were at Waipu Gorge the very first day we were in New Zealand. I got pulled over the next day in a totally different spot. How did I get pulled over for something that happened on a different day and several hours away? So I inquired about this with the clerk.
Of course, they gave me the usual run around as they didn't want any drama and insisted that I pay. They even offered to contact the cop who wrote me up and have him provide the photograph and speed camera data. Knowing that we had to catch a flight, this issue didn't need to drag out any further. So with an unsatisfactory explanation and still no clue where this ticket came from, I grudgingly paid the fine.
It was only in hindsight that maybe a cop going the other way might have gunned me when I had to speed up to get in front of a truck about to merge from his passing lane. If that was the case, then I thought that was hardly a fair way to get a speeding fine. But anyhow, that's the way things roll sometimes…
Our flight occurred without incident. We arrived in Christchurch roughly around 1pm. Shortly thereafter, we picked up the Maui car hire, which thankfully was just a few blocks of walking distance from the terminal. This would be critical when I would have to do an early drop off at the end of our stay in the South Island.
None of that waiting for a shuttle during their trading hours like in the Auckland office.
What even surprised us more was that it didn't take long to get the rental car. It really did seem like the Christchurch office for Maui Rental Car had their act together. Neither of us could say the same for the Auckland one.
Anyhow, the nice female German employee got us the keys and we were on our way to the West Coast.
It was 3pm when Julie made me take a detour to Hanmer Springs. She really wanted to do the thermal spas here, but it was getting late in the day and we still had a couple hours of driving to go. We probably spent 45 minutes here when we shouldn't have. But anyhow, I was determined to come back here and maybe spend a night so she could enjoy the area on a return visit to New Zealand – whenever that would be.
The drive continued on the Lewis Pass Highway as we were doing our best to zoom westwards knowing that I wanted to catch a sunset at the Pancake Rocks on this day but we were running out of time and we had a long ways to go.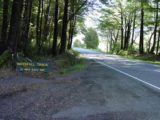 It was too bad because the drive was pretty scenic, but it was a long drive nonetheless. I was just hoping that we didn't screw things up by that Hanmer Springs detour…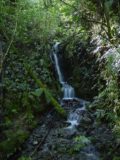 It was 5pm when we arrived at a signed pullout for the "Waterfall Walk." I did the short uphill walk to the base of the waterfall at the end of the track and took photos. Julie wasn't in a good mood (after the Hanmer Springs fiasco) and stayed in the car. I basically ran this trail so it only took me 20 minutes.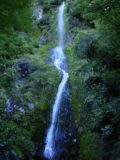 Onwards we went. We made a brief stop at Springs Junction to fill up on petrol (just in case). Then, we continued to head west towards Greymouth.
The weather so far had been mostly sunny. We did see some dark clouds trapped in the mountains to the west and we hoped they wouldn't be where Greymouth was.
It was 6:30pm when we finally made it to the Charles Court Motel on the outskirts of Greymouth. Fortunately, the weather was fine. We picked up the keys and engaged in some friendly conversation with the lady at the front desk. When she learned we wanted to catch the sunset at the Pancake Rocks today, she ended the conversation abruptly and said, "GO! You're going to miss it!"
So go we did. We were on the road at 7pm. The sun was supposed to set at some time around 8-ish. The drive was twisty and took about 45 minutes. The road hugging the sea cliffs really reminded me of Big Sur on the Central Coast of California. But this place had a more small town and wild feel to it.
Finally, it was 8pm when we found parking along the highway and immediately did our impression of a run-walk as we headed straight for Punakaiki and its Pancake Rocks.
It was literally a few minutes before the actual sunset when we arrived at the incredible sea-side scenery. The Pancake Rocks were aptly named because they had striations on them that gave the illusion that flat layers of rocks were stacked on top of each other. They were quite cool to say the least. The long rays of the setting sun also painting the coastlines an amazing orange. Furthermore, the turbulent oceans set off the blowholes here – namely the Putai Blowhole and the Chimney Pot.
Despite the fine weather, it felt really cold here. Every once in a while, the Putai Blowhole would splash up a wad of water that might get onto the lookout area.
And so Julie and I looked at the sun setting into some scattered clouds on the horizon. I had read on some New Zealand Backpacker Boards that this was the place to catch the sunset – and boy were they spot on!
As the landscape gave way to twilight, we could even see a bright moon giving off its light onto the dark paved trail. We were glad the lady sent us off because we literally made it just in time for sunset at the Pancake Rocks.
It was 9pm when we drove southwards to Greymouth in the dark. We ended up having to eat pizza since everyone else was closed. Still, it was quite a start to our South Island touring and we hoped we can keep it going…
Day 16: ARTHUR'S PASS
After the tremendous end of the day sunset that Julie and I experienced last night, I figured it would be pretty hard to top that despite the tensions that had occurred earlier in the day when Julie was holding a grudge against me for not planning spa time at the Hanmer Springs going into this trip.
So when I awoke at around 5am (not getting much sleep since we had slept late last night), I let her keep on sleeping while I went out solo to catch Carew Falls. The drive south was lonely and I could see right away that the skies were a bit more overcast than they were yesterday.
Aside from a notable bridge crossing that also happened to coincide with a railroad, I made it to the shores of Lake Brunner where I knew Carew Falls was somewhere around there. It was still a bit dark when I parked the car and began the hike at 6:15am, but after getting through the initial bush canopy, the light of the day was quickly creeping up.
Eventually after getting well into the 10-minute or so walk, I saw that my camera was no longer making me use flash to get enough light and before I knew it, I was before the impressive rivuleted waterfall of Carew Creek Falls.
It was a pretty nice waterfall though I somehow got the feeling that this main section that I was seeing would only be a small fraction of the overall 30m drop. In any case, after getting my fill of this falls, I turned around and looked towards the attractive Lake Brunner where I could see the rocky stream make its way towards the lake itself.
The lake was quite calm and peaceful, and I wondered how many people would tend to go here as a detour towards the more well-known Arthur's Pass area.
At a little after 7am, I headed back towards Greymouth and after Julie got up, we got packed up and ready to go.
Now, we were backtracking back towards the Arthur's Pass Highway by about 9:30am and we'd eventually turn onto the highway itself where the road was climbing pretty steeply after an initial somewhat flat section where the road was following a railroad while flanked by mountains.
The road really got tighter and steeper as we went through an engineered flume to divert water from what looked to be a previous trouble spot where the road would get washed out a lot. Now, they put like a flume so the water would be diverted over the road and we'd be driving beneath that waterfall, which I believe was called Reids Falls (at least according to Tumonz).
At around 10am, Julie and I plus a few other people would enjoy our views back towards Reids Falls, which I guess was one of the engineering feats of Arthur's Pass National Park.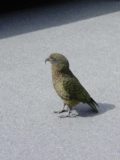 We also got introduced to a type of alpine parrot known as the kea while we were here. These cheeky little buggers were quite aggressive in looking for human scraps. They also looked to poke holes in tyres while also trying to rip the rubber weathering strips from windows as well as bite off windshield wipers.
They looked friendly and cute, but man did they pack attitude!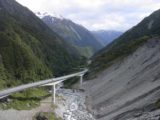 Soon thereafter, we'd be driving on the Otira Viaduct which was an elevated stretch of the Arthur's Pass Highway that I guess was engineered to avoid landslides going onto the road. Now, rockslides and landslides would tend to go under the road given the steepness and looseness of the valley walls that we were passing through.
Indeed, it must have costed an arm and a leg to build this thing, but I guess it was important to have a direct route from Christchurch to Greymouth if the all-weather Lewis Pass was too roundabout for shipping supples from one coast to the other in the South Island.
In any case, it was about 10:15am when we spotted a tall waterfall against the emerging sun called Twin Falls. It was a roadside waterfall, but I had recalled my Tumonz map said there were trails leading closer to it. Julie was starting to get jaded of waterfalls so we just took roadside shots and continued on.
By about 10:40am, we finally made it to the parking area of Devils Punchbowl Falls, which we were easily able to see towering over the valley as we were approaching the tiny village of Arthur's Pass. So we eagerly anticipated our hike to get a closer look at it.
As we crossed the bridge and then made the uphill hike to rise up out of Arthur's Pass Valley, we'd eventually reach a part of the trail where we were about to reach an overlook of the falls until we encountered some signage saying the trail was closed.
Seeing that we were stopped at a pretty unsatisfactory spot, and that it was early enough in the morning, we just proceeded to hop the barricade and continue towards the tantalizingly close overlook. At this time of the day, the sun was against us and there was a lot of mist being sprayed in our direction so our photos of the front of Devil's Punchbowl Falls were pretty lousy to say the least.
I guess this was more of an afternoon waterfall.
So with that, we left the base of the falls and quickly made our way back to the main trail by about 11:05am. And from there, we descended back to the car park getting there at 11:30am (unsurprisingly, there were those annoying keas whose novelty really wore off by now as they conspired to damage our rental car), then went looking for a place for lunch seeing that it was pretty much midday.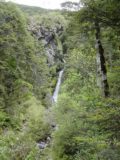 I don't recall the meal we had, but I guess it must have been unremarkable. In any case, Julie and I were recharged for a bit to continue on our tour of the Arthur's Pass area. At around 12:45pm, we saw what appeared to be a waterfall called Avalanche Creek Falls.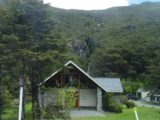 We looked around for a better way to see the falls, and we managed to find a short trail behind some building that led to a somewhat better view of this bush-clad waterfall. Apparently, this waterfall was one of the waterfall attractions that would have been experienced had we had more time to do the full up walk combining Avalanche Peak and Scott's Track. I had read somewhere that that was the second most popular day tramp behind the Tongariro Crossing, but I guess we wouldn't have the time nor the will to do it on this day.
When we were done with our views of Avalache Creek Falls, we then went looking for the trailhead for the Scotts Track, which proved to be quite elusive. It wasn't until around 1pm when we ended up parking somewhere close to the Devil's Punchbowl car park, and then I figured that I would have to walk along the highway in search of Scott's Track. Julie stayed in the car.
Sure enough, I managed to find the subtly-signed trail for Scott's Track, which then proceeded to climb steeply up above Arthur's Pass Valley. I knew that the higher I went on this trail, the more likely I'd get more birds-eye views of the impressive Devil's Punchbowl Falls.
And true to form, I was able to get nice contextual views of the impressive 131m waterfall, which I swore must have been taller than that given how majestically it fell from the nooks of the tight mountain valley it was in.
I eventually got to a point where the views of the falls started looking the same, so that was my cue to go back down to the awaiting Julie. Along the way, I noticed the obscure Bridal Veil Falls in the next drainage to the north, which was flanked by power lines. I doubted there would have been a way to get a cleaner look at this waterfall from the valley even though there was a Bridal Veil Track down there.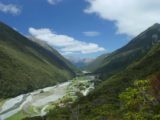 I also managed to get very nice views of the V-shaped valley of Arthur's Pass Valley from the Scott's Track on the way down. Seeing the blue of the sky contrast the green and grey of the valley really made the scene remarkable. I really wished I had more time to do the entire hike just to see what kind of an alpine experience it would have been without having to do a grueling multi-day tramp that I knew Julie and I would be in for along the Milford Track later on this trip.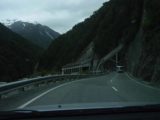 By about 2:30pm, I rejoined Julie in the car, and it was time to return to the West Coast as we would ultimately have to make our way to the Franz Josef Glacier, which was where we'd be spending the next two nights. However, we still had to go towards Hokitika as well as Lake Kaniere to bag the next waterfall on the plan, which was Dorothy Falls.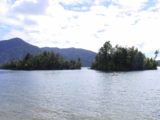 We'd eventually make it to the lake by about 4pm, and then we drove around the lake in search of the fairly obscure waterfall. There was one landslide stretch where it seemed kind of dicey for our rental car to get through, but I guess they already had a tractor flatten the once impassable stretch.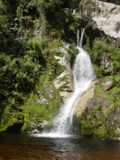 And by 4:20pm, we finally got to the front of Dorothy Falls, which turned out to be pretty miniscule compared to the 64m that Department of Conservation had quoted. I guess most of its height would be appreciable from a boat ride on Lake Kaniere, but there was no way that was going to happen on our visit so we had to be content with our 15m or less view.
When we had our fill of Dorothy Falls ten minutes later, we then drove into the town of Hokitika. The town was pretty quiet, but it did have somewhat of an arcade or central business district where Julie and I walked around the shops (mostly of jewely consisting of jade or what they called "greenstone") to kill time. We were still too early for this dinner place that Julie wanted to have after having read good things about it.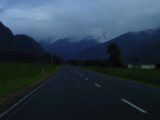 Even though we knew our dinner here would mean driving pretty late to Franz Josef, we figured we mind as well seize the moment now since there were no guarantees on what we would find in the more touristy town of Franz Josef itself.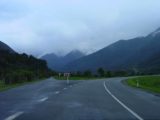 So after the dinner was over, we were back on the road well after 7:30pm, where we followed SH6 for another couple of hours or so until we finally checked into our motel (that Julie swore felt more like a prison with its thick block walls) in the Franz Josef Glacier township. It was well after 9pm by the time this happened, and it was a good thing we got our dinner when we did. For the rest of the evening was spent just getting settled and cleaned up crossing our fingers and hoping the weather might stay as stable as it had been for the last two days…
Visitor Comments:
Got something you'd like to share or say to keep the conversation going? Feel free to leave a comment below...
No users have replied to the content on this page