Day 14: GOING FULL CIRCLE THROUGH WAIKATO
Given our late arrival and dinner in Hamilton last night, Julie and I didn't wake up until well after 8am. It actually took us a while to get going. In any case, on today's agenda was to head back south towards the Waitomo Caves, and then head back up to Hamilton before going west towards Raglan to see the Bridal Veil Falls.
So right away after having our brekkie, we went south as planned. We'd eventually reach the Waitomo Caves complex where we booked one of their earlier tours of the day. There seemed to be many options for spelunking and to see glow worms, but we opted for the easiest and most commercialized option, which was their classic Waitomo Caves Tour.
After going through a pretty typical cave tour (apparently, there was one chamber that had such good acoustics that they could hold concerts or performances down there), we then started to see some glow worms up close through their hanging saliva, which devious flies would use to catch their unsuspecting prey in the dark.
It was too bad we couldn't take pictures on the tour because I thought it was pretty interesting.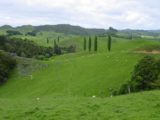 The last part of the tour was through a glow worm cave itself as we were rowed through the darkness. And in the pitch black confines, we could see the blue dots of the glow worms lighting up the cave like the Milky Way skies.
That part of the tour ended pretty quickly, and before we knew it, our tour was over.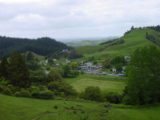 After the tour, Julie and I then went on a spontaneous hike where we weren't quite sure where it was going nor why we all of the sudden decided on doing this hike. Whatever the case, we were amidst some interesting rock formations with some panoramic views of the grassy farmlands that this section of the Waikato region seemed to be known for (besides its glow worm caves).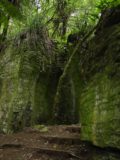 When that was done at 10:45am, we then got back in the car and proceeded to drive further west beyond Waitomo and towards Marokopa Falls. But on the way, we noticed a sign for the Mangapohue Natural Bridge, and we decided to make a stop for this before continuing onto the waterfall. We began our hike at around 11:40am.
The hike went through more bushlands, and the hike was pretty easy to follow. It felt nice to do a self-tour independently again as we thought the Waitomo Caves experience was a little more restrictive. I often wished we could see glow worms on our own somehow, but I had yet to find out how that would be possible during our visit.
We'd eventually make it to the intriguing natural bridge some 15 minutes after we started and we could see that the huge span of the natural bridge was really a collapsed cave. It wasn't easy to photograph as a result given its immense scale and the foliage around it.
We'd eventually have our fill of the cave (and some of the interesting ancient sea-life fossils found here as well) at 12:05pm, and then we were back at the car where we then drove a short distance further to the signposted pullout for Marokopa Falls.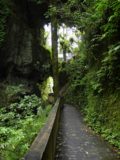 Julie and I took the short walk towards the main lookout of Marokopa Falls, and that was where we saw the much-anticipated block waterfall with good volume. I wondered if there would be other viewing angles for this falls, but we were pretty content with our visit and headed back to the car at around 12:40pm.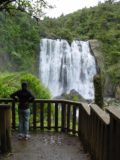 At that point, we headed back towards the Waitomo area for a quick lunch, but our drive back was a bit delayed because there happened to be a bike race on the Marokopa Road. So we had to be real careful about passing the bikers with all the blind turns. But we eventually made it to our lunch spot at Waitomo, and then we continued onwards towards Hamilton before going west for a while to get to the car park for Bridal Veil Falls near Raglan at 3:30pm.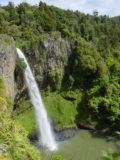 This was another waterfall we anticipated seeing because of its sheer height and free fall. We first noticed the falls from the upper viewpoints which were excellent photo ops of the overall context of the falls. Then, we continued down some steps that eventually led us to some kind of pier-like platform where we got more frontal view of the tall plunging waterfall that barely fit into the frame of the camera from our position.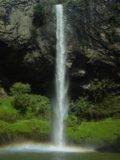 We'd finally have our fill of this falls at around 4:30pm and then drove back to Hamilton for one last pleasant night out while on this leg of the North Island loop of our trip. This time, we wouldn't be eating bar-type food since time was more on our side unlike yesterday. So we had a pleasant sit down dinner, and looked forward to the next leg of our journey as we'd have to drive up to airport near Auckland to return the rental car and then fly south to Christchurch.