Day 16: ARTHUR'S PASS
After the tremendous end of the day sunset that Julie and I experienced last night, I figured it would be pretty hard to top that despite the tensions that had occurred earlier in the day when Julie was holding a grudge against me for not planning spa time at the Hanmer Springs going into this trip.
So when I awoke at around 5am (not getting much sleep since we had slept late last night), I let her keep on sleeping while I went out solo to catch Carew Falls. The drive south was lonely and I could see right away that the skies were a bit more overcast than they were yesterday.
Aside from a notable bridge crossing that also happened to coincide with a railroad, I made it to the shores of Lake Brunner where I knew Carew Falls was somewhere around there. It was still a bit dark when I parked the car and began the hike at 6:15am, but after getting through the initial bush canopy, the light of the day was quickly creeping up.
Eventually after getting well into the 10-minute or so walk, I saw that my camera was no longer making me use flash to get enough light and before I knew it, I was before the impressive rivuleted waterfall of Carew Creek Falls.
It was a pretty nice waterfall though I somehow got the feeling that this main section that I was seeing would only be a small fraction of the overall 30m drop. In any case, after getting my fill of this falls, I turned around and looked towards the attractive Lake Brunner where I could see the rocky stream make its way towards the lake itself.
The lake was quite calm and peaceful, and I wondered how many people would tend to go here as a detour towards the more well-known Arthur's Pass area.
At a little after 7am, I headed back towards Greymouth and after Julie got up, we got packed up and ready to go.
Now, we were backtracking back towards the Arthur's Pass Highway by about 9:30am and we'd eventually turn onto the highway itself where the road was climbing pretty steeply after an initial somewhat flat section where the road was following a railroad while flanked by mountains.
The road really got tighter and steeper as we went through an engineered flume to divert water from what looked to be a previous trouble spot where the road would get washed out a lot. Now, they put like a flume so the water would be diverted over the road and we'd be driving beneath that waterfall, which I believe was called Reids Falls (at least according to Tumonz).
At around 10am, Julie and I plus a few other people would enjoy our views back towards Reids Falls, which I guess was one of the engineering feats of Arthur's Pass National Park.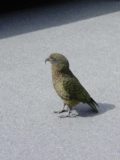 We also got introduced to a type of alpine parrot known as the kea while we were here. These cheeky little buggers were quite aggressive in looking for human scraps. They also looked to poke holes in tyres while also trying to rip the rubber weathering strips from windows as well as bite off windshield wipers.
They looked friendly and cute, but man did they pack attitude!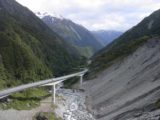 Soon thereafter, we'd be driving on the Otira Viaduct which was an elevated stretch of the Arthur's Pass Highway that I guess was engineered to avoid landslides going onto the road. Now, rockslides and landslides would tend to go under the road given the steepness and looseness of the valley walls that we were passing through.
Indeed, it must have costed an arm and a leg to build this thing, but I guess it was important to have a direct route from Christchurch to Greymouth if the all-weather Lewis Pass was too roundabout for shipping supples from one coast to the other in the South Island.
In any case, it was about 10:15am when we spotted a tall waterfall against the emerging sun called Twin Falls. It was a roadside waterfall, but I had recalled my Tumonz map said there were trails leading closer to it. Julie was starting to get jaded of waterfalls so we just took roadside shots and continued on.
By about 10:40am, we finally made it to the parking area of Devils Punchbowl Falls, which we were easily able to see towering over the valley as we were approaching the tiny village of Arthur's Pass. So we eagerly anticipated our hike to get a closer look at it.
As we crossed the bridge and then made the uphill hike to rise up out of Arthur's Pass Valley, we'd eventually reach a part of the trail where we were about to reach an overlook of the falls until we encountered some signage saying the trail was closed.
Seeing that we were stopped at a pretty unsatisfactory spot, and that it was early enough in the morning, we just proceeded to hop the barricade and continue towards the tantalizingly close overlook. At this time of the day, the sun was against us and there was a lot of mist being sprayed in our direction so our photos of the front of Devil's Punchbowl Falls were pretty lousy to say the least.
I guess this was more of an afternoon waterfall.
So with that, we left the base of the falls and quickly made our way back to the main trail by about 11:05am. And from there, we descended back to the car park getting there at 11:30am (unsurprisingly, there were those annoying keas whose novelty really wore off by now as they conspired to damage our rental car), then went looking for a place for lunch seeing that it was pretty much midday.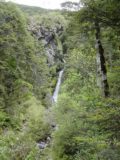 I don't recall the meal we had, but I guess it must have been unremarkable. In any case, Julie and I were recharged for a bit to continue on our tour of the Arthur's Pass area. At around 12:45pm, we saw what appeared to be a waterfall called Avalanche Creek Falls.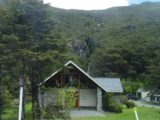 We looked around for a better way to see the falls, and we managed to find a short trail behind some building that led to a somewhat better view of this bush-clad waterfall. Apparently, this waterfall was one of the waterfall attractions that would have been experienced had we had more time to do the full up walk combining Avalanche Peak and Scott's Track. I had read somewhere that that was the second most popular day tramp behind the Tongariro Crossing, but I guess we wouldn't have the time nor the will to do it on this day.
When we were done with our views of Avalache Creek Falls, we then went looking for the trailhead for the Scotts Track, which proved to be quite elusive. It wasn't until around 1pm when we ended up parking somewhere close to the Devil's Punchbowl car park, and then I figured that I would have to walk along the highway in search of Scott's Track. Julie stayed in the car.
Sure enough, I managed to find the subtly-signed trail for Scott's Track, which then proceeded to climb steeply up above Arthur's Pass Valley. I knew that the higher I went on this trail, the more likely I'd get more birds-eye views of the impressive Devil's Punchbowl Falls.
And true to form, I was able to get nice contextual views of the impressive 131m waterfall, which I swore must have been taller than that given how majestically it fell from the nooks of the tight mountain valley it was in.
I eventually got to a point where the views of the falls started looking the same, so that was my cue to go back down to the awaiting Julie. Along the way, I noticed the obscure Bridal Veil Falls in the next drainage to the north, which was flanked by power lines. I doubted there would have been a way to get a cleaner look at this waterfall from the valley even though there was a Bridal Veil Track down there.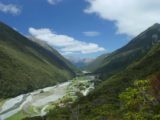 I also managed to get very nice views of the V-shaped valley of Arthur's Pass Valley from the Scott's Track on the way down. Seeing the blue of the sky contrast the green and grey of the valley really made the scene remarkable. I really wished I had more time to do the entire hike just to see what kind of an alpine experience it would have been without having to do a grueling multi-day tramp that I knew Julie and I would be in for along the Milford Track later on this trip.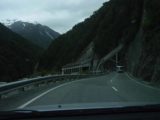 By about 2:30pm, I rejoined Julie in the car, and it was time to return to the West Coast as we would ultimately have to make our way to the Franz Josef Glacier, which was where we'd be spending the next two nights. However, we still had to go towards Hokitika as well as Lake Kaniere to bag the next waterfall on the plan, which was Dorothy Falls.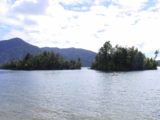 We'd eventually make it to the lake by about 4pm, and then we drove around the lake in search of the fairly obscure waterfall. There was one landslide stretch where it seemed kind of dicey for our rental car to get through, but I guess they already had a tractor flatten the once impassable stretch.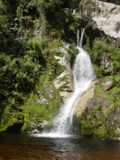 And by 4:20pm, we finally got to the front of Dorothy Falls, which turned out to be pretty miniscule compared to the 64m that Department of Conservation had quoted. I guess most of its height would be appreciable from a boat ride on Lake Kaniere, but there was no way that was going to happen on our visit so we had to be content with our 15m or less view.
When we had our fill of Dorothy Falls ten minutes later, we then drove into the town of Hokitika. The town was pretty quiet, but it did have somewhat of an arcade or central business district where Julie and I walked around the shops (mostly of jewely consisting of jade or what they called "greenstone") to kill time. We were still too early for this dinner place that Julie wanted to have after having read good things about it.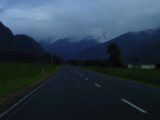 Even though we knew our dinner here would mean driving pretty late to Franz Josef, we figured we mind as well seize the moment now since there were no guarantees on what we would find in the more touristy town of Franz Josef itself.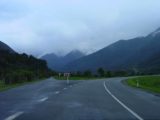 So after the dinner was over, we were back on the road well after 7:30pm, where we followed SH6 for another couple of hours or so until we finally checked into our motel (that Julie swore felt more like a prison with its thick block walls) in the Franz Josef Glacier township. It was well after 9pm by the time this happened, and it was a good thing we got our dinner when we did. For the rest of the evening was spent just getting settled and cleaned up crossing our fingers and hoping the weather might stay as stable as it had been for the last two days…