Day 18: ASPIRING
Knowing that we had a full day of driving ahead of us, we woke up at around 6am and we checked out of the Franz Josef Glacier Motel (the so-called Glacier View Motel, which there really wasn't much of a glacier view from there at all). We proceeded to drive south along the SH6 looking to see if there was a waterfall along the way as we made our way towards Fox Glacier.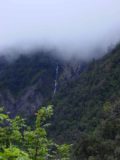 During our trip research, we made an executive decision to focus on the Franz Josef Glacier on this trip and less so on the Fox Glacier. Even so, we still wanted to briefly take a look at the other glacier just to see what it was like.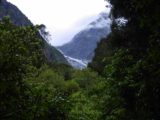 However, the turnoff and drive towards Fox Glacier seemed to be kind of deep and we only contented ourselves with a partial distant view of that glacier before we headed back to the SH6 and continued going south on the SH6 towards Haast. The time was about 7:30am when we got back to the main highway.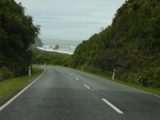 The drive would prove uneventful though there were pockets of bad weather and fine weather as we headed south towards Haast. It was too bad that the fair weather we had prior to our visit to Franz Josef didn't persist, but I guess that was kind of how things tended to roll on the West Coast of New Zealand. Indeed, it was very rainy here, and perhaps that was why there were the glaciers that went right into a rainforest – said to be the only ones of its kind in the world.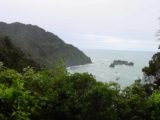 Anyways with respect to the rain, I guess you can't predict such things and you try to adapt accordingly.
By about 8:30am, we reached a lookout towards what was called the Knights Point Overlook. It was basically a scenic crescent-shaped bay with a rocky island in it, but it was pretty much a roadside stop to stretch for a bit before we continued goign into the turnoff near Haast, then we would head further south through the Southern Alps towards Haast Pass along the Haast River.
This part of the land was part of Mt Aspiring National Park. We really weren't sure what was in this park other than some backcountry bush tramps, but we were hoping there might be some waterfalling to bag as we made our way south in the direction of Haast Pass, then to Wanaka ("WAH-nuh-kuh"), then over to Queenstown, where we would spend this night.
As we were driving south from the Haast Vicinity into the Haast River Valley, at about 9:10am we started to notice some pretty large unexpected waterfalls to our right (east facing walls). We weren't sure what they were, but we took it upon ourselves to stop the car to take some pictures.
After taking such photos, we then continued along the SH6 only to see more giant waterfalls off the road. This time, we just took photos from the car given the light traffic. However, after taking our shots here, we would find more giant waterfalls further down the road. And it was at this point that we just decided to push on knowing that we couldn't stop for every single waterfall.
However, I did regret not stopping for a series of waterfalls coming down like veins when the SH6 started bending to the east with the Haast River. It was quiet a spectacle and prompted Julie to say, "Whoa!"
But onwards we went until we ultimately made a stop for what we thought was "Depot Creek Falls" at around 9:30am. This particular waterfall didn't have a signpost, but we followed directions from Eugen Winklharrer who was here before and wrote down hints on his website.
After doing that, we then scrambled for a closer look at this intriguing cascade.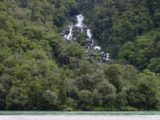 Then after having our fill of this rather obscure waterfall, we next made a stop for the signposted Roaring Billy Falls. We weren't sure what this waterfall experience would yield, but if they put signage and a car park for it, we figured it must be worth our while.
But after spending about 20 minutes on the walk, we were a little disappointed with this wishbone-shaped waterfall that was mostly surrounded by bush. It didn't seem very significant, and we couldn't figure out for the life of us why it got a sign and some infrastructure when others seemed to be more impressive than this one yet didn't get any love.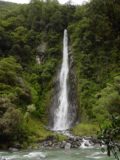 Next at about 10:15am, we went to the signposted stop for Thunder Creek Falls, which had a handful of cars already here. We arrived at around 10:15am. After a brief walk, we made it to a view across the Haast River of the tall but slender named waterfall. There wasn't a whole lot we could do differently with this waterfall to vary up our photos, but the main view of the falls was good enough.
We didn't linger here for too long because there were some annoying snadflies that were buzzing about looking for fresh blood from us.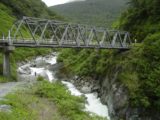 After Thunder Creek Falls, we made a brief stop at a bridge where there was the rushing Haast River flowing right beneath it. I believe this spot was the Haast Pass, and we got here at about 10:30am. There were already other people here from a tour bus, but we didn't see a need to linger here for too long since the rapids below us didn't seem like a legit waterfall to have a name, and there was no hint of signage saying anything else around that we felt would have been worthwhile here.
Continuing on, as we passed a couple of bridges with roadside waterfalls next to them, we then made a stop for the signposted Fantail Falls at around 10:40am. Like with Thunder Creek Falls, we made a short walk to get to a view of this waterfall. Then, we saw across the Haast River a bulbous-shaped waterfall that I guess reminded someone of a fan.
As we continued going south along the SH6, we started to notice some pretty big lakes. The terrain also seemed to have opened up a bit so apparently, we must have been out of the Haast River Valley. In any case, we pretty much gunned it towards Queenstown, where we'd ultimately get to our accommodation by about 1:30pm.
The weather was pretty much foul as it was in between pouring rain and ominous threatening clouds during a period of calm. But in any case, we were glad to have arrived at our motel with a view of the mountain range known as the Remarkables. The town itself was next to a large lake called Lake Wakatipu.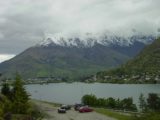 Julie and I pretty much spent the next few hours out of the car for once, and we walked around their main area checking out the shops, some waterfront restaurants as we were looking for a place to eat this evening, and looking at all the things you could do to oppossums (from furs to food to charms to whatever) since they were quite the nuissance in New Zealand.
It was a pleasant place to walk around as we had ourselves a pizza lunch to begin our time in town, and then ended up with a semi-fine-dining dinner that did cost us an arm and a leg though I didn't remember a whole lot about it despite paying a high price.
Something interesting that I also noticed while eating here was that their credit card machines had tip entries, which I thought was unusual. After all, tipping wasn't expected in these parts as their GST was pretty hefty to begin with (upwards of 12% or something like that). Plus, I wondered if I started to see this because Queenstown had a reputation of being a tourist town so perhaps some places started to catch on that they might earn a little extra money by guilting their customers into paying tip.
Who knows?
In the end, we would close off this day with a restful sleep while hoping the weather might improve. So much for getting nice panoramas of this place, which we were really considering on doing by taking one of their gondolas up. But not on this trip given the foul weather.