Day 1: RAIN, AGAIN
We arrived from our 12-hour flight out of LAX to Auckland at around 5:20am.
With this trip happening in late December to mid January (i.e. the Kiwi Summer), we hoped the weather would be significantly more improved than our rain-drenched honeymoon five years ago.
But our hopes were dashed the moment we looked out the window and saw wet pavement and grey skies. Clearly, there had been rain.
After picking up our luggage and getting through customs, we exchanged money (something like 1.3 NZD to 1 USD, which was less than I remembered five years ago when it was 1.41 NZD to 1 USD), checked in our big luggages for the upcoming domestic flight to Christchurch, then walked the 1.2km stretch in the mix of drizzle and rain to the domestic terminal. We were a little damp by the time we passed through security and found our departure gate for our Christchurch flight at 6:45am.
The flight went pretty smoothly, and we managed to get our luggage and our car by 9:40am.
We took our the car rental insurance by reducing the excess down to $0 from something on the order of $5000 NZD. But that was at a steep price of $33 NZD per day over 17 days. That was pretty painful.
Anyways, we were off and headed towards the Christchurch CBD under some pretty warm and sunny skies.
Along the way, we took a brief detour so we could pick up some water and some fresh fruits and snacks.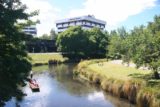 And by 10:50am we arrived at the Bella Vista Motel (fortunate they let us check in this early). Once we got settled, we decided to go for a walk into the Christchuch City Centre to see something we didn't get a chance to do five years ago – actually tour the South Island's largest city!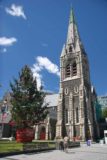 Come to think of it, I couldn't believe that we went from Invercargill to Christchurch by way of the Catlins Forest in our first trip to New Zealand. No wonder why we arrived after 9pm despite our early 6am start back then.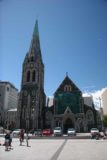 In any case, we walked around 20 minutes from our motel all the way to the church right in the public square at the city's centre. It was a bit dead as the large majority of the stores were closed with today being Sunday. But even some those stores that were supposed to be open as stated in their trading hours weren't open on this day either. What gives?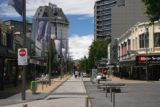 So we couldn't get the dining experiences we had hoped for, and we ended up eating some souvlakis at some food court. But adding a little life to the otherwise lethargic scene were some girls doing tap dances near a statue with plenty of tourist onlookers.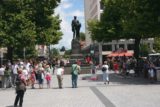 By 1:25pm, we made it back to the motel having concluded that there wasn't much more to see. At this point in time, dark clouds had overtaken us and it appeared that rain will overcome even the usually-dry Christchurch.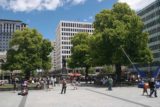 By 1:40pm, we were about to head out to Akaroa, which was over an hour away from where we're at. Unfortunately, it appeared that either our GPS died or our software on the computer wasn't behaving correctly. Both of us were royally bummed that we wouldn't be able to trip log and navigate with our GPS/netbook combo.
It's strange how it always seems that something goes wrong in every one of our trips. And I guess this was the bit of adversity we were faced with this time.
Recalling that we had seen a Dick Smith's around 2:30-ish somewhere near the CBD, we decided to drive back to the city centre and see if we can find a replacement GPS at the electronics sections.
We eventually ended up buying some Garmin Nuvi
handheld and road navigation system. But I personally would've preferred the old scheme because I could at least monitor where we had been going. Plus, we were set back another $500 NZD.
So with the Nuvi armed, we follow its directions towards Akaroa by around 1:30pm. We finally got there at around 3:40pm.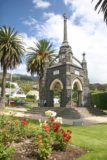 Out at Akaroa, it was windy and partly cloudy. We did some brief sightseeing of some tower in a picnic area adjacent to the visitor centre. Apparently, we were too late for any dolphin tours, and I guess that's what we get for not really planning this day prior to the trip.
So we killed some time after walking around the quiet waterfront town and ended up having a dinner at Bully Hayes. Once we were done eating the dinner (boy was it nice not having to worry about raw vegetables or bad water for a change), rain had arrived.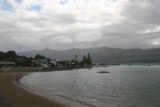 Since the restaurant was quite a bit of a walk from our car parked near the visitor centre, I basically took it for the team and got myself a bit wet walking through the rain to regain the car. And with the car, I backtracked and picked Julie up. We were off by a little after 6pm, and by now, it was raining quite heavily.
Both Julie and I wondered aloud if New Zealand ever gets a summer.
By 7:20pm, we made it back to the Bella Vista Motel in Christchurch. It rained throughout the drive so we didn't bother checking out Summit Road for some nice views of Christchurch as well as the Canterbury Plains further to the south and west. The GPS also took us in front of some Gate of Remeberance, which we hadn't noticed earlier today. But now that we know where it is, we'll make a point to revisit that part of the city tomorrow afternoon.