Day 2: FIRST WATERFALL OF THE TRIP
Given the combination of a cold evening and perhaps a little bit of jetlag, we reluctantly got up at some time after 6am. Then, at 7:45am we finally left our motel room for our first waterfall excursion of the day.
During the drive from Christchurch to the View Hill car park for the Wharfdale Track (the starting point for Ryde Falls), I was pleasantly surprised that we were able to download the track log from the Garmin Nuvi
into our Mapsource software on the computer. So now, we finally had a means of being able to log where we had been! Now, I finally understood why the nRoute software was no longer supported.
Eventually, we managed to catch the signs for the Wharfdale Track. After turning off Woodstock Road and entering Ingrams Road, we drove onto gravel road, and then through a series of four fences (to keep the sheep in) as we passed through private property. The part about driving through private paddocks full of sheep totally reminded us of our McLean Falls experience on our prior trip.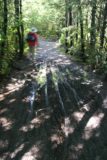 By 9:30am, we made it to the car park. At the time there was only one car already parked here. After we were done putting on our boots and leaving to start the hike, another car showed up.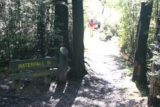 The trail looked like it was on a 4wd road as it followed the Wharfdale Track. Even after a half-hour, we went through another gate near some Cooper Creek Link Track junction, which we didn't take. It wasn't much later when we saw a signed spur taking us to towards the waterfall.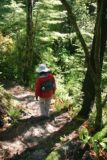 That was when the trail got narrower and steeper with a few ups and downs. Clearly, it wasn't a very trivial hike, but we knew that going on based on our research.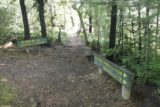 At 10:55am, shortly after making a very steep descent along the Cooper Creek Trail (which we junctioned with not long prior), we made a stream crossing. There were enough rocks to be able to keep our socks dry in this crossing. And right after climbing the embankment, we saw a camping area (though no campers).
It was a good thing that most of this trail was shaded, which kept the air cool and crisp. Indeed, morning was most certainly a fine time to go on a tramp. Julie and I eagerly anticipated seeing our first Kiwi Waterfall in over five years.
After the stream crossing the track continued to follow a shady path, and barely 10 minutes later, we finally started to hear the sounds of rushing water – a waterfall!
Finally at around 11:05am, we arrived at the Ryde Falls. It was too bad that the view of the falls were mostly obstructed by overgrowth. And a few small scrambles to unsatisfying viewpoints made me contemplate more dangerous scrambles. But Julie talked me out of that so I just scrambled back down the creek to get a bottom up look at the falls.
At 11:20am, we left the falls and quickly made our way back to the car park. We arrived at 12:35pm where a pair of Department of Conservation employees were present (it looked like they just got here).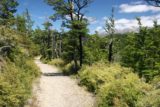 Armed with a chainsaw, we engaged in some pleasant conversation. When I mentioned to them that we did the falls, they said they'd like to cut down some of the overgrowth so you could get a better view of the falls. That probably would be a nice thing, but we won't get to experience it when it does happen. Anyways, they were trying to clear the dead falls from yesterday's storm so the Wharfdale Track can be acceptable to mountain biking again (which we did see two such bikers on the way back). Apparently, this track was popular with mountain bikers.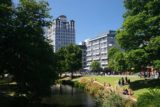 When we were done with our conversation, I did notice that one of the employees had just finished eating a meat pie. Since Julie and I didn't have one on this trip yet, we were determined to get some for lunch.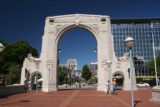 It wasn't until 2pm when we finally got to have some at a Christchurch suburb as Oxford's bakery (en route) was closed. About a half-hour later, we got to the South City Centre Plaza where we could take care of business doing groceries as well as getting a few more electronic gadgets (like a car charger splitter) at Dick Smith's. We did manage to grab some decent meat pies in a bakery on the outer suburbs of Christchurch.
At 4pm, we went back to the motel to drop off the groceries, but not before making a short visit to that Bridge of Remembrance archway. And after a little bit of time recovering, we were back on the road en route to Lyttleton at 4:45pm.
Given the gorgeous weather today, we decided to take the scenic route along Summit Road instead of the tunnel towards the coal-based town. The hill we ascended at the south end of Christchurch was very reminiscent of Palos Verdes back at home, but the roads here seemed narrower and it was much colder that what we're used to back at home.
Eventually, we'd get onto a narrow stretch of road where it followed a ridge with views on both sides of it. To our left, we could see Christchurch with the Southern Alps way in the background (kind of shadowy since the light was also coming from that direction). On our right was some really blue-green watered harbor with settlements flanking it. I think Lyttleton was down there somewhere. The color of the water was reminiscent of glacial sediment-laced types, but I reckoned this had more to do with the sediment from the erosion of this once-volcanic mountain since we were far from any glaciers in the Southern Alps.
After a brief stop in the charming town of Lyttleton, we left at around 6:15pm and arrived back at the Christchurch CBD at 6:35pm. From there, we had ourselves a little bit of a Thai dinner on Colombo Street before returning to our motel at 7:30pm.
That was when we finally called it a day.