Day 4: INSIDE THE OCTAGON!
We awoke at 6am to the alarm, and immediately I snuck a peek outside our window just to see how the weather would be. To my surprise, there was alpenglow on the tip of Mt Cook!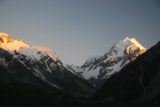 So as quickly as I could, I got dressed and armed myself with the camera, then went outside into the cold to take photos. By the time I was dressed in something warmer, the pink color on Mt Cook seemed to have given way to a brighter color and wasn't quite the reddish color I was hoping for.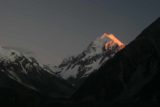 A few minutes of taking more photos of the scene had passed before the sun really went intense and I retreated back into our room.
By 7:35am, we were finally packed and ready to leave.
Ten minutes later, we drove back into the unsealed road to the Tasman Valley, tried to avoid the numerous hares scampering across the road, and returned to the familiar Wakefield Falls. And as predicted, the morning backlight was shining beautifully on the east-facing waterfall.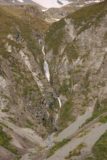 So we took more photos of this multi-tiered waterfall to the best of our ability knowing that we couldn't get the whole thing in one shot due to obstructions either up top or at the bottom depending on your angle.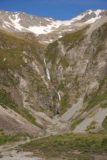 Immediately thereafter, we made the long drive south to Dunedin, which I personaly looked forward to especially since our last visit to the city about 5 years ago or so was so rushed that we didn't really get a chance to enjoy it.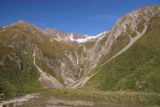 The drive was mostly uneventful but always seeing the imposing Mt Cook juxtaposed against the clear blue skies in the rear-view mirror as we left made it difficult to resist the temptation to stop and take more photos. But resist we did since we had hundreds of Mt Cook photos like the one seen in our rear-view mirror.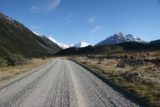 It wasn't until around 12pm when we finally arrived in Dunedin by way of Oamaru and checked into our motel. When I filled up gas in Oamaru, the lady working there offered to wash the car seeing that it was caked in dust from driving the unsealed Tasman Valley Road in the Mt Cook area. But I declined jokingly saying, "Ah, the rain will wash it off." After all, I knew full well that the weather changes on a dime in New Zealand.
Once we got settled, we started walking to the city centre at 12:25pm.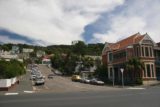 The walk to the Octagon, which was a city block shaped like an octagon with a pair of attractive buildings (and I'm not talking about the octagon in the mixed martial arts league called the UFC), passed through some quiet city blocks of what looked like Victorian homes fronting more Victorian homes seen further up hills. In a way, it reminded me a lot of what San Fransisco was like. Except here, we had a genuinely Scottish city with its unique blend of English and Kiwi influences.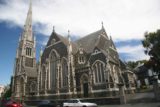 Then, as George St got progressively busier, we passed by the Knox Church before we passed through a pretty happening area which was lined with cafes and shops and was full of people (mostly young to middle aged). Straight away we could see that Dunedin had way more energy than the larger Christchurch city centre (though we did do our walking of the city on a Sunday when most things were closed).
And by about 1pm, we were once again at the familiar Octagon, which we had visited five years prior. But the previous visit was a rushed one since we were busy zooming our way all the way to Christchurch after starting in Invercargill and passing through the Catlins.
The light wasn't the most ideal this time of day to take photos of the church and the attractive visitor centre (and museum?) building right next to it. But the lawn with a statue right in the upper half of the center of the octagon remained peaceful and full of people either picnicking or just chilling out with friends.
We continued walking around the Octagon area going as far as Moray Pl, which circled back on itself as it, too, was an octagonal street. Thus, we passed by the First Church en route to Stuart Rd, which eventually ended right in front of the attractive railway station.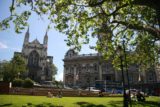 As we took photos of the building and lawn area fronting this bustling scene full of people in transit as well as others just loitering around like we were, we stumbled across some street stands on the north side of the station. And upon closer inspection, we realized that it was a Farmer's Market!
So we entered this small but bustling scene buying a kilo of cherries from one stand plus a delicious chocolate banana with whip cream galette (a gluten and wheat free crepe) made by a French family in another stand, which unsurprisingly was very delicious albeit messy.
By the time we were done checking out this area, we began our long walk back to the motel some time after 2:30pm. Our walk was slow and deliberate as we returned to the Octagon for more photos while scouting out some possible restaurant candidates for tonight. It was too early in the day to stumble into any happening cafes or bars with live bands, which was what Dunedin was known for what being a quirky university town. I figured there's bound to be one tonight, but I wasn't sure if Julie would be up for that kind of scene.
Eventually by 3:40pm, we finally made it back to the motel. And by this time, it was quite warm. One of the owners of the motel was chiding Julie for still having her jacket on!
At 4:05pm, we decided to drive towards the Otago Peninsula in the hopes of seeing sea lions, albatross, penguins, and other wildlife. Where else could you have a happening city within reasonable driving distance to some wildlife areas?
Anyways, after a little bit of indecision on the order we should be doing things (sea lions first? penguins?), we eventually arrived at Larnach Castle at 4:50pm. It was just in time before they stopped accepting guests at 5pm.
The $25 NZD per person seemed a bit steep, but we payed it anyways and went onto the complex, which was a cross between Hearst Castle (what with the numerous rooms and posh decor) and the Villa Toscana Lodge, which Julie and I got married at in Whitianga on the North Island as this place also had accommodations.
We spent some time checking out the various rooms (almost imagining what it was like playing hide-and-seek or Dungeons & Dragons as we were trying to see every nook and cranny of the big castle) before climbing up to the top of the tower, which was partly infested with bees or wasps, but did have attractive and commanding views in three directions of the Otago Peninsula. But we could see that dark clouds were rolling in, and it was a sign that the fine weather was about to come to an end.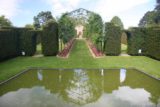 After a brief moment checking out more views from the garden area and the front part of the estate, we finally left at 5:40pm. About ten minutes later, we took a nearly straight shot road descending steeply downhill to a car park for Sandfly Bay.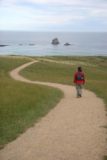 There, we got out under the now-cloudy skies and made the steep descent right onto the beach. The last half of the climb was on sand dunes, and we knew it was going to be difficult going back up when we were about to leave.
Anyways, we saw a couple of sea lions lying on the sand looking to have a sleep. With telephoto lens in hand, I took what photos I could of them without pissing them off, knowing they can be very aggressive. Then, I tried to walk along the beach towards three other visitors who seemed to be approaching the lone sea lion that was active.
But after a few minutes of walking, I could see that long before even the three tourists could get close enough to take photos, that sea lion had already flopped its way back into the water. So that was my cue to turn around and rejoin Julie to do the gruelling climb back up to the car park.
Indeed, it was certainly easy going down, but going back up was very difficult as it seemed every step we took to go up was lost by at least a half step as the sand (and ourselves) was sliding back down. So we easily worked twice as hard (if not more) just to get out of the sand dunes and back to the narrow trail.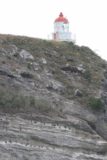 And by 6:50pm, breathing heavily and quite sweaty from all that work, we were back at the car. Now, it looked like it was going to rain.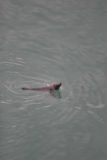 Nonetheless, we continued onwards towards Pilots Beach. We had read in LP that penguins like to gather at Pilots Beach right before dusk. But when we got there at 7:15pm, we saw that the gate to Pilots Beach was closed since 6:30pm, and no one bothered to climb the gate and walk closer to that beach. Instead, we checked out the scene surrounding the Albatross Centre where on the opposite side of the bluff, we saw a lighthouse as well as numerous cormorants and gulls. A pair of sea lions were also on the rocks way down below, and one even flopped its way into the water where we could see it swimming.
By 7:40pm, we decided not to wait for the penguins as it was getting late, and we still wanted to have a dinner somewhere in town while still doing one last grocery and gas run knowing that tomorrow was Christmas Eve and many places were sure to be closing. Of course numerous other cars and campervans were doing the opposite as the car park quickly started filling up probably looking for those penguins as we were. Oh well.
By around 8:15pm, we ended up eating at The Rainforest, which apparently replaced a place that the LP authors liked very much. Still, the Malaysian food they served here hit the spot and wasn't overly expensive. It finally did rain a bit as we re-entered the city, but when we were done eating just after 9pm, the rain stopped.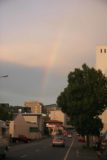 The next half-hour was spent doing our grocery and gas run as planned. But we did catch a very high arcing rainbow before the Countdown supermarket, which I tried to photograph without becoming roadkill on the one-way street facing northeast.
And finally at 9:40pm, we were back at the motel, thus ending a very long day of sightseeing. Tomorrow, it seemed like we're about to enter a phase of our trip where we'll be seeing familiar haunts in Southland, Fiordland, and Westland. It'd be interesting to see how things have changed (or not) since our time five years ago…