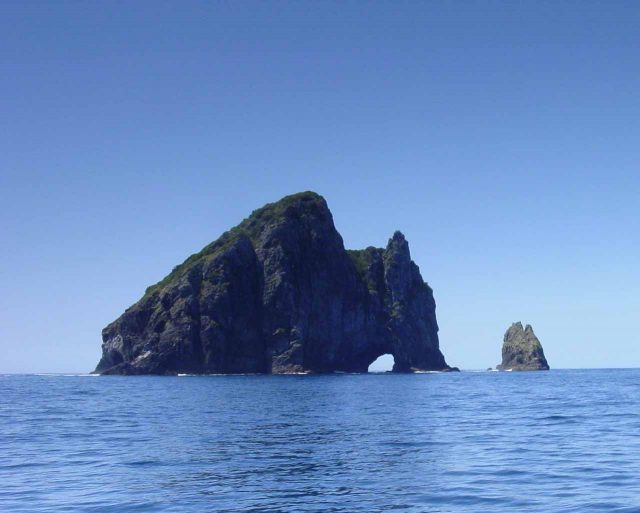 7-November 2004 to 9-November 2004:
After spending a few minutes at Rainbow Falls, we made our way over to the Kauri Coast. We headed west along SH12 when we had to follow a slow-moving truck. Such was the norm it seemed since New Zealand's roads were mostly two lanes and twisty. And so we merrily waited for an opportunity to pass the truck safely when a police car was suddenly in our rear-view mirror…
Day 1: ADJUSTING TO THE KIWI WAY
It was 8am when we finally arrived in Auckland after a 12-hour flight from LAX. I had a miserable time on the airplane suffering from severe diarrhea from eating refrigerated food at home that was left in the fridge for days. Julie insisted that this was my lesson learned about the dangers of food poisoning.
Anyhow, after picking up our luggage after what seemed like forever, we waited for what seemed like forever for a shuttle bus that would take us to the Maui Rental Car – which we pre-booked prior to the trip. Apparently, their car hire facility was a long ways away from the terminal.
Once at the car hire facility, we filled out some paperwork and then waited…
…and waited…
…and waited…
…finally after 90 minutes, we finally got our hired car. With all that time to kill, I got the GPS to finally realize we were thousands of miles away and we were good to go. Neither Julie nor I were not too pleased with this long wait, but they said they had computer problems. Anyhow, it was past 10:30am and I was worried about showing up to Whangarei (a three-hour drive northwards and our first night's destination) too late.
After the initial jitters of getting used to driving on the left-hand-side of the road and the right-hand-side of the car, we quickly made our way north through SH1 in Auckland. It was busy as expected since we were in the city, and we briefly checked out the skyline with its Sky Tower from the freeway before heading into the green pastures outside town. Even outside the city, the road was quite busy, especially when the traffic was caught behind slow moving trucks. It felt like the passing lanes were too few and far between.
Julie and I were on the way to Brynderwyn (where the SH1 and SH12 met) when my diarrhea was really acting up again. Besides, both of us were hungry so we opted to take a detour west to Maungaturoto – a real New Zealand town as the locals would say.
So with the uncomfortable stop and some fried takeaway food (our credit cards didn't work there so we had to pay cash) thereafter, Julie and I were sated once again. Back in the Mitsubishi Lancer we went and now it was time to find Piroa Falls.
Since Maungaturoto was on one end of the Waipu Gorge Road (SH1 being the other), we took the unsealed road into the Waipu Gorge Scenic Reserve and made it to the large signed pullout for the falls.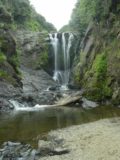 After a short 15-minute walk to the falls' base, we returned to the car and continued on our way to Whangarei. It took at least another our or so to finally get to Whangarei but it seemed like longer with the ever-present trucks slowing the traffic down. I recalled one instance where I had to race forward when a truck was about to merge from its passing lane. Little did I know this particular move would bite me when it came time to return the car two weeks later…
It was 3pm when we finally arrived in town. The check-in and unpacking occurred without incident at the Motel Six in Whangarei. There was still a little more time left in the afternoon to check out Whangarei Falls. So that we did.
A short well-defined path led straight to the top of the falls. It appeared to have several columns of water falling side by side. This was even more apparent when we descended towards the picnic area at its base.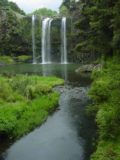 We spent a little time here exploring the bottom as well as briefly walking parts of the trail that crossed over the stream and to the other side. We didn't go far through. So we instead returned to the car park and ultimately got back to our accommodation to get a little cleaned up.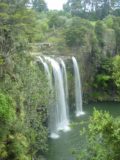 Julie and I dined in an interesting little cafe called Tonic, which seemed to serve Italian food with some Pacific fusion influence.
The rest of the night passed as both of us were still getting used to the time zone change. Thus, we slept easily and I was anxious to see what the Bay of Islands would be like tomorrow…
Day 2: PULLED OVER
Julie and I awoke at about 7am and after a in-room breakfast (which we didn't know we had to pay for), we headed straight for Paihia at the Bay of Islands. Our pre-booked Hole-in-the-Rock Excitor tour was for 10:30am so I was confident we'd get there in plenty of time.
The drive to Paihia took a little over an hour. Since everyone seemed to just start opening up their doors at the time we got there, we just walked around and killed time before our pre-determined meeting time. During that time, Julie joked with a Mack Attack employee about being on tour with a competitor when asked whether we needed assistance.
Anyhow, it was finally 10:45am and the fast boat was off the Paihia Wharf and headed to the Hole-in-the-Rock with stops at Russell and a few other off-shore islands.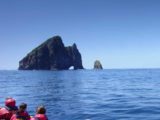 We were excited about this tour because we also like natural arches in addition to waterfalls. The one we were about to see was supposed to be huge. Julie was in a great mood with the wonderfully sunny weather, and both of us hoped this type of weather would persist for our wedding, which was a week later.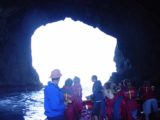 The boat was big enough to hold probably some 50 customers or so, but there was plenty of space and some parties had multiple rows. When the boat was moving, it went fast. Breaking the sound of the loud motor and the wind was music blaring through the speakers – playing songs such as "Life is a Rollercoaster" by Ronan Keating and other upbeat pop songs that seemed appropriate for the moment. Before we knew it, the seas got choppy (you definitely wouldn't want to be swimming out here) and the Hole-in-the-Rock was before us.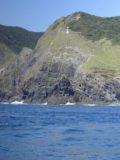 The span of the giant arch was big enough for the boat to easily make it through. Inside the arch, it almost felt cave-like as you could see and feel water dripping from the ceiling.
When we got to the other side of the arch, we could see a smaller arch as we looked in the direction of the Cape Brett lighthouse. That was something we didn't expect to see.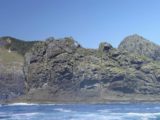 Then, the boat swung around to the opposite side of the big rocky island where a blowhole was forcing water up towards an overhanging ceiling above the swells.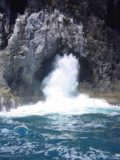 Finally, the boat was passing back before the original side we came in. But before getting back to the front of the arch, we went in towards an intriguing cave. They called it the Cathedral Cave and the tour guide said mockingly that it looked impossible to get in.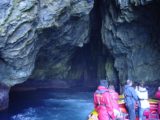 So, the music became the "Mission Impossible" theme as we went in.
Inside the cave, it was eerily quiet. You could hear water dropping from the ceiling and hitting the calm water, which was sheltered from the turbulent outside.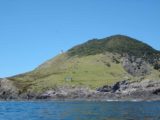 After this brief interlude, the Excitor tour headed back to Paihia. It was about 1pm when we returned to the wharf. So we checked out the nearby i-SITE. The i-SITES, by the way, were cleverly named Visitor Information Centers that seemed to be strategically located throughout New Zealand. So we loaded up on free brochures and even bought a few maps we thought were useful as well as a road atlas.
Julie and I then had a brief lunch before we were back on the road. On the way to Kerikeri, we made a brief stop at the horseshoe-shaped Haruru Falls. We didn't linger here for too long as we pretty much saw the falls, briefly walked towards its brink, and then headed back. There were trails here, but we didn't have the time to explore where they were going.
After our jaunt at Haruru Falls (not having time to check out the Waitangi Treaty Grounds), we then headed over to Rainbow Falls.
We took some time to walk the short trail to the brink of the falls, and then continue towards a sitting table and viewing area on the opposite side of the plunge pool. We saw some daredevils standing right at the brink of the 30m or so tall waterfall. In a sort of Whangarei Falls kind of way, this waterfall reminded me quite a bit of it in terms of its shape and size. Probably the only drawback from the good weather we were having was that we were looking against the sun towards the falls.
After spending a few minutes at Rainbow Falls, we made our way over to the Kauri Coast. We headed west along SH12 when we had to follow a slow-moving truck. Such was the norm it seemed since New Zealand's roads were mostly two lanes and twisty. And so we merrily waited for an opportunity to pass the truck safely when a police car was suddenly in our rear-view mirror. Not long afterwards, he flashed his lights and now we had to find a place to pull over…
Julie and I were perplexed.
Anyhow, we finally found a good spot to pull over and stop the car. Out walked the officer, who seemed kind of cheery for a cop (quite unlike what we're used to back in the States), and he did the usual thing asking for my license.
He proceeded to tell us we had sped, but we couldn't figure out what he was talking about. After all, we were following a truck. How could we be speeding?
Anyhow, I think he eventually let us go. He didn't give me a ticket on the spot (kind of weird, I thought). But he did have my license information. Whether he was sympathetic to the fact that this was only my second day in New Zealand or maybe he was wrong, I didn't get the feeling that he gave us a ticket. Still, I couldn't tell if we were cited or not…
In any case, we started to drive off when he got back to his car. Overall, it was a strange encounter, I thought.
At 4pm, we passed through a charming local township called Opononi. Not long after town, Julie and I stopped by a nice lookout that peered back into Hokianga Harbour (there was a sign labeled Arai te Uru). It was good spot for photographs.
Back on SH12, we turned left at the unsealed Waiotemarama Gorge Road. After a few minutes, we made it to a signed car park. It was only 15 minutes to the falls so we went ahead and checked it out.
The falls itself was a bit disappointing and tiny though we did see another tiny falls along the way as well. Still, we were the only ones on the trail and it was quite a pleasant little nature walk.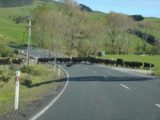 Next, we returned to the car and proceeded to head south on SH12 towards Dargaville. Along the way, we had to wait up for some cattle to get across the road. In any case, we made stops at a couple of places to check out the Kauri Trees.
One of the stops we made was for a tree named Tane Mahuta. It was the largest and oldest living Kauri Tree left as most of the others were logged or burned in wildfires. Having seen Sequoia Trees back home, I had to admit these guys were impressive. The thick white trunks and height of the trees rivaled the giant redwoods.
The short 5-minute stop was followed by another half-hour stop for the Four Sisters, which was basically a set of four Kauri Trees.
By 7:30pm, we made it to Dargaville to fill up some gas. The town seemed awfully quiet. But then again, it was also getting dark.
By 8:45pm, we finally returned to Whangarei. Since Julie and I hadn't eaten anything since 1pm, we were famished. Unfortunately, most places have closed or were closing. We ended up settling for a place by the waterfront called Revas on the Waterfront. However, they weren't serving mains anymore so we ended up with less than average bar food.
And so ended our little loop of Northland. I was a little perplexed by what happened with the whole pulling over thing. But anyhow, it was fun. Tomorrow, we had to return to Auckland and get to work on preparing for the upcoming wedding…
Day 3: FULL CIRCLE THROUGH NORTHLAND
Julie and I got up from our restful night at the motel in Whangarei. This time, we knew better by not having breakfast and heading onto the highway due south back to Auckland. It was pretty uneventful, especially since we did the drive pretty early.
Ultimately, we would return to the city where Julie and I checked in. We had a lot of errands to do in the city knowing that the next day, we would have to make the three-hour drive east to Whitianga to prepare for the big day.
My parents and relatives had already been touring New Zealand before we even got here. So our family reunion (which wouldn't happen until we'd get to the wedding site in Whitianga) coincided with the end of their 2-3 week visit to the country. Meanwhile, this was merely the beginning of our own.
In the mean time, we were getting our tux rentals (for Dad and I; hopefully the size we got for Dad would work since he was still with Mom and the aunties). After that bit of errand running, we then had to support Julie to pick up her dress. I recalled we met up with cousin Nicole, and chilled out with us for a bit as we were randomly doing a whirlwind of errand-related activities. We really didn't have time to experience what the city of Auckland had to offer because of these errands, and we only had one night in the city.
And so the day passed though there were no photos taken as there wasn't any sightseeing on this day.
Visitor Comments:
Got something you'd like to share or say to keep the conversation going? Feel free to leave a comment below...
No users have replied to the content on this page