Day 1: ADJUSTING TO THE KIWI WAY
It was 8am when we finally arrived in Auckland after a 12-hour flight from LAX. I had a miserable time on the airplane suffering from severe diarrhea from eating refrigerated food at home that was left in the fridge for days. Julie insisted that this was my lesson learned about the dangers of food poisoning.
Anyhow, after picking up our luggage after what seemed like forever, we waited for what seemed like forever for a shuttle bus that would take us to the Maui Rental Car – which we pre-booked prior to the trip. Apparently, their car hire facility was a long ways away from the terminal.
Once at the car hire facility, we filled out some paperwork and then waited…
…and waited…
…and waited…
…finally after 90 minutes, we finally got our hired car. With all that time to kill, I got the GPS to finally realize we were thousands of miles away and we were good to go. Neither Julie nor I were not too pleased with this long wait, but they said they had computer problems. Anyhow, it was past 10:30am and I was worried about showing up to Whangarei (a three-hour drive northwards and our first night's destination) too late.
After the initial jitters of getting used to driving on the left-hand-side of the road and the right-hand-side of the car, we quickly made our way north through SH1 in Auckland. It was busy as expected since we were in the city, and we briefly checked out the skyline with its Sky Tower from the freeway before heading into the green pastures outside town. Even outside the city, the road was quite busy, especially when the traffic was caught behind slow moving trucks. It felt like the passing lanes were too few and far between.
Julie and I were on the way to Brynderwyn (where the SH1 and SH12 met) when my diarrhea was really acting up again. Besides, both of us were hungry so we opted to take a detour west to Maungaturoto – a real New Zealand town as the locals would say.
So with the uncomfortable stop and some fried takeaway food (our credit cards didn't work there so we had to pay cash) thereafter, Julie and I were sated once again. Back in the Mitsubishi Lancer we went and now it was time to find Piroa Falls.
Since Maungaturoto was on one end of the Waipu Gorge Road (SH1 being the other), we took the unsealed road into the Waipu Gorge Scenic Reserve and made it to the large signed pullout for the falls.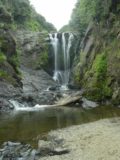 After a short 15-minute walk to the falls' base, we returned to the car and continued on our way to Whangarei. It took at least another our or so to finally get to Whangarei but it seemed like longer with the ever-present trucks slowing the traffic down. I recalled one instance where I had to race forward when a truck was about to merge from its passing lane. Little did I know this particular move would bite me when it came time to return the car two weeks later…
It was 3pm when we finally arrived in town. The check-in and unpacking occurred without incident at the Motel Six in Whangarei. There was still a little more time left in the afternoon to check out Whangarei Falls. So that we did.
A short well-defined path led straight to the top of the falls. It appeared to have several columns of water falling side by side. This was even more apparent when we descended towards the picnic area at its base.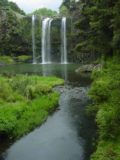 We spent a little time here exploring the bottom as well as briefly walking parts of the trail that crossed over the stream and to the other side. We didn't go far through. So we instead returned to the car park and ultimately got back to our accommodation to get a little cleaned up.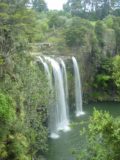 Julie and I dined in an interesting little cafe called Tonic, which seemed to serve Italian food with some Pacific fusion influence.
The rest of the night passed as both of us were still getting used to the time zone change. Thus, we slept easily and I was anxious to see what the Bay of Islands would be like tomorrow…