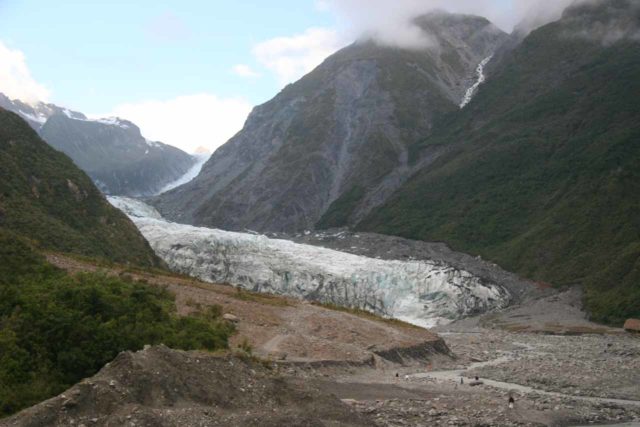 24-December 2009 to 29-December 2009:
Sometimes Mother Nature dictates what and when you can do any activities, and today was certainly not one of those days where you could do anything. We'll just have to cross our fingers and hope tomorrow turns out better…
Day 5: REVISITING OLD HAUNTS
Having had a long day in Dunedin yesterday, we didn't sleep until almost midnight. That made it difficult to honor the 6am wake-up call from our alarm. But we dutifully did it nonetheless knowing we had another long driving day ahead of us, and that we wanted to squeeze in a possible visit to the Milford Sound should the weather be acceptable.
But the morning was overcast and yesterday was raining for a brief period of time, so we knew that the odds were stacked against us for having fair weather at Milford Sound considering we just had almost three straight days of sunny weather. Given New Zealand's fickle and notoriously rainy weather, we knew we were due even though it's technically Summer right now and that today's Christmas Eve (Mother Nature couldn't be that cruel, could she?).
At 7:30am, we left the motel, but before heading over to Fiordland, we spent a few minutes driving towards Baldwin St, which was proclaimed to be the World's Steepest Street. We had meant to see this at some point while in Dunedin since missing it five years ago. And even though I knew this might be some kind of tourist gimmick, we just had to see for ourselves whether this "world's steepest" claim was true or not.
So at 7:45am, we managed to find the unassuming Baldwin Street (unassuming except for some small text below the street sign proclaiming this was the world's steepest street), which was nothing more than a residential street with a real steep section paved in a white concrete as opposed to the familiar black asphalt. And given the drizzly conditions, we knew the street would be slick so we didn't bother trying to go up.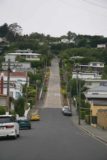 I got out of the car and into the drizzle to take photos. I wondered how the residents who have driveways on this street manage to have their car tilted so severely as they go in and out of their homes to get onto this street. But I reckon this wasn't all that different from some of the steep streets we had seen in San Fransisco, California. After all, Dunedin felt like San Fransisco in many respects what with all the Victorian homes on hills fronting busy streets.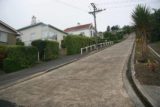 Once I was done photographing, we started to drive around to see if there was a way to descend this street just for the heck of it. It was kind of like the way we would descend Lombard Street in Frisco. But all the neighboring streets had "No Exit" on them and they weren't kidding. I guess the residents don't want tourists like us perusing their quiet street for this silly cause.
So we gave up on trying to figure out a way to descend this straight, steep street, and proceeded to leave Dunedin for Balclutha.
The hour-long drive was through a mix of rain and drizzle, but it was pretty much gloomy and overcast throughout. By 9am, we had reached Balclutha and crossed the Clutha River.
We had a choice whether or not to head straight for Te Anau from here or to give the Southern Scenic Route another go. And given the crappy weather, we weren't in any hurry to get to Te Anau and then continue further north to Milford Sound.
So we decided to follow the Southern Scenic Route insignias which seemed to start from High St (just as I vaguely remembered it), and headed south right into the Catlins.
The last time we drove this stretch five years ago, most of the Southern Scenic Route through the Catlins Forest was unsealed. But I had recalled that just after our New Zealand Waterfalls book
was printed, that one of the i-SITE employees in the area informed me by email that the Southern Scenic Route was completely sealed (this happened in late 2006). So I was anxious to see how the drive would turn out with the route completely sealed. Besides, I was also curious to see whether our book's directions and information remained valid five years later.
We were about to try out our book
for the Purakaunui Falls, which was conveniently not far south of the town of Owaka. However, we knew time was short so we couldn't revisit Barrs Falls, Matai Falls, and McLeans Falls.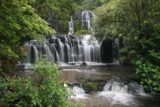 At 9:35am, we arrived at the car park for Purakaunui Falls. It was raining at the time, but that didn't deter us nor the handful of other carloads of people who were also here. I was quite proud that our directions were still valid, and the chapter details as well as the maps were still relevant. Still spot on, eh?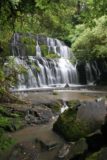 This time, the waterfall had a bit less water than five years ago. However, it was a prettier as the water didn't quite have the brownish color so typical of floods. Instead, it had the graceful multi-tiered drop that I was all too happy to photograph in long exposure with the DSLR camera (a piece of equipment I didn't have five years ago).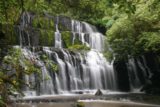 At 10:10am, we left the falls and continued along the Southern Scenic Route, which as the i-SITE lady said years ago, was definitely sealed. So we were zooming along the route (almost inducing driving fatigue as it was so smooth), and by 11:45am, we had reached Invercargill. So this was really more of a 2-hour detour instead of something that could've amounted to double that time like it was in the past.
After taking a brief break with a petrol stop (hopefully staving off the road fatigue), we passed through Invercargill en route to Te Anau. The large town was certainly much busier than we remembered it, but we weren't sure if it was due to Christmas Eve or that we happened to visit on a bad day since it was raining. In contrast, it was partly cloudy now and perhaps the weather might improve.
The weather quickly warmed up as we left Invercargill and headed north. I was afraid my arms would get sun burnt given the continued exposure to the sun. Anyways, we were going at a real good pace and ended up at Te Anau by 1:45pm (despite a nasty accident scene along the way between Mossburn and Te Anau).
After checking into our spacious room at Lakeside Motel, we left for Milford at 2:20pm (after driving a little bit of asking around town to see what the trading hours would be tonight and tomorrow given the Christmas holiday). We'd eventually learn that there was one Chinese restaurant (which seemed rather Westernized for our liking) that would be open tomorrow. This didn't surprise us since we knew many Chinese are Buddhist and not Christian so Christmas probably wouldn't be observed. At the same time, we figured this place would be real busy considering they'd probably be the only place open (besides Real Journeys) tomorrow.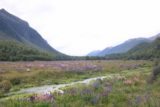 As we made the drive north to Fiordland National Park, we had a choice whether to head straight for the Milford Sound or check out Humboldt Falls using our guidebook
as the guide (once again putting our book to the test).
As we got past Lake Gunn, the weather started to deteriorate again. The mostly overcast skies started to give way to drizzly conditions. And by the time we went past the Divide (the other end of the Routeburn Track), it was pretty much all out rain.
So given these set of circumstances, we opted to head straight for the Lower Hollyford Road and take it to its end where we could do the familiar walk to Humboldt Falls. The Lower Hollyford Road was still unsealed as I remembered it, and somewhat smooth as far as unsealed roads go. Except there were a few potholes on the way, and there was the Gunn's Camp, which was a strange bit of civilization on this road that I never recalled seeing five years ago. In fact, I never recalled there was any bit of civilization along this route in our trip before.
By 3:40pm, we arrived at the end of the road and car park. It was definitely raining here so we donned our rain ponchos. Unfortunately, sandflies were also present, and we certainly weren't looking forward to their itchy bites.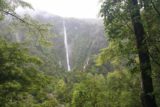 So Julie and I did the uphill walk to the viewpoint of the Humboldt Falls. And when we got to the end of the track, we could see both the main falls and the companion falls still had very healthy flow. In fact, this place looked pretty much the same as I remembered from our previous trip, which said something positive about a healthy environment without logging, overdevelopment, overpopulation, etc. Just you and nature.
However, clouds seemed to obscure the uppermost parts of the main falls from time to time. So we waited patiently to take our photos all the while sandflies were buzzing around us and taking their shots at us.
I was glad Julie finally got to see this waterfall in person as she previously stayed in the car five years ago. But I'm sure she didn't appreciate the sandflies. I did manage to sustain a couple of bites on my exposed foot, and they sure did start to itch!
At 4:30pm, we hastily returned back to the car and sought shelter from those sandflies and the intensifying rain. I did briefly see the sign at the start of the Hollyford Track, which mentioned that the Hidden Falls Hut was 2.5 hours from this trailhead. So that gave me some hope that if the whim of the weather remained sour for the Routeburn Track and Earland Falls tomorrow, then perhaps Hidden Falls might be a better alternative. We'll just play it by ear tomorrow.
One thing's for sure though; we certainly weren't going to go all the way to the end of the road and visit the Milford Sound today. The weather was too bad, and it was getting too late in the day. However, we did manage to visit Christie Falls on Falls Creek, which was right by the road and only a few minutes west of the Lower Hollyford Road turnoff. A few other tourists noticed the attention we paid to this waterfall and followed suit by joining us in the photofest (despite the rain) in the typical lemmings effect.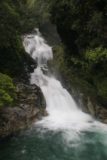 At 4:55pm, we finally began our return to Te Anau, knowing that this may be the last time we have a somewhat decent dinner for at least the next 48 hours.
By 6:10pm, we returned back to Te Anau. The weather had improved in town, which was a welcome relief from the expectedly rainy conditions of Fiordland.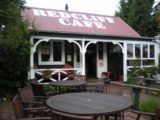 So we dined at the Redcliff's Cafe, where we enjoyed some wild venison and pork belly. We both got a kick out of reading some scribblings left behind by cast members of the Lord of the Rings such as Frodo, Sam, Pippin, Gimli, and Gandalf. I guess this was visited by some distinguished guests, but we were curious as to how we managed to miss this spot five years ago.
Another curious thing was that the place I remembered where we dined in our previous visit was also missing. I guess restaurants come and go quite often, and I'm sure our previous spot no longer existed (though I can't remember what that restaurant was called). Still, all the memories of experiencing four seasons in a day and other pleasant recollections were quite vivid as our present visit has managed to jog.
At 7:50pm, after a little bit of grocery shopping and making sure that Chinese restaurant was the only place open tomorrow, we called it a day.
Day 6: WET AND BUSY CHRISTMAS
We grudgingly awoke to a 6am alarm having slept late last night watching a couple of family-type comedy movies on Christmas Eve on TV. However, we knew in order to squeeze in a Milford Sound cruise with some hiking today, it was best to try to catch the first available cruise at 9am, and given that it typically takes around 2 hours to drive from Te Anau to Milford Sound, we didn't have much time to spare!
It was partly cloudy around Te Anau but the clouds were low and dark. We knew the weather here was no guarantee of what the weather would be like in Milford Sound.
Anyways, after a hasty breakfast, we left at 6:55am and immediately sped our way north along the Te Anau-Milford Highway. The town was very quiet, which didn't surprise us considering today was Christmas.
The drive was mostly uneventful though we did have to pass a pair of slower vehicles (not easy to do on the winding road) and also noticed a couple other vehicles going the other way. So I guess we weren't the only busy bodies this early in the morning on Christmas Day.
At a little before 8am, we managed to pass the Lower Hollyford Road and continue onwards past Christie Falls and towards the Homer Tunnel. The weather started to drizzle with sections of intermittent rain. So the clouds remained and hung quite low, but that didn't keep us from noticing various waterfalls coming down the mountainsides around the Homer Tunnel vicinity, which we gladly photographed.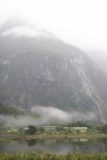 The traffic light that usually trades off from red to green every fifteen minutes wasn't on at the tunnel. So we passed through rather quickly, then made the descent into the U-shaped valley on the other side of the tunnel. We didn't spend much time stopping given our desire to get to the wharf in time for a 9am cruise so we didn't stop to take photos from the backside of the tunnel where there were more waterfalls decorating the steep walls of the valley (very much reminiscent of what we had seen so often in the fjords of Norway.
By 8:30am, we finally arrived at Milford Sound, but it was raining here and the clouds were low. We were hoping somehow that the weather might be on the verge of clearing up like it did for us five years ago after a very wet three days while hiking the Milford Track, but when we were done walking to the wharf and visitor center at the end of the road, the weather remained stubbornly threatening with rain.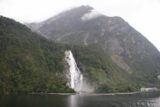 We managed to book a 9am cruise just five minutes before boarding the boat. Somehow the visitor centre seemed a little different than I remembered it, but then again, memories tend to fade over time. All I thought I recalled from before was that there was a giant sandfly model on the wall facing the entrance. There are a bunch of smaller sandfly models and bat-winged flies there now.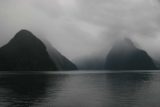 The cruise began in earnest with a pretty delicious croissant breakfast compliments of Real Journeys. And from there, we were into the cruise on the fjord. In the back of my mind, I was curious to see whether our descriptions of this chapter in our book
remained relevant and to the point five years later.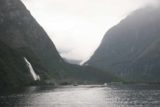 Mitre Peak remained mostly blocked by low clouds obscuring its peak. Meanwhile, Bowen Falls still looked like it didn't change much from before including the fact that the track to its base was still closed as evidenced by a wall preventing further progress along a cliff-hugging bridge in plain sight from the wharf (just like it was five years ago). I guess this trail was pretty much done in much the same way the trail to the base of Tower Fall in Yellowstone had been closed since around 2003 or 2004.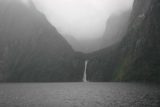 Further out onto the cruise, it seemed like the boat driver wanted to hug the base of the cliffs below Mitre Peak. It was already a different route than I remembered it in the past where we were a little closer to the middle of the fjord, and that there were dolphins messing around before we continued.
Julie and I were debating when I should switch out the lens to the telephoto one in the hopes of seeing wildlife (one major reason why I'm not terribly happy with Canons because they refuse to make a lens that does both wide angle and telephoto in one go like the Nikons do). Anyways, we stayed with the wide angle zoom lens for a bit just to try to capture the waterfalls with this camera (where I had the 3 megapixel Sony Cybershot in the past).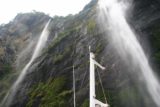 There didn't seem to be as many waterfalls coming down Mitre Peak as before, but we did get close to the Four Sisters and even went in front of Fairy Falls where the front of the boat got a drenching (though no one was down there). This didn't happen before, but it was fun nonetheless.
Bridal Veil Falls was also still there and there was a blooming rimu tree in front of it. On the opposite side of the fjord, Palisade Falls was also still twisting its way into the fjord just as I remembered. Likewise, Stirling Falls was also gushing like we remembered it in the past except the dreary weather kind of made any photos of that attraction rather dull and grey with ghostly mountain contours trying to make themselves visible through the low clouds. Despite the weather, it was comforting to know that after five years, our book
remained pretty spot on.
We passed by some fur seals before reaching Copper Point, which we didn't stop for and I didn't switch out my telephoto lens for yet. But I did go ahead and do it once we got past Copper Point knowing that we should be able to see some wildlife before continuing on to Stirling Falls as we head back into the fjord. I was hoping some penguins would show up as well as they did five years ago.
Eventually as we passed beneath the north side of the fjord, we did manage to see fur seals on the same rock area just east of Palisade Falls. However, we didn't spot any penguins.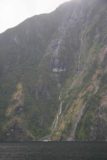 Julie made me switch back to the wide angle lens as we were approaching Stirling Falls. And not surprisingly, the boat stopped right beneath the falls where the captain congratulated any tourist who took the drenching (just like last time). Again, the scene wasn't as colorful as we had remembered it, but we took what photos we could given everything were fleeting moments on this cruise.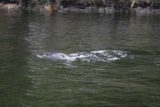 As we were about to head into the Harrison Cove, we saw some dolphins headed opposite our direction. The boat stopped to try to let us photo them, but I was totally bumming that we lost a few precious moments trying to switch back to the telephoto lens (damn I hate Canon SLRs for this reason).
All I was able to get were a few splashing shots of dolphins in a group surfacing for air.
By 11am we were done with the cruise and walked back to our car. The weather remained rainy, and I guess we were quite lucky with our better Milford Sound experience five years ago.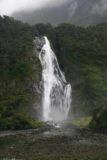 I couldn't even get that nice shot of reflections in the fjord and a snowy Mitre Peak piercing the clouds in morning light from the last time. The clouds were simply too persistent this time around.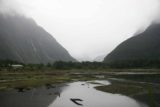 Anyways as we drove off, the rain got harder. We didn't entertain any notion of re-visiting the Chasm knowing that there wouldn't be much of a true waterfalling experience. Besides, the hard rain discouraged us from getting out of the car anyways.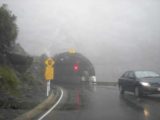 The rain persisted as we approached the Homer Tunnel. We were considering doing the Routeburn Track from The Divide to Key Summit and Earland Falls, but we also wondered about whether we should also do the Hollyford Track from Humboldt Falls to Hidden Falls and back.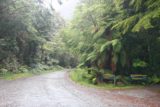 Obviously this rain meant that we weren't going to do the Routeburn Track unless obscured views and climbing mountains in wet weather were our desires. Instead, we were betting that Hidden Falls would be worth the 6-hour hike along the Hollyford Valley.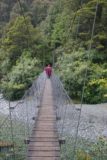 At 12pm, we arrived at the familiar car park we had just been to yesterday. It was still raining, but it wasn't as hard as the Homer Tunnel area.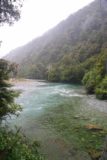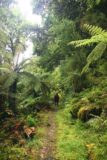 Julie and I took some time to put on waterproof pants, grab some snacks that we brought along, and don our rain ponchos as we set off. And after crossing the swing bridge at the start, we were officially on the Hollyford Track.
The hike itself was very reminiscent of the flat sections of the Milford Track after descending into the Arthur Valley en route to Sandfly Point. For this track was also passing through extensive groves of native trees and the ubiquitous ferns that are just as iconic as the flightless Kiwis are here. The track was also well developed with each major stream bridged and boardwalks built suspended above the muddiest and swampiest sections.
The sandflies didn't seem as bad along the track as they were at the trailhead. But then again, maybe that's because we were constantly on the move and not standing around in one spot.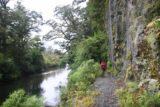 The weather gradually improved to light rain and it was actually comfortable hiking weather. We saw one group of four people heading back the other way barely an hour into the hike. But beyond that, we didn't see anyone for the next two hours or so.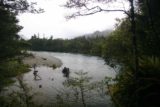 At around 2:45pm, we finally arrived at Hidden Falls. There was a signed and long swing bridge crossing a very wide creek while only able to support one person, but from here I noticed immediately that the head of this creek had the waterfall as spray was visible but the falls was facing away from the line of sight at the bridge. I guess that might be why the falls got its name.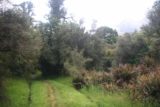 So instead of crossing the bridge, we saw there was a path that continued closer to a better viewing spot of the falls. And since the falls was spraying the area real hard, it was also quite muddy and slippery the closer we got.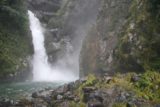 Finally we got to an area almost in front of the falls. But it was real hard to take a photo here thanks to the intense mist of the falls as its waters were crashing violently into the plunge pool while much of the spray was crashing against cliffs before the self-generated winds were blowing in our direction.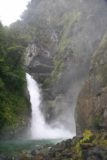 As I tried to get to a spot where I was hoping it would be drier, I happened to slip on one of the rocks and took a nasty tumble eventually crashing into a larger rock where my jaw and right torso stopped my momentum as I was about to fall right into the mud.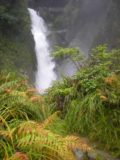 Thankful that I was still conscious and nothing was broken, we dutifully took our photos and movies, and then beat a hasty retreat back in the direction of the car park knowing we had a lot of hiking left.
Hidden Falls looked to be between 20-25m tall, but I don't think it was the 30m that the Hollyford Track brochure said it was (unless there were more hidden tiers not visible from our viewing spot). It was on the order of Tarawera Falls and Huka Falls but not quite as good as either of them. In fact, we kind of thought this long hike was stretching our definition of whether a hike was worth the effort or not.
We began our hike back to the car park at 3pm. Near the turnoff for the Sunshine Hut (guided trampers accommodation), I passed by another couple who seemed to have just left from there. And barely a few more minutes later, we saw another couple going the other way as well. Still, when you can count on your hand the number of people on the track on Christmas Day, that's saying something about how quiet and peaceful this place was.
About a half-hour into our return hike, we saw the sun started to come out and the weather was clearing. That brought out the bright green colors of the dense vegetation here as well as the snowy peaks previously hidden from us by the clouds.
At 5:20pm, we thankfully returned to the car. Our legs were tired, but at least the whole hike was mostly flat with a few minor hills just to get in and out of some drainages, but overall, the elevation gain was practically insignificant considering we had just hiked for 5.5 hours.
Given the improving weather, Julie and I decided to seize the moment and quickly drive back towards the Milford Sound. And once we returned to the Milford Sound Highway, we saw that fortune smiled upon us as the clouds have finally lifted so we could finally see the scenery the way it was supposed to be seen.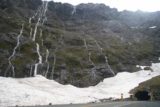 For as we got closer to the Homer Tunnel, we were surrounded by waterfalls tumbling down the steep walls of Fiordland's mountains. And we could see the grandeur of the scene that was previously hidden from us whenever we drove along this stretch.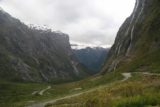 After stopping to take photos from in front of the Homer Tunnel, we stopped some more on the other side of the tunnel as the plethora of cascades decorating the U-shaped valley below was a sight to behold.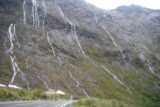 However, all this stopping and going delayed our eventual return to Te Anau (and we were worried that not many places would be open tonight for dinner; we hadn't had a decent meal all day long).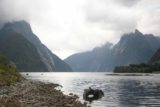 At 6:20pm, we were back at Milford Sound, but the skies remained overcast facing the scenic fjord. Oh well, we tried at least.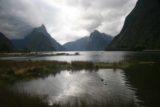 But since we were here, I braved the sandflies and took photos. There was a picnic area down here, which I didn't remember from before, and there were more sticks in the water sticking out above the fjord, which I also didn't remember very much from before either. But I did manage to take a couple of snaps with ducks swimming before the fjord scene, which was kind of cool.
By 6:30pm, we hastily headed back to Te Anau. And by 7:55pm, we arrived back in town. Throughout the drive, the scene was delightfully mostly clear and sunny. It was too bad we couldn't make more stops (Julie was already worn out today and wanted to get to dinner ASAP) because the Eglington Valley, was bright and colorful. The mountains were visible in their full glory and the sun painted the landscape both green and purple (from all those wildflowers).
We had a pretty satisfying dinner even if it was pretty basic Chinese food. We were under the impression that this was the only place open in town and gladly took the 10% holiday surcharge. However, upon strolling through the center of town, we saw there were a handful of other cafes open. One place served $57 NZD per person buffet dinner, which was rather overpriced in our book as our whole meal costed $44 NZD total! But we did have some overpriced dessert (to satisfy Julie's craving) for $5NZD of one slice of cake plus a scoop of ice cream.
And at 8:55pm, we were back at the motel, finally!
Day 7: PITCHING OUR BOOK
It was about 7am when we awoke. This was later than we had been getting up throughout this trip, but since we really had no sightseeing planned for today (other than maybe a panoramic gondola ride in Queenstown), we were real flexible. I had originally planned to visit the Double Barrel Falls at the start of the Routeburn Track, but yesterday's Hollyford Track waterfall (Hidden Falls) kind of gave me an idea of what to expect regarding relatively obscure waterfalls in the area.
After all, if there's no love given to it already, there's probably a reason why that's so.
So we scrapped the Double Barrel Falls idea like we scrapped the Earland Falls idea yesterday, and were about to head out of Te Anau at 9am.
It was raining pretty consistently with periods of heavy showers. I guess the good weather didn't last for very long yesterday. However, we figured that since we've now spent at least a week or longer in the Fiordland area (including our trip four years ago) good weather normally doesn't last for even a day!
As we were headed out of town, we realized that we still had yet to make store visits to pitch our New Zealand Waterfalls book
. We figured our distributor could use a little help to try to push the books and make puchasing managers aware of them.
So just before heading out of Te Anau, we decided to visit the i-SITE and the Fab & Finesse shop in the town centre. There, we made our spiel and exchanged contact info for possible follow up.
Sure this isn't the most enjoyable way to spend time while traveling abroad, but when you're trying to make a living chasing a dream, you have to take the good with the bad sometimes. And making sales visits and sales calls are one of the more unpleasant things to do, especially if you're not normally a sales person by nature.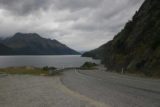 We finally left Te Anau at 10am. It was still raining, but the drive to Queenstown was pretty fast and uneventful. There was one police officer parked at a pullout waiting to nab a speeding motorist. But there were at least three vehicles going the opposite way flashing high beams to warn us of the trap. I noticed this too in Australia, and I guess it's just something people do to help perfect strangers stay out of trouble (this is definitely not something we see much of back in the States).
At 12pm, we arrived at Queenstown. Our room wasn't ready when we arrived so we left our rental car in the motel unit's car park (there's not much space) and then walked into the town centre.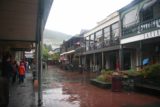 Here, the scene was pretty happening as it was full of tourists and maybe some locals enjoying the Boxing Day eating and shopping. The town certainly had a bit of a youthful exuberance to it as many of the people walking around were probably younger than us.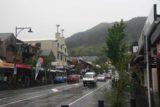 We decided to have a lunch at a very busy burger joint called Fergburger. Apparently, it was the best burger in New Zealand so we just had to see for ourselves. We weren't sure if it would come anywhere close to the burger we had in Coral Bay, Australia over three years ago, but we had to try nonetheless.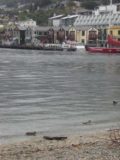 This burger joint was quite busy and crowded. After making our order and waiting some 20 minutes for our food, we managed to find a spot at a window bar and chow down on their famous burger. After we were done, I can't say it was the best we had, but then again, we figured that burgers are burgers, and even though the meat is from New Zealand, normally the choicest cuts and quality of meats go to more upscale restaurants where they can serve their beef or lamb medium rare.
During our meal, the rain started to come down hard. From the way the weather was shaping up, we totally doubted we'd be going up on the gondola for that classic panorama of Queenstown, Lake Wakatipu, and the Remarkables.
We then walked around the Queenstown area popping in and out of shops, and also making more sales visits to bookstores (e.g. Paper Plus and Whitcoulls) and information centers (e.g. the DOC office) in town. Again, not the most pleasant way to spend your time on holiday, but we had to do it and help our local distributor push inventory.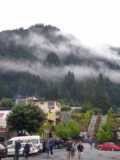 These sales visits took quite a bit out of us, and so we eventually returned to our motel at 3pm to finally check in. The rain continued relentlessly so we had to make sure our camera and literature were sheltered from the moisture. The Coronation Lodge didn't have lifts so I had to carry our heavy luggage up two flights of stairs.
At 3:30pm, we went back down to the sheltered car park and drove to the Fresh Choice Supermarket on the outskirts of town. As we were pulling into the car park, we heard some crashing noise. And when we looked to see the possible source of the raucous, it turned out that a vehicle with a bicycle atop a bike rack on top of the vehicle attempted to go through a low clearance bar upon entering the car park. That resulted in the bike dangling on one wheel to that car and locals chuckling as the driver obviously forgot he had something on the top of his car.
Anyways, the groceries weren't cheap as we bought some $65 NZD worth of stuff, and it wasn't like we bought very much food (mostly fruits, snacks, and organic soy milk). It was certainly one of those moments that reminded me that things have definitely gotten more expensive since five years ago.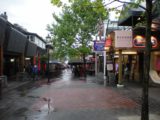 At 4pm, we returned to the motel to call it a day. And as I look out our window, it's still raining and the weather seems to get worse as I can no longer even see the mountains surrounding town. I guess that pretty much dashed any outstanding hopes we had of going up the gondola for that classic panorama. It just wasn't meant to be…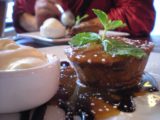 For the evening, we walked back into town for a dinner at around 7:30pm. The city seemed to come alive once again as we started to notice this seemingly happening "ice" bar (I think it was called "Subzero" or something like that) that seemed to draw a lot of young clientelle and quite a bit of attention from people like us.
Julie and I ultimately decided on some restaurant near the waterfront (it might have been the same restaurant we had eaten at in Queenstown five years ago). The thing that sold us on that place was the sticky date dessert, which each of us had our own this time around.
And with that, our second stint in Queenstown was pretty much done. Tomorrow, we'd go back up through the Haast River Valley towards the Fox Glacier this time around (as opposed to Franz Josef Glacier the first time around)…
Day 8: CLOUDS OBSCURA
We awoke at 5am in anticipation of leaving for the West Coast early. I knew a long drive was ahead of us so I figured we mind as well get the early start and perhaps have some time to do stuff at Fox Glacier throughout the afternoon. We didn't do Fox Glacier five years ago and only Franz Josef was covered in the book
. So everything we do in Fox would be new.
After trying to make minimal noise finishing up or packing and having breakfast, we eventually left Queenstown at 6:30am. The sun hadn't quite yet risen over the Remarkables Mountain Range, but we could tell straight away that the weather was going to be much better today than it had been yesterday. Too bad we wouldn't be sticking around for that gondola ride for the classic panorama of Queenstown, Lake Wakatipu, and the Remarkables.
The trip started off in fair weather, but when our Nuvi
told us to take the Crown Range Road, we switchbacked our way up into the low hanging clouds and experienced some drizzle before rising above them clouds and getting fair weather again. We didn't take this road last time, and apparently taking this road shaved off quite a few minutes from sticking with Hwy 6 through Cromwell. For we arrived in Wanaka at 7:28am and took a quick photo break of ducks swimming before the attractive lake. The clouds still were low hanging in the distance so this lake wasn't backed by the snowy mountains that would've really made the panorama something special.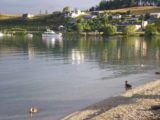 Anyways, Wanaka (which was referenced in the Tom Cruise movie Minority Report
) seemed like a happening recreational town. But we were merely passing through as the town still had yet to wake up. And it was only a few minutes drive further east before we rejoined Hwy 6.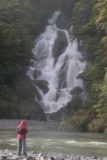 We progressed further north rather quickly. Before we knew it, we pulled over at the car park for Fantail Falls at 8:30am, where a two-minute walk put us right on the boulders flanking the river passing before the falls itself. The car park already had three cars when we arrived so we knew this was a pretty popular spot.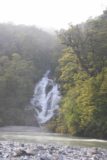 As I brought my tripod along and tried to take some decent long exposure shots of the falls as well as Julie, the sandflies were quite the nuissance and were the main reason why we really couldn't enjoy the falls in a relaxed state of mind.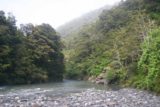 The sun popping in and out of the low clouds also wreaked havoc on the long exposure photo aspirations here. The opening in front of the falls was a tad misty with some fog hovering above us, but the falls remained easily visible. Nonetheless, the falls was pretty much as we had remembered it, and the book remained spot on in terms of descriptions and directions.
By 8:50am, we were back at the car and continued our drive towards Haast Pass and beyond.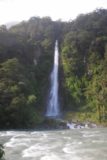 At 9am, we arrived at the car park for Thunder Creek Falls. I actually noticed some fairly substantial waterfall from the road as we had just passed the Gates of Haast Bridge and continued driving for a minute or two. We were the only ones at this car park (really more of a pullout).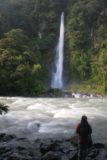 Insted of two minutes, this walk was five minutes. The sandflies hadn't found us yet so we quickly got to the end of the trail with tripod in hand and took photos of the tall waterfall. Unlike five years ago, we had to contend with a mix of sun and shadows so the photographing here was more difficult than last time when it was either raining or threatening rain.
Eventually, a couple of other couples stopped by while Julie and I were taking photos, but we'd ultimately leave the car park as the only ones left after having our fill of the falls (and consequently making haste to minimize sandfly bites).
After leaving the falls at 9:20am, the drive continued to edge closer to the West Coast (though we did hear some strange grinding sounds at 9:30am which made us worry about a car breakdown in the middle of nowhere). But unlike the promising start to the day, we were driving through a mix of drizzle, pockets of rain, and sun. The clouds were laying low so we couldn't get to see some of the Wall of Tears-like effects of multiple cascades coming down the mountains simultaneously. That was kind of disappointing because I hoped to get some photos I wish I had taken five years ago. I guess it just wasn't meant to be this time.
Once we got to Haast and the Haast Junction, the weather continued to deteriorate into outright rain and drizzle. It was still foggy and we just didn't bother to stop at Haast Beach or Knights Point given the lack of views. However, we did stop at around 10:55am at some bouldery beach full of rocks with writing on them (some stacked, some in other interesting configurations). Quite a few other cars were parked here to check out the scene as well so I didn't mind getting out of the car and stave off another onset of road fatigue.
Even though the clouds were low still, I did manage to take photos of the rough seas and the pounding surf all the while some of the vegetation showing signs of being severely windswept and deformed.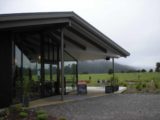 The drive eventually concluded as we entered Fox Glacier vicinity and eventually the Mt Cook View Motel on the Cook Flat Road at 11:30am. Unfortunately, the rooms weren't ready yet so Julie and I decided to go to the Matheson Cafe near the trailhead for Lake Matheson and indulge in a lunch while trying to wait out the clouds as well as our ability to check into our motel.
At 11:50am, we arrived at the cafe, and we had ourselves some venison pie as well as a delicious prime rib steak sandwich served medium rare. The sandwich was delicious, and it was way better than the overhyped and overcrowded Fergburgers in Queenstown. In fact, this was up there with some of the steak sandwiches and burgers we had in the outback of Western Australia as well as a cafe in Coral Bay (perhaps the best burger we ever had), respectively.
Even though the weather remained drizzly and foggy (and this didn't stop many of the tourists who still went on the walk regardless), the lunch was a great time killer. So sated was I that while Julie was using the internet at one of the terminals there, I treated my food coma with a bit of a nap on one of the cafe's couches.
Eventually at 1:40pm, we returned to the Mt Cook View Motel and finally were able to check in. Thus, we lightened the load on our rental car and got settled before heading back out on the road at 2pm. We didn't linger long because by this time, the sun had already broken through the clouds and the temperature quickly soared into the mid 20s (in Celsius).
Ten minutes later, we arrived at the car park for the walk to the terminus of the glacier. Even though the weather seemed like it was improving in the Fox Glacier town, the valley of the glacier itself was still dominated by low hanging clouds that were beginning to lift as well as some drizzle and sprinkles.
The walk to the end of the unguided part only took 30 minutes each way, which was significantly shorter than the one-hour-each-way required for the Franz Josef Glacier. However, it seemed like there were fewer significant waterfalls to notice on this walk (not to say there weren't any).
On the way to the glacier, both of us were pretty preoccupied with taking photos of the glacier itself. We shared the walkway with both guided walks as well as throngs of tourists on unguided walks or on tour buses. They ended up being nice subjects for some of my photos showing the immense scale of the glacier itself.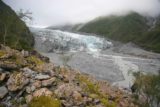 At the end of the walkway, it was still sprinkling and the glacier-generated winds seemed to blow those droplets directly into my camera lens. Meanwhile, the clouds appeared to still move in the opposite direction. Some of the more impressive waterfalls were mostly obscured by the low hanging clouds, and it didn't matter how long I waited. For the clouds seemed to get lower and lower with each passing minute.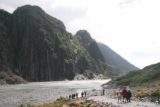 During our photo taking at the end of the official track, we heard some loud cracking, and then eventually a thunderous roar as a large chunk of ice fell into the river. I think Julie managed to catch a little bit of the aftermath in her movie, but that was an excellent illustration of why you don't want to be near those things, especially as Global Warming continues to accelerate the melting of glaciers such as this.
After giving up on getting better photos of the waterfall closest to the glacier terminus, Julie and I retreated back to the car park, arriving at 4pm. I spent the next ten minutes walking to get a better view of one of the waterfalls north of the car park. And after getting our fill of that, we drove back into the Fox Glacier township. There, we walked around looking for suitable places to have dinner and getting some information regarding the Glowworm Dell that I remembered was here five years ago.
Unfortunately, the info person told me that it used to be there, but now they put motels before them and thus access may not be possible anymore. He did say the Terrace Walk has glowworms at night, but we'd have to wait until well after 10pm for the skies to be sufficiently dark enough to allow the glowworm sightings. Julie was less than impressed with this option and was giving me the guilt trip for not doing the Te Anau Caves a few days ago.
At 4:50pm, we ate at a cafe next to the info center. There, we had some delicious groper and rack of lamb. It wasn't cheap (seemed like any sit down place in the country wasn't cheap anymore and started to feel more like we were back in Iceland though in hindsight it wasn't quite that bad), but we did leave quite satisfied.
At 5:50pm, we returned back to the motel. Even though the sun was intense by now, there were still clouds stubbornly clinging to the Southern Alps. We weren't sure if we'd be able to do the Lake Matheson walk later on this afternoon near sunset, but we decided to take a brief nap and unwind for a bit before making that call later on. At least the mechanical mozzies (i.e. helicopters) were out and about buzzing loudly so we knew the weather must be at least somewhat acceptable enough for those tours to be taking off.
After a couple hours of resting and doing some organization and labeling of photos, I went back on the road alone at 8pm. I first drove towards the nearby Lake Matheson car park, but one look out towards the south made me realize that neither Mt Tasman nor Mt Cook woould show themselves except for a hint of other snowy peaks here and there between the moving clouds. At least I knew where to look the next time we'd show up assuming the weather improves tomorrow morning or late afternoon.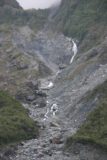 So given this circumstance, I headed straight over to the Fox Glacier considering I didn't think I'd come back here tomorrow. So within a few minutes, I was back at the trailhead, and I could immediately see that the clouds have lifted much higher than earlier this afternoon. In fact, I could even see the top of the glacier and the pocket of blue sky above it!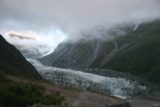 I quickly walked all the way to the end of the trail again, taking more photos and finally getting photos of what I thought was Flute Falls (which it turned out it wasn't as that one should've been visible along the road to get to the car park; which we didn't notice) near the terminus of the glacier. But I also saw more substantial cascades further up the glacier. In any case, this experience was far quieter and more pleasant, and I was glad I did it.
But it wasn't much longer before I quickly made my way back to the car and returned to the Mt Cook View Motel at 8:55pm. At that time, the low clouds seemed to have returned. I'm not sure whether we'd get the fine conditions we're hoping for tomorrow, but we'll have to keep our fingers crossed…
Day 9: THE GREAT RECESSION
I had overslept my 5am alarm and briefly awoke after 6am. But after glancing out the window and seeing lots of fog and drizzle, I gave up hope of hiking to the backside of Lake Matheson for a postcard view of Mt Tasman reflected in the lake at sunrise. So I went back to sleep and both Julie and I got up at 8am.
It was still mostly cloudy at this time. So the plan was to go to Franz Josef Glacier before returning here in the afternoon in the hopes that the weather would improve this afternoon.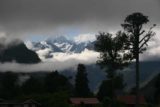 After having our own breakfast and Julie pointing out that there was a brief opening in the clouds with a view of Mt Cook so I could take photos of that fleeting moment, we left the motel at 9:45am. The weather seemed like it was still continuing to degenerate into the typical pattern of rain and a few pockets of sun piercing through some of the holes in the clouds (however rare they seemed).
We eventually got to the car park for the Franz Josef Glacier at 10:20am, which was very popular and busy as evidenced by the difficulty of finding parking spaces near the trailhead. Still, we were lucky and managed to park right in front of the trailhead.
On the approach to the glacier, despite the fog and drizzle, it seemed like there's a pocket of sun above the glacier, which we could see from the bright bluish ice's upper reaches. Nonetheless, we could see the dark clouds were descending on the scene. So much for the fine weather we had expected.
Having been here five years ago, we couldn't help but to make comparisons with our recollections. One of them was a large double-stranded waterfall falling towards the glacier terminus. It was big enough for me to think this was the Unser Fritz Falls. But it somehow seemed different as it was taller than I remembered and had larger strands consisting of the stream of water whereas I swore it was a singular stream in the past.
Another thing we noticed was that the road to the car park was completely sealed now. Before, it was mostly unsealed.
Anyways, we started off the walk by getting up to the Sentinel Rock viewpoint. Unfortunately, by the time we got there, the clouds had descended upon the line-of-sight of both the glacier and the Unser Fritz Falls so hardly anything was visible at the time. To add insult to injury, the rain started to fall harder as well.
So back down the trail we went where we went through a pocket of rainforest. The rainforest part I remembered, but one thing that struck me as different was that the path was much wider and seemingly flatter than in the past when it was a little overgrown in parts and seemed to be steeper and hillier.
It wasn't long before we quickly got into the rocky glacier valley when the rainforest ended. From there, we could see that the low clouds kept the scene rather dreary, but we were able to see a little more of the glacier than we did from the Sentinel Rock.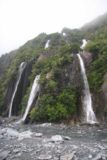 So we didn't hesitate in proceeding further with the walk into the rocky glacier valley. There were whole lines of people trickling both to and from the glacier itself. The walk seemed easier this time around for the path was pretty easy to follow and the stream crossings were real minor. In fact, one of the big differences we noticed this time around that there was a little footbridge going across a stream as we got closer to the falls at Trident Creek. I never recalled seeing any footbridges five years ago.
The same waterfalls we noticed on the cliffs to our right were also there, but some of them seemed to be flowing more vigorously than before.
Going pass Trident Creek meant that we should be getting close to the terminus of the glacier. But now it was apparent that the glacier did indeed recede from the last time we were here for we still had a bit more walking to go beyond Trident Creek.
In fact, I noticed that Unser Fritz Falls seemed to fall right near the dirty ice close to the terminus of the glacier. Five years ago, the falls fell near where we did the heli-hike, which was well above the dirty ice.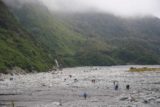 When we finally got to the end of the trail, we could see that it was easier to see the Waiho River gushing out of an ice tunnel at the terminus of the glacier. Last time we were here, it was harder to get that view, and there was an ice cave on the far right side of the valley well downstream from where the dirty ice was now.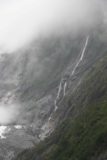 I felt kind of sad that the glacier retreated so much, and I wondered in five or ten years whether there would be much of this glacier left since the rate of glacier retreat has been accelerating with Global Warming.
At least the trail to the glacier terminus felt much shorter than it was five years ago. I remembered it took at least over an hour just to get to this point from the car park. Now, it took barely an hour.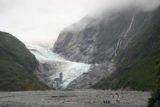 As we peered up at the glacier, we could see that we were also able to see the top of this glacier as there was a pocket of sunlight shining right onto the upper reaches of the river of ice. However, the dark clouds continued their assault on the scene stopping short of the upper reaches of the glacier. These clouds were still dumping sprinkles and sometimes a little bit of light rain making photography tricky.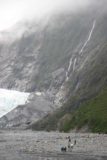 After we lingered here at the glacier, we turned back thinking there wasn't much more of the glacier to see. But as we got further away from the glacier and closer to the car park, the sun started to break through the clouds. And when I looked backwards to the glacier, I could see that the glacier started to show more of itself again while exhibiting a bit of a bluish ice color thanks to the sunlight. Moreover, the low clouds were starting to clear near Unser Fritz Falls. And when that happened, I could see the falls seemed much taller than I remembered it on our helihike (probably because the ice is lower now), and that the falls had a more double-barreled characteristic instead of the singular plume we noticed back then.
All these observations made me realize that our descriptions of the Franz Josef Glacier Valley from back then have changed over the years for glaciers are quite changeable these days.
Anyways, we returned to the car park by 12:35pm. And 15 minutes later, we were back in the Franz Josef Town. We had ourselves a decent lunch at the Landing Cafe & Bar, but after our meal (we finished at 2pm), we walked around town and took a trip down memory lane. For we saw the restaurant we dined at in the past called Beeches, which had survived over the years. However, we also noticed that the memorably named Cheeky Kea Cafe was no longer there.
The heli-hike office we were at back then was also still there as was the helipad on the western end of the main street somewhat hidden behind the trees. The town certainly seemed busier and a little more developed than we remembered it. I guess we couldn't have expected this or any other place to remain the same over the years. It's the nature of the beast as more tourists are here and the population continues to increase worldwide.
At 2:30pm, we returned to our car and got our book out along with some information. Now, it was time to get into our sales mode, summon our courage, and try to pitch our book in the local bookstore here called "Take Note" as well as the i-SITE.
We seemed to have gotten a pretty good response this time around and that gave us a little more encouragement that we're doing what we needed to do to help our distributor out.
At 3:10pm, we were finally back into our motel. The weather out here seemed cloudier today than yesterday despite the sun peeking out from time to time. But at the moment, it seemed like we may not end up doing the Lake Matheson walk after all given the dreary outlook.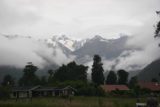 After taking a rest in our room, Julie woke me from my nap to point out that Mt Cook showed itself through the clouds once again. So I got up and took a few more photos of the scene before we decided to head back into town looking for a place to have dinner.
We left the motel at 6:30pm, but unfortunately, we couldn't find a suitable place for dinner for one reason or another. One place was fully booked and couldn't accommodate us for a couple of hours. Another one required a wait of 20 minutes, but they also charged 20% for a holiday surcharge even though Boxing Day was three days ago! Still yet another place didn't quite have the stuff on the menu that seemed to appeal to us. But all of the places seemed busy, which made us regret not going for an early dinner, which is what we usually do.
We eventually settled on the Matheson Cafe again. I was hoping they still offered their Prime Rib Steak Sandwich, which was one of the best steak sandwiches we ever had. But they only had the more expensive dinner menu. Nonetheless, we were immediately seated and we ordered a Ribeye Steak as well as the Fish of the Day, but the food took a while to get to our table. So we took the time to take photos of Mt Tasman when it finally showed itself from time to time as we waited.
At least this encouraged us to go for a walk around Lake Matheson in the hopes of getting shots of Mt Tasman reflected in the lake. And we promptly did that at 8:20pm knowing that we had to beat out the incoming darkness.
So we hiked really quickly trying to seize the moment and get lucky in getting views of Mt Tasman with reflections in the lake. When we got to the first viewpoint, we did manage to get partial views of the elusive mountain, but there were ripples in the water at that spot and thus no reflections.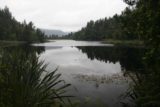 So we continued further and it took a while before we finally got to Reflection Island. There, we could see lots of reflections of the immediate surroundings, but Mt Tasman was well covered in clouds. With the wind behind us, we knew there would be no chance of seeing the mountain anymore as the clouds would continue to blow towards the mountain range and eventually condense into rain. And in New Zealand, you really have to pay attention to the direction of the wind if you care about anything weather related.
So it turned out that when we did get to see Mt Tasman, we got no reflections. And when we got reflections, we got Mt Tasman. Oh well, we tried. At least we didn't get any more sandfly bites though we did pass through a few swarms on the way back.
By 9:30pm, we were back at the motel. Now, it was time call it a day and look forward to the next area of sightseeing on the West Coast, which was towards the Westport and Karamea areas…
Day 10: "I DON'T BELIEVE IT'S SUMMER!"
It was 5:15am when we awoke after three presses of the snooze button on Julie's alarm. The reason for the early wake-up was to try to fit in an excursion to Arthur's Pass National Park and the Devils Punchbowl Falls before continuing on to the Pancake Rocks between Greymouth and Westport, and a hike to the Mangatini Falls on the Charming Creek Walkway in Hector.
As the day got brighter, I noticed that the clouds were reluctantly opening up and revealing some of the mountains we were hoping to see yesterday at Lake Matheson (albeit partially). Having gone through the bitter experience of going through the trouble of getting to the other side of the lake only for the clouds to obscure the views and keep us from getting the reflecting mountains in the lake, we decided to forget retrying the lake walk and head north along the West Coast, which we promptly did at 6:55am.
The drive north was pretty uneventful though I was bumming that the improving weather here was like an opportunity missed. For we were now able to even see the Franz Josef Glacier from the main highway as well as some of the waterfalls that were typically obscured by low clouds. We even passed by the Glacier View Motel, which was where we stayed at five years ago.
Beyond Franz, we heard on the radio (somewhere around 8am) that the Cathedral Cove on the Coromandel Peninsula was the talk of the country. That was because the Department of Conservation needed money and allowed a vendor a license to sell ice cream on the typically pristine beach. This got everyone up in arms about touts and hawkers being on the quiet yet popular beach, and we could remember what wonderful memories we had of that place after leaving the Villa Toscana in Whitianga to start our honeymoon.
Even though we found the news to be a bit disturbing, we somehow weren't terribly surprised since we hypothesized that perhaps the DoC was short on money as evidenced by the plethora of donation bins at many of the trailheads in the more popular places around the country. This was something we didn't really notice five years ago.
Our National Parks were facing similar pressures back at home after the Bush Administration left the National Park Service pretty much bare and in bad shape, and the financial crisis they exacerbated has allowed the capitalist vultures to try to swoop in and develop once undeveloped lands.
I guess DoC was under pressure to raise money by allowing some places to become more like third world tourist destinations (as hawkers and touts are the rule rather than the exception where poverty is common). That would certainly take away from the appeal of New Zealand's natural attractions, and we can only hope that this doesn't become commonplace either.
Continuing on with the drive, we started to hear grinding noises (sometimes breaking the momentum of the car) again. This was intermittent and it certainly didn't help our state of mind regarding whether we'll be stranded by a car failure somewhere in the middle of nowhere.
So at 9am, we stopped over at the Hokitika Airport. The relatively calm conditions that were currently prevalent in Glacier Country gave way to a mix of heavy rain and winds in Hokitika. I guess that was a foreshadowing of what was to come because we learned from the Hertz representative there that there's no available replacement vehicles as there's way too much demand and it caught all the rental car agencies off guard.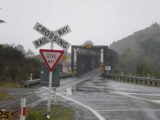 So we continued further north to Greymouth hoping perhaps the office here (in a bigger town) might have a replacement vehicle. En route, we went through that memorable bridge where both trains and automobiles had to share a long single-lane bridge. Funny how some things like this don't change…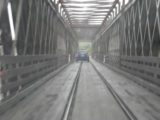 And at 9:50am, we got to the Greymouth Railway Station where we could talk to the manager, who happened to be working at the desk this dreary and wet morning.
But she gave us the same story about not having a replacement car. So she had us to go the Ford dealer in town that they have a contract with. And once there, the service guy hopped into our car and tried to reproduce the grinding that we had been noticing the past several days.
Unfortunately after twenty minutes or so of letting the service guy drive, we couldn't reproduce the problem so we were stuck with the car we were still using.
I guess the one positive we got out of this was that the service guy finally gave us a satisfactory explanation of the right-of-way road rules confusion we'd always been struggling with in New Zealand. He told us that people making left turns are supposed to yield to everyone, including those crossing traffic to make right turns (that's like saying someone making a right turn has to yield to someone making a left turn in the US)!
He then went on to say that only the "good-for-nothing" government types could come up with such a silly idea that didn't make sense. He said it used to be the intuitive way where the person making the shorter turn had the right-of-way and those who crossed traffic had to wait. But somewhere along the way, they changed the rules and it confused everyone including locals. It certainly wasn't the case in Australia and we did recall having similar confusion on our NZ trip five years ago. I guess that particular aspect of road rules hasn't changed.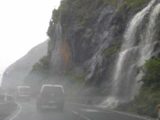 At 10:30am, after filling up on gas at a more reasonable rate than the highway robbery between Hokitika and Wanaka, we decided not to do Arthur's Pass due to the crappy weather. It made me wonder whether we should've stuck around Fox Glacier for a little while longer to take advantage of the calming weather there. Anyways, nothing we could do about it now.
Continuing further north from Greymouth, we headed to Dolomite Point in Paparoa National Park, and we arrived at 11:05am. We were shocked by how crowded it was here despite the windy and rainy weather.
So Julie and I put on our waterproof pants and rain ponchos and went about doing the walk in a clockwise direction. The last time we did this was right at sunset where the left side of the loop was too dark to take photos and it was getting so cold that our faces were numb and our noses were running profusely. But the scene with the setting sun was unforgettable.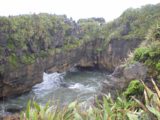 This time, we used Julie's point-and-shoot camera which doesn't get as affected by rain as much as my DSLR with its large lens. So we gladly took shots of the pancake rocks and ghostly profile of the coastline against the low clouds and relentless rain.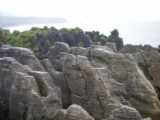 Even though the surf was pounding below the walkway, it wasn't high tide as the blowholes didn't seem to be going with the frequency they were five years ago (I guess we got lucky with the high tide as well as the sunny weather back then). And because of that, we started to notice the walkways passed over natural sea arches.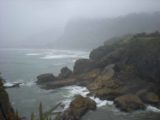 I guess we didn't realize they were arches because of the high tide, but now, this fact gave us a bit more of an appreciation of this particular spot. For it not only had the namesake pancake rocks and blowholes, but it also had sea arches, too!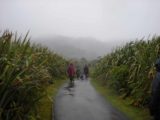 With all the photos we took and stops we made, we were glad we were prepared with the rain ponchos and waterproof pants. We saw other people wearing shorts or denim pants, and they were drenched. I'm sure it wasn't very comfortable for them.
At 12:10pm, we returned to the car and continued our drive north to Westport. At this point, we would be entering unchartered territory for us, but it was too bad the rain kept coming down hard.
We arrived and checked into our room in the Westport Motel at 1:10pm. The rain continued to come down so we hastily got our stuff out of the car and into our motel room. From there, we thought we might be able to wait out the storm a little by having our lunch, which was the Yellow House Cafe.
The lunch there was pretty simple and reasonably-priced stuff. I got a turkey sandwich in French bread, while Julie got salmon cakes. The menu items didn't seem like much, but as soon as we dug in, we were pleasantly surprised at how tasty everything was. The salmon cakes were killer stuff even though the two tiny salmon cake patties on the salad weren't very much.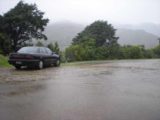 We finished our lunch at 2:45pm and headed north to Hector. As we continued heading north, the rain got harder and harder (as if it wasn't hard enough already). When we arrived at the start of the Charming Creek Walkway, the car park was flooded and the rain was practically torrential.
Julie talked me out of forcing a hike under these conditions so we retreated back to Westport to take care of some grocery shopping and to check on some road conditions at the local i-SITE there (I swore I had seen a sign saying the road to Karamea was closed).
So by 3:50pm, we were back in town and did our chores (like laundry). The i-SITE informed us that the weather was supposed to start clearing by noon tomorrow. Of course weather forecasts in this country are rarely correct as evidenced by the expected fine weather yesterday that never materialized at both Fox and Franz Glaciers.
The lady there also told me that a road was impassable near Karamea due to flooding. The road will be passable when the rain calms down and the flood waters recede. While we were there, I also noticed on one of their wall postings that the track to the base of Devil's Punchbowl Falls was closed. So I guess I'm glad we didn't make the detour to Arthur's Pass National Park today. Perhaps that was the one thing that we did right in hindsight.
At 4:40pm, we were back at our motel. We spent the remainder of the afternoon killing time with Julie watching some competitive cooking program (reality style) while I was busy composing blog entries or travel journals. I guess this downtime was an opportunity to get all caught up.
Nonetheless, sometimes Mother Nature dictates what and when you can do any activities, and today was certainly not one of those days where you could do anything. We'll just have to cross our fingers and hope tomorrow turns out better…
I guess when we look back at the last several days where we've re-visited old haunts and put our book to the test while jogging our memories of that first experience five years ago, I could see that several things about the country had changed in addition to ourselves and our perspectives. After all, many areas seemed more developed, more roads were sealed, some of the trails were easier and more well-used, and of course the glaciers have receded immensely.
But one thing that hasn't changed was the weather. Today was the seventh straight day of rain. Call it back luck, or just the way NZ weather is despite the fact that all the brochures, television shows, and websites show only the rare times when the weather here is actually good…
Visitor Comments:
Got something you'd like to share or say to keep the conversation going? Feel free to leave a comment below...
No users have replied to the content on this page