Day 5: REVISITING OLD HAUNTS
Having had a long day in Dunedin yesterday, we didn't sleep until almost midnight. That made it difficult to honor the 6am wake-up call from our alarm. But we dutifully did it nonetheless knowing we had another long driving day ahead of us, and that we wanted to squeeze in a possible visit to the Milford Sound should the weather be acceptable.
But the morning was overcast and yesterday was raining for a brief period of time, so we knew that the odds were stacked against us for having fair weather at Milford Sound considering we just had almost three straight days of sunny weather. Given New Zealand's fickle and notoriously rainy weather, we knew we were due even though it's technically Summer right now and that today's Christmas Eve (Mother Nature couldn't be that cruel, could she?).
At 7:30am, we left the motel, but before heading over to Fiordland, we spent a few minutes driving towards Baldwin St, which was proclaimed to be the World's Steepest Street. We had meant to see this at some point while in Dunedin since missing it five years ago. And even though I knew this might be some kind of tourist gimmick, we just had to see for ourselves whether this "world's steepest" claim was true or not.
So at 7:45am, we managed to find the unassuming Baldwin Street (unassuming except for some small text below the street sign proclaiming this was the world's steepest street), which was nothing more than a residential street with a real steep section paved in a white concrete as opposed to the familiar black asphalt. And given the drizzly conditions, we knew the street would be slick so we didn't bother trying to go up.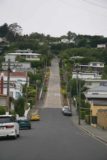 I got out of the car and into the drizzle to take photos. I wondered how the residents who have driveways on this street manage to have their car tilted so severely as they go in and out of their homes to get onto this street. But I reckon this wasn't all that different from some of the steep streets we had seen in San Fransisco, California. After all, Dunedin felt like San Fransisco in many respects what with all the Victorian homes on hills fronting busy streets.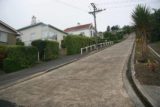 Once I was done photographing, we started to drive around to see if there was a way to descend this street just for the heck of it. It was kind of like the way we would descend Lombard Street in Frisco. But all the neighboring streets had "No Exit" on them and they weren't kidding. I guess the residents don't want tourists like us perusing their quiet street for this silly cause.
So we gave up on trying to figure out a way to descend this straight, steep street, and proceeded to leave Dunedin for Balclutha.
The hour-long drive was through a mix of rain and drizzle, but it was pretty much gloomy and overcast throughout. By 9am, we had reached Balclutha and crossed the Clutha River.
We had a choice whether or not to head straight for Te Anau from here or to give the Southern Scenic Route another go. And given the crappy weather, we weren't in any hurry to get to Te Anau and then continue further north to Milford Sound.
So we decided to follow the Southern Scenic Route insignias which seemed to start from High St (just as I vaguely remembered it), and headed south right into the Catlins.
The last time we drove this stretch five years ago, most of the Southern Scenic Route through the Catlins Forest was unsealed. But I had recalled that just after our New Zealand Waterfalls book
was printed, that one of the i-SITE employees in the area informed me by email that the Southern Scenic Route was completely sealed (this happened in late 2006). So I was anxious to see how the drive would turn out with the route completely sealed. Besides, I was also curious to see whether our book's directions and information remained valid five years later.
We were about to try out our book
for the Purakaunui Falls, which was conveniently not far south of the town of Owaka. However, we knew time was short so we couldn't revisit Barrs Falls, Matai Falls, and McLeans Falls.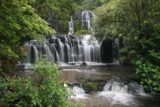 At 9:35am, we arrived at the car park for Purakaunui Falls. It was raining at the time, but that didn't deter us nor the handful of other carloads of people who were also here. I was quite proud that our directions were still valid, and the chapter details as well as the maps were still relevant. Still spot on, eh?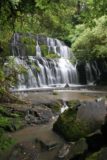 This time, the waterfall had a bit less water than five years ago. However, it was a prettier as the water didn't quite have the brownish color so typical of floods. Instead, it had the graceful multi-tiered drop that I was all too happy to photograph in long exposure with the DSLR camera (a piece of equipment I didn't have five years ago).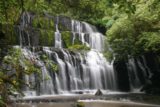 At 10:10am, we left the falls and continued along the Southern Scenic Route, which as the i-SITE lady said years ago, was definitely sealed. So we were zooming along the route (almost inducing driving fatigue as it was so smooth), and by 11:45am, we had reached Invercargill. So this was really more of a 2-hour detour instead of something that could've amounted to double that time like it was in the past.
After taking a brief break with a petrol stop (hopefully staving off the road fatigue), we passed through Invercargill en route to Te Anau. The large town was certainly much busier than we remembered it, but we weren't sure if it was due to Christmas Eve or that we happened to visit on a bad day since it was raining. In contrast, it was partly cloudy now and perhaps the weather might improve.
The weather quickly warmed up as we left Invercargill and headed north. I was afraid my arms would get sun burnt given the continued exposure to the sun. Anyways, we were going at a real good pace and ended up at Te Anau by 1:45pm (despite a nasty accident scene along the way between Mossburn and Te Anau).
After checking into our spacious room at Lakeside Motel, we left for Milford at 2:20pm (after driving a little bit of asking around town to see what the trading hours would be tonight and tomorrow given the Christmas holiday). We'd eventually learn that there was one Chinese restaurant (which seemed rather Westernized for our liking) that would be open tomorrow. This didn't surprise us since we knew many Chinese are Buddhist and not Christian so Christmas probably wouldn't be observed. At the same time, we figured this place would be real busy considering they'd probably be the only place open (besides Real Journeys) tomorrow.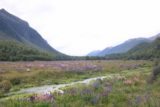 As we made the drive north to Fiordland National Park, we had a choice whether to head straight for the Milford Sound or check out Humboldt Falls using our guidebook
as the guide (once again putting our book to the test).
As we got past Lake Gunn, the weather started to deteriorate again. The mostly overcast skies started to give way to drizzly conditions. And by the time we went past the Divide (the other end of the Routeburn Track), it was pretty much all out rain.
So given these set of circumstances, we opted to head straight for the Lower Hollyford Road and take it to its end where we could do the familiar walk to Humboldt Falls. The Lower Hollyford Road was still unsealed as I remembered it, and somewhat smooth as far as unsealed roads go. Except there were a few potholes on the way, and there was the Gunn's Camp, which was a strange bit of civilization on this road that I never recalled seeing five years ago. In fact, I never recalled there was any bit of civilization along this route in our trip before.
By 3:40pm, we arrived at the end of the road and car park. It was definitely raining here so we donned our rain ponchos. Unfortunately, sandflies were also present, and we certainly weren't looking forward to their itchy bites.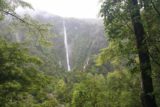 So Julie and I did the uphill walk to the viewpoint of the Humboldt Falls. And when we got to the end of the track, we could see both the main falls and the companion falls still had very healthy flow. In fact, this place looked pretty much the same as I remembered from our previous trip, which said something positive about a healthy environment without logging, overdevelopment, overpopulation, etc. Just you and nature.
However, clouds seemed to obscure the uppermost parts of the main falls from time to time. So we waited patiently to take our photos all the while sandflies were buzzing around us and taking their shots at us.
I was glad Julie finally got to see this waterfall in person as she previously stayed in the car five years ago. But I'm sure she didn't appreciate the sandflies. I did manage to sustain a couple of bites on my exposed foot, and they sure did start to itch!
At 4:30pm, we hastily returned back to the car and sought shelter from those sandflies and the intensifying rain. I did briefly see the sign at the start of the Hollyford Track, which mentioned that the Hidden Falls Hut was 2.5 hours from this trailhead. So that gave me some hope that if the whim of the weather remained sour for the Routeburn Track and Earland Falls tomorrow, then perhaps Hidden Falls might be a better alternative. We'll just play it by ear tomorrow.
One thing's for sure though; we certainly weren't going to go all the way to the end of the road and visit the Milford Sound today. The weather was too bad, and it was getting too late in the day. However, we did manage to visit Christie Falls on Falls Creek, which was right by the road and only a few minutes west of the Lower Hollyford Road turnoff. A few other tourists noticed the attention we paid to this waterfall and followed suit by joining us in the photofest (despite the rain) in the typical lemmings effect.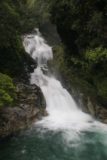 At 4:55pm, we finally began our return to Te Anau, knowing that this may be the last time we have a somewhat decent dinner for at least the next 48 hours.
By 6:10pm, we returned back to Te Anau. The weather had improved in town, which was a welcome relief from the expectedly rainy conditions of Fiordland.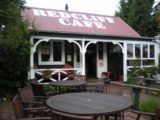 So we dined at the Redcliff's Cafe, where we enjoyed some wild venison and pork belly. We both got a kick out of reading some scribblings left behind by cast members of the Lord of the Rings such as Frodo, Sam, Pippin, Gimli, and Gandalf. I guess this was visited by some distinguished guests, but we were curious as to how we managed to miss this spot five years ago.
Another curious thing was that the place I remembered where we dined in our previous visit was also missing. I guess restaurants come and go quite often, and I'm sure our previous spot no longer existed (though I can't remember what that restaurant was called). Still, all the memories of experiencing four seasons in a day and other pleasant recollections were quite vivid as our present visit has managed to jog.
At 7:50pm, after a little bit of grocery shopping and making sure that Chinese restaurant was the only place open tomorrow, we called it a day.