Day 7: PITCHING OUR BOOK
It was about 7am when we awoke. This was later than we had been getting up throughout this trip, but since we really had no sightseeing planned for today (other than maybe a panoramic gondola ride in Queenstown), we were real flexible. I had originally planned to visit the Double Barrel Falls at the start of the Routeburn Track, but yesterday's Hollyford Track waterfall (Hidden Falls) kind of gave me an idea of what to expect regarding relatively obscure waterfalls in the area.
After all, if there's no love given to it already, there's probably a reason why that's so.
So we scrapped the Double Barrel Falls idea like we scrapped the Earland Falls idea yesterday, and were about to head out of Te Anau at 9am.
It was raining pretty consistently with periods of heavy showers. I guess the good weather didn't last for very long yesterday. However, we figured that since we've now spent at least a week or longer in the Fiordland area (including our trip four years ago) good weather normally doesn't last for even a day!
As we were headed out of town, we realized that we still had yet to make store visits to pitch our New Zealand Waterfalls book
. We figured our distributor could use a little help to try to push the books and make puchasing managers aware of them.
So just before heading out of Te Anau, we decided to visit the i-SITE and the Fab & Finesse shop in the town centre. There, we made our spiel and exchanged contact info for possible follow up.
Sure this isn't the most enjoyable way to spend time while traveling abroad, but when you're trying to make a living chasing a dream, you have to take the good with the bad sometimes. And making sales visits and sales calls are one of the more unpleasant things to do, especially if you're not normally a sales person by nature.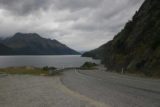 We finally left Te Anau at 10am. It was still raining, but the drive to Queenstown was pretty fast and uneventful. There was one police officer parked at a pullout waiting to nab a speeding motorist. But there were at least three vehicles going the opposite way flashing high beams to warn us of the trap. I noticed this too in Australia, and I guess it's just something people do to help perfect strangers stay out of trouble (this is definitely not something we see much of back in the States).
At 12pm, we arrived at Queenstown. Our room wasn't ready when we arrived so we left our rental car in the motel unit's car park (there's not much space) and then walked into the town centre.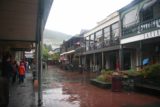 Here, the scene was pretty happening as it was full of tourists and maybe some locals enjoying the Boxing Day eating and shopping. The town certainly had a bit of a youthful exuberance to it as many of the people walking around were probably younger than us.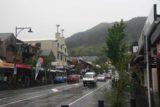 We decided to have a lunch at a very busy burger joint called Fergburger. Apparently, it was the best burger in New Zealand so we just had to see for ourselves. We weren't sure if it would come anywhere close to the burger we had in Coral Bay, Australia over three years ago, but we had to try nonetheless.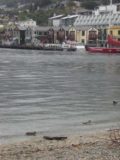 This burger joint was quite busy and crowded. After making our order and waiting some 20 minutes for our food, we managed to find a spot at a window bar and chow down on their famous burger. After we were done, I can't say it was the best we had, but then again, we figured that burgers are burgers, and even though the meat is from New Zealand, normally the choicest cuts and quality of meats go to more upscale restaurants where they can serve their beef or lamb medium rare.
During our meal, the rain started to come down hard. From the way the weather was shaping up, we totally doubted we'd be going up on the gondola for that classic panorama of Queenstown, Lake Wakatipu, and the Remarkables.
We then walked around the Queenstown area popping in and out of shops, and also making more sales visits to bookstores (e.g. Paper Plus and Whitcoulls) and information centers (e.g. the DOC office) in town. Again, not the most pleasant way to spend your time on holiday, but we had to do it and help our local distributor push inventory.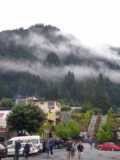 These sales visits took quite a bit out of us, and so we eventually returned to our motel at 3pm to finally check in. The rain continued relentlessly so we had to make sure our camera and literature were sheltered from the moisture. The Coronation Lodge didn't have lifts so I had to carry our heavy luggage up two flights of stairs.
At 3:30pm, we went back down to the sheltered car park and drove to the Fresh Choice Supermarket on the outskirts of town. As we were pulling into the car park, we heard some crashing noise. And when we looked to see the possible source of the raucous, it turned out that a vehicle with a bicycle atop a bike rack on top of the vehicle attempted to go through a low clearance bar upon entering the car park. That resulted in the bike dangling on one wheel to that car and locals chuckling as the driver obviously forgot he had something on the top of his car.
Anyways, the groceries weren't cheap as we bought some $65 NZD worth of stuff, and it wasn't like we bought very much food (mostly fruits, snacks, and organic soy milk). It was certainly one of those moments that reminded me that things have definitely gotten more expensive since five years ago.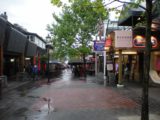 At 4pm, we returned to the motel to call it a day. And as I look out our window, it's still raining and the weather seems to get worse as I can no longer even see the mountains surrounding town. I guess that pretty much dashed any outstanding hopes we had of going up the gondola for that classic panorama. It just wasn't meant to be…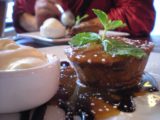 For the evening, we walked back into town for a dinner at around 7:30pm. The city seemed to come alive once again as we started to notice this seemingly happening "ice" bar (I think it was called "Subzero" or something like that) that seemed to draw a lot of young clientelle and quite a bit of attention from people like us.
Julie and I ultimately decided on some restaurant near the waterfront (it might have been the same restaurant we had eaten at in Queenstown five years ago). The thing that sold us on that place was the sticky date dessert, which each of us had our own this time around.
And with that, our second stint in Queenstown was pretty much done. Tomorrow, we'd go back up through the Haast River Valley towards the Fox Glacier this time around (as opposed to Franz Josef Glacier the first time around)…
Visitor Comments:
Got something you'd like to share or say to keep the conversation going? Feel free to leave a comment below...
No users have replied to the content on this page