Day 10: "I DON'T BELIEVE IT'S SUMMER!"
It was 5:15am when we awoke after three presses of the snooze button on Julie's alarm. The reason for the early wake-up was to try to fit in an excursion to Arthur's Pass National Park and the Devils Punchbowl Falls before continuing on to the Pancake Rocks between Greymouth and Westport, and a hike to the Mangatini Falls on the Charming Creek Walkway in Hector.
As the day got brighter, I noticed that the clouds were reluctantly opening up and revealing some of the mountains we were hoping to see yesterday at Lake Matheson (albeit partially). Having gone through the bitter experience of going through the trouble of getting to the other side of the lake only for the clouds to obscure the views and keep us from getting the reflecting mountains in the lake, we decided to forget retrying the lake walk and head north along the West Coast, which we promptly did at 6:55am.
The drive north was pretty uneventful though I was bumming that the improving weather here was like an opportunity missed. For we were now able to even see the Franz Josef Glacier from the main highway as well as some of the waterfalls that were typically obscured by low clouds. We even passed by the Glacier View Motel, which was where we stayed at five years ago.
Beyond Franz, we heard on the radio (somewhere around 8am) that the Cathedral Cove on the Coromandel Peninsula was the talk of the country. That was because the Department of Conservation needed money and allowed a vendor a license to sell ice cream on the typically pristine beach. This got everyone up in arms about touts and hawkers being on the quiet yet popular beach, and we could remember what wonderful memories we had of that place after leaving the Villa Toscana in Whitianga to start our honeymoon.
Even though we found the news to be a bit disturbing, we somehow weren't terribly surprised since we hypothesized that perhaps the DoC was short on money as evidenced by the plethora of donation bins at many of the trailheads in the more popular places around the country. This was something we didn't really notice five years ago.
Our National Parks were facing similar pressures back at home after the Bush Administration left the National Park Service pretty much bare and in bad shape, and the financial crisis they exacerbated has allowed the capitalist vultures to try to swoop in and develop once undeveloped lands.
I guess DoC was under pressure to raise money by allowing some places to become more like third world tourist destinations (as hawkers and touts are the rule rather than the exception where poverty is common). That would certainly take away from the appeal of New Zealand's natural attractions, and we can only hope that this doesn't become commonplace either.
Continuing on with the drive, we started to hear grinding noises (sometimes breaking the momentum of the car) again. This was intermittent and it certainly didn't help our state of mind regarding whether we'll be stranded by a car failure somewhere in the middle of nowhere.
So at 9am, we stopped over at the Hokitika Airport. The relatively calm conditions that were currently prevalent in Glacier Country gave way to a mix of heavy rain and winds in Hokitika. I guess that was a foreshadowing of what was to come because we learned from the Hertz representative there that there's no available replacement vehicles as there's way too much demand and it caught all the rental car agencies off guard.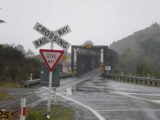 So we continued further north to Greymouth hoping perhaps the office here (in a bigger town) might have a replacement vehicle. En route, we went through that memorable bridge where both trains and automobiles had to share a long single-lane bridge. Funny how some things like this don't change…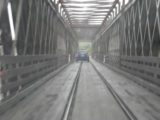 And at 9:50am, we got to the Greymouth Railway Station where we could talk to the manager, who happened to be working at the desk this dreary and wet morning.
But she gave us the same story about not having a replacement car. So she had us to go the Ford dealer in town that they have a contract with. And once there, the service guy hopped into our car and tried to reproduce the grinding that we had been noticing the past several days.
Unfortunately after twenty minutes or so of letting the service guy drive, we couldn't reproduce the problem so we were stuck with the car we were still using.
I guess the one positive we got out of this was that the service guy finally gave us a satisfactory explanation of the right-of-way road rules confusion we'd always been struggling with in New Zealand. He told us that people making left turns are supposed to yield to everyone, including those crossing traffic to make right turns (that's like saying someone making a right turn has to yield to someone making a left turn in the US)!
He then went on to say that only the "good-for-nothing" government types could come up with such a silly idea that didn't make sense. He said it used to be the intuitive way where the person making the shorter turn had the right-of-way and those who crossed traffic had to wait. But somewhere along the way, they changed the rules and it confused everyone including locals. It certainly wasn't the case in Australia and we did recall having similar confusion on our NZ trip five years ago. I guess that particular aspect of road rules hasn't changed.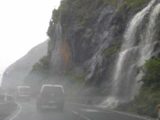 At 10:30am, after filling up on gas at a more reasonable rate than the highway robbery between Hokitika and Wanaka, we decided not to do Arthur's Pass due to the crappy weather. It made me wonder whether we should've stuck around Fox Glacier for a little while longer to take advantage of the calming weather there. Anyways, nothing we could do about it now.
Continuing further north from Greymouth, we headed to Dolomite Point in Paparoa National Park, and we arrived at 11:05am. We were shocked by how crowded it was here despite the windy and rainy weather.
So Julie and I put on our waterproof pants and rain ponchos and went about doing the walk in a clockwise direction. The last time we did this was right at sunset where the left side of the loop was too dark to take photos and it was getting so cold that our faces were numb and our noses were running profusely. But the scene with the setting sun was unforgettable.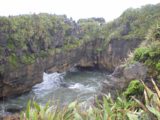 This time, we used Julie's point-and-shoot camera which doesn't get as affected by rain as much as my DSLR with its large lens. So we gladly took shots of the pancake rocks and ghostly profile of the coastline against the low clouds and relentless rain.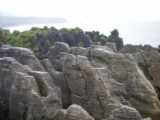 Even though the surf was pounding below the walkway, it wasn't high tide as the blowholes didn't seem to be going with the frequency they were five years ago (I guess we got lucky with the high tide as well as the sunny weather back then). And because of that, we started to notice the walkways passed over natural sea arches.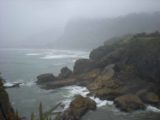 I guess we didn't realize they were arches because of the high tide, but now, this fact gave us a bit more of an appreciation of this particular spot. For it not only had the namesake pancake rocks and blowholes, but it also had sea arches, too!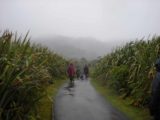 With all the photos we took and stops we made, we were glad we were prepared with the rain ponchos and waterproof pants. We saw other people wearing shorts or denim pants, and they were drenched. I'm sure it wasn't very comfortable for them.
At 12:10pm, we returned to the car and continued our drive north to Westport. At this point, we would be entering unchartered territory for us, but it was too bad the rain kept coming down hard.
We arrived and checked into our room in the Westport Motel at 1:10pm. The rain continued to come down so we hastily got our stuff out of the car and into our motel room. From there, we thought we might be able to wait out the storm a little by having our lunch, which was the Yellow House Cafe.
The lunch there was pretty simple and reasonably-priced stuff. I got a turkey sandwich in French bread, while Julie got salmon cakes. The menu items didn't seem like much, but as soon as we dug in, we were pleasantly surprised at how tasty everything was. The salmon cakes were killer stuff even though the two tiny salmon cake patties on the salad weren't very much.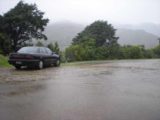 We finished our lunch at 2:45pm and headed north to Hector. As we continued heading north, the rain got harder and harder (as if it wasn't hard enough already). When we arrived at the start of the Charming Creek Walkway, the car park was flooded and the rain was practically torrential.
Julie talked me out of forcing a hike under these conditions so we retreated back to Westport to take care of some grocery shopping and to check on some road conditions at the local i-SITE there (I swore I had seen a sign saying the road to Karamea was closed).
So by 3:50pm, we were back in town and did our chores (like laundry). The i-SITE informed us that the weather was supposed to start clearing by noon tomorrow. Of course weather forecasts in this country are rarely correct as evidenced by the expected fine weather yesterday that never materialized at both Fox and Franz Glaciers.
The lady there also told me that a road was impassable near Karamea due to flooding. The road will be passable when the rain calms down and the flood waters recede. While we were there, I also noticed on one of their wall postings that the track to the base of Devil's Punchbowl Falls was closed. So I guess I'm glad we didn't make the detour to Arthur's Pass National Park today. Perhaps that was the one thing that we did right in hindsight.
At 4:40pm, we were back at our motel. We spent the remainder of the afternoon killing time with Julie watching some competitive cooking program (reality style) while I was busy composing blog entries or travel journals. I guess this downtime was an opportunity to get all caught up.
Nonetheless, sometimes Mother Nature dictates what and when you can do any activities, and today was certainly not one of those days where you could do anything. We'll just have to cross our fingers and hope tomorrow turns out better…
I guess when we look back at the last several days where we've re-visited old haunts and put our book to the test while jogging our memories of that first experience five years ago, I could see that several things about the country had changed in addition to ourselves and our perspectives. After all, many areas seemed more developed, more roads were sealed, some of the trails were easier and more well-used, and of course the glaciers have receded immensely.
But one thing that hasn't changed was the weather. Today was the seventh straight day of rain. Call it back luck, or just the way NZ weather is despite the fact that all the brochures, television shows, and websites show only the rare times when the weather here is actually good…
Visitor Comments:
Got something you'd like to share or say to keep the conversation going? Feel free to leave a comment below...
No users have replied to the content on this page