Day 21: THE BEST WEATHER DURING THE TRAMP
Julie and I slept in at the Anchorage Motel in Te Anau knowing that the Milford Track tramp wasn't going to commence until early in the afternoon. I was anxious about doing this so-called "finest walk in the world." My main objective was to finally see Sutherland Falls – arguably the grandest waterfall in New Zealand. I was a little concerned about Julie since she hadn't done a backpack since we did the Narrows two summers ago. Fortunately, this tramp was the more expensive guided one (hey, we were on a honeymoon anyways so we had to splurge here).
We checked out of the Anchorage Motel and loaded up the car.
It was 9am when we drove over to the Te Anau Hotel and Villas. There, they had an Ultimate Hikes (the concessioner for the Milford Track Guided Walk or MTGW) office, where we saw a safety video and got fitted for some equipment that was provided. Since they provided a gore-tex jacket, Julie talked me out of bringing ponchos to reduce the pack weight. We were also concerned about a break-in to the car since we'd be gone for nearly a week, but the folks here assured us that it had never happened. Even with that said, I still didn't want to be their first victim…
We did lots of waiting around since we waited for the bus of trampers coming from Queenstown who finally showed up at noon. After a brief lunch with everyone participating in the tramp, we took the coach headed for Te Anau Downs at 1pm. The ferry that would boat us across Lake Te Anau to the Glade Wharf took off at 1:45pm and we made it to the Glade Wharf at 3pm.
The weather was nearly cloudless. Given the fickle and foul weather we've had during most of our stay on the South Island, this was unusual. So under these blue skies, the boat passed by a Quintin Mackinnon memorial as well as some blooming rimu trees. Other than that though, the boat ride was uneventful.
Once we all got our packs, it was time to get walking. The well-worn track between the Glade Wharf and the Glade House was barely half an hour away. I wished that we could've left earlier and went further down the track to take advantage of the beautiful weather. But anyways, we were on a tightly regulated track so we had to take what we were dealt.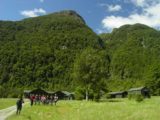 The path was mostly shaded from the sun. Since there were a little over 40 trampers on the guided walk, it did feel a little crowded during this short stretch of track. At least the independent trampers left much earlier and went to the Clinton Hut another 2 miles further from the Glade House.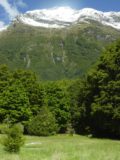 It was about 3:30pm when we arrived at the Glade House. The afternoon sun provided deep blue skies that contrasted with the snowy mountains around the Dore Pass behind us. We could see Mt Sentinel in the distance in the direction of the setting sun. We were also met with plenty of sandflies trying to find unsuspecting blood donors.
After we briefly got settled and put our packs in our assigned rooms, we went back outside to meet one of the guides for a short nature walk around the area. This nature walk was more or less an exhibition in bird watching and foliage identifying. It ended with a brief scramble over to a rocky creek bed where we sat by the cascading water as it made its way over to the Clinton River. It was quite relaxing, but it wasn't anything special for a waterfall lover.
At 5:45pm, we returned to the Glade House for a shower. At 6:15pm, we had a nice hot dinner. After the dinner, the guides made everyone participate in some ice-breaker activities.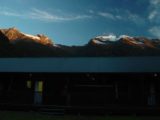 It started off with all the different nationalities grouped together and getting up in front of everyone to sing a song of their choice. Most chose a folk song or national anthem – such as Aussies singing "Waltzing Mathilda" and Japanese singing their national anthem. When it came time for the Americans to get up and sing, our collective self-conscious souls ended up singing "Take Me Out to the Ballgame." It was a good call by one of the folks and certainly more appropriate than singing the "Star Spangled Banner" given some of the crappy foreign policy our corrupt officials engaged our country in.
At about 8pm, one of the guides gathered everyone for a slide show. He basically broke down what we could expect to see during our tramp tomorrow. It also contained the forecast as well as some interesting side hikes we could do along the way.
And when the slide show ended, it was 8:45pm and it was time to head to our rooms to sleep. Seeing how the sun faded and created gorgeous alpenglow colors, I tried to do my best Galen Rowell imitation by photographing it all – to no avail of course.