Day 22: THE SKIES STARTED TO SHOW ITS ANGER
When we awoke a little before 7am, the weather was still fine, but it was already overcast. It was quite a contrast to the gorgeous weather of yesterday. We got our belongings together and went for a breakfast. In addition to nice hot breakfast foods and the usual condiments to supplement sandwiches, there were also stations to make a packed sandwich for the upcoming hike.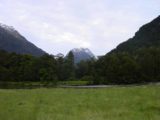 During the breakfast, Julie and I were open-minded enough to try out some of the condiments that we weren't used to. One of them was a jelly-looking spread called Veggemite. It looked pretty good and so we both gave it a try on a piece of bread…
…but the bitter faces we gave each other told us we weren't going to try it again. Sometimes I wonder if Aussies and Kiwis have a good laugh seeing foreigners trying Veggemite for the first time 😉
At 7:30am, Julie and I started walking – being one of the first out the door. It wasn't long before others followed along.
After initially crossing the green Clinton River over a long swing bridge, the well-defined track immediately entered lush rainforest always following the Clinton River. There was also a guide at the head of the pack (Cory in this case) pointing out things that might be of interest as well as keeping on eye on people in case any of them got into any trouble.
At 9:25am, we made it to a spur that was signed the Wetlands Walk. I recalled the sign said something like it would take a half hour or so, but the walk was no more than ten minutes long. Nonetheless, the boardwalk went into the bog where we had open expansive views of Mt Sentinel before us as we were surrounded by interesting vegetation.
Half an hour later, we took a fairly lengthy spur to the Clinton Hut. Here, we used their facilities for a little restroom break. It was already quiet as many of the folks that stayed here were already on their way to the Mintaro Hut, which was 2 miles further from the Pompolona Hut that we were going to stay at.
It wasn't until 11:30am when the scenery started to change from dense forest to the open expansive U-shaped Clinton Valley. It was quite a scenic stretch of track that totally made you feel insignificant compared with the sheer magnitude of the valley walls and the towering ephemeral waterfalls tumbling among them.
During this open expansive stretch, I noticed heaps of dead gnarled trees amidst pools of standing water in a boggy marsh. The track bypassed around such obstacles, but I figured this was the Dead Lake that the guide was talking about during the slide show. Behind Dead Lake, I could see in the distance Hirere Falls plunging off a hanging valley while accompanied by a taller ephemeral waterfall.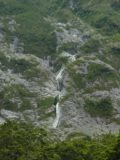 Not long afterwards (12:30pm), we approached the Hirere Falls Lunch Shelter, where we got a chance to catch a break and eat some of the sandwiches we prepared during breakfast. Cory the head guide was already here making cold drinks to serve the guided walkers. In addition to sandflies, there were also keas – a green, alpine parrot – that looked cute, but man they were aggressive and annoying!
These critters weren't shy about coming up to you and taking your food. I remembered back in Arthur's Pass that there was a kea trying to rip the rubber lining off our windshield wipers! Anyways, we did our best to keep these dudes away from our food while enjoying the scenery of Hirere Falls tumbling behind the dense jungle sitting in between.
Then, we continued the tramp. About an hour or so later, we saw a spur that led to a part called Hidden Lake. It was an interesting "lake" fed by an ephemeral waterfall. The bare cliffs surrounding the area told me that it was definitely a landslide zone so I didn't really want to linger here for too long.
The rest of the hike passed through more of the open valley passing through named areas called the Prairie and another Hidden-Lake-like feature as well. Way up ahead, we could see Mackinnon Pass. We even had to go across a rocky avalanche area just beyond a dilapidated building called the Bus Stop.
Finally at 2:30pm, we made it to the day's destination – the Pompolona Lodge. After being shown our assigned rooms, Julie and I took this opportunity to shower.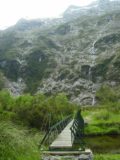 Speaking of shower, the skies started to show its anger by opening up its load of water on the valley. What a contrast to the beautiful weather we had yesterday! It already wasn't looking good for decent weather on Mackinnon Pass tomorrow. That meant clouds blocking the birds eye views I was so looking forward to.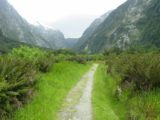 There was plenty of time to kill this day so we did some handwashing of some dirty clothes while trying our best to ignore the sandflies. The sandfly bites I already received we very itchy and difficult to ignore. They were far worse than mosquito bites.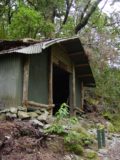 After spending about an hour in the lobby of the Pompolona Lodge working on jigsaw puzzles and engaging in small talk, we got another excellent dinner.
Following the dinner, the Japanese guide talked in his best english to the slide show. Unfortunately, the forecast for tomorrow said for more bad weather. To make matters worse, tomorrow was also the hardest day of tramping as we had to hike 9 miles with over 2000ft elevation gain to Mackinnon Pass. The collective groans from the audience pretty much indicated the mood.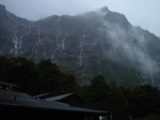 When dinner was over, I took the time to take some photos of the plethora of waterfalls coming down the mountains surrounding the lodge. They came down like veins. Also despite the rain, the sandflies were still present. Don't they ever go away?
I managed to see a group of employees shooting the breeze. I talked with one of them basically about the scenery and how the hike went so far.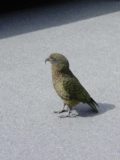 So we ended up having a rather uneasy sleep with the keas making their annoying calls throughout the night amidst the pouring rain…
Visitor Comments:
Got something you'd like to share or say to keep the conversation going? Feel free to leave a comment below...
No users have replied to the content on this page