Day 7: WATERFALLS A PLENTY
It was about 5am when I awoke. Julie was still asleep, and I figured that since at least one of the targeted waterfalls of today was near our accommodation here in the Bridgeway Motel in Tauranga could be visited until I get back to the motel in time for her to wake up and check out.
So by about 5:30am, I was out the door in my hiking gear and I immediately proceeded to drive towards Rerekawau Falls (or Kaiate Falls). From what I recalled, it was a pretty straightforward drive though it was still a little dark even though daylight was imminent.
By about 6am, I made it to the car park for the falls and immediately proceeded to walk on the trail. After briefly exploring a separate trail that took me in the opposite direction I wanted to go (apparently that went to a separate trailhead or something closer to the road I took to get here), I was then on the correct path and found myself walking alongside a tall three-tiered waterfall as I descended on steps alongside it. I didn't really start getting a good view of the falls until I got near the bottom.
Then, I took the photos and continued hiking downstream as it appeared that there was another waterfall to see here according to the signs. Given that I was in forested terrain, the daylight still was struggling to get to where I was so photographing the falls was an exercise in holding my breath. But in any case, the lower falls was pretty impressive as it was more of a straight plunge.
When all was said and done, I was back at the car park but not before getting some nice views towards Mt Maunganui and the Port of Tauranga. The time was now about 7:45am. And I knew I could still sneak in another visit to another pair of waterfalls before returning to the Bridgeway Motel to see Julie again.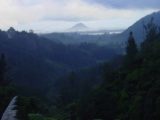 So I went ahead and drove back towards the city and then onto a state highway (SH29) headed southwest of town until I eventually reached a bridge with what appeared to be a car park on one side of the road and a lot of bare rocks on the other side of the road. The time was about 8:40am. The rocks basically had a few strands of waterfall, and I'd imagine that this was the McLaren Falls.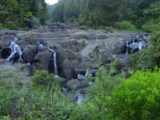 I briefly tried to see if there was a way to get closer to the base of this potentially wide waterfall, but eventually I realized that it was probably not worth the effort since the falls was hardly flowing at all. Still, it was one of those waterfalls where it could have been a "what might have been" fantasy.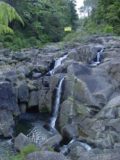 So I got my photos then continued to drive into the McLaren Falls park, which ironically enough didn't seem to contain the waterfall that I had just seen. However, from looking at the sign maps, it looked like I could drive towards a waterfall in here, which turned out to be somewhere near the Marshall Animal Park within this complex.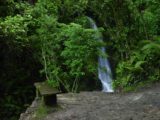 So by about 8:05am I did the short walk and finally got to see the attractive "Marshall Falls", which had a pleasing shape. About 10 minutes later, I had my fill of this waterfall and got back to the car, where I then drove back to the motel. When I got back, Julie was awake and almost all packed up and ready to go. Good timing!
And with that, we headed out to the west of Tauranga and into the Mamaku-Kaimai Ranges to see Wairere Falls. This was a waterfall that I anticipated seeing because it was one of the larger ones on the North Island. Eventually at around 11pm, we would make it to the waterfall after a drive through what appeared to be farmland to even get between Te Aroha and Matamata, and so we were at the unpaved car park with a handful of cars already here.
Julie and I proceeded to go on the walk, which indicated that it was going to be at least 90 minutes to a couple of hours.
The hike was pleasant though it was starting to get quite warm. Initially, we were hiking over a lot of sturdy and swinging bridges as we straddled the stream that I'd imagine was responsible for the falls. The trail was gradually uphill during this stretch. But after about 35 minutes, we'd finally get to a part where the trail really started climbing as it went up a series of steps.
Next, we then were briefly back in the bush trail where a junction indicated that the falls lookout was to our left. Apparently, we had the option of going right and continuing to the top of the falls, but we were more interested in seeing the waterfall as opposed to getting the views from the top. So eventually after 45 minutes from the trail, we made it to the lookout for Wairere Falls and were pretty impressed with its size and its volume.
Having earned our way here, we basked in the accomplishment for a bit watching the clouds block the sunlight from time to time, which was the best time to take the photos since there were no shadows when the sun was covered.
There was another couple who showed up and chatted with us a bit, and then when they left, another family was about to show up. That was when we started to leave and head back down to the car park. At least it was all downhill now.
At around 1pm, we were back at the car park. Now that we knew where the waterfall was, we stole some glimpses of its top from the farmlands within the easternmost plains of Waikato. Quite impressive.
Next, we drove towards Rotorua, which was where Julie and I were going to stay for the next couple of nights (at the Gwendoline Court Motel). After checking into our motel, we dropped off our stuff and then went to Te Whakarewarewa, which was a geothermal park along with some Maori cultural centre.
We knew that there was the Prince of Whales and Pohutu Geyser here, and we looked forward to seeing it. Of course having been to Yellowstone earlier in the year, we couldn't help but compare the two experiences. However, the differene here was that it seemed to be more commercialized than the more primitive and natural experience in Yellowstone. There was no way we would have seen people boiling eggs in the sulfur-rich springs in Yellowstone whereas it was a far different story here.
So we arrived at the thermal park at around 3:40pm and walked around the premises for at least an hour or so just to take it all in. After seeing the geysers we targeted (which went off in short fits and starts quite frequently but not very high like Old Faithful high), we then went into a captive kiwi area, where the bowling-ball-sized flightless birds surprised us with their size though it was hard to take photos of them given the very low light area (they're nocturnal). Flash was definitely not allowed.
We didn't quite have the energy to do more exploring of the Maori cultural areas, which was a shame, and we'd ultimately return to our accommodation by about 6pm. At that point, we went looking for a place to eat and wound down this eventful day.