Day 8: GEOTHERMAL
Today, Julie and I were planning on going to see the Lady Knox Geyser go off, but that wasn't scheduled until about 10:15am. So we knew that we could sleep in a bit to ensure that we would arrive at the Wai-o-tapu Geothermal Area in time to see the show while also exploring the thermal features in that park. We really anticipated how it might contrast with our recently-done Te Whakarewarewa experience yesterday.
Anyways, we left our accommodation in Rotorua and we'd ultimately make it to Wai-o-tapu at about 8:30am. Since we had some time to kill, so we explored the geothermal pools around the area knowing that we had a bit of a time limit so we wouldn't miss the geyser show. I always wondered how this geyser could go off at precisely 10:15am, and I guess we weren't going to be denied finding out why.
Julie and I walked the trails and boardwalks that went by features named the Devil's Home, Devil's Ink Pots, and especially the attractive Champagne Pool, which reminded me of a smaller version of the Grand Prismatic Spring in Yellowstone. Unfortunately, the skies were threatening and even raining on and off so it kind of muted the colors a bit.
We'd eventually make it towards the Artists Palette, then the so-called Bridal Veil Falls, which was really some thermal runoff going down a small terrace, and then an acidic lake, which I think was called Lake Ngakoro. Even with the overcast skies, the incredible colors of the lake were both beautiful yet menacing. It was definitely one place we wouldn't want to be swimming in!
Anyways, we'd make it back to the Lady Knox Geyser area at around 10am. By then, there was already a bit of a crowd of people anticipating this geyser spectacle. And sure enough by about 10:15am, a ranger came out and talked about the geothermal history of this place, including the geyser. And then, he dropped a bag full of stuff into the mouth of the geyser and a minute or two later, the geyser started going off.
I thought it was a little contrived to see the geyser go off in such an induced manner, but I guess that was how they could guarantee a precise eruption time. At least the geyser did present a neat photo op, but as the water shot up into the grey skies, it was hard to discern the geyser's waters from the steam and the grey skies. I learned from Yellowstone, that you really want the blue skies to contrast the white spray of the water.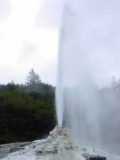 Now that the spectacle was over, it was about 10:30am and we took the time to go to the next attraction in and around the Rotorua area, which was the Buried Village of Te Wairoa. I knew there was a waterfall there so I looked forward to seeing it.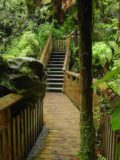 I had learned prior to the visit that this village suffered a similar fate as that of Pompeii, where a volcanic eruption literally buried an entire village or city. This happened back in the 19th century whereas Pompeii was way back in ancient times. The Mt Tarawera eruption that did in Te Wairoa also destroyed the famous Pink and White Terraces, which was sort of New Zealand's answer to the Minerva Terrace in its prime in Yellowstone (which we missed by a decade or so as it was mostly white by the time we saw it earlier in the year).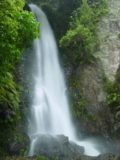 We'd eventually make it to the Buried Village at around 12pm or so, and we'd follow a one-way walking path that took us by some museum-like displays showing how life was like in Te Wairoa before the eventful day in 1886. The trail took us past a bunch of displays that I'm sure would take an entire day to fully appreciate. However, we were focused on getting to the falls, and it wasn't until about 11:40pm that we'd finally get to the impressive falls.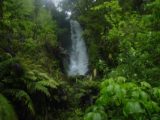 It actually had multiple tiers, but the main tier was the most attractive one. It was hard to photograph the whole falls given where the trail was and how much bush had surrounded the watercourse and trail.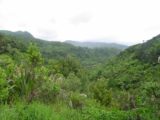 And with that, we left Te Wairoa at around 12pm. It was too bad that it was so overcast with on-and-off rain because the clouds shrouded Mt Tarawera, which I thought the view would have been pretty regal had it been a clearer day like yesterday.
Next, we made a long drive around Lake Rotorua past Hell's Gate (we'd come back here later) towards Tarawera Falls, which turned out to be pretty non-trivial to get to. It felt like we were leaving the hustle and bustle of touristy Rotorua towards a more subdued area as we were approaching Whakatane even though we wouldn't go all the way to that town.
We then followed a pretty rough unsealed logging road that would ultimately take us to the trail for Tarawera Falls. Unfortunately, our fuel gauge was running low and I wasn't sure we'd make it as the fuel light had been on for much on this unsealed drive. Further unnerving Julie and I were that there was one rough spot by a bridge where I might have hit either a pothole or a bump that really jarred the rental car.
Seeing how it was very quiet and remote out here, we were definitely concerned about getting stranded. Further fouling the mood was that the rain was really starting to come down a bit more now.
In any case, Julie and I were mercifully on the trail at around 2pm. At least the trail was pretty easy to follow and barely 10-15 minutes after we got started, we finally saw the pretty elusive Tarawera Falls emerging from the cliffs before us. It seemed like the trail kept going beyond the lookout we were at, but we were pretty content to check out the falls and then come back to the car as we were quite concerned about the state of the tyres and whether we'd still have enough fuel to make it to at least a petrol stop on the way back to Rotorua.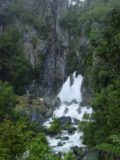 Fortunately for us, we eventually made it out of the logging roads to Kawerau (the gateway town leading to those logging roads), and then we found a petrol stop for some much needed gas.
From there, we drove back to Hell's Gate where we then got to check out this thermal area at 4:30pm.
The place was actually pretty quiet during our visit and there seemed to be peacocks strutting around both inside a spa area (where Julie and I got some much-needed snacks for a late lunner) as well as outdoors. It was definitely raining for good during our visit, but we came prepared with rain ponchos and slowly explored this thermal area in search of Kakahi Falls, which was our waterfalling excuse to check this place out.
We'd eventually get to the falls at around 4:50pm, and then we'd continue to walk around the complex to see other sulfur-smelling features like the Devil's Cauldron, Sulphur Lake, and the Mud Volcano before getting back to the entrance complex where there were the peacocks again.
Eventually at around 5:30pm, we left the complex to return to Rotorua looking forward to getting out of our wet clothes and into something more comfortable for dinner. We'd eventually eat at this place that made pretty good NZ mussels and scallops, and we returned to our accommodation pretty satisfied.
We then had to spend the remainder of the evening doing laundry as we were running out of clothes and this motel just so happened to have a laundry machine. Of course, we had to wait our turn, which made our evening even longer (we had to wait for a Canadian lady to get her clothes done), and it ultimately wasn't until well after midnight before I got our clothes out of the dryer.
Still, the clothes were damp, and I'd have to spend even more time in our motel room hanging up these clothes (while starting to stink again), knowing that we were supposed to get an early start to drive through Te Urewera National Park. Indeed, there was a long day of driving ahead of us when we get up, and the rain was really coming down hard now. No rest for the weary, I guess. And I doubted the clothes would be dry when it came time to get up and go…