Day 11: FEELS LIKE OREGON
With yesterday's torrential rains and flooding, I was relieved to wake up at 6:15am to pockets of sunshine. Of course dark clouds were still surrounding these pockets so every once in a while, we heard the roof clatter loudly as a squall or two bombarded the roof of our motel.
We spent the next couple of hours having our breakfast and taking our time getting ready for today. But by 8:20am, we finally left our motel and headed north towards Hector. Now, it was time to make up for the failed visit yesterday. All signs were pointing to a better day as blue skies and bright sun were the rule of this morning when we left.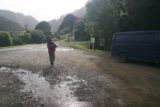 At 8:50am, we returned to the Charming Creek Walkway. We could still see some puddles left over from yesterday's floods. And once again, it was us plus some other car that was parked here. We were a little concerned that the van that was here belonged to someone dodgy given its condition, and that someone could easily hide in there waiting to break into an unsuspecting tourist car. So we got our stuff together and took them with us (there wasn't much to bring besides our usual dayhiking gear besides our Nuvi
).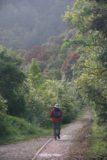 With the sun shining brightly, we could now see that there were blooming trees decorating itself with red flowers (dunno if they're rimu or rata or something else). But even despite the sunny weather, there were still plenty of muddy spots on the trail leftover from the drenching yesterday.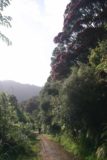 The hour-long walk each way pretty much followed some old railroad tracks for the purposes of hauling coal. In fact, these tracks still lead directly to the Solid Energy facility nearby with its mountains of coal in its yard.
There's no question that coal is a major part of Westport and this section of the West Coast of New Zealand. We even saw some coal mining relics along the trail at the start with a couple of abandoned rail carts as well as a couple of facilities with interpretive signs near a very muddy grassy area.
After around 30 minutes, we went through a pretty long tunnel. Julie insisted on using a flashlight (or torch as the locals here would say) to light the way, but the tunnel wasn't so terribly long that eyes adjusted to darkness couldn't compensate before getting light from the other end.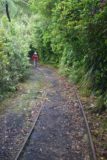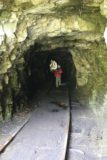 Of course the railroad tracks continued through here, but on the other side, some of the tracks dropped off over cliffs while the walkway still stayed on the ledge. Eventually, that bypass would rejoin the railroad tracks further on, and we often found ourselves using the wooden planks or the rails themselves to try to avoid getting our boots stuck in the muddiest sections of track.
There were also several areas that were rockfall hazards, and signs insisted that we proceeded without stopping in those sections. That just kind of shows you that these cliffs naturally erode into the raging Charming Creek, which flowed consistently next to the trail.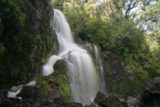 After a little over an hour, we saw a fair-sized cascade next to a footbridge. The falls seemed awfully small from what I recalled the Mangatini Falls (the goal of this hike) were supposed to be, but Julie thought this was the turnaround point for the hike.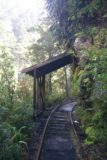 So based on this hypothesis, we took many photos here, including some taken after a short scramble to a somewhat better viewpoint a few feet above the bridge. But as I was snapping photos here, I knew something was wrong for the diminutive size of this falls just somehow didn't add up. Besides, its shape wasn't the rectangular shape that I was expecting from all the i-SITE photos of this falls.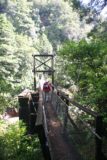 Thus, I kept on walking and went against Julie's hypothesis. And a few minutes later, we saw a sign and long swinging bridge over the Charming Creek. Towards the end of the bridge, Julie was excited as she saw the Mangatini Falls at last! Unfortunately, I noticed that the sun was against us, and with the decent weather this morning, the sun was now more of a curse than a blessing as it wreaked havoc on our photos.
So we spent the next 15 or 20 minutes or so waiting for some of the quickly passing clouds to block the sun and even out the lighting for us to take photos. We had to wait for quite a while as a couple of different parties of hikers joined us then left.
The main lookout for the Mangatini Falls was right next to another dark tunnel. At least the cliffs here prevented the mist from reaching all the way to our viewing spot, but it didn't do a whole lot for the lighting on the waterfall and the creek raging in front of it.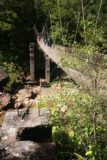 Eventually at around 10:30am, I left the falls convinced that I couldn't wait another 15 minutes or so for more clouds to show up. It was an excercise in frustration because most of the time, the clouds seemed to have a trajectory towards the sun only to veer off and avoid it! Why is it that the clouds aren't there when you need them? In any case, I was successful getting a few moments of decent light for photographing the falls, but they were few and far between.
As Julie and I were walking back to the car park, we passed by numerous different parties of hikers. Apparently, this trail was very popular. And when we finally arrived at the car park at 11:30am, we saw numerous other cars joining our car at the car park; further evidence that this was a popular trail.
At this point, we drove off and continued to head north from Hector towards Karamea. The road followed the coastline for a long stretch before going inland in a series of winding roads. I spent most of my time following some dairy truck with a long trailer that looked like a typical truck hauling oil or gas, because this driver seemed to know this road quite well anticipating many difficult parts and even aggressively tackling turns despite the narrowness of the two-laned road.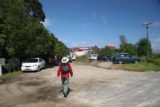 At 12:30pm, we arrived at the Last Resort in Karamea, which served up some decent sandwiches for lunch.
After our delicious yet simple and reasonably-priced meal, we drove off further north towards the Oparara Basin. The road eventually veered into an unsealed, mostly single-lane road with many potholes en route. Since this area seemed like a popular spot, there were lots of cars going the other way sharing this road so that created a lot of tight spots where we'd have to pass each other.
We helped our situation out by folding in the side mirrors (though it seemed like we were the only ones doing this). There was even a section where a recent landslide forced us to drive into some grassy and muddy section to bypass it.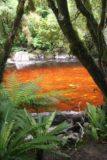 By 2pm, we reached the car park for the Oparara Basin, and there were easily more than a dozen vehicles here so that pretty much confirmed our hunch that this place was popular despite its remoteness. And since we were now within Kahurangi National Park, we were well within native bush areas so unsurprisingly there were sandflies around as well.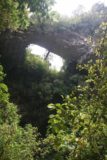 After putting on DEET and loading by pack with rain gear, we proceeded to take the shorter walk to the Oparara Arch. This track was a little narrow and up-and-down as well as slippery and muddy in spots. However, it seemed to follow some stream whose waters were colored a blood red. It was very reminiscent of something we saw en route to Angel Falls where the Rio Churun also appeared very red.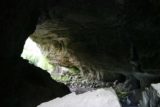 Eventually we got to the base of one of the openings of the Oparara Arch. But it was too bad that this was really more of a tunnel than a natural bridge that could be photographed. For there was no way we could take that shot proving this was a natural span for the stream was too fast flowing and deep.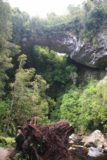 Plus, the trail ended abruptly not far through the first opening. The second opening was visible, but signs discouraged us from going further, which we obliged.
There was a little bit of a crack and sinkhole creating another natural bridge right in front of the opening of the main Oparara Arch. But with the sheer scale of this formation, it was all difficult to photograph. So we didn't linger for too long before we headed back to the car park.
During this stretch, a few squalls dumped on us so we were glad the rain gear came in handy here. I'm not sure we could say the same thing for some other groups that didn't seem to come prepared for four seasons in a day (and today just seemed like it would end up being one of those days).
About 45 minutes after starting off, we were back at the car park. Now, we proceeded to head to the opposite side of the car park to start the walk towards the Moria Gate Arch. This track was supposed to be a little longer, but the track was very wide and in very good shape.
It turned out this track was improved and the Oparara Valley Track was completed in 2006. I guess that would explain why the hiking here was so much easier than for the Oparara Arch.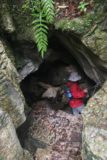 When we got to a fork leading to some hole in the ground, we saw and conversed with a French couple saying that we've found the arch. This certainly wasn't what I had in mind since I had seen postcards of some arch with a clear calm stream running through it, but here we had to precariously go down some slippery opening into the dark.
The French lady who first went down shouted out, "It's beautiful down here!" So that really encouraged both Julie and I to follow them down. And when we got to the base, we could see that this hole was merely one of three openings where the other two were from the natural bridge formation as another blood red stream passed through.
So we took several shots from here and trying to cope with the dark conditions without a tripod. And after another foursome of walkers joined us, we figured it was now time to go and see this arch from the Moria Gate Arch Viewpoint, which was another few minutes further down the main track.
After a few minutes of returning to the main track then walking along some concrete steps with large bird prints etched into them, we eventually got to the Moria Gate Arch Viewpoint. Now this was the more conventional arch view I had been expecting. However, the stream was still flowing fast and deep so there was absolutely no way I could attempt to reproduce some of the postcard shots seen around town.
By the time we started walking away from this viewpoint back to the car park, another squall unloaded on us and we had to don our rain ponchos again. By 4pm, we were back in the car along with an army of sandflies swarming around us. Fortunately, none of them bit us, but with that said, we hastily got into the car and headed back to Westport.
During the walk and subsequent drive back, I kept telling Julie that the name Moria Gate Arch was a The Lord of the Rings
reference for I didn't believe Moria was a Maori word. Plus, the trail was relatively new so it would make sense that someone decided to do this during the whole The Lord of the Rings
euphoria that Kiwis embraced back then.
I kept thinking to myself that Gimli the dwarf would pronounce this arch like the way he did in the movies by rolling the "r" in Moria. Or that Gandalf would speak the word "Mellock" to gain access to the hole we climbed into. Or even that Frodo caught his first glimpse of Gollum in the darkness.
Anyways, enough of that. That was over 6 years ago.
We'd eventually be back at Westport before 6pm, but Julie had this idea that we should try this place called the Bay House Cafe at Tauranga Bay. Supposedly they made killer seafood.
So when we arrived at 6:15pm, we ran from our car into the restaurant under a heavy squall. We weren't too drenched fortunately.
And so we dined on turbot, beef, and seafood chowder. They didn't have groper nor Akaroa salmon nor scallops. So it wasn't like we got the seafood experience we were hoping for, but at least this place was pretty reasonably priced by NZ dinner standards and was quite delicious.
After eating, we drove out to the other side of the bay and arrived at the Cape Foulwind Fur Seal Colony at 7:25pm. A rainbow could be seen during the drive as we looked eastwards, and we could see some threatening squalls in the distant looking to head our way. The winds were intense and very cold; so much so that our noses were running.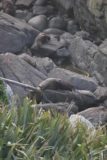 We took some photos against the setting sun here before quickly making our way to the viewpoint of the seal colony. There, I switched out my wide angle lens for a telephoto lens (however inconvenient that was) and took photos of the fur seals flopping around the rocks far below. I guess given the inaccessibility of this spot, it's hardly surprising that it was easy to see these fur seals here. It was certainly easier than Sandfly Bay on the Otago Peninsula where the sand dune walk on the way back up was certainly a brutal calf burner.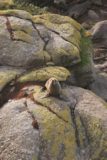 At 8pm, we were back in the car and at 8:20pm, we returned to the motel after passing through yet more squalls on the way. All this wild and unstable weather was very reminiscent of our March visit to Oregon, and perhaps that shouldn't be too surprising since they're near the 45N lattitude while Fiordland was at the 45S lattitude.
And so ended the day, which we were glad that it ended up being rather successful after yesterday's frustrating failure due to the weather and some bad luck. Tomorrow, we're looking forward to a lighter sightseeing day as we head towards Hanmer Springs, which was something Julie wanted to do five years ago but we were real short on time.