Day 12: SOAKING IN NEW YEAR'S EVE AND THE END OF THE DECADE
The alarm went off at 6am, but both of us didn't really feel like heeding its call. So we ended up waking up at around 7:15am. We took our time packing and getting our stuff together. And it wasn't until 9:05am that we finally left Westport.
The drive was mostly uneventful though we had to pass several slow vehicles that refused to use pullouts. It's not easy to pass when you've got twisting mountain roads with lots of blind corners. I could see why Kiwi drivers get fed up with these blokes who expect that everyone else stay behind them or expect them to pass under otherwise dangerous conditions.
Given the rate at which we were driving, we didn't really expect to pull over or stop for anything while traversing the Lower and Upper Buller Gorge (though we did see a crowd near the Lyell Walkway and again at some Swinging Bridge). I'm sure there's more to the Buller Gorge than our zoom through the area, but we just didn't prepare ourselves for anything here.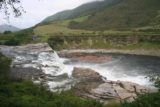 Unfortunately, we got delayed by an additional half-hour by taking a 40km or so round trip detour that had us going towards Reefton instead of towards Maruia Falls, which was our waterfalling goal for today. This was another waterfall in this part of the South Island that we had yet to see.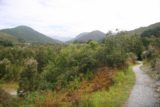 So we eventually got to Maruia Falls at 10:50am. There were a handful of people picnicking here when we arrived. We took photos above the falls from the lookout right in front of them. Then, we quickly walked downhill towards the banks of the Maruia River where we snapped more photos of the falls from near its base.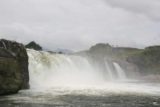 As we were taking photos, we noticed more tourists trickling in. Apparently, this was a real popular stop, but perhaps it shouldn't be surprising considering how well-signed it was on the SH65.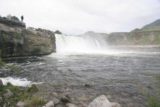 Apparently, this roughly 10m tall but much wider waterfall resulted from some recent earthquake fault upthrust. I guess before this, the falls didn't exist. But then again, I don't recall where I read this from, but there were no signs or anything talking about this falls.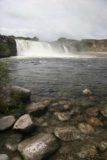 I also noticed some people did some off-trail scrambling to get right up to the brink of the falls. I don't think they're supposed to do that, but they served as photo subjects to communicate the scale of this gushing waterfall.
And even though it was cloudy with the sun breaking through every now and then, the scene was still quite bright and I had to do some tweaks to the camera settings to trick it into taking brighter shots (otherwise they'd all turn out dark).
Anyways, there was only so much I could do with this wide waterfall from such limited viewing angles. It didn't seem like there was an immediate way of seeing this waterfall from the other side, so I had to make do with the views we did get, and then head back to the car.
At 11:25am, we left and continued the long drive towards Hanmer Springs. But instead of going there in one shot, Julie suggested that we stop at the Maruia Springs. Apparently, there was some kind of resort there, but five years ago, our LP guide
said it was free. I guess those days were numbered.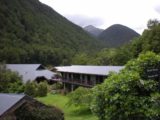 At 12:20pm, we arrived at the car park for the Maruia Springs after passing through the Springs Junction and the handful of cars by the Waterfall Walk, which was featured in our book
as Five Mile Creek Falls (since it was on the Five Mile Creek according to our Topo map).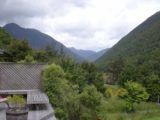 The hot spring experience here brought us back to the onsens of Japan. So it didn't come as a surprise that it was run by Japanese people. At least in this place, the pools weren't segregated by sexes and you weren't required to go in completely naked.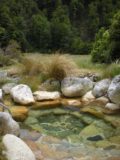 The pools had a pretty natural setting (even more than I could remember from our onsen experiences in Japan) and the surrounding mountains near the Lewis Pass vicinity really gave a nice natural atmosphere and peace to this place. The only real nuissance were the handful of sandflies out and about looking for someone to draw blood from and leave behind nasty itchy welts.
During our time bathing, we could see that the weather seemed to be oscillating between sunny skies and cloudy conditions. At least it was an improvement over the rainy (sometimes stormy) and persistently overcast (sometimes foggy) conditions while on the West Coast.
At 1:20pm, we had our fill of the pools after conversing with a pair of middle aged Japanese women and a pair of Kiwi bikers who shared the pool with us.
The drive continued onwards as we were passing (and being passed by) other vehicles. The Lewis Pass Highway was quite scenic, but we were almost consistently going upwards of 70 or 80km/h and usually going 100km/h to keep up with some of the locals who were gunning it past this. In fact, the Lewis Pass Highway seemed much busier than we remembered it five years ago.
The further east we went, we could see that clouds were separating more and that sun was even more persistent.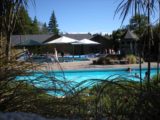 It wasn't until 2:25pm that we finally checked into the Harrogate Garden Motel in Hanmer Springs. There, we spent the rest of the afternoon having a late lunch then a visit to the i-SITE before soaking in the large hot springs complex in town. Our hot springs experience really felt more like we were in a water park instead of the relatively peaceful and relaxing experience at Maruia Springs. But at least we tried it and got to see for ourselves what it was like for both places.
At around 6:45pm, we had a pretty subpar dinner at the Alpine Village Inn Bar. For the most part, our dining experiences were really good, but this was probably the worst of the lot. I guess when it comes to food, you can't really trust bars unless you're here for some drinks.
And there were plenty of tourists and Kiwis alike having drinks anticipating some serious partying tonight being the last evening of this decade. With us anticipating a very early morning departure for Kaikoura to try to catch a whale watching tour at 7:15am, there was no way we were going to stay up for any of the festivities if we had to wake up at 4am and leave no later than 5am to do the full two-hour drive.
It was too bad since the afternoon was beautiful. Even though we returned to our motel room at almost 9pm, we did feel like we could've been out there being a part of something or some party with Kiwis to celebrate the New Year. Julie has been keeping count of the number of completely fair weather days on this trip and she counted today as the fourth one out of 12 (33%).
Nonetheless, in any case, it was time for us to say so long to 2009 and hello to 2010…