Day 13: A WHALE OF A TIME
Well we missed out on yesterday's New Year's countdown to both the end of the year as well as the end of the decade. All of this was so we could fulfill our 4am alarm call and drive through the pre-dawn darkness to Kaikoura's Whale Station. We decided last night that rather than take chances with a 10am tour when everyone's awake with no guarantee of a tour since we're being waitlisted, we mind as well try for the 7:15am departure.
So all that meant we had to be out of Hanmer Springs by 5am to get there comfortably without too much life endangerment by speeding in the dark on winding roads.
So anyways we did indeed get up at 4am. As we got our belongings together and loaded up the car, we tried to minimize the amount of noise at this motel (which felt more like a B&B). And by 4:40am, we left Hanmer Springs for Kaikoura.
The drive was mostly uneventful except for the fact that there was a really bright full moon hovering over the mountains in the direction of Lewis Pass. When we finally got around to getting in the mindset of taking a photo of this rather rare scene, the mountains eventually got in the way and never revealed itself again. Funny how these things happen.
The sun eventually came up over the hills we were passing through (on route 70) some time before 6am. It wasn't until 6:35am when we finally arrived at the car park for the Kaikoura Whale Station. As Julie rushed her way inside, she quickly learned that we would still be waitlisted anyways since reservations have made all of this mornings' tours fully booked.
So now we were faced with the prospect of having done the early wake-up for no reason and figuring out what to do for the next three hours.
After ordering a pretty basic and artery-clogging breakfast, the lady at the reception called out a handful of waitlisted parties before she finally got to us. And lucky for us, we were the last two she called! So we were going on the 7:15am tour after all, and all that trouble to even get here wasn't for naught.
So we joined the briefing, hopped onto the brief 10-minute bus ride to the South Bay, then boarded the boat named Aoraki. There were lots of people on this boat, and they weren't kidding when they said this tour was full despite the required early morning wake-up on New Year's Day.
Anyways, the tour started off with a promising start as a sperm whale was spotted just as the Maori MC was giving his spiel about introductions, safety, and what to expect on this tour in both Maori and English. One thing I did notice that kind of gave me a bit of a flashback to our visits to Hawaii was how similar the Maori language seemed to be to Hawaiian.
Case in point, the bathrooms had doors for female and male labeling Vahine, for female in Maori, which was also Wahine in Hawaiian, while Tane, for male in Maori, which was also Kane in Hawaiian. Now of course there were other differences that aren't so similar like the Kia Ora greeting in Maori was probably nothing like the Aloha greeting in Hawaiian.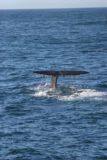 Anyways, as the boat started to make a break for that sperm whale, it descended, and we had to leave it until it decided to resurface again for air. Since the Maori guides knew the whaling behavior, they predicted it'd come up around an hour later.
So off we went further into the deep waters away from the continental shelf. It wasn't much longer when we spotted another sperm whale. This time, we were around to see it breathing, then making its classic dive while leaving its tail up in the air for all of us to try to photograph.
Back in the sitting area of the boat, we could see a few folks were already using the seasickness bag. This was worrying to me since I tend to be prone to seasickness, but I always kept trying to focus on the horizon or the mountains so my equilibrium didn't get all screwed up.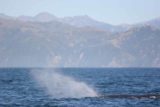 Several minutes later, another sperm whale was spotted. This time, we saw it from its side and back towards Kaikoura in the distance. It wasn't easy to try to photograph the whale with the lightly snowy mountains above Kaikoura as a backdrop, but at least it would be proof that this sperm whale was off the coast of New Zealand and not just anywhere else in the world.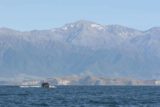 Another boat arrived to join us in the photo-taking tour. This was reminiscent of some of the safari excursions we had been on in Africa and India. For in those excursions, you'd have groups of jeeps and sometimes canters gathered around a rare sighting like a big cat.
When this sperm whale dove, we only saw its tail from the side, which wasn't quite as attractive as the first one, which we saw from its back. We stuck around for a little bit to photograph a few albatross before heading back towards the site of that first sperm whale we had just missed.
Sure enough, the third whale of this trip was spotted and we took more photos of it. But once again, we only got to see it from its side and not from its back where we could try to capture that classic tail shot. This particular one managed to do a tail slap before doing its usual dive into the deep waters.
With still another 50 minutes to go on our tour, it was decided that we'd go looking for other species. And it wasn't much longer before we found a massive school of dusky dolphins swimming fast alongside our boat as well as doing jumps, flips, and backflips. It was easy to tell why they're called the acrobats of the sea. And this was easily better than any of the dolphin sightings we had in both the Doubtful Sound and the Milford Sound.
While the dolphins were still putting on a show, the tour time was running out. So that prompted our Maori MC to call out over the loud speaker for everyone to return to their seats.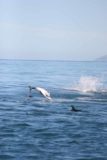 Of course, no one was exactly rushing to do it, so that prompted our MC to say, "I know it's difficult to leave the dolphins and return to your seats, but one thing I do know is that all of you can hear me…"
That got a laugh out of Julie and I, and anyways, the boat started moving and that was motivation enough to get back into our seats as the boat continued to bob up and down vigorously with the added dimension of forward momentum. Plus, even more people have already barfed into their barf bags. I could see the young lady in charge of health was busy handing out tissues and bags while collecting soiled bags.
By 10:05am, we were back at Kaikoura. Just about everyone except for those too overcome with seasickness left smiling.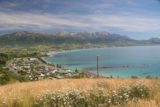 We next made a brief stop at the town i-SITE before heading up to a lookout of Kaikoura, the adjacent bay, and mountains backing the whole scene. In my usual clutzy manner, I somehow dropped my camera and cracked the zoom on my zoom lens. Fortunately, I had a replacement one (based on spontaneous zoom lens failures from past trips). That killed enough time for us to return to a roadside stall called the Kaikoura Seafood BBQ, which opened at 11am.
That was our first try at having crayfish without breaking the bank at a sit down place. We also had some scallops and seafood chowder. And we were done eating at 11:35am so we could head out to our waterfall for today – Ohau Falls.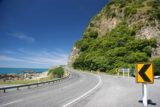 After a bit of motoring amidst some pretty fast yet heavy traffic north of town, we eventually got to the signed pullout for the Ohau Stream Walkway, which was just around the bend north of the Ohau Point Seal Colony Lookout. We started walking a little after 12:10pm, where a short ten minute walk got us right to the base and plunge pool of the roughly 20m or so waterfall.
Unfortunately, the base of the falls was rather crowded and full of young folks who didn't care too much about peace or rules. Some of them were smoking at the falls, and I'm sure they dropped their cigarette butts without packing it out. Plus, the light was wreaking havoc on our photos as the falls were either blown out or the shadows were too dark.
So we didn't linger for too long as we promptly returned to the car park, then spent a little more time on the other side of the road after spotting a few fur seals looking pretty close.
After a few more photos of these fur seals were taken (some of the folks here seemed rather dangerous close to some pups and the mother seal there didn't look terribly happy), we backtracked to Nin's Bin for another round of crayfish.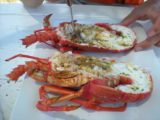 At 1:50pm we left for Nelson. The weather was still hot and sunny, which was something we weren't real used to in this country for fine days were quite rare. But maybe it shouldn't be all that surprising considering that much of the vegetation on this side of the island was brown instead of green suggesting it's usually dry here. I guess using the Hawaiian analogy again, this area was the leeward side while the West Coast was the windward side.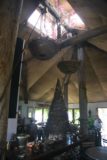 Just when we thought we were making a beeline for Nelson, Julie spotted this place called the Store in Kekerengu. So we made another stop here at 2:15pm for a brief ice cream break while having another drink of Lemon and Paeroa (otherwise known as L&P), which was apparently a very Kiwi drink and was really like a sweeter version of Sprite or 7-up or Ginger Ale.
Finally at 2:40pm, we left and eventually arrived in Nelson at 5:05pm. It was a long drive through a lot of wine country in the Marlborough District, but it looked like a lot of those wineries were closed for New Year's Day (not that we're that into wines).
After settling in, we had dinner, but Julie got a bit of food poisoning, which she suspected came from a bad oyster. She regurgitated it back out and she seemed to be fine immediately afterwards. Too bad scallops were out of season because we learned that Nelson was known for scallops. Bummer.
Anyways, Julie eventually got some cheap chicken kebab takeaway to fill her empty stomach. And we were back in our room by 9pm.
Now after seeing how long it took to drive from place to place today, I've come to realize that getting to Wainui Falls and Totaranui Beach tomorrow might be an all day affair.
Hey, no one said waterfalling was easy, but at least we've had ourselves a whale of a time this New Year's Day!