Day 14: THE RAIN FOLLOWS US
We awoke at 6:20am and the first thing noticed when we looked out the window was that it was raining pretty hard. So much for this part of NZ being sunny. It just seems like the rain follows us no matter where we go, and yesterday's gorgeous weather was merely an anomaly. So Julie's sunny-and-no-rain-day count still stood at 5 days.
After taking some time to get ready and eating our own humble breakfast of oatmeal and cereal, we headed out at 8:20am. I was a little worried that our car couldn't start initially, but it did grudgingly start on the second attempt.
The drive northwards was through a mix of rain and sunny skies. When we passed through Motueka and continued northwards up the Takaka Hill, the road got really twisty. Some parts of the road received some pretty heavy rains and the clouds created fog beyond the summit of the hill.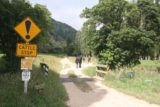 We weren't sure whether we were going to see any of the classical Abel Tasman views of blue-green waters surrounded by bush-clad mountains and golden sand beaches. That was because the cloudy weather would merely mute those bright colors.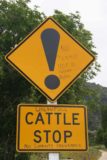 Still, the goal was to visit the Wainui Falls. Everything else was icing on the cake.
It wasn't until 10:25am when we arrived at the Wainui Falls car park. I was surprised at how relatively easy it was to get to this car park. The map suggested the road east of Takaka was unsealed, but the map must've been old because the whole way was sealed. Only the last 350m on the spur road to the car park was on a tame unsealed road.
This attraction must've been very popular because there were already many cars parked here. We weren't sure if this was merely a local Kiwi attraction or if other foreigners were aware of this falls. It surely wasn't in LP
, but it was in DK
.
The hike began in parallel with some agricultural road past a pair of cattle guards. Some signs at the trailhead got our attention because someone scribbled on the cattle guard text indicating something about it not being lawful and that there's no liability insurance. I had no idea what this was all about nor who was upset about what to whom. I'm sure the handful of sandflies here could care less as all they cared about were the availability of blood from humans or other birds and mammals in the area.
In any case, the track went into the bush where a sign indicated that we were about to enter the Abel Tasman National Park. So I guess the falls technically sat in this very popular park known for having the Abel Tasman Great Walk which skirted the blue-green waters of the Nelson Bay vicinity while offering a multitude of options regarding a combination of hiking, kayaking, boat shuttles, etc. However, we weren't going to do any one of them, and the highly variable weather kind of took out any motivation we may have had to give it a try.
A little over a half-hour into the hike, we queued up at a swinging bridge that could only support one person at a time. It was actually one of the scarier swinging bridges we've done because the entire walkway on the narrow bridge was all fence (i.e. no wooden floorboards). It was also very bouncy, and there was even one metal plank supporting the fence-like floor that was broken loose (not exactly instilling confidence that it could support a human's weight).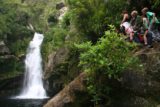 Nonetheless, a few more minutes later, we were right at the Wainui Falls. It wasn't easy to get decent views without a little bit of scrambling on some wet rocks. So I went ahead and gingerly did the scrambles (though the rain ponchos tended to get in the way) and took plenty of photos of the roughly 20m falls.
Another group eventually caught up to us where a pair of daredevil males jumped into the pool and managed to scramble behind the waterfall. With all those people's attention on the two blokes, that was our cue to head back to the car park before we'd have to wait in a very long queue across that swinging bridge.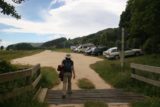 This hike began under some fairly rainy conditions, but when we returned to the car at 12pm, it was sunny again. There were numerous people walking in the other direction suggesting that this was a very popular waterfall even though it required a nearly two-hour drive from Nelson. I guess this was more of a weekend getaway for locals who live in the greater Nelson area, which was a sprawling city area engulfing suburbs of Richmond, Stoke, and others.
Once back at the car park, we decided to drive towards Totaranui Beach. This was suggested to us by a Blenheim-local we met in Egypt last year. I figured perhaps there was a gem of a beach over there since this was coming from someone who lives a few hours from here.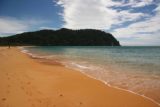 Anyways after driving on some narrow unsealed and somewhat washboardy roads with some pretty heavy bi-directional traffic for an unsealed road, we arrived at Totaranui Beach at 12:30pm. It turned out that this was more of a campground as it was full of campervans and hippie-type dreadlocked folks chilling out. There were also swarms of big black flies (not sandflies thankfully) that looked like wasps but we couldn't be sure and none of them stung us.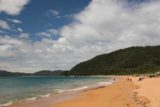 Apparently, Totaranui Beach was merely one of the stops of the great Abel Tasman Track. That would explain why we noticed some boat shuttles though we didn't notice many trampers carrying heavy packs doing the multi-day trek. The sands here were quite golden brown, but we're not sure if that was due to the rains or if this was the true color of the sand here. It certainly wasn't on the same level as the fine-grained white sand beaches you might find in some tropical destinations.
But after taking photos and getting a flavor of what this place had to offer, we promptly left and returned to Takaka for a lunch.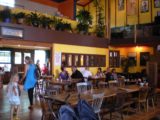 We eventually got to Takaka at 1:30pm, but it wasn't in time for the Market that only went until 1pm. In town, we walked around town looking for a suitable place for lunch, but settled on the Wholemeal Cafe where it was busy and our food didn't come for about an hour. But our order of smoked salmon salad and lamb curry were pretty satisfying. However, the ice cream shop here was a waste of money. The fruits weren't fresh as stated and the frozen yogurt was pretty much a mix of all the ice cream flavors ordered before us.
We eventually left town at 3:20pm. I was very sleepy on the drive back, but fortunately despite the heavy traffic (by NZ standards), we safely returned to the motel at 5pm. Julie tried to guilt me into going to some freshwater spring 4km northwest of Takaka, but without any sun, lots of rain, and a failure to do this when there was some sun earlier this morning, I wasn't going to bother.
And after getting some overpriced Thai food for dinner, we called it a day. Tomorrow, we're expecting a free day. Perhaps we might get to finally meet up with the locals who invited us to join them after parting ways over a year ago in Egypt. That would certainly be something new in our travels, and we look forward to it.
If anything, I look forward to getting caught up on sleep tonight.