Day 15: WINE AND DINING
For the first time on this trip, we allowed ourselves a free day. So we took advantage of that by sleeping in. For once, Julie got up before I did, and I didn't get up until about 8:30am.
We spent a bit more time in the room getting our stuff together while Julie was enjoying reasonably-priced internet.
We eventually left the comfy Chelsea Court Motel at 10:10am and proceeded to head over to the Nelson Lakes National Park per Linda's recommendation (the ones we met in Egypt and have been emailing us some itinerary suggestions in the South Island).
On the way southwards, we passed through several denuded tracts of forest land as well as places where we could tell there had been re-plantings though we doubted whether they were the original native plant life prior to deforestation. We wondered if this was a consequence of the sprawling nature of the greater Nelson area, which was very reminiscent of Los Angeles in that there was a large collection of suburbs, but quite unlike the other New Zealand towns we had visited.
We also happened to chance upon a bike race, which we carefully passed despite the blind turns on the road. This brought us back to another bike rice we stumbled into from Marokopa Falls to Waitomo Caves, and eventually to Hamilton on our trip five years ago.
We arrived at St Arnaud at around 11:25am where we spent some time checking out the Visitor Centre there. Inside the facility, we checked out some of the interpretive signs and displays, and we were especially intrigued by the pests of New Zealand; especially that most of them were introduced as hunting targets such as the hare, which eventually led to the introduction of the dreaded stoats and ferrets (weasel-like animals) who are eating away at the endangered birdlife.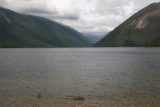 Other pests include the cat (which we did see one kill a bird the other day in Nelson), possums (major outbreak of these), wasps, and even pigs. Needless to say, the Mainland Island project that involves the Nelson Lakes to preserve some rare species like the spotted Kiwi is a very tall order. We saw another Mainland Island project on the North Island at the Boundary Stream Scenic Reserve en route to Shine Falls on our prior trip in 2004.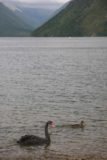 After a few photos at the shore of Lake Rotoiti (including a flock of ducks, white birds, and a big black swan with red beak [some of them were getting fed by people on a boat dock; not good]), we left the area at 12:20pm.
At 1:30pm, we arrived in the Blenheim area. Specifically, we stopped over at the Alan Scott Vineyard for lunch. Unfortunately, it was fully booked so we couldn't eat here. However, we did stop over at the Wairau Valley Winery fifteen minutes later for a delicious lunch of a steak sandwich and a tasty sticky pork salad.
We then got to do a little wine tasting there. After all, the Marlborough Region is known for growing some of the country's finest wines (not that we're wine connoisseurs).
At 2:40pm, we were done wine tasting and headed to the Commodore Court Motel on the outskirts of Blenheim. We arrived at 3pm and learned that Jason (the son who was living abroad in England) had tried to contact us earlier. So once we got settled, we gave Jason a call. And so we've spent the rest of the afternoon getting caught up on what has been going on in the past year and a half while awaiting the arrival of his parents, who had been out boating.
It was funny that even Jason noticed that we must've brought the weather for us because he said they were getting fine weather until we arrived.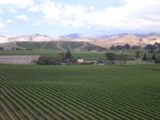 At around 4pm, Jason picked us up and took us for a brief tour of Blenheim and then some of the vineyard country before taking us to his parents' place. There, we saw both Linda and Roger, and got into chatting about a number of things regarding what has happened since Egypt.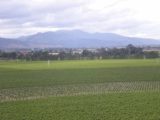 Roger and Jason even took us to a lookout on some private lookout knob that apparently the Prime Minister once stood at. That yielded some pretty nice panoramas of vineyards and even some of the local mountains in the distance. But since the weather was cloudy and threatening rain, they said we should be able to see all the way to the North Island from here, but today wasn't clear enough.
Eventually, we returned back to the residence where we had a very nice entree and dinner that involved some fresh scallops (something we hadn't had all trip long since they weren't sold commercially at this season) as well as fresh blue cod as well as some supplementary veggies.
But the whole time was spent chatting and getting to know each other in ways that we really weren't able to do during the cruise on the Nile Valley. It was fun to see, and it was an honor to actually be invited and partake in a dinner at someone's home in a foreign land. This was definitely something that was new to both Julie and I. And it was quite interesting to see how life was like through a Kiwi perspective.
We could see that the family definitely knew their wines since they're surrounded by it. Though I did find it was kind of interesting that Jason doesn't drink wine.
Other things discussed were the sights that we had seen. Apparently, Linda had seen little fur seal pups actually get all the way up to the Ohau Falls. Jason speculated it might be during storms when the tides are higher. They were also quite sympathetic about the very variable weather we had been having this trip.
Anyways, it was about 10:30pm when we were back at the motel. Time to get some rest before the ferry ride tomorrow; thus ending our stay in the South Island.