This Taiwan Itinerary focused primarily on Taipei and the northeastern part of the island from the Taroko Gorge back towards Keelung and then back towards Taipei again.
The main purpose of this trip was to experience things as a larger family group (my parents as well as nephew and niece joined us) while also trying to visit some sites that we didn't get to do 7 years prior.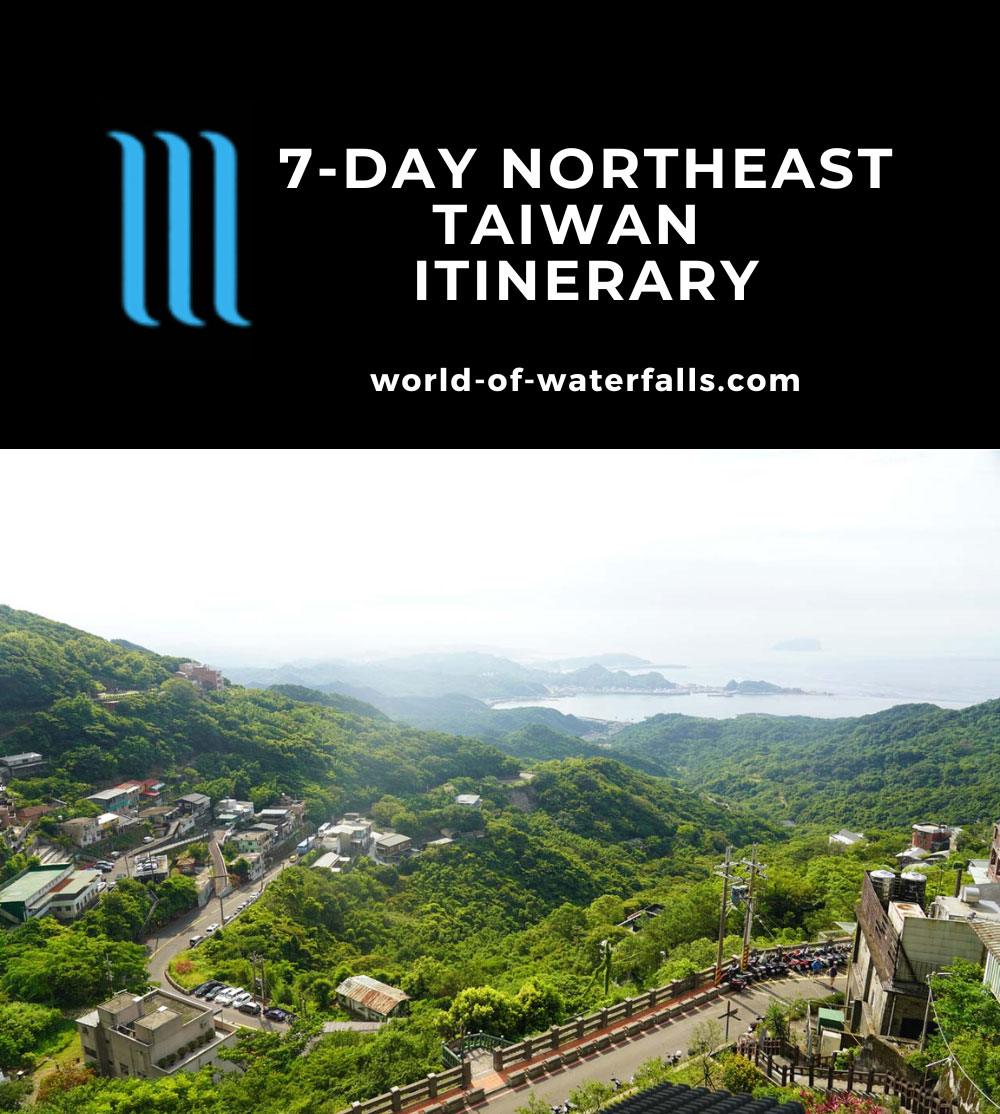 While things didn't quite work out the way we planned (e.g. the Baiyang Waterfall still eluded us), we still came away with new experiences, hanging out with relatives we hadn't seen in many years, and of course giving Julie and Tahia their first taste of experiencing Taiwan as tourists.
Here's a brief summary of what we managed to accomplish on this trip…
Trip Highlights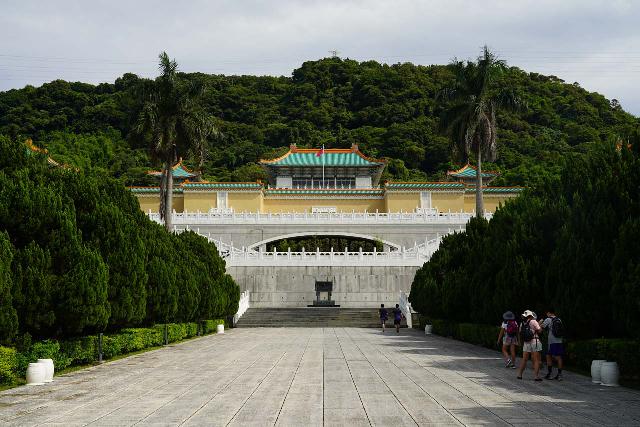 National Palace Museum (Gugong) – this was basically a visit inside perhaps the most extensive collection of Chinese treasures over the many dynasties that have ruled over mainland China. I have read that this was due to a bit of coincidence that it ended up being this way, but now it's kind of a sticking point in Chinese-Taiwan relations. In any case, this was a welcome break from the stifling humidity of the Taiwan Summer while also getting a bit of an education of Chinese history (at least while we could before the tour bus crowds took over). And it was a great way to start off our sightseeing in Taiwan during our 2023 visit.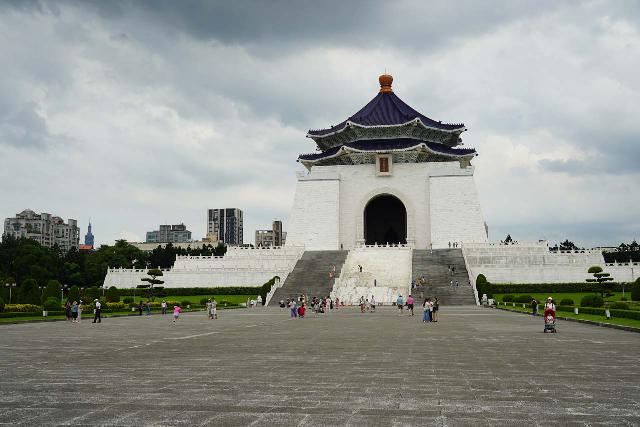 Chiang Kai-shek (CKS) Memorial – this was kind of Taiwan's answer to the Lincoln Memorial in the National Mall, but in this case, we have a grand plaza flanked by two red buildings (a concert hall and a theater) and then steps leading up to the statue of CKS himself. Every hour, they have a changing of the guard in front of the CKS statue, which is every bit as intense as it is interesting.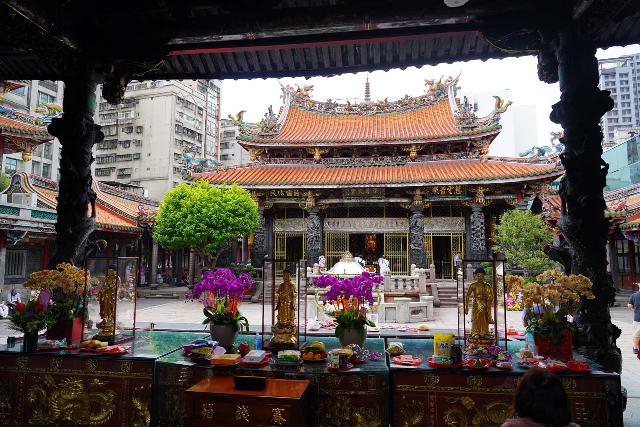 Longshan Temple – this was a very ornate temple in the middle of the city, which seemed like a bit of a sanctuary of sorts. There was a strong smell of incense as well as the sounds of recorded chantings, and there was a park or public square that seemed like a scene out of Mr Robot in Central Park where people were playing Chinese Chess (as opposed to regular chess). Underneath the square and the temple was a shopping area, and I got the sense that this place would really come alive in the evening.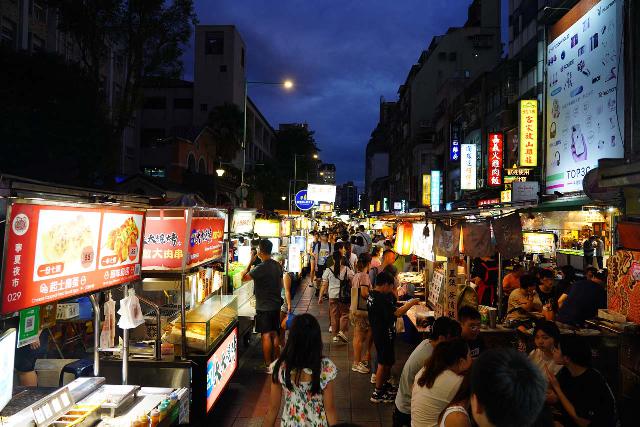 Taipei Night Markets – Taiwan night markets seem to have a life of their own as they're all over the island, but it's the ones in Taipei that definitely have the most atmosphere as well as the tastiest foods. Our favorites were the Ningxia Night Market and the Raohe Night Market since those places had the best oyster omelettes, stinky tofu, lurou fan, and Taiwanese shave ice.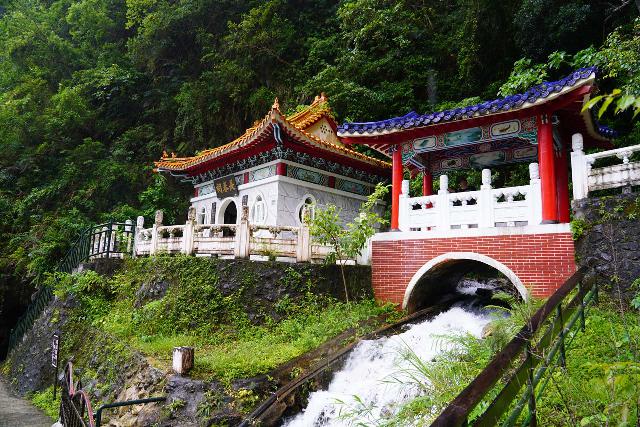 Eternal Spring (Changchun) Shrine – this was my second go at visiting this picturesque shrine within the Taroko Gorge. This time, they opened up the path going all the way to the shrine so I was finally able to fully experience it, and it was a good thing because the rains came just when we showed up! It also kind of made up for the disappointment of not being able to experience the Baiyang Waterfall given that half its trail was closed due to landslides.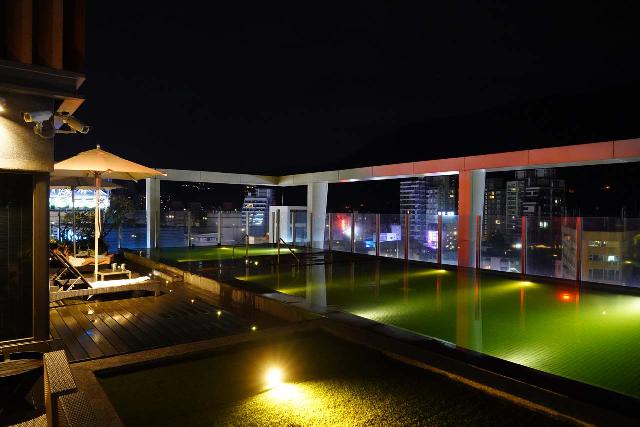 Jiaoxi – with this city, it was more about the cumulative experiences than the individual sights and attractions. Case in point, we spent time letting fish nibble on our feet while relaxing after dinner, having the ong shao ji at a famous restaurant, soaking in a hot pool on the rooftop of our accommodation, and strolling about the ambience of the night life. Sure, there were waterfalls also around here, but on our Summer trip, it was merely a stopover that had enough to keep everyone happy.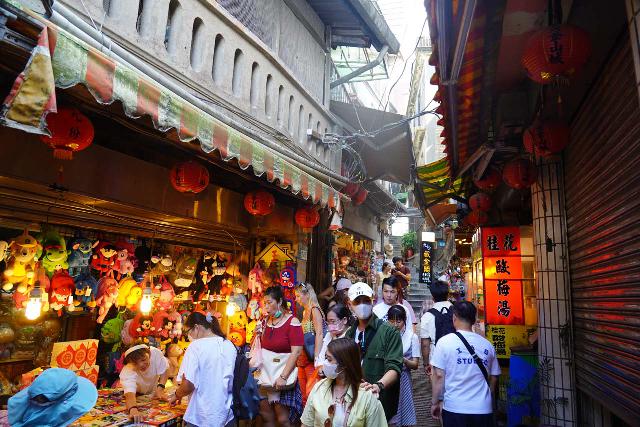 Jiufen – like the last time I was here 7 years prior, this place was very atmospheric as it was full of foodie experiences as well as tight market streets that were popular with both international as well as domestic tourists alike. It was Julie's and Tahia's first time here, and they described the experience as "fun". Too bad my parents couldn't come due to a flat tire issue, but at least they got to do this with me on that prior visit.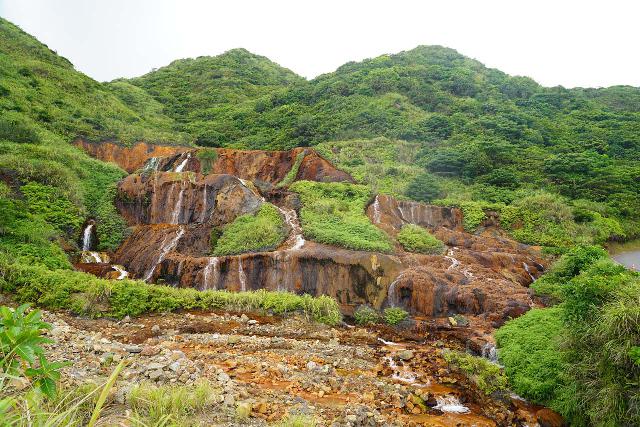 Huangjin Waterfall – this is an easy roadside waterfall to visit, and this time around, Julie, Tahia, Joshua, and Sohpia finally got to see it. It's basically a wide segmented waterfall with character as the underlying rocks are kind of orangish. While the waterflow wasn't as great as our October 2016 visit, it was still a nice prelude to Jiufen and Jinguashi later in the day.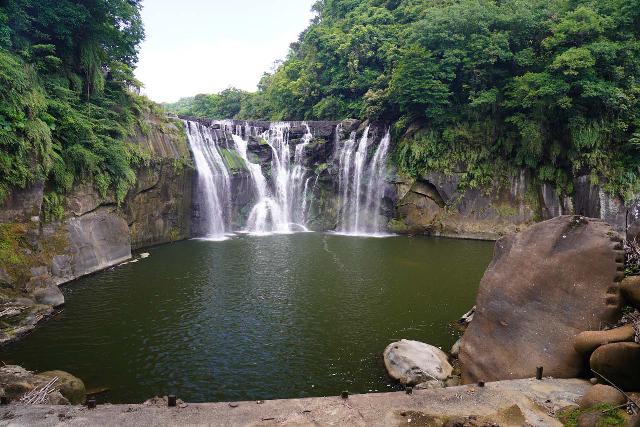 Shifen Waterfall – this is perhaps Taiwan's most famous waterfall, and it was a nice visit for the family despite it not being planned going into our trip! It goes to show you that sometimes it takes setbacks or some rearrangement based on how things go in real-time on a trip, and we basically called an audible to come here after leaving Keelung for Taoyuan Airport on our last full day. And as you can see in the photo above, it's still a pretty waterfall, and we even managed to experience it without the crowds inundating us (as most of them were happy to linger at the brink of the falls instead of the frontal view you see here).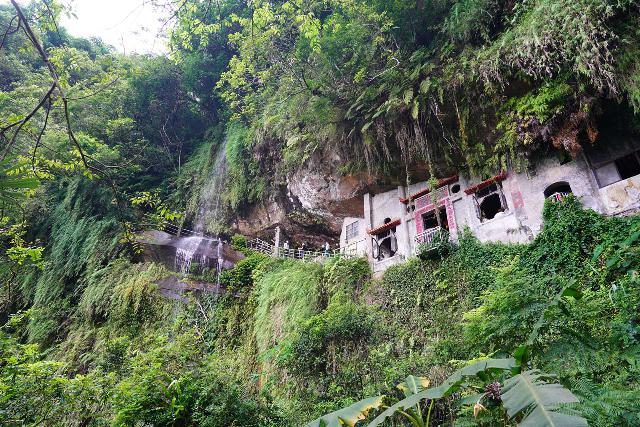 Yinhe Cave Waterfall – this was the only new waterfall that we visited on our Summer trip, and it was quite the nice combo of natural attraction with a shrine built into a cave or alcove on a cliff. This was one of those instances where we missed out on it on our first visit 7 years prior, and I didn't even plan on visiting it until I just saw on the map that this place was on the way to Taoyuan Airport after having visited Shifen Falls. And so this was another welcome serendipity to our trip that was full of audibles!
Trip Advice
Our Taiwan trip was basically kind of a break between extended road trips in Korea as well as Japan. So this was kind of a buffer week that was mostly about seeing family that we hadn't seen in years (mostly since pre-pandemic) while also seizing on an opportunity to see the relatives while we still can (as a couple of them had passed away since our prior visit in October 2016). So we don't really have much in the way of the kind of trip advice that would be helpful since we weren't exactly playing the typical kind of tourist on this week. But here's what we can share…
Stifling Humidity: Summer in Taiwan is all about a thick steaminess that will make you sweat (and get eaten up by mozzies if you're not covered up). This is especially true wherever we have to walk, especially in the night markets. All I can say about this is to come prepared with bug spray, light but long-sleeved clothing and long pants, and just embracing the suck of having to sweat no matter where you go. It's also worth mentioning that typhoon season is also during the Taiwanese Summer so that can be a real big trip disruption if they get hit by such storms.
Rental Car Costs: It seemed like over the years, they've really jacked up the cost of renting a car in Taiwan. Back in 2016, we were able to rent a car on the cheap and do it one-way starting in Hualien and returning in Taipei. It was almost like they were begging us to take one and bring the car up there. But this time around, they only had rentals that charge by the amount of kilometers driven, and it wasn't as straightforward to rent (though we did go through a local company instead of through the usual international ones like Avis, Budget, Hertz, etc.).
School Holidays: It seemed like school was still in session when we arrived in Taiwan, but then they started to get out of school by the time we were driving around and heading north then west back to the airport in the latter half of the week we were there. Indeed, they seem to get out on Summer break later than most North American schools, and that's something we can take advantage on a future trip knowing this information.
Power of Positive Thinking: Sometimes I tear up when I think about a message that Mom gave us when Dad and her stayed by their rental car after getting a flat tire in the mountains of Jiufen (a calamity that we witnessed when we were right behind them). It turned out to be a bit of a long ordeal for them (at least 8 hours) while she wanted us to take the kids to Jiufen so they at least get to experience it. But they were stuck in limbo due to red tape (Jiufen happened to be in an area where there were different districts that kind of aren't integrated so there was confusion about where to file police reports and they had to go back and forth). In any case, when we'd ask about them via text, Mom said it was an opportunity for them to take a trip down memory lane about how things were this was their stomping grounds in their younger days. It really epitomized how you make lemonade out of lemons, and it's a lesson learned that we'll always try to strive for no matter what kind of adversity gets thrown our way…
Travel Itinerary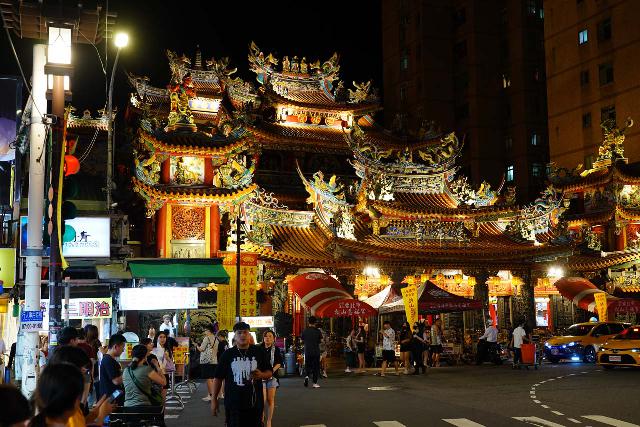 Day 20: Fly from Jeju Island to Taoyuan International Airport, then transit to Taipei
Overnight: W Taipei (Taipei, Taiwan)
This was a travel day where we flew direct from Jeju Island to the Taoyuan Airport. From there, we caught a bus to the center of Taipei, where we checked in, had a family dinner, and then checked out the Raohe Night Market while hanging out with relatives once again at their apartment nearby. I did suffer from a bit of food poisoning that I must have caught from my last day in Korea so that kind of put a damper on being able to enjoy the foods of Taiwan on this day.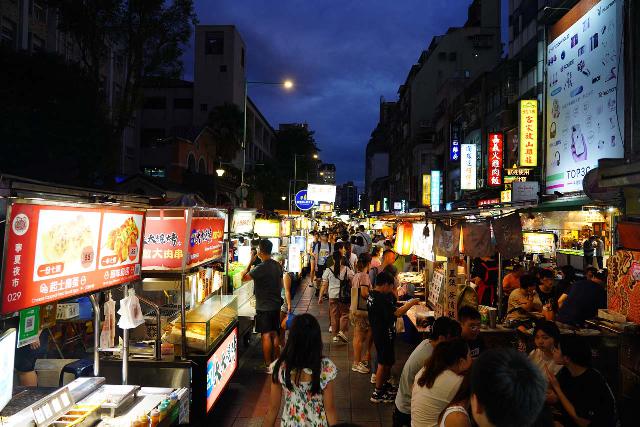 Day 21: Taipei Sightseeing
Overnight: W Taipei (Taipei, Taiwan)
In the morning, we caught a bus to the Gugong Museum (National Palace Museum) and then we visited the Chiang Kai-shek Memorial. Afterwards, we checked out the Longshan Temple, and then we had dinner at the happening Ningxia Night Market. It was a very full day, but at least I was feeling like my gut was recovering and I was starting to eat the food without consequences.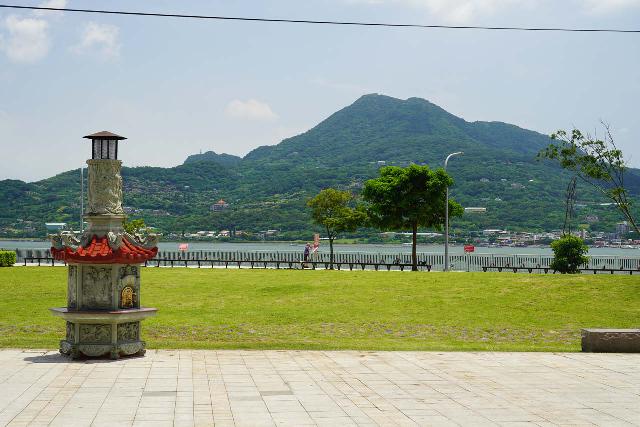 Day 22: Tamsui
Overnight: W Taipei (Taipei, Taiwan)
On this day, we pretty much spent most of the morning checking out Tamsui, including Port Domingo as well as the marketplace area. After a bit of a break in the early afternoon, we then returned to the Raohe Night Market to catch up with some friends and check out some local joints that were actually quite good (that we might have otherwise not known about).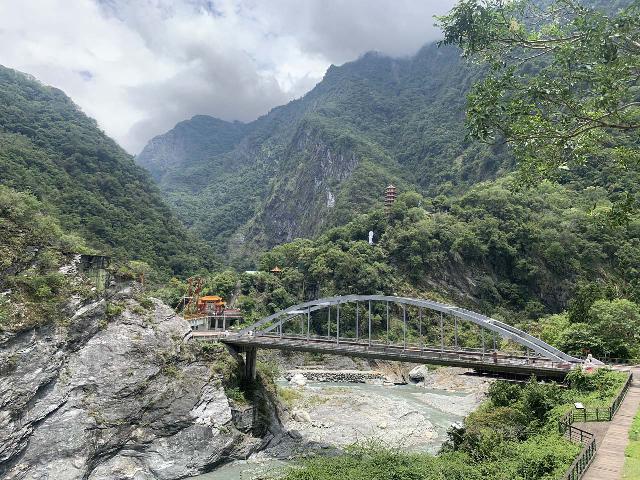 Day 23: Train from Taipei to Hualien, then drive to Jiaoxi
We started off the mornin with a train ride to Hualien, and then we spent time renting two cars. From there, we drove into the Taroko Gorge failing to complete the Baiyang Waterfall hike, but we did check out the Eternal Spring Shrine. Then, we made the long drive through the Qingshui Cliffs north to Jiaoxi, where we then had an ongshaoji dinner, some foot spa bathing, hot pool bathing, and a little night life.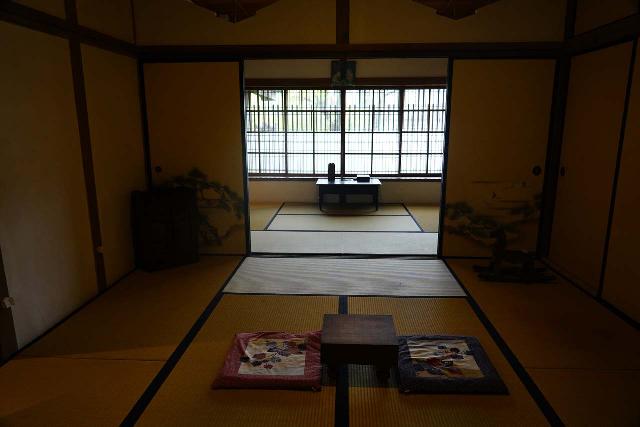 Day 24: Drive from Jiaoxi to Keelung
We started off this day driving north to Huangjin Waterfall, and then we went up to the Jinguashi Gold Museum. After that, we then went to Jiufen (though not without drama as the parents had to tend to car issues after a mishap). Finally, we settled into Keelung where we then had a dinner with the cousins that were living there. We reunited with the parents some time after a brief night market jaunt in Miaokou before returning to the accommodation.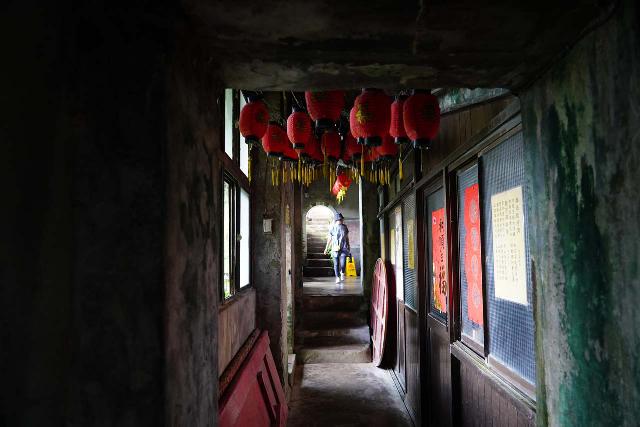 Day 25: Drive from Keelung to Taoyuan
Overnight: Novotel Taoyuan International Airport (Taoyuan, Taiwan)
On this day, we started off with a drive to Shifen Waterfall, and then we visited the Yinhe Cave Waterfall. From there, we drove to the Taoyuan Airport to settle in while also returning the rental car. We capped off the night with a dinner with more cousins on Mom's side of the family (both of whom have had projects or are currently active employment at this airport).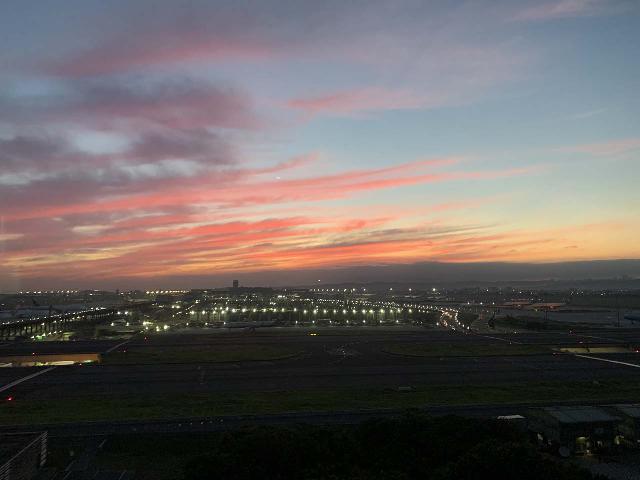 Day 26: Fly to Osaka, Japan
We pretty much spent the waking hours getting all packed and right to our flight. The parents would join us later in the evening (due to a later flight than us). Thus, this ended our Taiwan leg of our trip…
Best Places We've Stayed At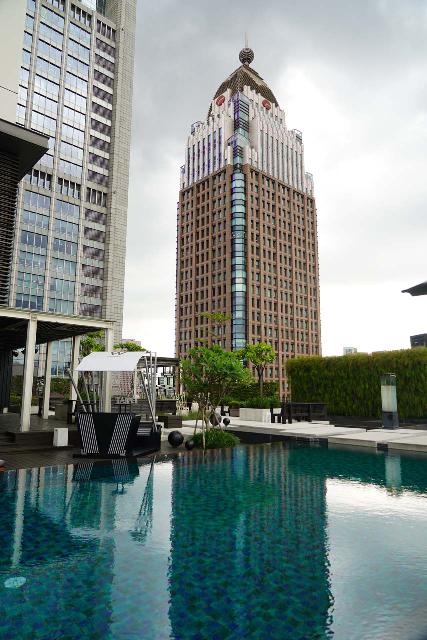 W Taipei– Although this high-rise hotel wasn't really meant for families, it was centrally located in the heart of Taipei near Taipei 101.
It also had a rooftop pool surrounded by towering buildings and with partial views of the city beyond (though it wasn't quite as luxurious as a similar style hotel that we stayed at in Jeju-si).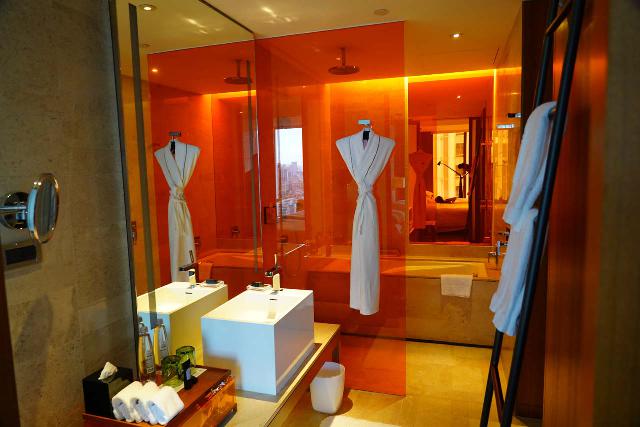 The rooms themselves were stylish and spacious, and thus it was a nice place to stay for the three nights that we were here. In fact, the parents and the niece and nephew liked coming here, especially since the kids got to use the rooftop pool with Tahia.
It was also a nice meeting spot given its central location as our family dinner with the relatives on Dad's side of the family found a nice Sichuan-style place nearby.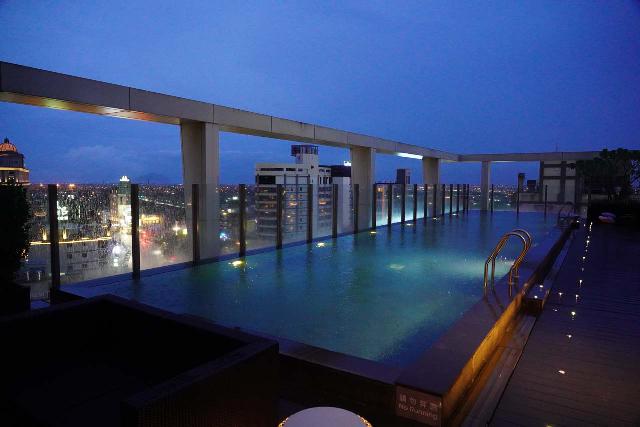 Wellspring by Silks, Jiaoxi – This accommodation didn't have fancy rooms (though the mini-bar was surprisingly included, and that included a Calpis drink), but it was the other stuff that the hotel provided that really made it stand out.
Case in point, there was a scenic rooftop swimming pool as well as a pair of hot pools (a warm one and a hot one) that made a steamy soak even steamier with the humidity. But this pool also had nice views over the city.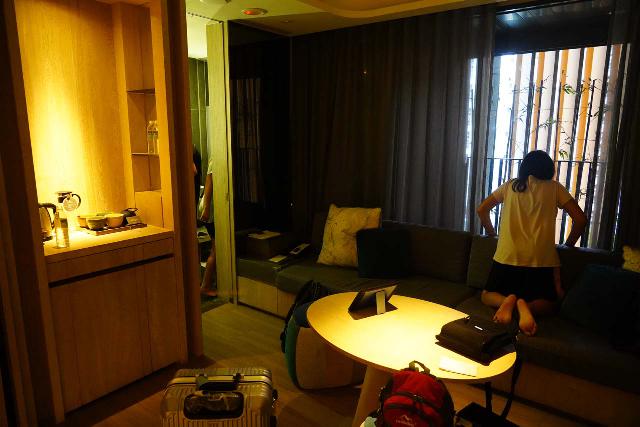 Meanwhile, the breakfast that was included was next level as they had lots of different styles of foods from Taiwanese to Japanese and even some Korean! In fact, we opted to leave late in order to enjoy this breakfast since it's not often that you get this much food of this quality as part of your stay! Heck, we even decided to skip lunch given the food that we ate for brekkie.
Oh yeah, it's also pretty centrally located as you can merely just go down to the ground floor and get right into the night life action.
Trip Reports
Waterfalls included in this itinerary
Visitor Comments:
Got something you'd like to share or say to keep the conversation going? Feel free to leave a comment below...
No users have replied to the content on this page