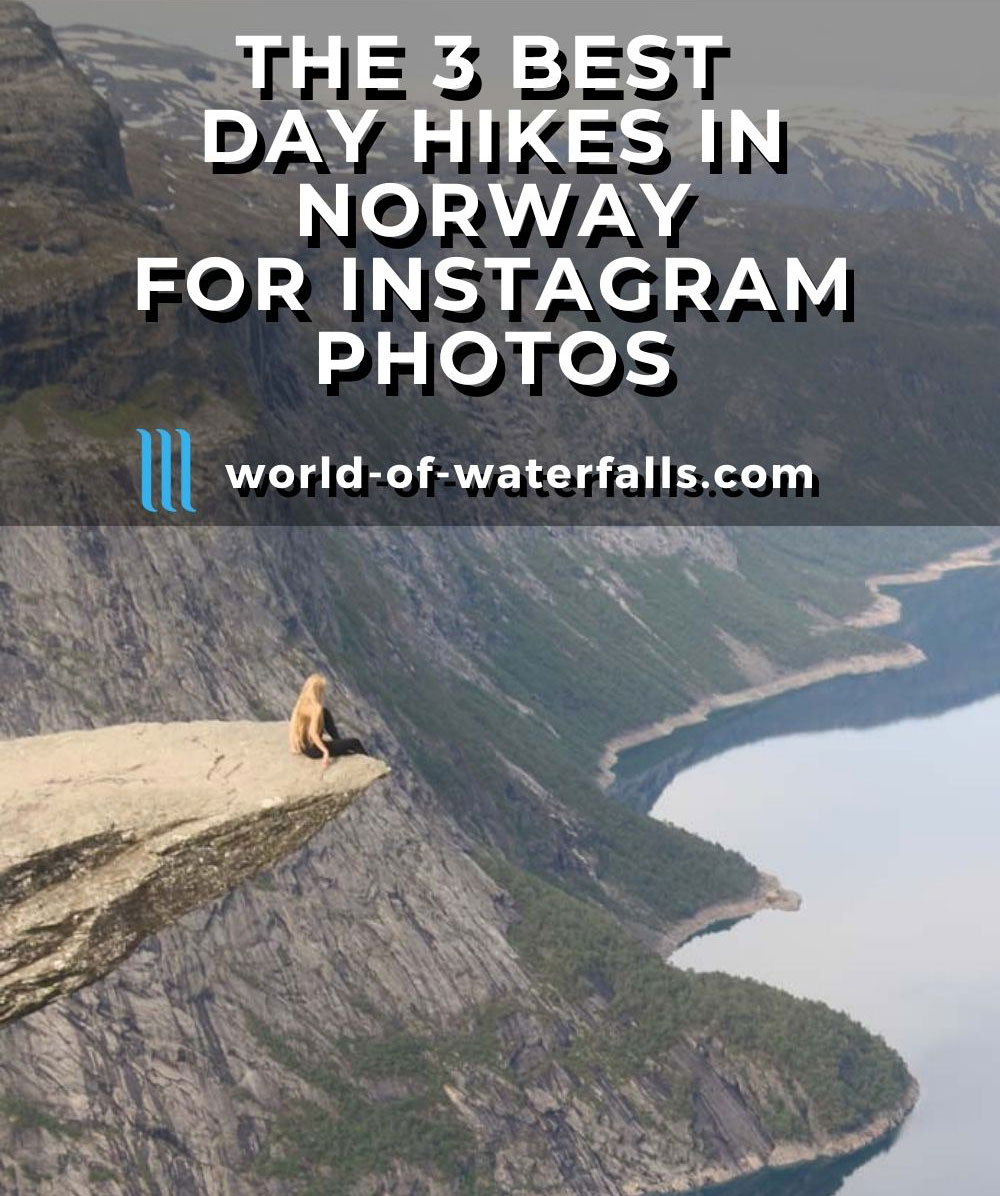 In this post, I highlight the three best day hikes in Norway for Instagram Photos, and I propose a one-week itinerary that respectfully lets you check off these bucket list items yet still enjoy the experience. It even accounts for possible unpredictable variations with the weather! Moreover, since we chase waterfalls around the world, I have also found waterfalls associated with each of these hikes to even satisfy our waterfaller needs!
So what are these day hikes?
They are (in no particular order) Preikestolen ("Pulpit Rock"), Kjeragbolten (or the "Kjerag Boulder"), and Trolltunga ("Troll Tongue").
These may sound like strange foreign words, but they are three of Norway's famous, death-defying, and iconic "rock stars".
Indeed, these Norwegian hikes are so popular (as I've noticed lots of literature devoted to some or all these attractions) that I tend to call them collectively as Norway's "Tourist Trifecta". To make a long story short, the appeal of these bucket list hikes are the following…
Preikestolen (Pulpit Rock) is a protruding cliff with sheer drops on three sides plunging over 600m (nearly 2000ft) above the Lysefjorden (the fjord of light)!
Kjeragbolten (or Kjerag) refers to a boulder or rock wedged between two vertical cliffs nearly 1000m (over 3000ft) above their base near the head of the Lysefjord!
And Trolltunga (Troll Tongue) is a protruding rock sticking out of a cliff rim with a sheer drop of about 700m (about 2300ft) above the lake Ringedalsvetnet!
These three famous rock formations have become iconic bucket-list attractions in Norway because they provide for dramatic Instagram photos that seem to defy death.
Therefore, they tend to get most of the visitation and publicity at the expense of the country's other worthwhile attractions.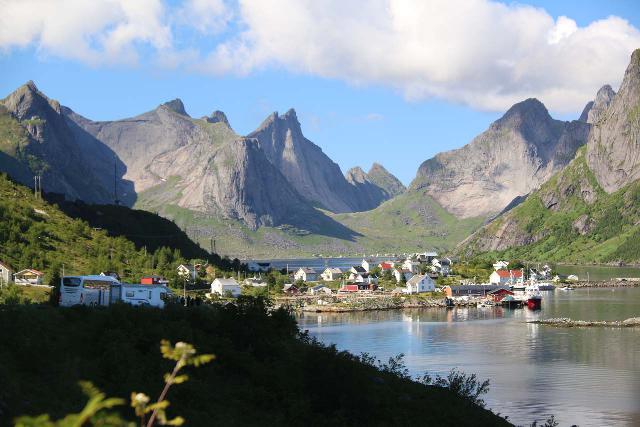 I'm quite aware of this fact as we've explored most of Norway on separate occasions through our waterfalling adventures.
However, I doubt I can convince people to resist the temptation of thinking that Norway is nothing more than these "rock stars".
So I will indulge in this oversimplified view of Norway by dedicating this write-up to an itinerary covering Preikestolen, Kjeragbolten, and Trolltunga in a week that is both reasonable and enjoyable.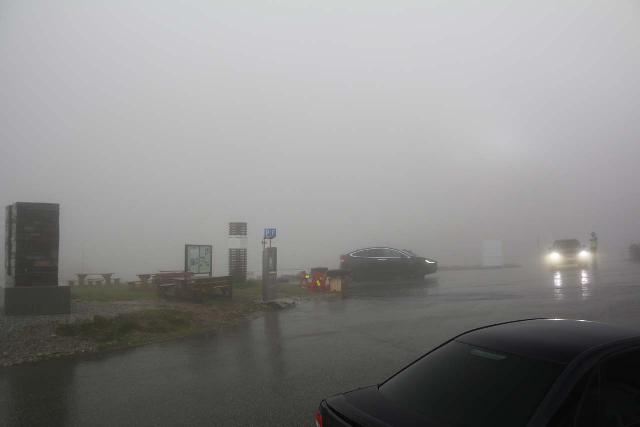 Not only will this itinerary allow your body to recover from the physical demands that each hike requires, but it should also buffer you against some of the unpredictability of the weather.
Hopefully, what I have to share in this write-up will help you plan a trip that allows you to enjoy some of Norway's rock stars as well as other attractions along the way.
At the very least, it should given you a sense of reality of what you sign up for when you do these bucket list excursions as well as how to plan accordingly to take it all in.
---
ABOUT PREIKESTOLEN (PULPIT ROCK)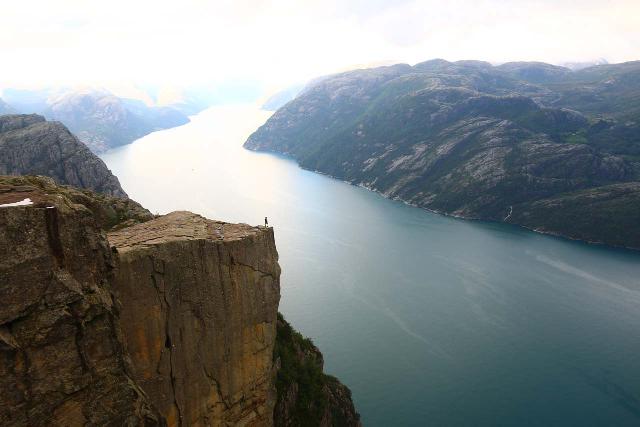 Hiking Distance: at least 8km round-trip
Time Commitment: at least 5 hours
Net Elevation Gain: 334m (1,100ft)
Difficulty: Moderate
Parking Cost: 250 NOK (about $28 USD; as of 2019)
Drive Time: 1.5 hours from Stavanger
Of the Norwegian Tourist Trifecta, I found Preikestolen to be the easiest and most popular, relatively speaking.
I thought this way because the trail was well-established, wide (for the most part), and conveniently located near the town of Stavanger.
That town served as a good base for us to stay given the options we had to do other excursions when I didn't do this hike.
Nevertheless, this half-day, 8km hiking excursion still demanded much out of me physically.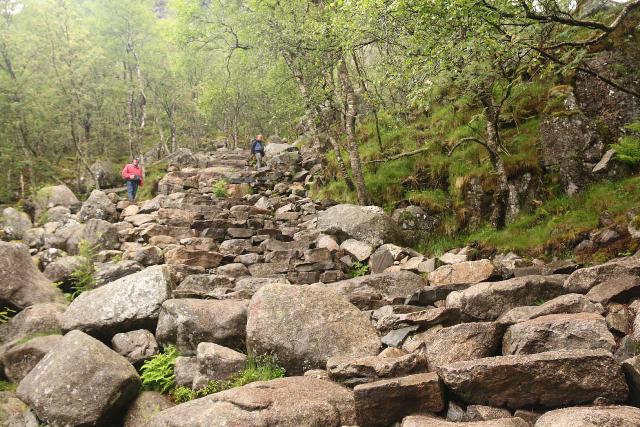 I felt most of the pain came from the brutal ascent (as well as descent on the return hike) over unforgiving granite steps and surfaces.
After spending so much time abusing my joints (especially my knees) on this hike, I definitely wished for an ice pack to keep the swelling down when done with this excursion.
The payoff for this kind of effort is being able to look down at a three-sided plateau with sheer vertical dropoffs on each side.
To give you an idea of what this might be like, consider looking down over the "diving board" on the lip of Half Dome in Yosemite National Park.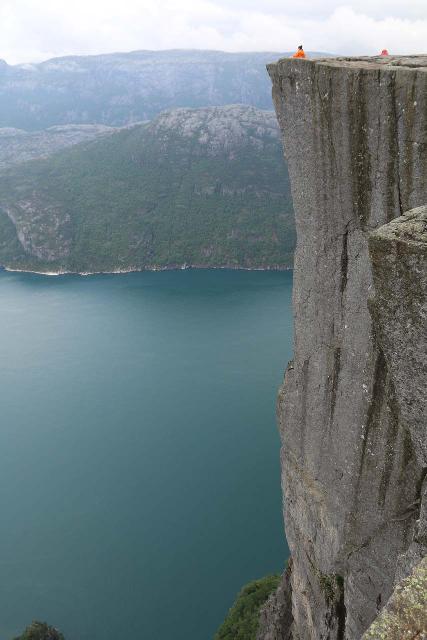 However, such a sheer drop would occur on three sides of a protruding cliff face instead of just one!
Indeed, the view from Preikestolen towards the lower end of the Lysefjord (arguably one of the prettiest fjords in Southern Norway) rivals those of the UNESCO World Heritage Fjords (Naeroyfjorden and Geirangerfjorden).
I even managed to spot a couple of waterfalls along the way, which provided me the waterfalling excuse to partake on this hike.
Furthermore, I managed to do some additional scrambling to leave the crowds at the plateau itself and reach a couple of higher overlooks allowing me to see Preikestolen in context with the Lysefjord.
The only catch about this hike was that it was on one of the busiest trails you'll find in Norway.
I used to have to worry about the ferry schedules involved in just making it to the Preikestolen Trailhead from Stavanger.
However, that all changed when they completed a tunnel between Tau and Stavanger (though I still took the Lauvvik-Oanes ferry).
Time constraints could further complicate this hike had I chosen to take some form of shuttle or transport to get here instead of self-driving.
In any case, I go into more details of this hike than the summary provided here in a separate write-up.
---
ABOUT KJERAG (OR KJERAGBOLTEN) AND NESATIND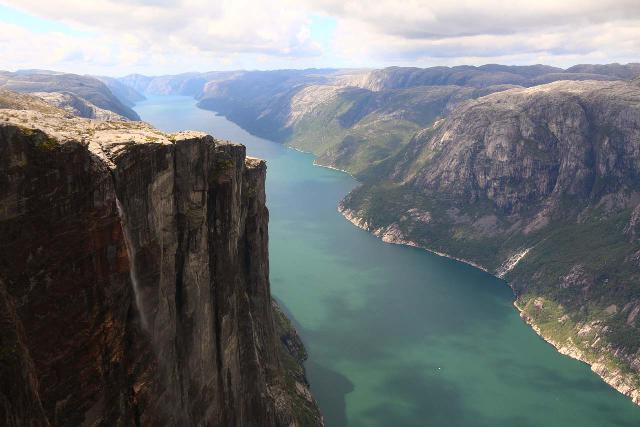 Hiking Distance: about 10-11km round-trip
Time Commitment: about 7 hours
Net Elevation Gain: 380m (1,250ft), but lots of up-and-down
Difficulty: Difficult
Parking Cost: 300 NOK (about $33 USD; as of 2019)
Drive Time: 2.5 hours from Stavanger
Among the Norwegian Rock Stars, I viewed Kjerag (or Kjeragbolten) as perhaps the most difficult hike even though it wasn't the longest.
An employee working the car park at the trailhead told me that this hike was the most "technical".
After having done this hike, I can certainly relate to how this hike can be challenging yet fun and photogenic at the same time.
In fact, I viewed this excursion as my favorite of the Tourist Trifecta given its over-the-top views for almost the entire hike.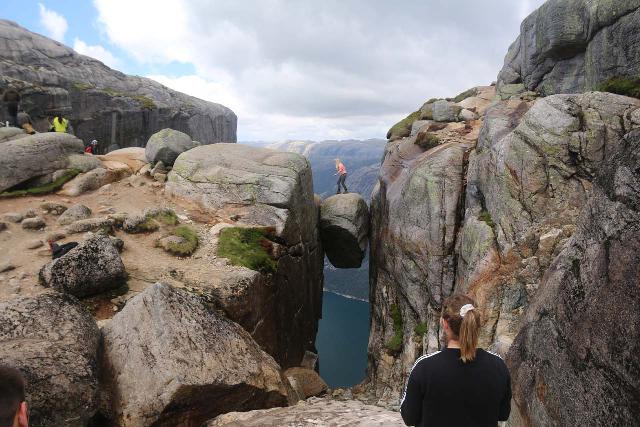 Speaking of Kjerag (or Kjeragbolten), as you can see from the photo above, it's not hard to see why this is an Instagram favorite.
As if that wasn't enough motivation to do this hike, I actually enjoyed the view of Lysefjorden from the Nesatind Lookout even more peaceful and appealing!
Nevertheless, in order to earn these experiences, you need to come to terms with the reality of the difficulty of the excursion.
For starters, you're looking at 11km round trip hike with nearly 400m (upwards of 1200ft) of net elevation gain.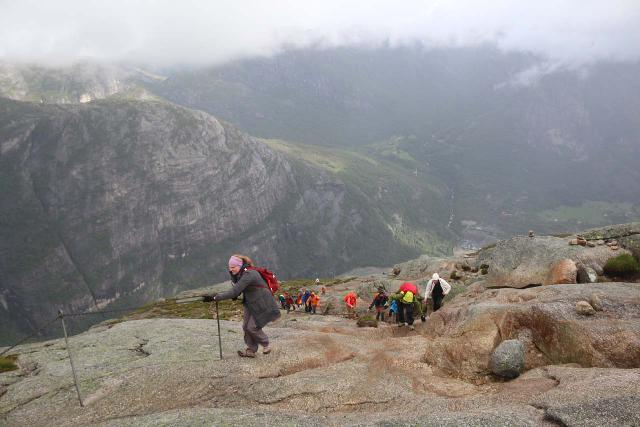 Unlike the Preikestolen hike, the Kjerag hike challenged me more because I encountered a lot of friction pitch sections.
Such sections required me to hold onto chains for both pulling myself up while also maintaining stability.
Even with hiking boots worn, the granite surface made for slick footing, especially when wet.
I can't imagine how much more slippery and dangerous the hike would be without proper hiking shoes that would have better traction than tennis shoes.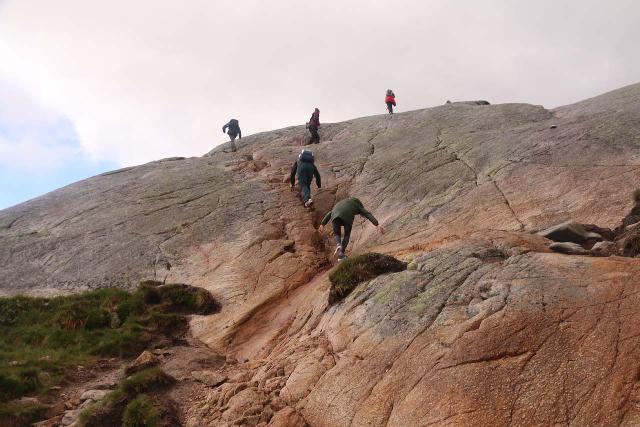 Once you get to the Kjeragbolten, you'd have to pre-coordinate with someone to take your picture while you wait in line and summon the courage to climb onto the rock wedged between vertical cliffs.
During my visit, there was still snow in the final stretch to the Kjeragbolten, which was another reason why hiking boots were a must.
Once I had my fill of Kjeragbolten, I then hiked over to the Nesatind Overlook, which was much quieter yet more beautiful than Kjeragbolten itself.
At this overlook, I got to see the "Kjeragfossen" with a top down view of Lysefjorden together.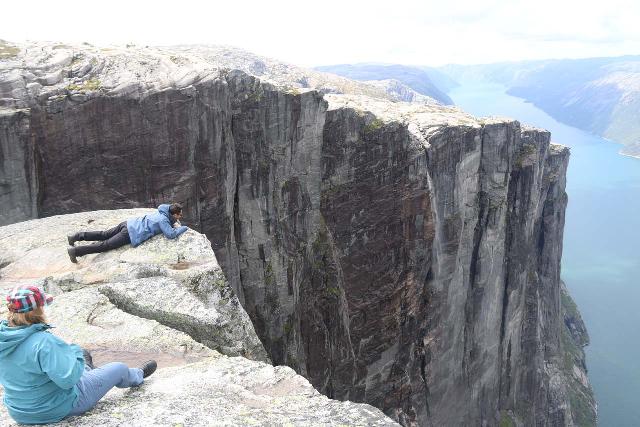 I also got to witness base jumpers shoot down like missiles from the clifftops to the ground over a thousand feet below.
Then, after having had my fill of Nesatind, then I went mostly downhill back to the trailhead, but I had to be very careful about the steep downhill parts where it was easy to slip and fall.
I generally found going down backwards (as if I was rappeling by holding onto the chains) felt more secure and safer though I definitely had to watch where I was going.
I even managed to slip and fall in one real steep stretch on the final long downhill, but luckily I landed on my day pack, which broke my landing and caused me to ultimately help me land on my feet.
Finally, despite the length and difficulty of this hike, that didn't stop the many tourists determined to get their Kjerag experience so you definitely shouldn't expect any solitude.
---
ABOUT TROLLTUNGA (THE TROLL TONGUE)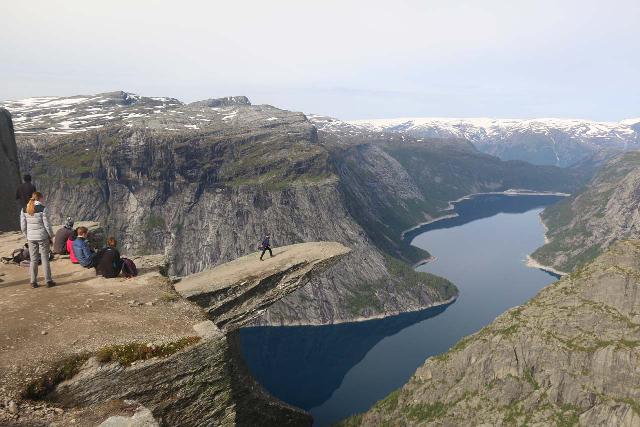 Hiking Distance: about 20-28km round-trip
Time Commitment: about 7-10 hours (depends on where you start)
Net Elevation Gain: 350m (1,250ft) from P3, 750m (2,460ft) from P2
Difficulty: Difficult
Parking Cost: 600 NOK for P3 (about $66 USD), 500 NOK for P2 (about $55 USD; as of 2019)
Drive Time: 30 minutes from Odda
Trolltunga may have required hiking the farthest of the Norwegian Tourist Trifecta, but I didn't think it was the hardest.
Most of this hike lacked the scenery of both Kjerag and Preikestolen, but its payoff came towards the end of the long hike.
Indeed, in addition to the Trolltunga itself (basically a rock protrusion over a sheer vertical drop), I also got to see the Ringedalsfossen at the head of the man-made lake Ringedalsvatnet.
Therefore, I thought the Trolltunga excursion had the least compelling scenery of the "rock stars".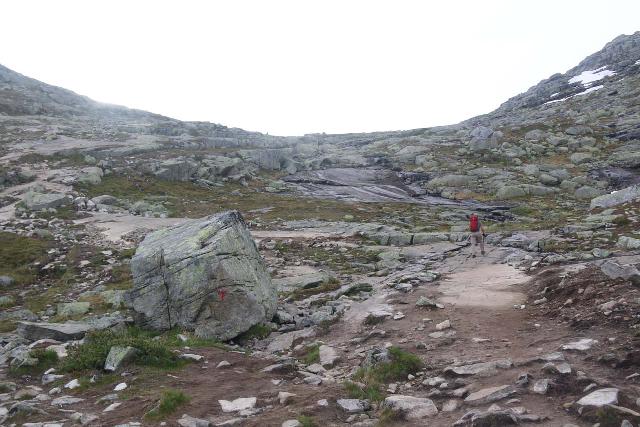 I especially thought this way when I considered the neighboring hydroelectric developments and subsequent defacing of the scenery.
Nevertheless, the photo op of the Trolltunga itself still drew tourists en masse determined to make the Troll Tongue itself their worthwhile goal.
In fact, most of the hike on way to Trolltunga lacked views.
This included the first 3km (from the actual trailhead and not the P2 car park) which involved a pretty brutally long climb.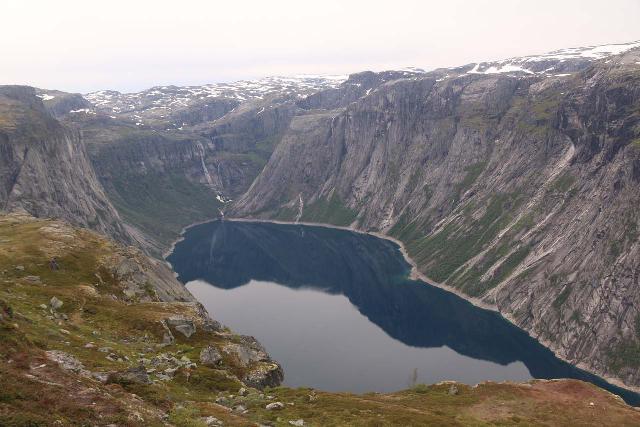 Parts of this climb involved going over some steeply-sloped, slippery-when-wet, and unaided friction pitches.
Once above the initial climb, then the plateau scenery consisted of some alpine tarns as well as top down views of Ringedalsvatnet and the Ringedalsfossen.
Aside from that, there was an opportunity to see more side cascades as well as a detour to get a look at Tyssestrengene (if it has water since its watercourse is dammed).
The final stretch of the trail involved paying attention and following rock cairns in the granite landscape.
But by and large, I didn't have too much difficulty following the trail and staying out of danger.
---
THE ONE-WEEK TRIFECTA ITINERARY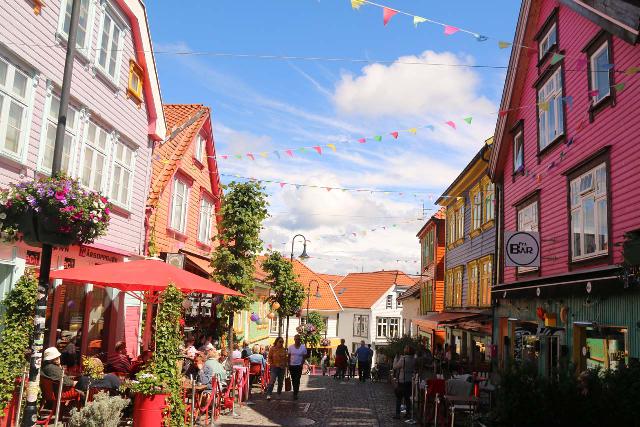 This itinerary assumes that we start in Stavanger and end in Odda.
It does not include additional travel days necessary to get to these towns from say Oslo or Bergen, which are probably the most common tourist entry points to Norway.
Day 1: Travel to Stavanger
This is intended to be a travel day, where time of arrival to Stavanger depends on where you come from.
To give you an idea of the amount of time required for travel, we were able to check into Stavanger in the mid-afternoon after leaving Rysstad (in Setesdal Valley) via a Summer highland road.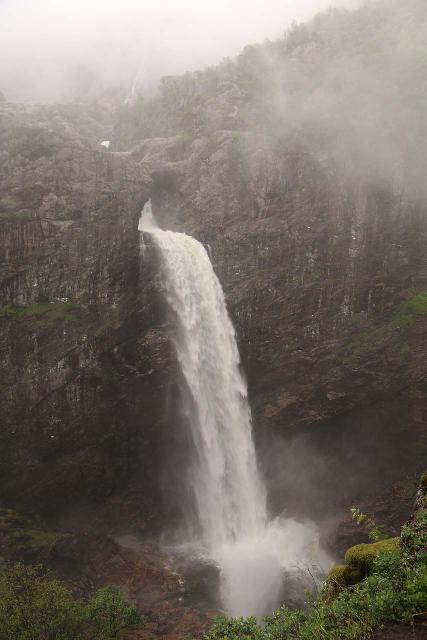 This fairly direct drive bought us enough time to fit in brief detour and hike to Manafossen.
That left me enough time to pursue Preikestolen in the late afternoon (leaving before 4:30pm), where I ultimately made it made it back to the apartment by 11pm.
I did have concerns about making the last return ferry from Oanes back to Lauvvik (which I thought left no later than 11pm), and that hastened my experience a bit.
However, it turned out that I didn't need to worry because I could have driven underground through the Ryfylke Tunnel between Tau and Stavanger if I couldn't return by ferry.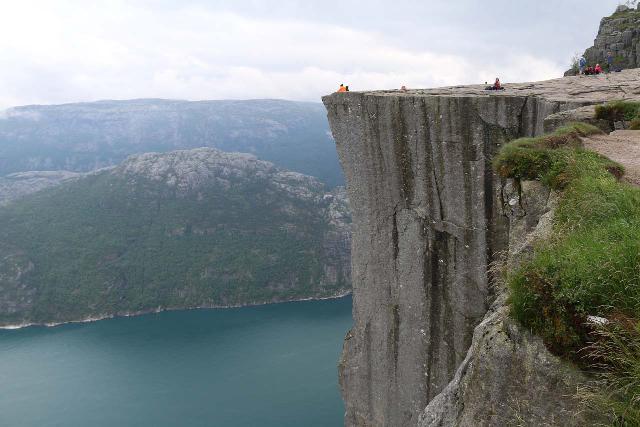 If you make the long journey from say Oslo or even Bergen, you may not be able to arrive in Stavanger until evening, which would force you to punt Preikestolen to another day.
Day 2: Kjerag
This day and tomorrow are interchangeable days depending on the weather.
Assuming that today is a good day to do the Kjerag hike, then this will take the entire day with an early start (say no later than 7:30am).
To give you a sense of the time commitment, on the day that I did this hike, I drove to the Kjerag Trailhead from Stavanger by 6:30am, and I ultimately made it to the Kjerag Trailhead at a little after 9am.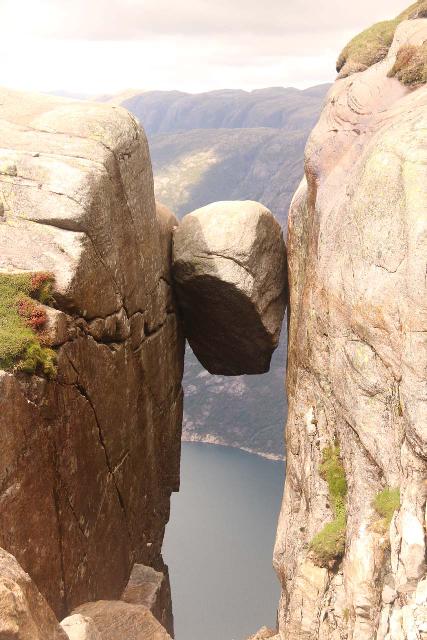 Then, I spent the next 7 hours away from the car to do the hike, explore the Kjeragbolten area as well as the Nesatind Lookout of the Lysefjord, and return to the car park.
On the drive back to Stavanger, I managed to fit in another late afternoon hike to Manafossen (given the improved weather for a better experience).
I ultimately made it back to our apartment in Stavanger at about 8:30pm.
You may accomplish this day of touring in a shorter amount of time than I did, but at least you have an idea of how much time you will need to do Kjerag using Stavanger as a base.
Day 3: Stavanger and Lysefjord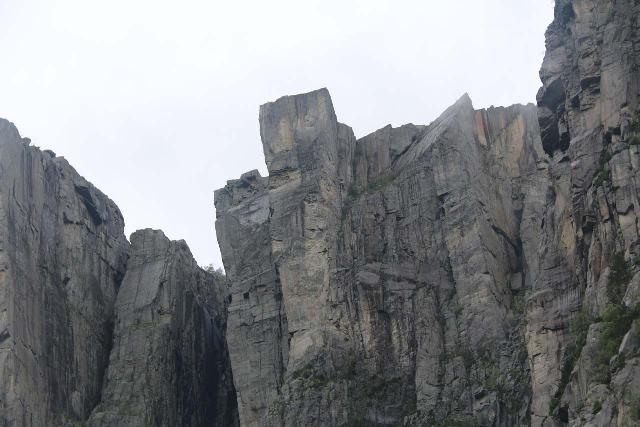 Assuming that Kjerag was done yesterday, then today is a day at leisure to either mix and match activities, but this depends on the weather.
If the weather still cooperates, then you can do the Preikestolen hike (either in the morning or early afternoon) while spending the rest of the day doing other activities.
Such other non-"rock star" activities may include exploring Stavanger or doing a half-day cruise to the Lysefjord to experience Preikestolen and Hengjane Waterfall from below.
Although these non-"rock star" experiences might be better under fine weather, they're still good Kjerag or Preikestolen alternates even in not-so-great weather.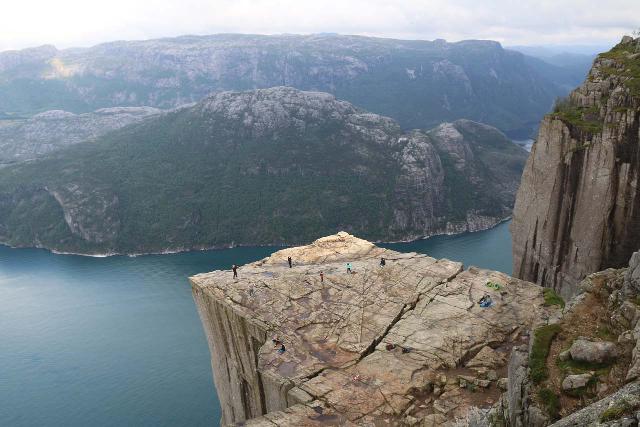 That said, if the weather was not suitable to do Kjerag yesterday, then the long hike would have to happen today while the Preikestolen hike (if not done yet) would have to happen tomorrow.
If you find yourself in the position where you still haven't done Kjerag by the end of today, then it might be possible to do it tomorrow.
However, since it's a long travel day, this would mean that you have a very late check-in to the next accommodation after Kjerag.
At least with Preikestolen, you may get to your next accommodation at a more reasonable time in the evening (assuming you didn't do Preikestolen yet).
Day 4: Travel to Odda
Assuming that both Kjerag and Preikestolen were done prior to this day, then make the long drive (or whatever other method of transport) to the town of Odda or Tyssedal.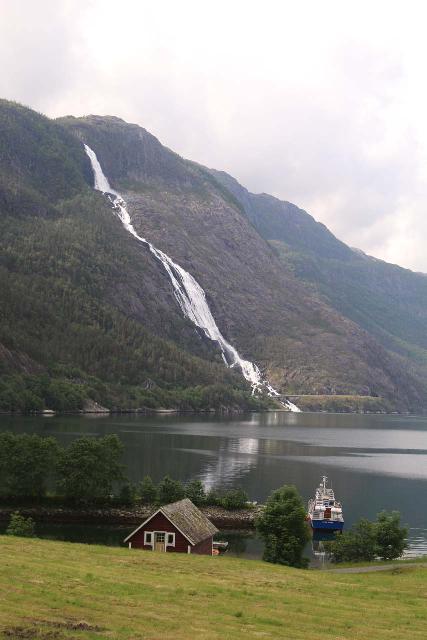 During the drive up to Odda from Skare (where the E134 and Rv13 meet), you get to experience the big waterfalls of the Oddadal Valley.
Such waterfalls include Latefossen, Espelandsfossen, Vidfossen, Strondsfossen, and Tjornadalsfossen.
That said, depending on circumstances, if you didn't get a chance to do Preikestolen before, then this morning would be your last chance to do it.
It would be pretty reasonable to fit in Preikestolen on this day because it didn't require too much of a detour from one of the routes between Stavanger and Odda.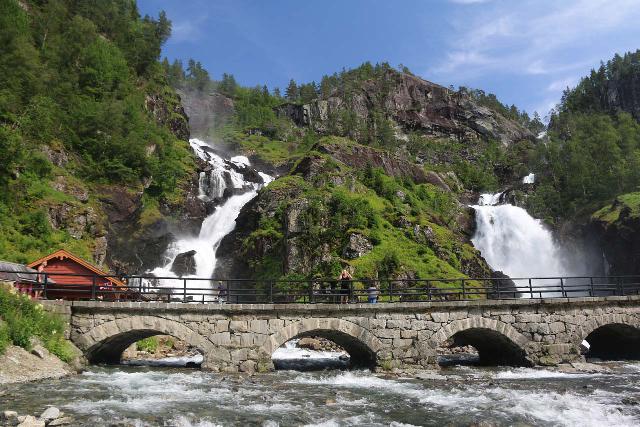 However, it might be a stretch to include Kjerag on this day and then continue the drive to Odda on this travel day.
That said, if you find yourself never having the chance to do Kjerag in the last two days, then I guess you don't have a choice.
Then again, you might also have the flexibility to replace one of the nights in Odda or Tyssedal in favor of Stavanger so you have another shot at doing Kjerag or Preikestolen before a travel day like today.
Of course, that would only work if the weather cooperates in the Hardanger area as you'll see below.
Day 5: Trolltunga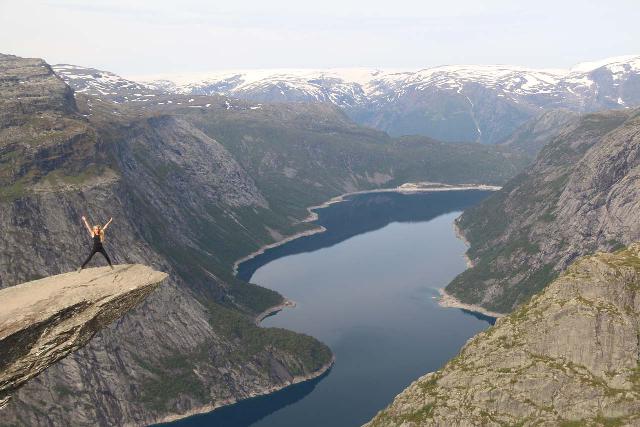 This day and tomorrow are interchangeable days depending on the weather.
Assuming that today is a good day to do the Trolltunga hike, then this will definitely consume the entire day.
With a very early start (arriving at the P2 car park before 6:30am as the gate opens at 7am), the hike is only 20km round trip.
However, if you can't get an early enough start, then you're faced with a 28km round trip hike without any help.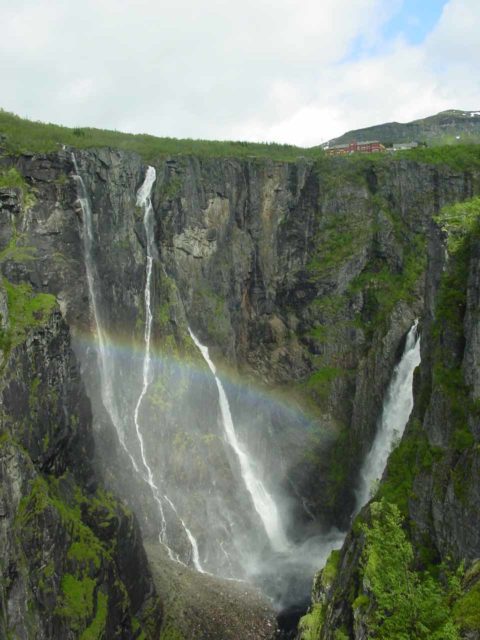 I say "help" because you can still take advantage of a shuttle van to eliminate hiking up (or down) the switchbacking road (comprising 4km in each direction).
To give you an idea of the time commitment, when I did this hike, I actually managed to make it back to Odda between 2pm and 3pm.
This allowed us to fit in a drive out to Voringsfossen and back on this day.
Day 6: Hardangerfjord
Assuming that you did Trolltunga yesterday, then today would be a free day to explore the Hardangerfjord region.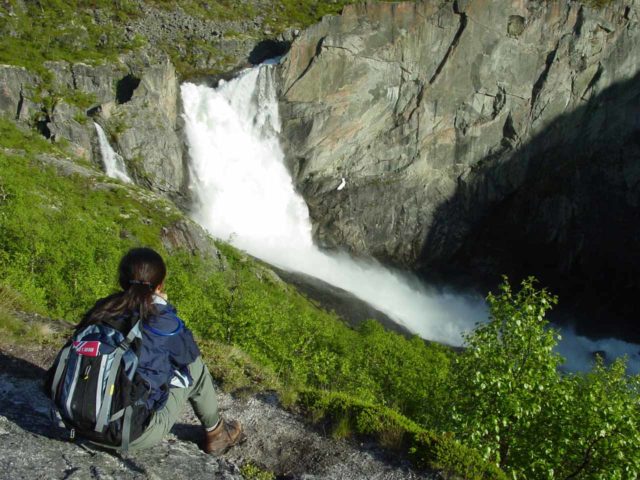 You could go as far as Voringsfossen while experiencing other sights along the way like Eidfjord, Simadal Valley, and the Kjeasen Farm.
Or, if you want something more active, you can also drive into Hjolmodalen and do the Valursfossen hike.
Moreover, you can also spend the better part of the day driving inland from Kinsarvik to do the Husedalen Waterfalls hike as well as the less-visited hike up to the Hardanger Plateau from Lofthus.
You might even choose to check out the Folgefonna Glacier while also going a little further west to check out the Furebergsfossen.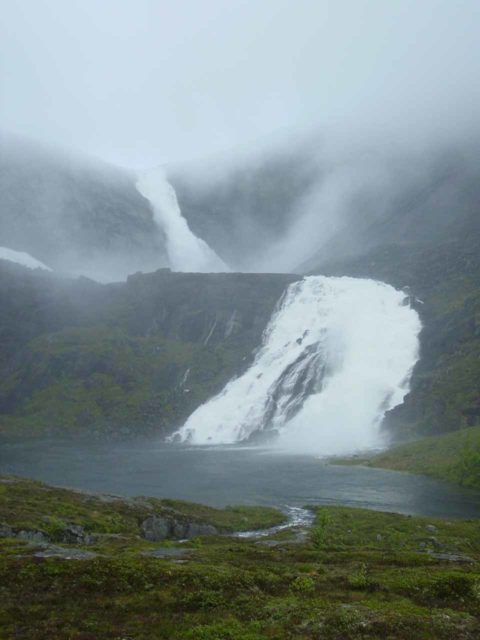 Indeed, on this day, you have lots of options though I'm sure the weather will have some impact on what you'd rather be doing.
Day 7: Travel Day
Depending on where you are headed, this final day is designated to be a travel day if you're seeking to end your trip.
It's about a 6-hour drive between Odda and Oslo and a 3-hour drive between Odda and Bergen.
Of course, you can also adjust your itinerary to do something today if you wish to continue your travels in Norway.
Now that you have an idea of how long you would need to plan out a week that would encompass the Norwegian "Tourist Trifecta", let's shift gears and get into prioritizing what to see and do in your itinerary.
---
CONCLUSION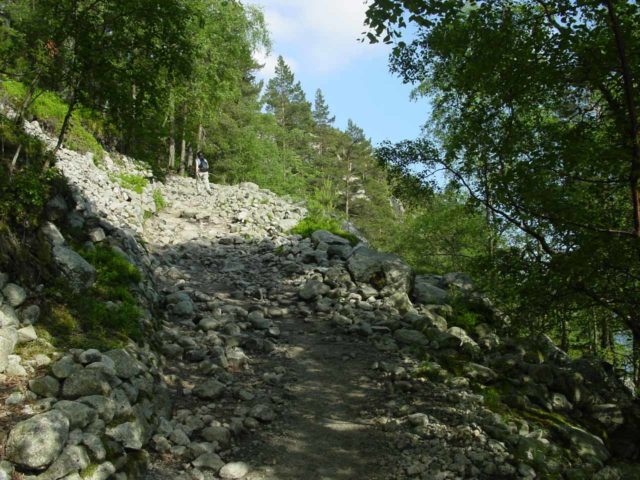 In conclusion, while this itinerary provides you with a sense of what's doable and enjoyable at the same time, you can certainly scale it up or scale it down as you see fit.
Scaling Down The Norway Tourist Trifecta
If you choose to scale down this trip into fewer days, realize that you do so at the expense of any built-in margin I've provided.
This in turn might adversely impact your overall enjoyment.
Heck, I've even seen some blogs and TripAdvisor boards advocating squeezing the Norwegian Tourist Trifecta into as little as 3 or 4 days!
That said, I feel this approach leaves you no margin for error (especially in regards to Norway's fickle weather).
Plus, it misses the point of travel in Norway as I've learned the hard way that I tended to miss out or have regrets whenever I was in a hurry.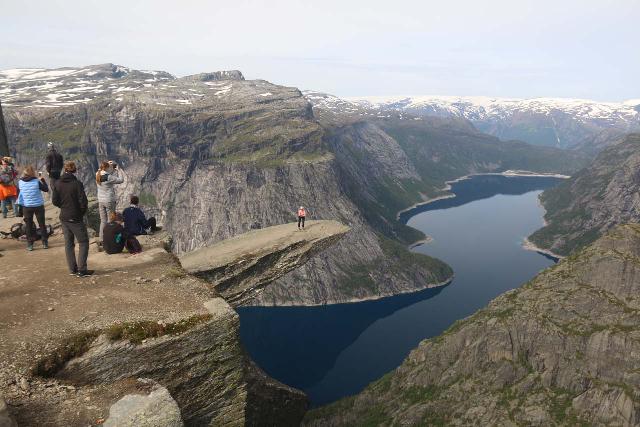 Indeed, I would resist the temptation of treating Preikestolen, Kjerag, and Trolltunga as places to conquer.
I would also resist the temptation of using the Norwegian "rock stars" to get a cheap bump in your social currency via apps like Instagram, Facebook, etc.
Scaling Up The Norway Tourist Trifecta
On the flip side, I would strongly encourage you to scale up this week-long itinerary by extending it (at the expense of cost and time, of course).
That way, you can not only experience more of the country, but you have more margin for error to work around unforeseen things like bad weather or closures.
You also give yourself more time to meet people and really get that personal connection that you wouldn't otherwise get when you hurry.
Besides, taking your time to savor your experiences will certainly help you appreciate your surroundings, learn as you go, and be in the moment.
And isn't that the spirit and idea of travel in the first place?
Ranking The Norway Tourist Trifecta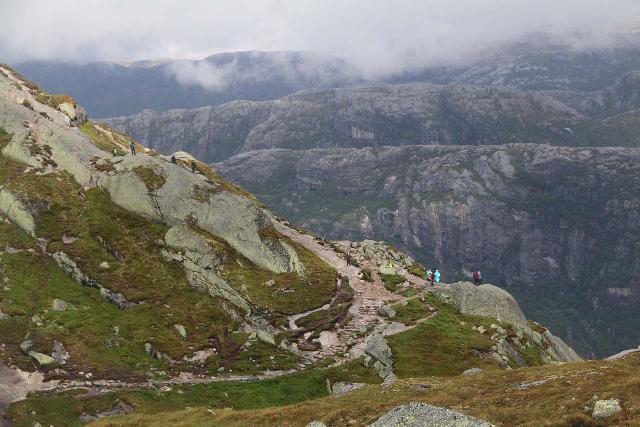 Nonetheless, if you do find yourself in the unfortunate position of having to choose which of these attractions to pursue, here is how I'd rank the Norwegian "Tourist Trifecta".
First and foremost, I liked Kjerag the best even though I found it to be the most technical and difficult of the three.
That's because it had beautiful scenery throughout the very up-and-down hike, and the photo op at the Kjeragbolten as well as the scenery over Lysefjorden were all world class.
Next, I liked Preikestolen the second most because you get good scenery towards the end of the hike, which itself wasn't terribly long though it was the most crowded.
Finally, I liked Trolltunga the least of this trio because it was a very long hike with less compelling scenery for most of the hike.
Only towards the end of the hike did I finally get the payoff.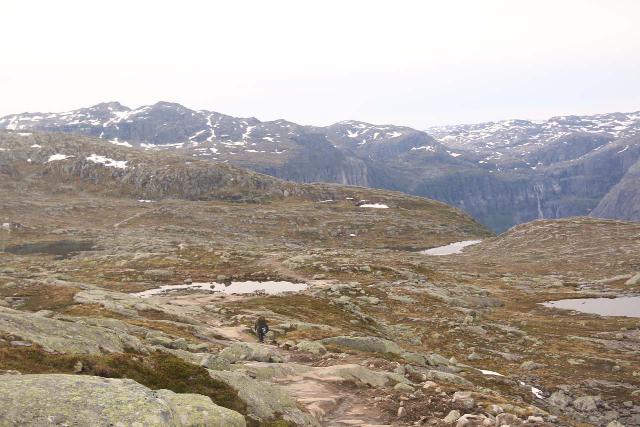 If push came to shove and I had to skip one of Norway's "rock stars", then I'd probably leave Trolltunga off the itinerary.
Savoring Norway As Opposed To Rushing It
In the end, whatever you decide to do with your time in Norway, try to slow down and really be in the moment so you don't sell the country short.
Even if you seek witnessing Kjerag, Preikestolen, and Trolltunga on this trip, just know that Norway has so much more to offer.
Perhaps, this trip will open your mind and inspire you to see other beautiful spots around the country.
Only then will you truly appreciate just how special Norway really is!
Visitor Comments:
Got something you'd like to share or say to keep the conversation going? Feel free to leave a comment below...
No users have replied to the content on this page