Day 41 (July 23, 2019 – Voss, Norway): "Viking Lessons"
It was about 6am when this time it was Tahia's alarm that woke everyone up.
Outside, we could see that the cloud ceiling looked low as expected. It had also been raining as the ground was very wet.
So given the weather that wasn't a surprise to us, the mentality of this day was to make it a light day in terms of sightseeing activities.
Then, we'd really have a go at it tomorrow when the forecast was said to be much better than today.
Of course, that would mean a lot more driving as tomorrow was supposed to be a long driving day between Voss (where we were checking in today) and Rysstad (where we were checking in tomorrow).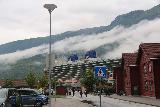 But the last-minute change of plans due to the weather meant that we should spend a good half-day driving from Voss back to Flam then going on the Naeroyfjord and Aurlandsfjord Cruise before being shuttled back between Gudvangen and Flam.
Once we finally recover the car at Flam, then we'd make the longer drive all the way to Rysstad.
Or at least that was the plan. But as far as today was concerned, we'd just focus pretty much on sightseeing between Flam and Voss, especially in the Naerodalen Valley. We'll play it by ear how the weather was going to affect us.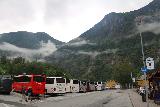 In any case, while Julie was getting ready to cook breakfast, I acted on this plan by going downstairs to the booking center and booked the 9am cruise from Flam to Gudvangen, then the shuttle back.
At least we took advantage of the central location of the apartment so the high price we paid to stay here wasn't totally for naught.
I also noticed how the parking situation was when we expected to come back tomorrow, and it seemed like we were fine.
So with all that slow deliberate startup out of the way, we finally loaded up the car at about 10:30am. It wasn't raining yet.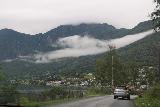 And then, we spontaneously decided to pursue the Stegastein Lookout, which was definitely something we didn't do before on our trip 14 years ago. In fact, I don't even think this developed lookout even existed back then!
Regardless, I knew about the single-lane roads, and the lady working the booking office even tried to discourage me from doing the drive and booking a shuttle bus tour instead.
Little did she know that I had been driving these kinds of roads all throughout this trip as well as during our last trip to Norway 14 years ago.
So the prospect of driving steep single-lane roads supporting bi-directional traffic didn't faze me.
Perhaps what was more annoying were cars (more like RVs) that shouldn't be on this road that caused the big traffic jams. Even tour buses made their way up there.
And there were plenty of moments where people were so terrified by the narrowness of the road that they were super slow and actually hurt their own causes by increasing the likelihood of oncoming traffic meeting them in a bad spot on the road somewhere between the switchbacks.
So it wasn't until about 11am when we made it to the limited car park for Stegastein.
At least we weren't in the low cloud ceiling, but we could definitely see that there was weather approaching from the Flam area headed our way in Aurland.
As far as the fjord views were concerned, it was definitely no Geiranger. There weren't much in the way of impressive waterfalls, but there were interesting fjord contours and it kind of gave us a foreshadowing of what we could expect on the cruise tomorrow.
After having our fill on the funny-shaped lookout that seemed to drop off into oblivion at its end (except for the window that acted as a railing barricade), we then headed back to the car.
However, that wasn't before we chilled out a little bit in the restroom where there was a view that we could have argued was better than the main overlook.
It was similar to the experience at Skjervsfossen except this restroom seemed to be more used though it definitely had the nice view.
Next, we drove back down the Stegastein though we did pull out on the way down, which also seemed to have a nicer view of the Aurlandsfjord than the Stegastein itself.
Then, we made it back down to Aurland before returning to the E16 en route to Voss.
At about 12:15pm, after passing through a pair of long tunnels (including a 7km tunnel and an 11.5km tunnel), we then stopped the car at the familiar Shell station, which sat pretty much across from Kjelfossen waterfall.
We spent a bit of time checking out the area, where I took advantage of the pedestrianized path paralleling the E16 so I could try to capture Kjelfossen better than on the previous trip.
I also noticed that there were some other smaller waterfalls in the area that were attractive and spilling just outside the town of Gudvangen.
It turned out that perhaps the most direct views of Kjelfossen took place at either of the two bus stops just west of the Gudvangen turnoff.
The entire time I was photographing the falls and surroundings, the weather was still holding up. Even though it had been overcast with some ominous looking clouds, the clouds remained high and the rains remained locked away in the clouds themselves.
After having my fill of documenting Kjelfossen as well as some of the surprise or temporary waterfalls arond Gudvangen, we then started to enter the Viking Town that was here.
We paid the admission to get into the Viking Town. Then, we checked out a few of the exhibits including a trademan who gave Tahia a seal skin fur with her name on it in runes.
We also check out a pottery area where the kids could use their imaginations to come up with stuff while the adjults helped to try to heat up and solify each of the kids' handiwork with the clay.
We then listened in to an English-speaking guided tour, which was run by a guy who had quite the sense of humor.
His style was like that of the Night Watchman in Rothenburg, Germany, except he demonstrated some of the weapons and tools that were used back in the day.
He went from station to station explaining what the significance of each one was. He also related to the audience by talking about how Hollywood tended to get the Vikings all wrong (disheveled clothing, brute barbarians, etc.).
I thought he did a pretty good idea of how Hollywood got it wrong, and how even things like Naeroyfjord might have been a bastardization of something else that the name had.
At about 2:20pm, we were finally having lunch within the Viking Town complex. The tour had ended and we had ourselves a modestly-priced meal of pork leg, lamb sausage, and chicken.
It was a simple meal, but often times the simple meals tended to accommodate Julie's gluten avoidance better.
It wasn't until about 3:30pm when we finally returned to the parked car after letting Tahia shoot the bow-and-arrow as well as throwing an axe at a target.
I think Tahia found this to be a fun visit, which I guess was a welcome change of pace for being overloaded with Nature (though I found that strange since they hardly did any hiking with me).
In any case, upon looking at the Shell station's price, I saw that it had jumped from around 16.3 NOK to something on the order of 17.3 NOK. And I had the photo evidence to prove it!
I guess that goes to show you just how fickle even the gas prcies could be in Norway.
Anyways, at 3:45pm, we made our way through the Naeroydalen Valley and up to the Stalheim Hotel. For the first time ever, we had been passing through this rather long tunnel (probably 8km or so). We had completely ignored this on our trip 14 years ago.
Up at the Stalheim Hotel, the overclast clouds were actually being quite kind to us in that it didn't produce rain nor did they obscure most of the valley walls that we were now surrounded by.
We spent some time taking pictures of the familiar narrow Naeroydalen Valley though the cloud ceiling ensured that we wouldn't be seeing any of the peaks flanking the valley.
This was a nice chill out spot on the Terrace, and it wasn't as if it was overrun with tour buses though I could totally see that scenario playing out.
The signs here said that public use of the Stalheim Terrace was during the daylight hours (some time between 10:00 and 17:00 I believe) so we freely went tried to relive the experience we had before when the weather was sunnier and we were looking against the sun.
Kjelfossen in the distance looked quite visible though its uppermost parts seemed to be blocked by clouds.
When we had our fill of the Stalheim Hotel Terrace at 4:05pm, we then went back in and descended the steep Stalheimskleiva serpentine road. It was said to have an 18% grade so low gears were definitely a mandatory thing.
On the way down, Julie was once again playing the role of shotgun photographer as we were zig zagging from one steep switchback to the next.
It was a smart thing that they kept this road one-way because I wasn't sure how cars could make this climb, especially if shared by tour buses.
We also took our time going down so we could examine any pullouts that would allow us to experience Sivlefossen as well as Stalheimsfossen.
It turned out that one pullout for Sivlefossen had a deformed part of the road that caused us to scrape our underside of the car. I don't ever recall having to deal with that before, but I could see that it seemed as if someone caused this deformity when the tar was still probably malleable and fresh.
Eventually by about 4:30pm, we made it down to the familiar car park for the short walk to the base of Stalheimsfossen. There, Julie and Tahia didn't want to leave the car so I went ahead and did this myself.
And it was probably a good thing that I did this on my own because just as I got started, a tour bus showed up. So now I had to race them to ensure I got a decent experience before the mass of humanity would descend on this place and cause a bit of a chaotic scene.
By about 4:55pm, I was done with the 900m walk (each way) where sure enough, I had some time alone at Stalheimsfossen before the tour buses showed up.
It was quite an easy walk though it was a bit on the humid side despite the overcast skies.
Now with this out of the way, we could drive on the E16 and continue to Voss. I wasn't planning on stopping for Tvindefossen again since we had already done it under similar conditions way earlier on in this trip. Perhaps the only motivation for stopping here once again was for food or souvenirs or something.
We just weren't feeling it to extend our time on the road when we still had to get to the apartment in Voss, do some grocery shopping, and then cook for tonight.
So it wasn't until about 6pm when we finally found the apartment and got settled in it.
Then, we went on a grocery run so it wasn't until about 7:25pm when we were back at the apartment again.
At that point, Julie and Tahia stayed behind while I went to pursue the Bordalsgjelet, which was a gorge experience that I figured would be Norway's version of the klamm or schlucht experience that was more prevalent in Bavarian Germany as well as in Austria.
I was going off of some vague directions, where it seemed like I was supposed to stop the car somewhere at the Prestgardsmoen car park. I got there at about 7:35pm.
From there, I looked at the signs and apparently, I still had another 1.1km further to hike.
So I did that (and was ill-prepared as I was walking in Chacos), and it wasn't until around 8pm when I finally made it up to what appeared to be the actual car park for the Bordalsgjelet.
Apparently, I could have driven all the way up here and really saved some more time on hiking.
Regardless, the weather was still holding steady as there was no new injection of rain.
Plus, the walk to get up here was on the peaceful side. I could see how even extending this walk to go from the city center of Voss to get here would have been nice though that would have been a two-hour round trip excursion.
At first, I followed this path behind a swinging fence that descended to the underside of the road bridge. It seemed like there was nothing special here.
However, there were other people that joined me on this excursion and they apparently left seemingly disappointed.
I couldn't believe that this was all there was to this gorge excursion. However, upon returning to the car park, I studied the map one more time, and then I saw that there was actually a cave and a main part to the gorge that was a little further on the unpaved road beyond the car park.
So I pursued that at around 8:15pm and lo and behold, I found another path. And sure enough, this one led right into a ledge-clinging railed path where drippings from the cliffs went right onto the wet path.
There was also a lot of reverberating noise as the sounds of the cascades deep within the canyon were bouncing off the walls.
I also noticed a couple of little alcoves or "caves" where there were rest benches (one was seemingly hidden and easily missed).
Eventually, I got to the end of the trail, where there was a frontal view of some cascades spilling right into the depths of the gorge.
It was an attractive spot, and I was definitely glad I got to do this bit of a change-of-pace excursion.
And while I could totally see how this experience could be much wetter under rainier weather (where the drips would have been straight waterfalls onto the trail), it was nice to finally experience a Norwegian chasm, which was definitely unlike anything else we had been doing in Norway to this point.
The strange thing was that I was all alone while I was here. Did those people that joined me at the bridge manage to miss this altogether?
By about 8:35pm, I was back at the car park. And then I started to walk back down towards the Prestgardsmoen car park.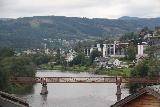 However, along the way, I made a short detour on a descending path leading to the mouth of the Bordalsgjelet, which turned out to be nothing all that special.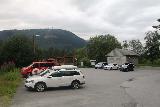 Eventually by about 9:05pm, I got back to the car, and then I drove out towards the actual Bordalsgjelet car park just to see how doable it was.
It turned out that it was very doable, and upon re-reading the directions, it turned out that I had misread the instructions. The whole mention of Prestgardsmoen was used as a landmark for walkers from the Voss City Center.
As far the drive was concerned, all I had to do was to keep going on the road I had taken until I got to this car park. So I added a bit of time and effort on this excursion unnecessarily, especially since I had a car with me.
Regardless, by about 9:15pm, I finally made it back to our apartment in Voss. That was where I got to join Julie and Tahia as they were just about to wrap up with their dinner. And I got some nuked leftovers of the same meal.
And with that, we ended off this eventful yet light sightseeing day as we anticipated better weather as well as a lot more sightseeing and driving tomorrow.
And it would start with a backtrack from Voss back to Flam to do the cruise that we should have done today except for the weather…
Visitor Comments:
Got something you'd like to share or say to keep the conversation going? Feel free to leave a comment below...
No users have replied to the content on this page