Day 42 (July 24, 2019 – Rysstad, Norway): "Passing Anxieties"
It was 4am when we awoke. Tahia had been up since 2:30am and it was during this time that I found out about dishwasher suds spilling all over the floor as I guided little girl to the bathroom.
So I had to spend some time to clean up that mess before going back to sleep and getting up to my alarm.
We had no choice but to get going and out of here by 7am because we had already booked our tickets for the Naeroyfjorden Cruise.
We still had to drive about an hour to get back to Flam as well.
So it was somewhat of a hectic morning as we ultimately got into the car all packed and ready to go by 7am as planned.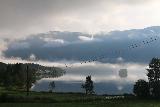 It was a cloudy morning at Voss, and we were hopeful that the forecasts were correct about the weather clearing up for our cruise later this morning.
The drive out was pretty uneventful as the sun was breaking through the morning fog, which was skimming the lakes around the Voss area.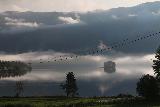 This was creating some interesting photo ops with reflections and mythical clouds with the odd sunshine piercing through the cloud's veil.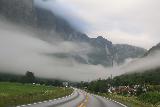 It was also semi-foggy when we emerged from the tunnel bypassing the Stalheimskleiva and entered the Naeroydalen.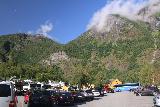 When we returned to Flam at about 8:10am, it turned out that there were a lot more people in and around the Flam area than yesterday when the weather was a bit more foul.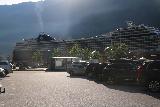 Indeed, while it was somewhat foggy though clearing earlier on in the drive, once we emerged from the long pair of tunnels and ended up in Flam, it was clear.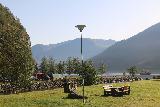 What a difference a day makes!
Anyways, we had some time to kill, but when 8:40am or so rolled around, we had to line up by the modern ship that we were going to ride onto both Aurlandsfjord and Naeroyfjord.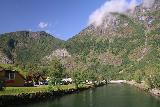 At least with this modern ship, we could see that there was sufficient deck space so as to not feel overly crowded.
I was afraid that with the classic ship, which took off less frequently, we'd have a crowded experience with limited deck space like what happened with my memory of the Geirangerfjord Cruise and what Julie reinforced when they did it without me last week.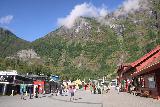 By about 8:50am, we were allowed onto the cruise vessel and we all walked up to the top deck. But when we got up there, we saw that there were no seats and the front of the ship had some visual obstructions like the roof of the captain's room or whatever you call the driving room.
So I ultimately went down to one of the lower decks where I could stand in the front of the ship without such visual obstructions.
When 9am rolled around, the vessel took off, but it did so very quietly. You hardly smelled any of the exhaust pollution nor any of the engine noise that I've come to associate with boats.
In fact, aside from some kind of safety announcement at the beginning of the cruise, it was pretty much silence the rest of the way.
I was a little surprised by that, and I was wondering if there was going to be some kind of PA announcement or recording explaining why the Naeroyfjord was designated UNESCO or if there were some points of interest worth mentioning along the way (kind of like what they did on the Geirangerfjord Cruise).
But it was pretty much just a cruise with little information (if any). So we had to figure out for ourselves what was worth photographing and what was worth paying attention to.
The cruise initially took off from Flam and cruised the Aurlandsfjord as it briefly docked at Aurland to pick up some passengers before resuming the journey.
Along the way, we spotted some waterfalls though I knew not what their names were nor if they were permanent ones or just ephemeral ones that got an injection of water from the rains over the last couple of days.
While also on the Aurlandsfjord, I was overhearing someone with an American accent talking about the Stegastein. I had to interject because I had just done the road yesterday, and I told them that it was a single-lane road with two-way traffic.
Upon hearing that I was American, I was talking with the lady from Houston who also lived in Oslo for ten years so she spoke fluent Norwegian.
She was impressed that I knew some Norwegian (as I took a photo for their group and counted in Norwegian as well as saying "en gang til" when I took another one).
In any case, we had a very friendly conversation and learned quite a bit about our respective journeys through Norway. They were also traveling with a local Norwegian so he was kind of acting as their tour guide.
I could tell he was from around here because he was the only one in shorts and sandals even though it could get pretty chilly with the wind chill from the boat.
The boat ultimately made another stop at Unredal before going into the narrow Naeroyfjord, where the mouth of that fjord had some kind of major landslide scar on the cliffs there (which I think was called Bakken based on a postcard that I saw at the visitor center in Flam).
Inside the Naeroyfjord, we made a couple more intermediate stops as well as observed a few more interesting waterfalls on both sides of the fjord. However, the ones on the left side of the boat were against the sun and were difficult to photograph.
Among the most interesting waterfalls were the Laegdafossen, which was identified on the maps that I saw and was one that I definitely anticipated seeing.
This one fell the full length of the north wall of Naeroyfjorden and definitely had the volume to back it up. In fact, of all the waterfalls seen so far on this cruise, this one probably had the best staying power as I didn't have faith that the other ones seen so far would be permanent (even the named ones along Aurlandsfjorden seemed to flow worse than the non-named ones).
Beyond Laegdafossen, we made a stop at Dyrdal to pick up more people. While we were docked there, we were able to look against the sun towards some converging cascades tumbling towards what appeared to be the hamlet of Styvi.
The uppermost of the cascades featured a three-segment drop (Kleppsgrovi on Styviselvi?) before disappearing into a side valley. Fronting that side valley was another cascade on Kyrjukelgrovi.
Beyond Dyrdal, the cruise did a bend before Styvi then continued deeper towards Tufto and then making a stop at Bakkahaugen. Along this stretch, there was an attractive waterfall on Tufteelvi backing Tufto. We also passed before the named Odnefossen, which was a short but thick waterfall within the shadows of the southern walls of Naeroyfjorden.
Neighboring Tufto and Bakkahaugen, we noticed a handful of more cascades (some looking pretty significant) tumbling into Naeroyfjorden.
Bakkahaugen turned out to be the last stop on the Naeroyfjorden Cruise as it made its final push south towards Gudvangen. Along the way, I noticed more thin waterfalls looking against the sun. However, when we got closer to Gudvangen, I came to realize that those thin waterfalls belonged to Kjelfossen!
Eventually by 11:30am, we were done with the cruise at Gudvangen. The town itself was very crowded with people as well as cars waiting to get on some ferry.
And then we managed to board a bus that was bound back for Flam.
When Julie and I were discussing and comparing the experiences between Geirangerfjord and Naeroyfjord, we definitely thought the Geirangerfjord experience was definitely more compelling in both the scenery as well as the engagement with the audience.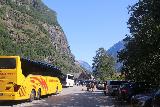 We learned quite a bit more about the Geirangerfjord due to the narration, which included the Seven Sisters, the Friaren, the farmer at Skagefla who managed to avoid paying taxes, and why the Geirangerfjord was gazetted as UNESCO World Heritage (due to the farms).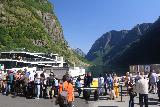 As for Naeroyfjord, because the cruise was quiet, we had no idea how this fjord also gained similar status to Geirangerjford. We also didn't get any identification of the attractions along the cruise.
So perhaps at the end of the day, this was why this cruise and shuttle worked out to be cheaper than the Flam Railway. You would think that the cruise would be the more expensive option.
In any case, we regained the car back at the busy Flam Railway Station and Cruise Dock at 12pm. And now we could finally head south towards Rysstad in Setesdalen.
It was a very long drive, but I figured that time was on our side. The only issue was the possibility of road fatigue, especially if there were going to be slow drivers refusing to use the pullouts.
As we headed back towards Voss, we did make a stop at the Tvindefossen waterfall at 12:50pm since it seemed to have a little less water than when we first saw it a month ago under rainier conditions.
However, the lighting was perfect at the time and the falls contrasted nicely with the blue skies. Not surprisingly, it was also very crowded with tour bus traffic here.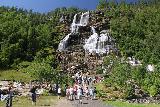 Continuing on with the drive at 1pm, we intentionally didn't wake Tahia up from her slumber as she opted to nap in the car (I guess her early wake-up at 2:30am came back to bite her now).
That meant that she missed some informal water play areas where we saw kids going in the water to cool off. Had Tahia known about this spot, she would have never wanted to leave Tvindefossen.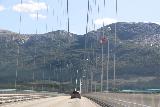 Eventually, the drive southeast of Voss went by uneventfully as we headed back to the long tunnels and underground roundabouts on either side of the Hardanger Bridge.
Once we got to the other side, we then headed south on the familiar Rv13, which was a much narrower road with a lot of traffic.
As much as I felt familiar with this road, there was one moment where I did have to back up in order to let a big wide truck through, who also caused a massive caravan of cars behind him.
Perhaps I was getting a little too cocky for my own good at the time, and I needed that kind of reminder of how easy it was to get into an accident on these roads and that I should respect the conditions despite my increased confidence at gunning it on these roads.
But aside from that, I was going pretty quickly while Julie was playing shotgun photographer as this was probably the best weather we had been experiencing alongside Sorfjorden en route to Odda.
By about 2:50pm, we made a brief stop in Odda because Julie wanted to pick up some durian chips from some Asian place that was next to the Blue House that we had stayed at earlier on in this trip.
Unfortunately, when she returned to the car, she came back empty-handed as the place didn't have any more of those chips stocked.
So we then stopped at the next gas station in Odda, where Julie picked up some hot dogs for a quick takeaway lunch.
It wasn't until about 3:20pm when we finally left Odda.
As we continued driving south on the Rv13 from Odda, we then passed through the familiar Oddadalen once again. Now with the sun starting to sink towards the west, the waterfalls like Strondsfossen, Vidfossen, and Espelandsfossen were somewhat against the sun.
However, we stopped for Latefossen one more time as it seemed to have perfect lighting highlighting blue skies against the whites and grays of the waterfall scenery itself.
I did consider visiting Furebergsfossen when we were in Odda, but I think Julie was more interested in going to Rysstad in time for both checkin and for grocery shopping. The waterfall detour would have added at least another hour to our drive.
Next, we then embarked on a very long drive that followed along the E134 heading to the southeast. Once we got past Roldal, we were now in unchartered territory as we had never driven this part of Norway in any of our trips.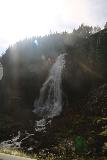 However, we were caught behind a caravan of cars that all started from an RV driver that refused to use the pullouts.
One pullout opportunity after another, the guy kept ignoring them. And before we knew it, the caravan of cars must have grown to about two dozen cars or more. We were probably fifth or sixth in line. But I was itching to pass when given the chance though such chances were limited and made more difficult with the cars in front.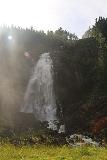 Julie knew that I was itching to pass, but she didn't like the idea of me passing anyone on these mountain roads.
But that had to be tempered with road fatigue as she wasn't interested in alternating with me, and I was getting road fatigued from delays caused by this guy with still a long ways to go.
Tensions were running high as I kept looking for a way to pass cars step by step as Julie kept yelling at me not to pass. It was all stressing Tahia out to the point that even she was crying as she didn't like us arguing about road matters like this.
When I finally had an opportunity to pass and get at least behind the second of the RVs in line, Julie was panicking.
When I finally had an opportunity to pass the culprit vehicle, I managed to finally get by this guy, and Julie rolled down the window and cursed this guy for causing the passing anxiety that we had just gone through.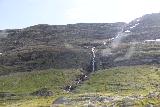 Perhaps we were the forcing function that caused this inconsiderate driver to pull over because he finally signalled to pull over shortly after we passed him.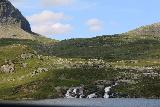 But when all was said and done, we were delayed probably by another half-hour or so against the GPS predictions of when we'd finally get to Rysstad.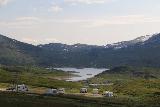 Eventually, we'd leave the E134 and finally head south on the Rv9. But I was definitely feeling the effects of road fatigue from being on the road so long at this point.
While there were still slower RV drives to pass along the Rv9 into Setesdal Valley, it wasn't as heavily trafficked as the E134. Thus, it was far easier to pass slower drivers here.
Finally by about 6:25pm, we finally made it back to the Solvgarden in Rysstad. I knew that by the time we were all checked in and settled that it would be too late for me to drive solo to Gloppefossen and do that hike before sleep time.
I operated under the assumption that this waterfall would take four hours round trip, which I wasn't sure if that was true, but I couldn't take the chance of being out on the trail after dark.
So I assumed that I would be doing the Gloppefossen hike first thing tomorrow morning even though I knew that this was an afternoon waterfall. The flip side of starting early tomorow was that the temperatures in the morning tended to be cooler, but temperatures in the late afternoon like it was now would make for a rather hot and sticky hike.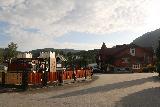 As Julie went grocery shopping at the nearby Coop at 8:25pm, Tahia and I were at the playground in the campground, where Tahia was into the swings as well as some contraption that let the little girl whirl around a center of gravity or momentum that allowed her to not get too dizzy.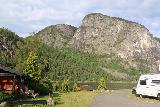 During Tahia's play time at the jungle gym, Tahia met a pair of Norwegian girls who were interested in playing the see-saw with her.
These girls didn't speak English so I had to be the broken translator, but we managed.
Although there was a bit of awkward communication since my Norwegian was once again being put to the test (and I wasn't doing that well this time around), they still managed to do a little see-sawing back and forth.
When Julie got back from her grocery run, Tahia and I had to return to the hytta as we were helping out with the bed sheets and the food while Julie did most of the cooking.
We ultimately had ourselves a self-cooked chicken curry dinner with veggies. And then after dinner, we got settled for good as I was determined to wake up early tomorrow morning to do the Gloppefossen hike.
So I showered and brushed and flossed and crashed.
I figured that with my early morning hike, Julie and Tahia could sleep in and tend to packing duties and breakfast at a more leisurely pace.
With a light sightseeing day tomorrow at Kristiansand, there really wasn't that much of a sense of urgency.
We made do with our cramped room (definitely a far cry from the two-bedroom arrangement we had back in late June), but it was just for this night as Tahia really looked forward to playing in the water park in Kristiansand tomorrow.
The forecast for tomorrow was calling for beautiful weather, and so it would seem that Kristiansand would likely live up to its reputation as being one of the sunniest cities in Norway.
That was the thinking going into tomorrow, at least…
Visitor Comments:
Got something you'd like to share or say to keep the conversation going? Feel free to leave a comment below...
No users have replied to the content on this page