Day 43 (July 25, 2019 – Kristiansand, Norway): "Sommertid i Norge"
It was about 5:40am when I awoke. It was about an hour later than I was anticipating, but it was yet another case of me oversleeping my own alarm.
So I was now under pressure to finish the Gloppefossen hike in time before the time to check out of the Solvgarden Hytta.
Even though that wouldn't be until about 12pm today, the thinking in my math was to budget about a half-hour to drive there, about four hours to do the hike (possibly more because of taking pictures and rest breaks), and another half-hour to drive back.
So if I had left by 6am, then I expected to be back by 11am.
Given that, after brushing and getting dressed, I didn't bother with the breakfast until I came back. Thus, I was able to get into the car by 5:55am.
At this time, it was already bright outside. And I was also concerned about looking against the sun at Gloppefossen since I knew that it was a west-facing waterfall.
The forecast said that it was going to be mostly cloudy this morning so I was hoping that that would be the case. For once, I actually preferred clouds as opposed to the sun.
Anyways, I managed to show up to the Gloppefossen Trailhead at about 6:20pm.
It looked as if there was a chain barricade preventing further driving progress on the road leading from the Rv9 closer to the Gloppefossen.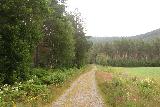 Instead, there was a sign saying that it was 6km round trip and would take around 2-3 hours total. At least that was a little shorter than the four hours that I was anticipating according to my trip research.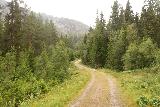 There was also another small sign saying not to block the gravel road when parking for the hike. So that would mean that there really wasn't that much space for maybe a half-dozen cars or less.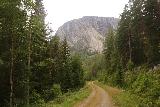 In any case, no one else was hiking this early in the morning so I had my choice of which non-shady spot to get started at.
However, as luck would have it, the overcast skies appeared to be clearing as I showed up so I could very well have to contend with the sun when viewing the Gloppefossen as I had feared.
After geraring up, I promptly got started on the gravel road part of the hike.
The trail was very tame and pretty much went gently uphill as it made a bend to the left and ultimately towards a small loop at 1.2km from the Rv9. This loop was where I'd imagine there used to be an unpaved car park at the shoulders of this road.
From that point, there was a tractor path that was narrower with grass growing in the middle that was acting as the trail. It was also climbing with a gentle grade though there were mosquitoes around so I had to pause, unsling the backpack, and apply some bug repellent after about half-hour into the hike.
At around 7am, I reached the first crossing of the Veiane Stream, which had a picnic table.
At first, I thought I would have to do some tricky rock hopping to get across, but then I noticed that someone had set up a bridge so I wouldn't have to make the stream crossing by boulder hopping.
This bridge seemed to have a pretty sturdy build, and so perhaps it was a permanent structure. I wondered if this was always there, or if the trail maintaning entities finally decided to make it even easier by building this bridge in the not-too-distant past.
Fifteen minutes later, I continued on the trail as it reached a second stream crossing. And like the first one, there was another footbridge traversing the Veiane to keep things very easy.
The tractor road started to narrow after the second crossing, and I was finally starting to see the Gloppefossen as I was approaching the third stream crossing another five minutes later.
As I had feared, the mostly cloudy skies had given way to mostly clear skies. And thus, the morning sun was becoming a negative factor in the Gloppefossen experience.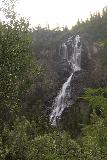 Still, because I had gotten an early start, I could see that the sun still hadn't gotten over the cliffs supporting Gloppefossen. So that hastened my pace even more as I knew that if I waited for the sun to breach that horizon, then I'd be screwed.
The third stream crossing was unbridged, but it seemed straightforward enough to rock hop my way across without getting my hiking boots more wet.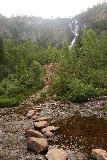 Then, almost immediately after the third crossing was a fourth crossing. And on this one, the crossing looked even more likely to have to get wet, but someone was kind enough to lay down a couple of large branches over a couple of the larger boulders to make it easier to get across this one without getting wet.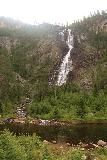 By the time it was 7:30am, I had finally made it to the official end of the trail. There were a few more trails around the area, but when I explored them, they were nothing more than leading to other alternate views of the impressive Gloppefossen.
Fortunately for me, it appeared that I still had a few more minutes of enjoying this tall waterfall before the sun would breach the cliffs and pretty much kill off my ability to view (let alone photograph) this waterfall.
That was the thing that I had feared about doing this hike in the morning, but then again, I had thought I had run out of time yesterday to do it. In hindsight, it turned out that I probably did have time to fit it in.
Oh well, after having my fill of the falls, I started heading back out at 7:45am. It didn't seem like there was an obvious way to get to the base of Gloppefossen so I didn't bother lingering longer than I had to.
The way back allowed me to enjoy the neighboring cliffs and domes as they were bathing in the soft early morning sun.
When I returned back across the fourth and third stream crossings, I could definitely see that the falls was buried in the sun's rays looking against it at this time.
Since the walk was a gentle downhill on the same tractor road before descending the gravel road, I wound up back at the parked car at about 8:30am.
So it only took me a little over two hours to do this hike. Indeed, knowing what I know now, I easily could have done this hike yesterday evening and be able to sleep in this morning.
Oh well, hindsight's always 20/20, but at least I finally got to experience Gloppefossen, which had always haunted me ever since I became aware that I should have done this waterfall when we had the chance after our first trip to Norway in 2005 (where we drove through Setesdal Valley towards Kristiansand much like we were about to do later today).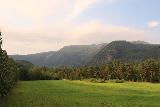 At least the temperatures were mild in the morning. It was definitely warmer yesterday evening. So things being as they turned out to be, there were pros and cons to both timings of the Gloppefossen experience.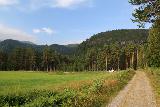 By about 9am, I had made it back to the apartment about two hours earlier than I had anticipated.
Along the way, I had heard that catchy song that Julie and I had heard earlier on in the trip when we were on our way back to Trondheim from Ostersund.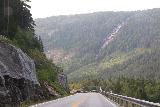 It turned out that I caught that the song was "Sommartider Hej Hej" or something like that, and it was talking about the Summertime.
It was probably a Swedish song as opposed to a Norwegian song, but nonetheless, it seemed to capture the spirit of Summer, which was definitely in full effect as the clouds continued to burn off and expose the Southern Norwegian sun.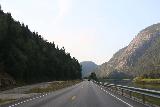 Julie and Tahia were in the midst of having breakfast when I re-joined them.
They didn't get around to folding our own bedsheets and covers. So I knew that those duties would likely to fall on me along with the dish duties, which I was glad to do since Julie did all the hard work cooking.
So it wasn't until about 10:30am when we finally checked out and left the Solvgarden Feriesenter.
The drive south was smooth, and we even included a repeat stop for the Reiarsfossen Waterfall at 11:05am.
Julie didn't remember from the first trip when we showed up on a beautiful sunny evening looking against the sun. I had also visited this waterfall earlier on in the trip when it was raining in the Setesdal Valley late in the afternoon as well.
But now with the sun totally out, the falls was getting the benefit of almost perfect lighting. So we pulled over at the Reiarsfossen Camping, and then walked closer to the river cutting through the valley.
That was where the water was calm enough to produce beautiful reflections of the waterfall against the blue cloudless sky. There was also colorful wildflowers along the banks of the river to further add color to the scene.
After having our fill of the falls, we then resumed the drive.
It was interesting to see that there were many Norwegians enjoying the sun, and after having had our fill of rainy weather throughout our five weeks or so in the country, we could totally understand why they embraced the sun when it would come out.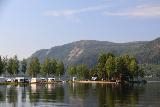 Indeed, the temptation was strong to join them at any random lake or mini beach that we spotted along the way, but we ultimately stayed the course.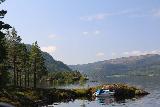 And by around 12:55pm, we'd eventually arrive in Kristiansand though I was disappointed that I didn't fill up at a lone gas station that charged about 15.99 NOK per liter instead of the 17 NOK per liter that I had been seeing everywhere else (including Kristiansand).
Anyways, we really didn't have much of an agenda in terms of what we wanted to see and do in the city. However, Julie had this idea to check out the Fiskebrygge, which was a happening part of town and perhaps a spot to have a lunch.
So we parked in a structured car park not too far from the Fiskebrygge. And at around 11 NOK per half-hour, I guess the rate wasn't all that bad.
Perhaps the more striking thing about the conditions, which remained sunny and living up to Kristiansand's reputation as being one of the sunniest spots in Norway, was that it was quite warm at 28C or higher.
Indeed, it seemed like Summertime was in full effect and that "Sommartider" song couldn't have been more appropriate.
So we promptly walked towards the Fiskebrygge, and we wound up finding this somewhat happening little spot where boats were cruising around while the water was surrounded by chill out steps as well as cafes or restaurants all looking towards the water.
It wasn't anything particularly special, historical, nor charming, but I think the claim to fame of this city was the sun, and the Norwegians were certainly soaking it up at this time.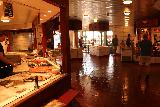 As Julie was studying the menus of each of the cafes for lunch (and the high prices), Tahia and I noticed that there was an indoor fish market. And that perhaps we could find something in there without having to eat at a sit-down place and pay through the nose.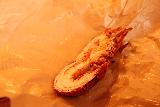 I ultimately convinced Julie that it was a good idea to get the Norwegian shrimp from the fish market and maybe some lobster or crab, and still end up paying less than the sit down places while getting more food.
And so at 1:30pm, we wound up doing just that.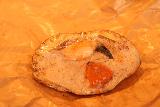 By about 2:30pm, we were totally stuffed as I had miscalculated that we actually wanted a half-kilo of shrimp instead of a full kilo (2.2 pounds). We also added a half-lobster as well as a crab.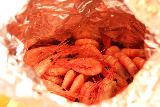 It was messy, but it was also satisfying to have our last go at clean Norwegian seafood. Heck, after having as many shrimp as we wound up having, I was surprised that I not once had broken out in hives like what would normally happen when I ate shrimp back at home.
This confirmed that the waters were dirtier elsewhere around the world, and that perhaps my shrimp allergy that I knew I didn't normally have when I was younger had more to do with the environment than with my aging body.
So with our stomachs fully stuffed with seafood, we walked around and soaked up the Summer sun a bit more at the Fiskebrygge.
Once we had our fill of this nice chill out spot, we then walked over to a fountain with lots of kids (some of them naked) playing in the water to cool off from the heat.
Indeed, even though we've seen higher temperatures in the Summertime back at home, it seemed like the Norwegian heat tended to have more humidity as a result of the higher rainfall that they'd get.
We then found a pedestrianized zone and followed that happening walking street lined with cafes and shops.
If there was one thing that we've found to be quite commonplace throughout the city centers in Europe, it was that they tended to surround pedestrianized areas with shopping malls since people in good moods tended to want to spend more money.
And where else can one be in a good mood than in a charming city center? I'm sure US cities could use a lesson or two from what Europeans have figured out, especially since we tend to allow cars everywhere and have less focus on transit-oriented development.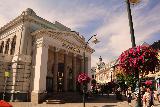 Our brief walking tour also included some big church or cathedral (called Torvet?), where apparently Radio Metro was organizing some kind of concert right at the foot of the city's landmark.
It definitely felt like for the first time all trip long that Europe's festival season definitely arrived, and it was here in Norway's sunniest city.
By about 3:35pm, we finally returned to the car.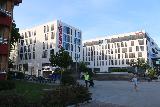 We then drove around looking for the Scandic as well as looking for parking. We'd ultimately check in at 4pm, where I dropped off the luggages with Julie and Tahia.
In the mean time, I drove around some more to fill up on gas (as Julie had read that the gas prices in Denmark were comparably expensive to Norway's prices) as well as to scope out some street parking.
After all, we had gotten familiar enough with the parking signs that we knew when parking would be free, and it appeared that after 5pm, most of the parking spots were supposed to be free on this Thursday afternoon.
Eventually, I happened to find a spot just around the corner from the Scandic Kristiansand at around 4:30pm. I EZ-parked for the remaining time period (for 58 NOK, which amounted to roughly $7 USD for the entire night), and then I rejoined Julie and Tahia back at the room.
Tahia had been anticipating playing in the water park, which was the Aquarama that was attached next door to the Scandic. So not surprisingly, we saw a lot of families with young children staying at the hotel.
We then wasted no time getting dressed to get wet, and promptly headed next door to the Aquarama so Tahia could finally have her water play time.
It turned out that the Aquarama wasn't cheap as we had spent over 620 NOK for the three of us combined. And thus it was more expensive than Pirbadet in Trondheim.
Plus, it seemed like this place had only two slides (one with a tube) as well as a longer lazy river that was also able to be changed into a choppy wave pool as well as a swirly whirlpool.
They had a wave riding machine that wasn't running, however, and that was a bummer since Julie was hoping to do it as it was a selling point to come here.
There were also deeper pools with platform and springboard diving as well as some lap pools and one with a floating obstacle course that Tahia particularly liked.
We also didn't bother going to the outdoor pool, the kiddie pool, nor the bubblebadet.
So when we were all rinsed off and back in the room at 6:55pm, that was enough time to have our fill of this place. It was certainly no Great Wolf Lodge, and Tahia was looking forward to doing that place again, hopefully when she's not sick like she was for her birthday this past year.
After getting all cleaned up at 7:15pm, we strolled from the Scandic back to the happening parts of the city via the strand (beach) walk.
We'd ultimately arrive at this place called Mother India at 7:35pm, but it was crazy busy there.
It turned out that we wouldn't be seated until around 8:30pm, but I think Julie was sick of Norwegian food and we were really looking forward to the spicy foods from this place.
But with it being as busy as it was, we figured that this place must be pretty good. I had never seen such a busy Indian restaurant before.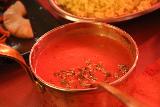 Well, it turned out that the food was pretty good. We had some kind of lamb tandoori that really brought us back to our Chadni Chowk Bazaar experience in Delhi.
We also had butter chicken, which was a reliable dish.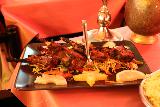 Then, we also ordered a third dish of chicken tandoori after having that lamb, but in hindsight, they only used breast meat so it wasn't as good.
Still, with all things considered, we splurged on this meal, and we savored it as it was not often that we got to enjoy foods rich with flavor in Norway.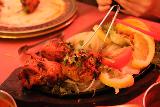 Anyways, it wasn't until about 9:50pm when we left the restaurant fully stuffed.
And after briefly checking out the Summer concert that Radio Metro was setting up earlier at the Torvet, we then walked back along the strand back to the Scandic.
Along the way, we checked out some kind of fort (Christiansholm Festning) as darkness was setting in and twilight was starting to prevail.
And speaking of the darkness, we were now far enough south in latitude that the night times were properly getting dark again. We hadn't experienced this kind of darkness since before the start of our trip.
That's how we knew that we were pretty much about to transition out of the Norwegian Nature that dominated this trip, and we were about to embark on the final leg of our trip through both Denmark and Southern Sweden to finally cap off this epic Scandinavian adventure.
And it will all begin with an early morning ferry ride from Kristiansand and Hirtshals, Denmark. Those non-refundable tickets were already booked earlier on this trip.
Yet with our luck with ferries, we had to make sure that we didn't screw this up tomorrow, or else be stranded for longer than anticipated in Norway…
Visitor Comments:
Got something you'd like to share or say to keep the conversation going? Feel free to leave a comment below...
No users have replied to the content on this page