Day 33 (July 15, 2019 – Sunndalsora, Norway): "Wrong End Of Guesses"
It was 6:55am when I awoke in a rather groggy state.
With the long late afternoon excursion to Njupeskar Waterfall in Sweden (about three hours drive in each direction), I didn't get back to Roros until after 11:30pm.
So I didn't wind up sleeping until around 2am, and that meant I barely got sufficient sleep.
The first thing we did was to get our stuff into the car, which seemed easier on the public lot. The parking was free until 9am, but I had a feeling that we wouldn't be done before 9am.
So after loading up the car with our luggage, I then moved it to the other lot on the other side of the railroad, which was spillover parking for Hotel Bergstaden.
However, since it was an unpaved lot, that's why I waited to move the car so I wouldn't have to do heavy lifting on the unpaved stretches.
We ultimately went for breakfast at around 7:45am, and it turned out to be one of the better breakfasts of the trip.
At least I felt it was better than Scandic simply because there a lot of variety of local foods from the region. I felt that the Scandic had a lot of choices but they were of the processed variety.
The local stuff here was really what made this buffet breakfast surprisingly very good. There were local meats, locally produced cheeses, etc.
So we took our time eating breakfast and savoring this place. I figured that we had time on our side on this day, especially since it was already cold and producing drizzle that was reminiscent of Seattle on this day (whereas we had good weather yesterday).
It just goes to show you how variable the weather can be in Norway, even in a spot as far away from the fjords as Roros.
It wasn't until 9:30am when we finally left.
While we could have taken a shorter driving route direct to Oppdal, we wound up taking the longer route because we needed to pursue Eafossen, which we had skipped yesterday.
I also needed to fill up gas, but I thought that perhaps there ought to be cheap gas closer to the E6 on this longer route. I wondered, however, if we would have been better off filling up on gas for just over 16 NOK per liter in Roros, which was surprisingly cheap considering how remote this place was.
The drizzle persisted throughout the drive, and by about 10am, we finally arrived at the well-signed Eafossen.
Fortunately for us, the drizzle calmed down when we showed up.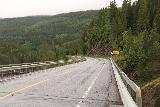 We first checked out the angled views of the falls from the picnic area, which had some minor bush obstructions on most of the picnic tables. I recalled only one of them yielded perhaps the cleanest view.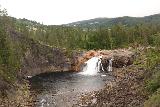 I then walked onto the road bridge, which had a shoulder, but it was still a little nerve-wracking to go on there with cars whizzing by.
We then went back towards the souvenir shop and toilet, where we went down a hill towards signage at the top of the waterfall. It was there that we realized that this place was once the site of a smelter in support of the mining.
In fact, the protection zone for Roros also included this waterfall and former smelting site. I think the signs also referred to this falls as Hyttfossen as well as denoting this place as part of the UNESCO protection ring where Roros was at the center of.
We then scrambled to the base of the falls just by the former smelting ruins (now just a bunch of rocks), where we took a few more people shots as well as the falls itself.
By about 10:30am, we were back at the car.
At this point, I had a decision to make. Either continue heading back to the E6 via the way we came in pursuit of cheap gas, or to go back to Roros, then take the shorter route cutting across to Oppdal.
The decision was all about where I could fill up for cheaper gas betting that I might do better than the 16.1 NOK prices I saw in Roros.
I ultimately decided to go back the way I came, but I ultimately didn't find such a gas station that had cheaper gas than what was in Roros.
Then, when we went south on the E6, we found ourselves stuck in a traffic jam at around 11:40am, which was the result of a lot of road work to improve the E6.
In the end, I regretted the decision to go back this way because the E6 was not any faster. What was worse, it looked like the gas was consistently over 17.4 NOK per liter, which was way more than the Roros prices.
When we got to Oppdal, I finally gave in to filling up some gas for 17.5 NOK/L.
Julie and Tahia spent some time getting lunch takeaway, but it was raining now. This pretty much confirmed that I made the wrong choices on this day, and I worried that we were losing out on the window of acceptable weather as the weather had momentarily calmed down at this time.
As we left Oppdal at 12:55pm, we also left the E6. Thinking that the road construction woes were behind us regarding the E6, it turned out that the Rv70 wasn't a whole lot better.
That was because there was work to try to mitigate the threat of landslides or rockslides. So that caused quite a bit of a delay, which made me nervous because I knew that it was a race against time to do the waterfalls at the Amotan-Jenstad Farm area before the next batch of bad weather would show up.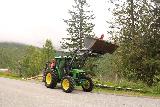 At 1:50pm, we finally made it up the steep, single-lane road to the Jenstad Farm. Like before when Julie and I were here in 2005, there was a car park area as well as a more parking spaces at the upper car park.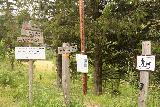 The upper car park was smaller, but it was also where we parked at one point on our last Norway trip in 2005.
Anyways, we decided to just keep the car parked at the lower lot since everyone else was parked there. There was also an automatic ticketing machine to pay for parking.
They asked for 30 NOK (which amounted to around $3 or $4 USD, which wasn't bad considering how long we intended to spend here to do the hikes to all the major waterfalls here.
Since Julie and Tahia hadn't done a whole lot of hiking (let alone waterfalling) on this trip, I figured that waterfalling the Jenstad area would be good for them.
So we ultimately decided that we were going to visit the falls in the same order that we had done so in the past – Reppdalsfallet, Svoufallet, and then Linndalsfallet.
Walking to the Reppdalsfallet lookout was kind of like deja vu as we only had to walk for a couple of minutes towards a power line pole.
From there, we got a fairly clean view of the impressive cascading Reppdalsfossen.
Next, we then skirted the edge of the grassy farm area and headed towards a picnic table near the base of the farm lot.
When we got to the picnic area, there was more signage directing where hikers should be doing the descent to pursue Svoufallet.
The trail then descended beneath the open grassy farm area and entered into a narrow trail flanked by trees and bushes.
Towards the bottom of the descent, the views started opening up again.
And while we were content to get a glimpse of the gushing Svoufallet from not all the way to the bottom on our 2005 visit, this time around, we were determined to finish the experience by going all the way to the picnic table in a grassy clearing that a Norwegian family was already doing.
As we approached the picnic table, they vacated it and started to hike back up.
So for a brief moment, we got to enjoy this satisfying waterfall without other people around. However, Tahia kept conspiring to ruin our people shots so this wound up taking a bit longer than expected.
After having our fill of Svoufossen, we then hiked up partway along the way we came. However, we then veered off to climb a different trail that I knew would ultimately lead us back to the lower car park.
So we did that.
And while we all sweated and breathed heavily from the steep ascent, we then encountered sheep along the trail.
Once they pretty much went away from ourselves and other people, we ultimately returned to the car park at about 3:30pm.
The steep ascent pretty much took a lot out of both Julie and Tahia. So they were already content with the roughly 2.2km upside-down loop hike that took in both Reppdalsfossen and Svoufossen.
Neither of them wanted to bother with Linddalsfossen so it was like deja vu again compared with 2005 when I'd have to do that hike solo.
And so I proceeded up the steep start of the ascent with started right next to the parking payment machine and proceeded to go into a somewhat overgrown path.
Towards the end of the initial grassy ascent, there seemed to be some kind of equipment off the side of an unpaved road that I was about to cross. Some of that stuff seemed to have obscured the path though it was close enough to the road that I was able to get to it.
Once on the road by 3:45pm, I found myself near some kind of toll road boom arm. It made me wonder if it was possible to reduce the hike by taking this toll road, or if this road went somewhere beyond what I was expecting.
Regardless, we didn't want to pay this amount, especially given the weather. Luckily for me, it was momentarily calm at the time, but who knows when the weather will turn again?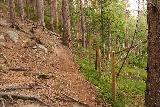 Beyond the toll boom, the trail continued its ascent. It already induced sweat beads all over my body, and when I crossed another path or road that seemed way less used, I then found myself on a narrower path that continued its ascent.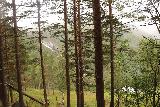 It didn't take long after that before the trail started to flatten out and undulate somewhat. That was when I noticed that the trail skirted some kind of electric fence, which was something I didn't recall was there the first time I did this hike.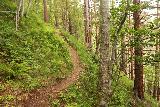 Some time after encountering the fence, the trail then began the next phase of its ascent. And this time, the ascent seemed longer, steeper, and more narrow.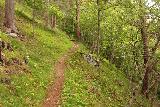 Indeed, I sweated and breathed heavily even more. And as I was getting towards the top end of this relentless climb, it seemed like the weather had already started to turn.
By about 4pm, I found myself at the top of this second major ascent, and by this time, the rain had definitely come. So I was very concerned about the waterfall being blocked by clouds at this point.
Thus, I hastened my steps even more as the narrow trail then came upon a familiar bluff as I finally started to hear Linddalsfossen.
Sure enough, by 4:05pm, I was finally at the familiar waterfall, which still looked massive and it still dropped into a deep canyon below the cliff's edge.
It was now raining pretty hard as I sensed that my camera was suffering as I was busy documenting this waterfall.
While there was temptation to get right up to the edge of the bluff that I was at in order to show how deep the canyon went, I was a bit too hesitant to get that far out considering that the bluff was sloping the wrong way.
After having my fill of this spot, I did a little more exploring and continued following the trail, which ascended more.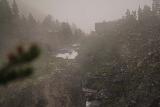 I managed to encounter two more lookout spots, and one of them seemed to be where I noticed the view of Linndalsfallet as seen in a brochure must have came from.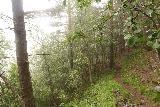 Just then, the rain came even harder, and I noticed mist and clouds starting to touch the top of the waterfall. They were already obscuring some of the surrounding snow fields sitting high atop neighboring mountains.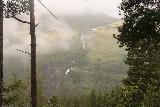 By about 4:30pm, I headed back down. By then, it had stopped raining but the clouds definitely hung low. Thus, the place seemed to have taken on a foggy appearance so I could forget about looking across the Jenstad Farm towards both Svoufallet and Reppdalsfallet on the way back.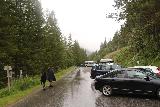 By about 5pm, I returned to the car park, where it was once again raining.
My pants wound up getting a bit wet from brushing up against some of the overgrowth, and I probably should have worn waterproof pants in hindsight (though its non-breathability would have surely meant that I'd be wet from the inside out by my own sweat).
Indeed, with the cloud ceiling lower, we drove off and descended the single-lane road back towards the Rv70, where we'd continue the drive through Sunndalen and towards Sunndalsora, which was town that had our next accommodation.
At 5:15pm, just when we got started on the westbound road, we stopped at a rasteplass yielding a somewhat awkward view of a waterfall by the Amotan-Jenstad turnoff that we had captured in the past that had a bit more volume.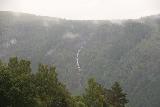 This rest stop also seemed new, and it seemed as if there had been significant investment in more tourism infrastructure unlike the last time we were here in 2005.
Next, we continued our drive towards Sunndalsora in which now the weather had turned really bad as the clouds hung low and obscured the tall valley walls as well as the waterfalls tumbling beneath them.
This drive definitely wasn't the valley of waterfalls-type experience that Julie and I had 14 years ago. So I was hoping that I might get a chance to do this again either later tonight or maybe entertain coming back tomorrow even though we'd be staying in Andalsnes by then.
By about 5:40pm, we stopped at a new rasteplass. This time, it was for Vinnufossen though the low clouds made it such that you could only hear it but not see it.
Julie and Tahia took advantage of the restroom facility here as they badly needed to go.
Finally by 6pm, we arrived at the Traedal Hotel, which turned out to not be in the sentrum of Sunndalsora, but we could see that from the lofty vantage point of the hotel, we would otherwise get a nice look right into the Tingvollfjorden.
When we settled into our room fifteen minutes later, we looked out the window of our bedroom and saw that we were also able to get a look at Litledalen with its steep walls as well.
Unfortunately, the cloud action ensured that even this view was non-existent on this particular afternoon or evening.
As for dinner, we ultimately settled on the dinner buffet in the accommodation. Since it was raining hard outside, we just didn't feel like driving back to town. Besides, their buffet seemed to cost in the neighborhood of 200 NOK or something like that with Tahia eating free.
The dinner buffet consisted of laks and roasted chicken, which was the kind of simple and "clean" food that Julie needed without needing to worry about what else they put into the food.
Some of the stuff out on display also seemed like they could have been breakfast items, too, like the salad.
There was also a pretty delicious apple crumble or something like that with whipped cream. That was a nice little indulgence.
When dinner was over, I then went back to the car to start an excursion towards Naustafossen.
I figured that with the weather being so bad, I didn't have a prayer of visiting Mardalsfossen as planned nor going back out to Sunndalen to see Vinnufossen or any of the other waterfalls along the valley we had just passed through.
I reasonably knew that Naustafossen had a better chance of being seen in bad weather though there were no guarantees when it came to the weather in Norway, especially with respect to visibility.
Regardless, by about 7:30pm, I was back in the car and heading towards Karvatn. I knew that distance-wise, it shouldn't be a long drive.
However, there was a ferry in there, and after our experiences on this trip, ferries always make me nervous.
As I was driving out of town, I happened to follow a long caravan of cars that apparently just started to move. I don't know how long they were waiting before the tunnel leading out of Sunndalsora and towards Kristiansund as well as the ferry at Rykkjem, but given the size of this caravan, they must have been sitting there a while and my timing was perfect.
The tunnel was about 6km so following the leader car and all the other cars before me took a while.
Once we emerged from the tunnel, the weather seemed to have momentarily calmed down a bit but the clouds remained low and threatening.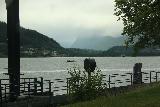 By about 8pm, I waited for the ferry at Rykkjem. I was merely one of three or four cars waiting to get on.
When it came time to get on the ferry at 8:15pm, I notice that only one car was headed back on the return. I guess this wasn't exactly a popular ferry route.
While on the ferry, when it came time to pay for its use, the guy seemed to try to RFID my credit card. And by doing that, it didn't seem to work.
I asked him if we should be using the chip instead (in Norwegian since he didn't speak much English). But he seemed to insist that he had to use the RFID.
Well, when the ferry was about to land, he gave up and tended to payment for the other cars on the ferry.
I wasn't sure if he just let me on this ride for free or if he was going to make me turn back. But whatever the case, I did learn from him that the last ferry back was around 11:25pm so I did have sufficient time to make my visit and come back to Sunndalsora via this ferry.
I definitely didn't want to be driving all the way back to Trondheim then going back the way we had driven earlier along the E6 to Oppdal before Sunndalsora, which would have been the case if the ferry wasn't available.
When the ferry landed, he waved all the cars through (including mine) so while I was on the other side apparently without paying, I was very afraid that we'd run into the same complications on the way back.
Anyways, as I was driving the road towards Todalen, I noticed there was a pink X on the signage for Todalen which made me concerned that I might not be able to access Karvatn.
Nonetheless, since I was already here, I persisted on the drive into Todalen Valley, and found myself on a lightly-trafficked road (though there were a handful of cars going out the other way).
As I was entering the valley, the weather started to turn bad again. What was worse was that the visibility started to get bad as the clouds went low and the rain came down harder.
In addition to the prospect of bad weather wasting my time on this bit of a leap of faith to see Naustafossen again, I had to pay attention to some of the potholes on the narrow unpaved road to Karvatn.
By the way, I saw signage saying that the road to Todalen was closed but the road to Karvatn remained open so strengthened my resolve to see through this Naustafossen excursion.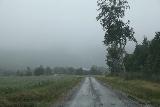 Eventually by about 9pm, I had arrived at the Karvatn car park. Unlike the last time Julie and I were here, the farm here seemed to have been significantly expanded and seemingly more accommodating to tourists that I had recalled.
There were also more signage about the Trollheimen Mountains, which was said to be one of the places in Norway with the cleanest air and water given how undeveloped that mountainous area was.
As for the weather, it was still bad. In fact, my worst fears seemed to have come true when I could hardly see Naustafossen from the car park nor on the approach.
Well, since I was here, I mind as well carry on with the task at hand. But I had to take the time to put on waterproof pants and the rain poncho with heavy jacket as it was quite chilly and rainy outside the car.
After gearing up, I then proceeded on the familiar walk though there was more signage directing where I should be walking.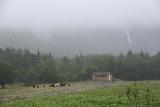 The route seemed a bit different than before where I recalled being able to cut to the right immediately after the bridge.
This time, the route had me go straight from the bridge before going right, which seemed to cut around a good chunk of the farm.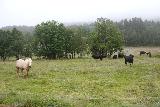 While going this way, I noticed a white horse corraling some cows. But it was also trying to come at me as if I was supposed to be corraled with the cows!
He kept huffing or approaching me, but when I stood my ground, it seemed like I was confusing the horse.
The thought did cross my mind that I might get attacked, which was the last thing I would have expected on a hike to a waterfall in Norway. So I just minded my own business and kept on keeping on (though I did snap a photo or two in the rain).
The path then curved back to the right to rejoin the familiar path that was closer to the river. At that point, the path became more tree-lined and it even flanked what appeared to be cabins that I never recalled were there before.
Shortly after arriving at the cabins at 9:30pm, the signposted path then forked to the left, which left the farm road and went onto a wide grassy trail that looked really muddy.
I did recall the last time Julie and I were here that we had to contend with mud, but on this day, with all the rain, the muddiness seemed to be even worse.
So I spent a good deal of time trying to figure out how to get across one muddy patch after another without my boots sinking too deep into the muck.
Eventually at 9:40pm, I finally made it to the bridge at Naustafossen. Unlike the last time where I was content to capture the falls from the bridge and then turn back, this time, I checked out the other side of the bridge as well as the surrounding area.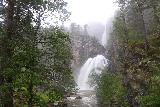 On the other side of the bridge was some kind of machinery or hydro contraption. I really wasn't sure what it was, but I noticed that the trail didn't seem to continue from here.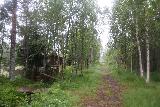 Back on the near side of the bridge, I saw a Naustafossen sign as well as a very misty flat clearing where it might be possible to stand even closer to the gushing base of the falls.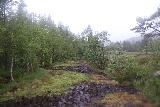 I also noticed a steep path going onto some kind of ridge or bluff for a more top down view of the falls. I had entertained going up there and seeing how else to experience Naustafossen, but as the rain came down even harder and the mist descended even lower than before, I decided not to push my luck.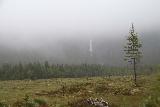 Besides, it was now getting late and that ferry was still on my mind.
So I turned back and was at least happy that I could document this experience while the clouds didn't totally obscure the falls when seem from closer up.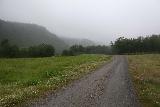 After going back across the muddy path, then along the now-quiet trail back across the farm (the horse and cows weren't there anymore), I was back at the car at 10:15pm.
Indeed, the weather was lousy now and I was starting to feel a bit of a chill given the persistent wetness (despite me wearing three layers).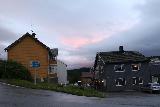 On the drive back, I found myself waiting for the 11pm ferry. It didn't take long before I and another vehicle got on the ferry, and this time the same guy who couldn't handle my credit card payment managed to be successful this time around.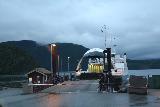 Instead of relying on the RFID, he used the chip on the credit card (as I had suggested earlier). I think this ferry ride was 84 NOK which was close to about $10 USD.
Eventually, I was back on the Rykkjem side and let the local driver who was behind me pass. I knew he would be going very fast, and indeed he did.
I tried to keep up with him since I figured he might know where the speed cameras were and seeing that far ahead would give me a heads up on any oncoming vehicles (which would be helpful in the more narrower stretches of road).
As we passed through the 6km tunnel again, we didn't have to wait for too long since traffic was light at this time of the evening. It was dark enough in the twilight night that high beams were needed and the street lights and some building lights were on.
It felt strange to re-welcome night after all the perpetual daylight over the past few weeks we were in Norway. But I didn't mind this one bit.
Finally at 11:40pm, we were back at the Hotel Traedal. I noticed that the Nuvi was off by 30 minutes later when it came to predicting when I'd be back at the accommodation.
I guess the Nuvi never accounted for waiting for the ferry as well as the slow ride across the water. I guess you can't rely on the Nuvi's prediction times since I wouldn't be going 80km/h or whatever the speed limits would be all the time.
Regardless, I left the wet poncho and waterproof pants in the car. And I hastily retreated to our warm room to crash for the night. Hopefully, the weather would play nice tomorrow…