Day 34 (July 16, 2019 – Andalsnes, Norway): "Weather and Waterfalls"
It was about 5:05am when I awoke to a phone call for Julie. Apparently, it came from a number that she didn't recognize so she left it at that.
Still, it woke me up and I was now up for good.
The included brekkie at the Traedal Hotel started at 6am, but we didn't get down there until about 6:30am.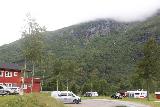 The food selection was pretty basic (especially when compared to the fancier ones we've had at the Scandics and the Hotel Bergstaden in Roros).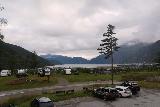 It was basically a few of the typical cured herrings, some laks, some hard-boiled eggs, tubes of caviar, and jars of nugati to go with some bread loafs in which you cut slices yourself.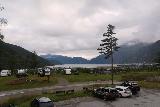 For the greens, it was pretty much the same salad bar as last night's dinner.
So we didn't take long to eat, and by 7:05am, we checked out and started the drive towards the Atlantic Ocean Road.
It was a recommendation by Solveig's Dad to check out this place, especially since I believe this was the road where I saw on YouTube that waves would crash against the road.
I wondered how such a road could be driven, or how a road could survive against the forces of Mother Nature.
I hadn't planned on driving this road, but I did some improvisation and managed to fit in this morning to check it out.
Julie and Tahia were pretty much out for most of the drive as they were trying to get caught up on sleep. It was an irony considering that I was probably the person who was getting the least amount of sleep (especially since I was the driver).
Anyways, we ultimately got to the Atlantic Ocean Road at around 9:10am.
The road itself wasn't as dramatic as I had envisioned. And perhaps a lot of that had to do with the fairly calm weather we had been getting this morning.
Thus, there were no waves crashing against the shore, and it was pretty much just a typical road with some bridges spanning islands as well as flatter jetty ones.
We made a brief stop to try to somehow capture the essence of this road in photographs, but in the end, the overall effect of this drive was pretty underwhelming.
It did make me wonder if we made a mistake in not checking out the Helgelands Bridge when we were leaving Mo i Rana for Grong.
Anways, we ultimately were out of the Atlantic Ocean Road shortly after 9:50am, and we then drove directly towards Andalsnes.
Included in the route was one ferry ride. Those things make me a little nervous considering the snafu we had earlier in the trip, plus the delays in waiting for the boat, as well as the costs associated with taking them.
Anyways, we ultimately arrived in Andalsnes at around 11:50am. But we knew it was too early to check into our apartment.
Thus, we went instead to some kind of shopping area, where we eventually ate at this place called Soltinn Geist.
The view from the restaurant was over the Rauma River, and with the gorgeous weather we were getting, it also seemed like today would be the day I should do a long circular loop route solo that encompassed Eikesdalen, Mardalsfossen, and the Aursjovegen Road.
I was also planning to take advantage of the good weather to check out the waterfalls in Sunndalen as well.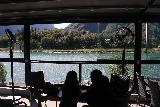 Now one thing that was weighing on my mind was the revelation that our website's photos were down. Since we were abroad and time was so precious, I knew that it would ultimately come down to me to figure this out.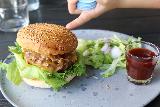 Already in a sleep-deprived state with another actioned packed set of activities each day, I was planning on pulling an all-nighter to mitigate this particular issue with Amazon servers.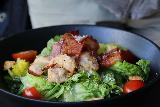 nyways, our meal at Soltinn Geist was pretty much a reindeer burger and a chicken salad. The dinner menu that Julie was hoping to order from wasn't available at this time.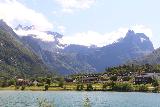 After the lunch was over, we then drove over to the Andalsnes sentrum, where we parked in one of the street parking spaces and Julie went to meet and greet the apartment owner.
Upon doing that deed, we got the keys, and he instructed me on where to park.
By about 1:30pm, we were all settled, and it was nice of him to let us check in before 3pm.
That was because I still had a lot to do on this day. So the earlier the start, the earlier I can wrap things up and get back to the apartment to rejoin Julie and Tahia.
I had a feeling that today's solo excursions plus the driving would mean that I might not be back at the apartment until after 11pm.
Anyways, I then headed out and left Tahia and Julie alone in Andalsnes to enjoy the fine weather and check out the town a bit.
Meanwhile, I was driving towards Eresfjord and Eikesdalen, and that drive alone wasn't very trivial due to the narrow roads as well as the steep grade of the road up to the mountain pass before descending into Eresfjord and Eikesdalen.
But slowing down my progress was making frequent stops as the good weather and the scenery across the fjord towards Andalsnes was very compelling.
Then, when I descended into Eikesdalen, I made more spontaneous stops along the way as I couldn't get enough of the attractive valley as well as the lake Eikesdalsvatnet.
Even though Mardalsfossen was against the sun, I still tried to take advantage of any pullouts or picnic areas to try to capture the entirety of the regulated waterfall.
I knew that once I got to the trailhead, I wouldn't be able to get that kind of view again.
Anyways, it wouldn't be until about 3:40pm when I finally arrived at the Mardalsfossen car park. There was a toll of 40 NOK to park at this trailhead.
Unfortunately, the machine printing the parking tickets to pay and display wouldn't take my international credit card so I had to revert to a different card, which actually worked. But I wasn't keen on paying the foreign transaction fee.
Once I geared up, I then promptly started the walk to get closer to Mardalsfossen.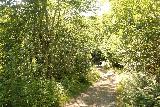 The weather was quite sunny and warm, but with the long shadows, it wasn't as hot as I had anticipated.
Nonetheless, the uphill hike seemed to have been widened and more signposted than from our first visit back in 2005.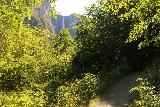 I remembered back then that the trail was narrower after going through a flat stretch where mountain bike traffic was allowed.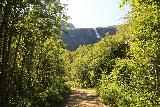 After teasing glimpses of the waterfall on the flatter mountain biking stretch, once the trail got narrower, we didn't really see much of it until the end.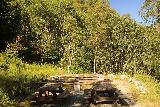 This time around, however, it seemed like the trail tended to present views of Mardalsfossen along the way.
There were also some rest benches set up as well as a group resting area near the bridge over the Mardola Stream.
In that group resting area, it was a very good spot for viewing Mardalsfossen before continuing uphill to get even closer to the falls.
By about 4:35pm, I finally arrived at Mardalsfossen. As expected, I was pretty much looking against the afternoon sun. Plus, there was quite a bit of mist being thrown around so I had to actively wipe the camera lens.
I saw one lady go past the official end of the trail and scramble onto rocks for a closer look.
I eventually followed suit and got to a part where the rocks were getting blasted by the spray from Mardalsfossen crashing against its rocks at its base. Again, with all the mist, it was challenging to take a good photo or video, let alone against the afternoon sun.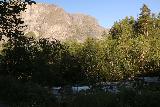 Looking across the Mordola Stream and slightly downstream, I was also able to check out the other familiar waterfall, which was a sloping cascade that I believe to be a segment of a different Mordole Stream.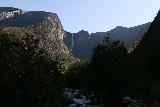 It might have gotten a name like Ytre Mardalsfossen or something like that.
Regardless, once I had my fill of the falls, I then made my way back down at about 4:50pm.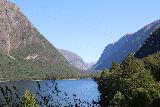 By about 5:20pm, I was back at the car. By this time, I noticed that the shadows had appeared to have grown longer both on the trail and on the car park.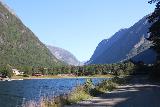 So that kind of hastened my need to get going and onto the Aursjovegen, which I intended to complete this time around as opposed to last time in 2005, where I only went part way.
Indeed, the drive through the head of Eikesdalen Valley beyond Mardalsfossen and Eikesdalsvatnet was half in shadow. But the waterfalls there were familiar.
I only made a couple of stops while taking roadside shots from within the car when no one was around. The scenery was just that compelling. But I didn't stop for every one like before and tried to single each waterfall out.
Instead, I was aiming for context of the waterfalls and the valleys.
When I got to the start of the Aursjovegen Road, there was an automated toll boom, which only lifted once payment was made at the spot.
This time around, the payment machine took the international credit card.
As I was ascending the narrow, unpaved, single-lane road, there wasn't much traffic going the other way. It almost felt like I was alone though of course there were sprinklings of cars going past back down to Eikesdalen.
However, I made frequent stops because it seemed like every turn had a nice view towards Eikesdalen or towards the head of valley itself with waterfalls. However, there didn't seem to be as many waterfalls draping into the head of the valley as I had remembered from our 2005 visit.
Clearly, many of those falls we had seen must not have been permanent. However, the scenery here was still compelling so progress was very slow as I just had to pull over or stop the car every few minutes!
By about 6:20pm, I had pretty much ascended the Aursjovegen to the point that it seemed like I was on the plateau and it stopped making the steep climb.
By this time, I had reached some mountain hut next to a tarn while there were still other thin waterfalls spilling on the opposite side of the valley or canyon belonging to Eikesdalen that was still somewhat deep even this far into the drive.
Eventually by 6:55pm, I had made it to the Aursjohytta, which was a kind of developed hut right by a dam holding up a reservoir pretty much where I transitioned out of Eikesdalen and into Litledalen on the Sunndalsora side.
I was still in the plateau area as there were many lakes, but the evidence up here was clear that a good chunk of these lakes were held up for hydro purposes. In any case, I noticed that the scenery was more compelling on the Eikesdalen side so far.
As I continued the drive and the road kept continuing along the highland plateau, I went by more tarns and reservoirs as well as an odd waterfall against the sun.
Then, the road started to descend into Litledalen Valley and the scenery started to become compelling again.
This was new territory for me since we didn't have time to complete the experience the first time around, but I could clearly see that there were more waterfalls as well as switchbacking roads in a less touristy Trollstigen-like manner.
As I descended further into the valley, I once again made frequent stops.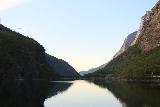 But when I got towards the bottom of the descent, I was surprised to see even more very tall waterfalls on both sides of the valley.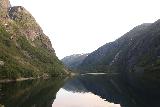 There was one in particular that was very tall and striking, and I wondered if this was the tall waterfall that I noticed on the first trip in 2005. I have a blurry photo of it as I was driving from Todalen back to Sunndalsora, but this experience confirmed that there was indeed a very tall waterfall here.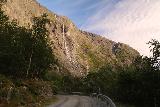 Could this be the Tagfossen that I had read about on one of the signs by the Vinnufossen Waterfall Rasteplass that we noticed yesterday?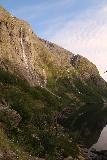 Not only that, but the Tagfossen was by a lake that produced very nice reflections back into the Litledalen Valley.
It really felt like the hits just kept coming, and the amount of times I had to stop the car and try to take it all in was simply overwhelming.
Anyways, I'd eventually exit the mouth of Litledalen Valley and return to the familiar Sunndalsora. I then headed east back into Sunndalen as clearly the weather was way more improved to allow time to experience this place the way it should be.
Indeed, by about 8:25pm, I had finally returned to the Vinnufossen Rasteplass, where I took some time to photograph Vinnufossen. However, just on the opposite side of the valley were more strands of waterfalls side-by-side.
From the Rasteplass, it looked like I had to walk 0.9km to get to a path that would bring me in closer to Vinnufossen for a closer look, but I was content to get my shots from a field though the views weren't direct.
When I returned to the car at 8:50pm, I continued east to see if there were more waterfalls to check out. However, I wound up stopping the car again somewhere by the Vinnu Airport sign, where I noticed an even more direct view of the falls between the "sti til Vinnufossen" and the turnoff for the Vinnu Airport.
As I returned to the car at 9pm, I then continued to go east to see what else we had missed the first time around (as well as to make sense of our memories and photos of this place from back in 2005).
At some point, the waterfall concentrations dwindled and I'm sure I might have spotted more had I kept going, but it was getting late, and I was content to just turn around at a waterfall that I had marked on the GPS when the weather was worse.
And as I was heading back west and the setting sun was now starting to hide behind some tall cliffs before me, I made even more stops and road shots because the scenery was utterly intoxicating.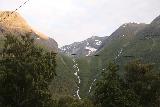 I really wished that we could have done this yesterday when we had more time, but alas, Mother Nature works by her own rules and her own timings. All we can do is to respond to what she throws at us.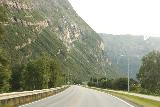 Ultimately by 9:40pm, I finally got back to Sunndalsora to pump cheap gas.
As I was leaving town, there was more road work going on inside the tunnel leaving the more westbound route, and thus I felt like I was gonna get back to Andalsnes later than I had hoped.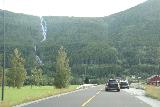 Julie texted me that she had food in the refrigerator when I would get back.
Anyways, after leaving the 6km tunnel and following another long caravan of cars and RVs, I noticed yet another miscellaneous waterfall that I couldn't stop for, but it looked thick enough to warrant a road shot.
Indeed, only Norway could have so many waterfalls that you'd ignore them for you can't stop every time. It would take forever!
With twilight now upon me, I tried to go as reasonably fast as I could given the semi-narrow roads leading back towards Eresfjord. As much as I wanted to stop and take twilight shots of the clouds turning pink, I couldn't. The GPS already predicted that it would be after 11:30pm when I'd return to Andalsnes.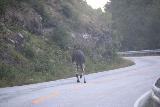 When the road started to climb up out of Eresfjord as I was finally heading west towards Andalsnes, at the end of one of the steep switchbacks, I noticed a big brown thing on the road.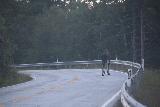 It turned out as I was getting closer that it was a moose! That was the first time on this trip that I had seen one!
I tried to whip out the camera and take a photo as best as I could. I don't think most of them turned out and I managed to get its behind as it was walking away from me. No luck in terms of seeing its profile and getting that shot to brag about.
As the moose departed the road, I then continued the drive.
And on the descent from the mountain pass back towards the fjord en route to Andalsnes, I noticed a couple of deer grazing in someone's pasture. I couldn't stop for them so I didn't take a picture, but it underscored the wildlife-vehicle collision risk that I was all too familiar with.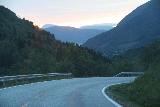 That sure made the drive a little more stressful considering that these megafauna tended to come out when people weren't around, which was right about now.
Eventually at 11:40pm, I had finally made it back to the Andalsnes apartment.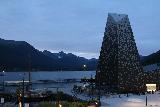 With Julie and Tahia sleeping, I pretty much tried to have my late dinner, get cleaned up, and still process all that had happened on this eventful day.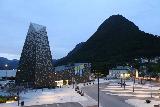 After that was done, I also stayed up to work on fixing the images not showing up on the website (where I wasn't sure of the solution since I had tried at home earlier before the trip, but apparently it didn't work).
It probably wasn't until around after 3:30am when I had finally figured it out, and only then could I go to sleep.
I was intending to get up early soon to do the Romsdalen drive alone before checking out of the apartment, but somehow, I had a feeling that it wasn't going to take place as early as I had hoped…