Day 35 (July 17, 2019 – Alesund, Norway): "Righting Another Wrong"
It was about 5:40am when I awoke. Apparently, I had hit snooze one too many times to my 4am-4:30am alarms.
But I guess the human body has a way of telling (or making) you get the rest you need to function.
And as much as I needed more sleep, I tried to seize the moment and just go out on the drive through Romsdalen and back to Andalsnes.
Julie was also up at this time, and she was concerned about my lack of sleep. But she was right into making brekkie knowing that there was still packing to do before leaving for Alesund on this day.
I ultimately decided that I would skip breakfast at this time and have it when I get back. Then, I'd treat it more like a brunch or something because I wasn't sure whether I'd be back by 10am or closer to checkout at 11am.
So by 6:05am, I started to leave for Romsdalen.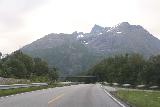 As I was heading south on the E136 into Romsdalen, I was already compelled to take pictures from the road as there were striking knobby as well as craggy peaks flanking both sides of the narrow valley.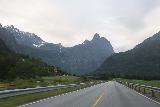 I think one of them was the Romsdalshorn. I was pretty unclear about the names, but maybe I'll need to go back at Norgeskart and double check the topology and place names against this experience.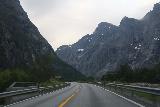 I had read that Romsdalen was Norway's answer to Yosemite Valley, but after this trip and seeing Norway as extensively as we have, I now tended to think of Yosemite as merely a microcosm of the kind of scenery you get everywhere in Norway.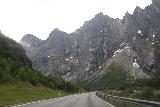 Heck, even the Yosemite High Country with its Unicorn Peaks and Cathedral Peaks amidst the granite domes were typical scenery in Norway.
Clearly, the geologic processes that gave rise of Yosemite Valley and its high country was totally on display throughout every valley and fjord in Norway. So maybe I should be talking about Yosemite as an example of Norwegian scenery instead of vice-versa?
Anyways, at 6:25am, I stopped the car for the Trollveggen Center. There was a giant car park as well as a few truck drivers using the spacious lot as a resting place to combat road fatigue, I'm sure.
I wasn't exactly sure which of the monoliths or cliffs was the actual Troll Wall itself as they all kind of blended in with each other. All I knew was that on the north or west side, there were some imposing cliffs topped off by some kind of formations. Maybe that was it. Who knows?
After having my fill of this stop, I then continued slowly driving through Romsdalen. Now, I was starting to see tall waterfalls coming down both sides of the valley pretty much like the last time we were here in 2005.
Most of them didn't have official stops and I pretty much resorted to using bus stops or road shoulders if available to stop and take pictures and videos of the gorgeous scenery around me.
Unlike the first time we zoomed through this valley coming from Dombas to Andalsnes, this time, I was taking my time and trying to savor each of the significant waterfalls coming into the valley.
I was also looking for Mongefossen, which I knew was regulated, but it wasn't obvious which of the strands of water coming into Romsdalen was it.
However, I suspected the ones with the power lines coming down near them would probably be it since I knew that it hardly ever had good flow given that it was regulated.
At about 7am, I stopped the car for Vermafossen. Again, there was no obvious pullout or signpost for it, but there were a couple of bus stops in the area to stop the car temporarily (I'm not even sure this is a good move considering buses use these spaces) to try to get out of the car and savor the scenery.
Vermafossen this time around didn't seem to quite have the volume as in our first trip back in 2005.
Ten minutes later, I stopped for Slettafossen, which actually had a car park somewhat and some infrastructure to better experience this attraction.
Unlike the first trip, I took the time to try to really experience this waterfall. There was one other guy I was sharing the waterfall with this early in the morning.
And sure enough, I could see that you get decent views from the bridge looking down at the torrent.
When you go beneath the bridge, you only see bits and pieces of the raging torrent of water, but you do get to appreciate the power of the Rauma River squeezing through this chute beneath the footbridge.
It was a good thing I did this early because I could see that tour buses come here (due to the bus parking spaces) and that would make for a rather intense experience here.
As I resumed the drive, I got towards the boundary of the More of Romsdal and Oppdal counties.
I was particularly looking for what the maps called Kleivafossen, which was a convergence of a pair of waterfalls down below on the Rauma River.
I managed to find what I thought could be the pullout closest to the short walk down to the converging falls, which was a big space with a traffic cam on it now.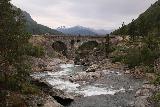 But unlike 2005, this time around, whoever owns the land here erected a driveway fence, and it appeared that it was no longer sanctioned (was it even sanctioned 14 years ago?) to go down there without off-trail scrambling and/or trespassing.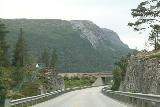 So after investigating each of the pullouts and seeing that there wasn't a safe way to get there anymore, at 7:50am, I turned around and headed back up towards Andalsnes.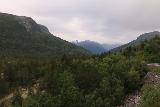 During that time, I did investigate what the Sagelva signs were for, and it turned out that it wasn't anything special as it was more of a farm or some kind of kid-friendly excursion.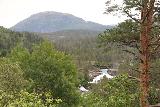 On the return drive along the E136, I noticed there were now more cars so taking road shots became a little harder since I'd find people tailing me suddenly. So I tried to use the pullouts whenever I could.
At 7:50am, I returned to the pullout with the traffic cam as I was going back and forth determined to see if I could find Kleivafossen once again.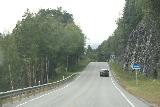 But it turned out that even with this persistence, the best spot to make the scramble like back in 2005 was at the traffic cam, and now it looked like there was no longer any sanctioned access to the converging falls.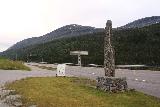 I wondered if it was always that way (just that it wasn't fenced back then), or if something changed over the years regarding ownership that changed this situation.
Anyways, it was a lost cause to try to pursue the falls so I resumed driving back north towards Andalsnes.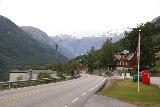 Now, I was trying to make stops for photo ops that I missed on the way going south. I totally noticed that the perspective and experience is very different depending on the direction you drive.
It seemed like I noticed some things going in this direction that I wouldn't have noticed in the opposite direction.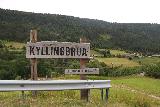 Regardless, while pursuing a pullout to see if there was a better or more sanctioned one for Vermafossen, I happened to check out the signposted Kyllingbru car park.
When I made the stop, it looked like someone's gas station with some extra space for parking.
Curious about what the Kyllingbru was, I followed the narrow trail across the E136 downhill for a bit. Eventually, I reached a dead-end with a view towards a tressel bridge that actually had trains going over it (I'm guessing the Rauma Railway used it).
Apparently, this was a historic bridge according to the signage here.
Anyways, after having my fill of this interesting little stop (one that I totally skipped the first time in 2005), I regained the elevation loss on the short 250m path.
I was back at the car at 8:10am.
As I went north and west on the E136, I was keenly looking for a pullout to more easily experience Dontefossen. However, the only pullout that I could find was a rather beat up unpaved one that scraped the underside of the rental car.
I made this stop at around 8:20am, but I didn't see other ones for the neighboring falls like Gravdefossen nor Skovagrovafossen (sp?).
As there were more cars, includin RVs and trucks, on the road, I made a handful of more stops along the way to re-experience the 2005 visit since that was the direction we were driving.
Among the stops included an attempt at capturing Mongefossen again as well as a stop looking towards a campsite near the bridge and road leading to Isterdalen and the Trollstigen.
That last stop featured reflections in the water backed by attractive mountains as well as the activity of the campground.
By about 9:25am, I was back at the apartment, which was a bit quicker than I had anticipated despite my later start.
However, I could see upon my return that neither Julie nor Tahia were ready to take off (i.e. they weren't dressed nor were they packed). In fact, Tahia was still procrastinating on her eating as usual (it alwasys seemed like a battle between Julie and Tahia on every meal when it came to healthy stuff).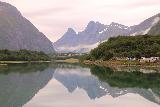 It wouldn't be until about 10:10am when we were finally leaving the apartment.
So now we were on the road to Trollstigen as we were bound for Alesund.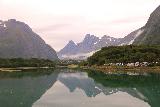 When we got to the familiar Trollstigen, we could see that there were clouds covering up both Stigfossen and Tverrdalsfossen ("Trollfossen").
That was a bummer since we were hoping to re-create the good experience that we had 14 years ago here.
So rather than waiting out the clouds at the bottom, we kept driving up the popular road, which was already full of cars and buses. We didn't even stop for the bridge fronting part of the Stigfossen because of the fog.
And much of the drive up remained mostly foggy so we were starting to lose hope that the Trollstigen experience would be good at all at the top.
Still, I was holding out hope that the clouds would clear once we got to the top, and we managed to park the car in the now fairly sizable car park at 10:45am.
The first thing I noticed was that the car park was on the left side of the Rv660 towards Valldalen (instead of on the right). They also built up a very fancy center and dining facility.
As we got out of the car and used the facilities, we then walked onto what seemed to be new paths. So instead of settling for a single view at the end of the track with no railings, there were now multiple forks to the path leading to different lookouts.
There was also an artificial terrace just downstream of the new sleekly-designed visitor center. That kind of called into question whether the stream for Stigfossen was now regulated (in a different manner).
We took the time to check out each one of these lookouts, but perhaps the most popular one was the one at the end. That was where there was a platform with see-through glass-like pane with a nice view allowing us to capture part of Stigfossen with the classic Trollstigen serpentine road.
As luck would have it, there were moments when the clouds disappeared to reveal the classic panorama. However, just as suddenly, clouds would reappear and fog up parts of the view before disappearing again.
I guess that's how fickle and variable the weather in the mountains of Norway can be.
We spent a good deal of time at these overlooks while savoring the experience (despite the international crowd as clearly this was a target for just about everyone around the world).
When we were done having our fill of the overlooks, we then returned to the fancy visitor center to have a lunch as Julie insisted on eating there.
I wasn't particularly keen on spending more money to eat, especially since our breakfast was so late in the morning. I also wasn't keen on losing another hour here.
But she got her way, and we wound up spending time mostly waiting for the food (of burgers and a chicken salad), but we chatted and noticed some things around here like the playing up of the troll theme in touristy spots.
As we were sitting and looking through the windows (next to a set of seats where the sloping ceiling was low enough for me to have to limbo beneath it to get through), we also could see the clouds moving in and out of the scene.
It wasn't until about 1:05pm when we were back in the car.
As we drove out, we couldn't help but notice that now there were way more cars around here. Indeed, there were now cars parked along the Rv660 further uphill from the main car park. There were also at least a half-dozen Norwegian workers directing traffic.
At about 1:25pm, we stopped at a large pullout for the Norddal-Rauma border. There, we got a nice view of the "Valldalen Waterfall" as well as the Valldalen below.
The last time we were here, the entire valley was covered in snow. Now, the snow was mostly gone except for the mountaintops.
Looking in the other direction, there was an alpine lake or tarn as well as a few distant waterfalls all draining towards Stigfossen. There was also a cascade on the main stream that I think the signs suggested was called "Strupen".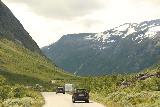 Next, we then headed through the Valldalen, but there were a frustrating number of very slow drivers who refused to use the pullouts (especially the bulky and wide RVs). Clearly, not many drivers are considerate nor are there pull-over laws that are enforced.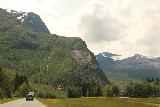 Because it was starting to get late in the afternoon to fit in a Muldalsfossen hike in Tafjorden before getting to Alesund, we didn't stop for one of the many jordbaer (strawberry) stands in this valley.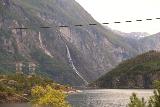 There were a bunch of them, but I didn't feel like stopping for them and subjecting myself to more delays as well as getting behind more inconsiderate RV drivers.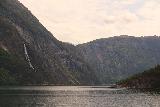 With some protesting from Julie, I'd eventually pass most of them, but passing on the narrow and winding roads in Norway was always a question of high risk over questionable reward.
Anyways, by about 2:15pm, we finally arrived at the Muldalsfossen car park. Like before, it was just on the other side of a long and narrow (and poorly lit) tunnel that went beneath the Hegghurfossen (sp?) as well as a landslide that might have caused the "Tafjord accident".
Like the last time, I got out to do this hike solo with Julie (and now Tahia) waiting in the car taking their siesta.
So with that, I headed along the road, crossed the bridge, then went up the brutal switchbacks leading up to the Muldal Farm.
This time, I noticed signs at each switchback saying which of the 13 switchbacks I was on. The same signs also showed that the utsikt was past the farm.
So it was nice that they did this as now it was clear where I had to go to get to a good view of Muldalsfossen. Such indicators weren't available in 2005 and thus I didn't properly experience this waterfall.
Hence, this was why I was back to try to correct that mistake.
At about 3:15pm, I finally made it up to the bridge upstream of Muldalsfossen. I was very hot and sweaty at this time.
Now, without hesitance, I continued through the farm and onto a trail that briefly climbed before going down a steep descent that I knew I wasn't going to like on the return hike.
For all that effort in going up and now having to give back a good deal of that elevation in an apparent upside-down W-shaped elevation profile for this hike, I wondered why there couldn't be just a shorter direct path from the car park to the overlook.
But as I was making the descent, I realized that the same geology that gave rise to the Tafjord accident was probably the same reason why it wasn't possible to make a direct route – i.e. the terrain was too vertical to have that.
Indeed, I really had to work for this waterfall, but the flip side was that it seemed like I was having it all to myself.
When I finally got to the first overlook at 3:35pm and the last overlook at about 3:45pm, I could see the entirety of the impressive Muldalsfossen.
While it had less volume than in the 2005 experience, at least I finally got to see it properly. There was even a small rainbow in the falls when the sun would temporarily show itself.
After having my fill of the falls, I then made the sweaty climb back up to the Muldal Farm (at 4:10pm), and then I mostly trail ran on the 13 switchbacks back down to the car park.
Along the way, I saw a couple on an ATV hauling up goods. So I guess that's why the trail at the switchbacks was so wide and well-kept. It was because it was also a use road for the residents of the Muldal Farm.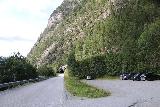 So by about 4:40pm, I finally made it back to the car (in half the time it took for me to go up the switchbacks to the farm). I gotta say that it was very nice to have this experience away from the tourist crowds and the lemmings effect (and all the stuff both good and bad you have to deal with).
And so we finally drove off and headed towards Alesund. It was a road fatigue-inducing drive, but we eventually got to check in at 6:10pm.
By about 6:20pm, we then went to our actual unit and finally started to settle in.
The town was on hills in much the same way that reminded us of San Francisco. So that meant that we had to do a lot of hill walking to get to town and back.
When we were all settled by 6:30pm, we came to appreciate that this apartment was just as nice as the previous one in Andalsnes in terms of space. There were also partial views of the water surrounding this peninsula.
By about 6:50pm, we finally got around to walking into town. It was too late to do grocery shopping and cook dinner so Julie was keen on finding a spot in town.
At about 7:20pm, we ultimately wound up eating at the Lyst Cafe.
Julie was in the mood for bacalao while we also got a reindeer steak dish and a burger for Tahia.
As usual when we have three mains, the dinner was a pricey one. But I guess that's the price paid for coming to Alesund late and for not cooking.
When we were done with dinner, we then went back to the local Coop before they closed. Then, we took the stuff back to the apartment (uphill walking) and getting there at 8:45pm.
Only after dropping off the groceries and the non-essential stuff did we finally go back into town to pursue Fjellstua.
The walk through town involved going past some construction zone (looks like they're remaking one of the streets fairly extensively) before finding the public park at the base of the 418 steps leading up to Fjellstua.
I recalled the locals we met in Trondheim (one of whom was from Alesund) said that we don't need to go to the top to get good views since they charge for the view.
So with that in mind, we went up the steps and took in the views over the mostly cloudy skies with the sun trying to set beneath them.
It was a regal view though I wondered in hindsight if we should have just passed through Alesund with a stop to take in the Fjellstua view.
After all, like the first time we were here, Alesund seemed like a dead town.
Plus, it seemed like quite a drive (around 90 minutes) to get here and then have to go back tomorrow in the direction of Geiranger over a similar distance and time frame.
Regardless, we savored the experience, and we even went up to the Fjellstua despite a sign saying it costed 30 NOK to be on the terrace.
However, no one was enforcing it nor collecting fees so we just savored the experience and appreciated the fact that the forecasts weren't as dire as the reality (in terms of rain happening this afternoon).
As we headed back to the apartment, we let Tahia play on a jungle gym in the public park before heading back to the apartment. Along the way, we saw the construction zone once again as well as a building that looked like it was demolished.
Whatever was going on here, the signage suggested that there were big plans to really give the city a makeover. So perhaps in the future, this city wouldn't be as dead as it felt in our experiences.
I guess that local that we met wasn't kidding when he said there wasn't much to do in Alesund.
Regardless, by about 10:20pm, we were back at the apartment and finally doing the deeds and chores to clean up and crash for the night.
Tomorrow was supposed to be Geiranger, and that was the place where we wanted good weather again, but the forecasts didn't call for that. So we'll have to see how that turns out when we get there…
Visitor Comments:
Got something you'd like to share or say to keep the conversation going? Feel free to leave a comment below...
No users have replied to the content on this page