Day 36 (July 18, 2019 – Geiranger, Norway): "Finally Feeling Like Summer"
It was about 6am when I awoke to Julie's alarm. With the forecast that had called for fair weather in Geiranger until the early afternoon, the time was ticking on us to get there and experience the fjord before we figured the bad weather would start to take over.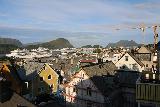 Despite the forecast, however, it was looking more and more like at least Alesund was going to have a good day as the skies were clear and the temperatures seemed to be warming up fast.
As we were taking our time having our own cooked breakfast, we were looking at a couple of big cruise ships about to dock in Alesund. Although yesterday seemed to be dead when we made our visit, at least this morning seemed to be the opposite.
When we did the Hurtigruten and it arrived in Alesund, it was a Sunday evening, which was the epitome of being dead. Hardly anything was open, and there was no time to get up to the Fjellstua at that time.
I wondered if the southbound Hurtigruten ships might have it better though, and I wondered if they would show up at a more reasonable time with more time ashore.
Regardless, it wasn't until about 8:40am when we finally left Alesund and did the fairly long drive back east towards Geiranger.
The original plan was to drive to Hellesylt, then catch a rather expensive and infrequent long ferry from there to Geiranger.
However, after seeing that in order to make that happen, we had to take yet another ferry to get to Hellesylt, then we'd want to visit the Hellesyltfossen, which I recalled from research wasn't compelling enough to go out of our way to do, and then wait for one of the ferries to make it all the way to Geiranger.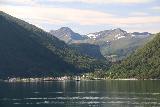 After having done so many ferries and seeing how slow and expensive they can be, the decision was made to just drive straight to the ferry that went to Eidsdal from some seemingly random spot west of Valldal. That was the direct driving route, but that also meant that we'd be doing one of the typically crowded tourist cruises on the Geirangerfjord.
So with that plan in mind, we had a pretty uneventful drive out towards the ferry, and we just so happened to catch the 10am ferry just in time. It was a very busy ferry, which wasn't surprising as this was part of the tourist route along the Rv63 that included the Trollstigen further to the north. And now it would take us back south to Geiranger.
Once we got to the other side, we followed a frustratingly long caravan of cars that were mostly held up by RV drivers as well as other less-experienced tourist drivers not used to the narrow twisty roads; all of whom refused to use pullouts.
With so many blind turns and limited opportunities to pass, this became another one of those risk-reward excersises in whether to save time or be subject to the long lines and crowds caused by the inconsideration of those in the front.
I ultimately decided to make my passes (at the protest of Julie who didn't like it when I passed vehicles on these roads; especially one as busy as the Rv63), and as a result, we wound up at the Ornesvingen Viewpoint by about 10:30am with some space for us to at least get there and find a place to pull over.
I was really looking forward to doing a walk that would take us to the top of Gjerdefossen with a top down view into the fjord, but I could see straight away that there was an uphill path blocked by a fence that appeared to prevent trail access anymore.
So that relegated us to checking out this developed viewing platform where some water seemed to have been channeled towards an artifical waterfall spilling next to the very busy viewing deck.
This was indeed like an international spot as there were tour bus crowds and people from all over the world not speaking Norwegian. And that was to be expected when you get to a place as well-publicised as the Geirangerfjord.
Anyways, without the ability to do any walking, we were pretty much relegated to just doing what everyone else was doing. And that was to try to fit in our shots amidst the crowds.
Perhaps impacting the experience were shadows cast by clouds that appeared to be patchy and moving around. So that probably kept our photos from being postcard moments, but we still at least got to experience the fjord from this spot, which was something we didn't do back in 2005.
After having our fill of this spot, we then continued driving down the Ornesvegen, which descended several switchbacks. There was one switchback in particular that seemed to have a side view of Gjerdefossen though I didn't recall there being an obvious spot to pull over.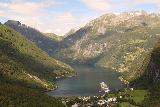 We then drove through Geiranger and decided to get up to a different viewpoint on the opposite side of the fjord. We figured that we mind as well get our views while the weather was good now. Then, we could focus more on Geiranger itself for the rest of the day.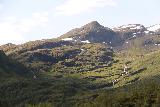 At this familiar viewpoint, I had recalled that it used to be more of a big space for a view that could support buses and quite a few vehicles.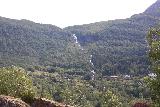 However, this time around, it seemed like there were fewer spots in a more awkward pullout detour while there was a Hotel Utsikten (or something like that) that offered up similar views as well as a scramble onto exposed cliff edges that we could clearly see from the higher vantage point we were at.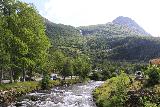 Again, the clouds were still moving around and casting shadows here and there on the scene, but the view was still as beautiful as it was back in 2005 when we had an even more cloudless day.
Once we had our fill of this place and then figure out how to get through between buses and cars to get out of the limited parking spaces at this viewpoint, we then headed back down the mountain towards Geiranger.
Eventually by about 11:50am, we would drive to the Hotel Union to drop off some luggages so our belongings wouldn't bake in the car given how warm it was today.
By about 12pm, we had already dropped off our luggages in an unattended baggage room in the hotel, and we scored a shaded parking spot at the hotel itself.
Once all that was done, we then walked down to the town of Geiranger along a pretty atmospheric Waterfalls route that pretty much followed alongside a rushing cascade right into the small tourist town at the head of the fjord below.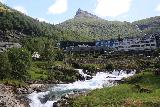 I never recalled this path being there before, but it was all developed and all busy. It started from the Fjord Center right across from the Hotel Union, and it followed along a series of steps with plenty of photo ops all the way down to the camping area. Then, it was another short flat walk across the camping area to the town itself.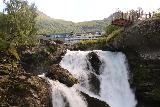 All along the way, we took our time looking against the sun and trying to capture the whole experience.
It seemed like this waterfall was the resulting stream from the joining of the one responsible for the Grinndalsfossen as well as a separate one for the Storseterfossen (the latter of which I intended to do the hike for later this afternoon).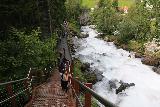 I wondered whether this was how the Hotel Union got its name (from the union of the two streams right around its property; not unlike the Union Falls in Yellowstone).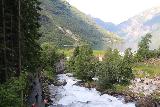 Regardless, we ultimately made it down to the tourist town which had a small arcade for pedestrians lined with shops and eateries.
Upon seeing that the desired fjord cruise for 1:30pm was fully booked, we had to change plans.
Seeing how expensive the cruises were, we decided that Julie and Tahia should do the scenic cruise at 3pm while I would go off on my own and hike up to the Storseterfossen on my own.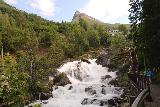 After all, I knew from the 2005 experience that the tourist cruise was crowded back then. And I knew that it would probably be worse this time around as there was definitely way more people these days than 14 years ago.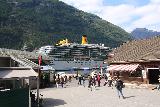 So with that plan in mind, Julie and Tahia went ahead and booked the tickets for the 3pm cruise. And then we went to have a lunch by this place next to the booking and info center at 1pm.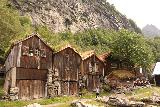 We wound up sitting outside next to the calm waters of the Geirangerfjord with a look towards some old-looking wooden buildings or sheds that I was certain were shops on the other side facing the pedestrian walkway.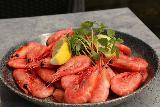 When the sun wasn't hiding behind the clouds, we were probably at risk of getting a sunburn (especially since we forgot to bring our hats from the car).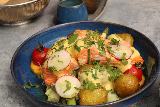 Still, we got ourselves a sea trout dish and a "snack" of fresh shrimp. The shrimp was a bit messy to peel and eat, but it was fresh and quite a fun way for all of us to interact over this meal.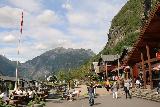 Because we only got one main and an appetizer, the cost of this meal was actually quite reasonable (by Norwegian standards) as it was less than 500 NOK total.
We also got some gluten free bread instead of the standard ones to soak up the sauces.
By about 1:55pm, we were done eating.
At that point, I started to walk back up to the Hotel Union while Julie and Tahia stayed behind to linger in the town of Geiranger until their 3pm cruise.
As I walked back up the same waterfall trail (opting not to go up the road and by the church back up to Hotel Union), I got another chance to experience the waterfalls and views.
It was still quite warm and partly cloudy so I was working up a sweat on this walk.
By the time I made it back to the Hotel Union at 2:30pm, I could see that the parking situation was a bit more intense.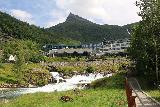 So I debated whether to leave the car and hike the extra hour in each direction to get up to the Versteras Restaurant to get started on the Storseterfossen Hike. Or, whether I should drive up the single-lane road from Hole Hyttas up to the Versteras Restaurant instead and save that extra bit of effort.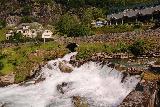 In the end, since I knew what I was getting into, I ultimately decided to just drive up and see what happens. After all, I figured that the parking situation might improve by the time the Norsk Fjordsenter would close later today.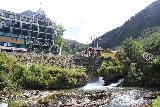 So I drove up the familiar switchbacks until reaching the signposted turnoff. Then, I found myself in an unfamiliar position of driving the familiar single-lane road.
However, this time, there were lots of pedestrians on this road (unlike last time). And it made me wonder if I should have done as they did and not drive this road.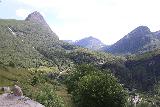 I was already expecting a difficult parking situation as well as limited opportunities to pull over and less oncoming car traffic through.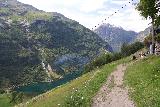 But when I finally made it to the end of the road at the Vesteras Farm and Restaurant, fortune smiled upon me and it appeared that I managed to score a parking spot next to the spots reserved for customers only at about 2:50pm.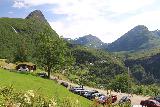 Given how warm it was and the exposure to the sun, I cracked the windshield and then geared up.
Once that was done, I did a little scouting of some other trails that went to other viewpoints of the Geirangerfjord. But one was at least 2km in one direction while another was 3km in one direction.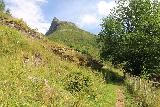 As much as I wanted to take advantage of the good weather (it still hadn't rained yet as forecasted), I had to stay focused and finish the Storseterfossen hike first before entertaining other options.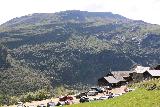 So with that, I wound up taking a trail that left immediately from the Vesteras Restaurant. I didn't remember this trail being here before as I thought I had to backtrack on the single-lane road, and then take the uphill path at the signposts from that road.
It turned out that this trail was actually a bit on the rough and steep side as it seemed to have shortened the hike by about 400m in each direction.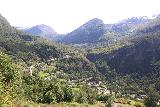 So while I had anticipated doing a 4km round trip hike, it might ultimately have been reduced to 3.2km round trip if I was to go back down this way.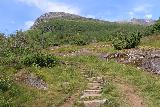 But as I was really working up a sweat, I figured that maybe I should go back the more conventional way just to make it a bit easier on myself in terms of being less accident-prone given how rough and steep this Vesteras route was.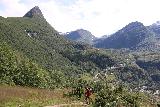 Eventually, I'd join up with the larger path, which then proceeded to continue going up a bunch of stone steps. But it seemed like the worst of the climb was over by this point.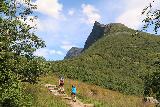 In fact, these stone steps seemed like they were new. I had recalled Julie and I needing to walk up a bunch of steep grass with some "footholds" in the grass (basically from other people doing the same thing) to get up to this point.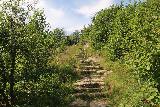 So I'm sure for erosion control, they must have choppered in giant rocks to form the path in this manner to ensure that the landscape wouldn't erode over time.
Still, with all the uphill hiking still ahead of me (even though the worst of the steep parts was over), I was sweating beads.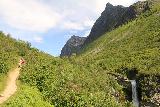 I also noticed a lot more people (especially families and kids) on the trail. So even as physically demanding as this hike was, it was still a "family-friendly" excursion as far as Norwegians were concerned.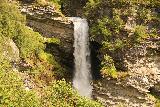 By about 3:30pm, I managed to get a frontal view of the falls. This time, it seemed like such views were available from the trail instead of off some side spur trail to an outcrop.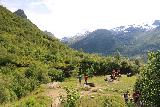 Clearly, this trail was also re-routed from the old one though it probably wasn't that noticeable to all but the most observant repeat visitors.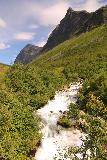 I also noticed that there were spray-painted red Vs instead of red Ts. I wasn't sure if they put "V" here because of the Vesteras Farm or if they meant to put "vei" or "veg" (which I understood to mean "path" or "road").
I knew that this was probably the only opportunity I'd have to see Storseterfossen from its frontside. And even then, it was only a partial view as the vegetation still blocked its base.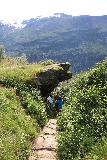 Nonetheless, seeing a pointy mountain backing the falls was still a nice sight.
By about 3:40pm, I then made it to the makeshift resting spot right above Storseterfossen. From there, I followed the familiar path around the bluff and down a narrow rail-bolted path to the backside of the waterfall.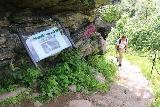 It was wet and slippery here, but with the railings in place, it seemed like the dropoff hazard wasn't as exposed nor as bad as the signs had made it out to be.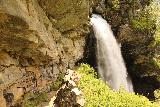 Still, there was one section where I really had to duck low in order to get through.
There was one father-son combo who made it here with me. And after having my fill of this spot, I then headed back up just as some people were coming down (and it would be a bit tight to squeeze past each other).
Once back at the top, I was enjoying the views once more from the top of the falls down into the valley as well as upstream towards some cascades leading to the main falls above.
I also checked out the very brink of the falls, where there were railings set up to prevent anyone from getting too close to the edge. I had recalled on the same year we first were here in 2005, that there was story about someone who fell from here.
I wasn't interested in extending the hike further upstream at this time. So by 3:55pm, I headed back down.
As I mentally thought to do, when I returned to the junction at 4:15pm, I took the longer way back down since I was more sure-footed on these stone steps.
By about 4:30pm, I was back at the car park for the Vesteras Restaurant.
At this point, I decided to not pursue the other viewpoints from the hiking trails leaving from the Vesteras Restaurant. And instead, I drove back down to the Hotel Union since the parking situation was weighing on my mind.
By the time I got there at about 4:50pm, it turned out that the parking situation wasn't as bad as I had thought. I first found a spot across the street closer to the Norsk Fjordsenter, but then I did a double-take and saw that there was a vacated spot in the Hotel Union lot. So I went there.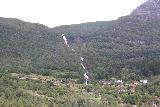 Julie and Tahia were still coming back from their cruise so I went ahead and checked into the hotel for her.
Forgotten in all this sightseeing was that we were very fortunate to have had such good weather. Indeed, the forecast had called for rain, and then the forecast gradually improved to mostly cloudy with some chance of rain all day.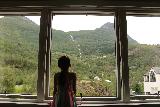 But it turned out to be great weather until the time I got back to the Hotel Union. At this point, I could see that clouds were definitely hovering overhead and wanting to dump some rain.
Anyways, by about 5:30pm, I finally got settled in the room as I had the luggage lugging duties. And when Julie and Tahia finally made it back before 6pm, we had some time to wind down the day and figure out whether we should eat the dinner buffet at 6:30 or do the a la carte dinner at 8:30.
Julie ultimately decided to go for the buffet (which was not cheap but still cheaper than the Hurtigruten), we had this smorgasbord of good stuff to choose from.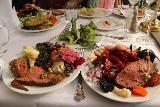 As with all buffets, it was always too much food to handle as we had to fight the urge to overeat to unhealthy levels while at the same time trying to pace ourselves and get our money's worth.
In addition to all the eating, Julie and Tahia gloated about how good the weather was down in the fjord. And Julie said she managed to get good views and recaptured better shots of the Seven Sisters.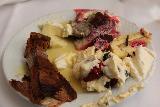 From the stories told by the cruise, it sounded like they didn't change the stories over the years. They still talked about the Suitor (Friaren) across from the Seven Sisters. And they also talked about the farms (especially by Skagefla) managing to avoid paying taxes because they could draw the only ladder access to the farm when the tax collector showed up.
Speaking of the Skagefla Farm, there was a nice view of the farm fronting the Seven Sisters and the Geirangerfjord from there. However, that required this cruise and a steep hike from the water up to the farm.
Julie said that they did pick people up during the trip, and undoubtedly that was what they did.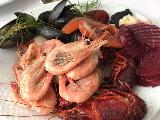 Anyways, we left the restaurant fully stuffed some time after 8:30pm. And afterwards, we finally got to indulge Tahia on going for a swim at the Hotel Union.
She was really looking forward to this ever since she learned that this was one of the few places on this trip with a pool.
It turned out that there was an outdoor heated bubblebadet (jacuzzi or thermal pool) as well as a lukewarm-heated swimming pool on the inside. There was also a small kiddie pool with a small slide in a neighboring room.
As Tahia and I were enjoying the pools, it was now very clear that it was probably going to rain tonight given the dark clouds that were hovering overhead, which made it a bit chilly on the outside pool though the heated waters felt nice.
Some time after 9:30pm, a Chinese family showed up and there was a young girl who wanted to play with Tahia. Upon learning that Tahia could speak Mandarin, they became swimming buddies just like that.
So instead of heading back up to the room before 10pm, I let her play until 10:30pm as it seemed like she was making yet another friend.
Her Mandarin wasn't strong because she didn't fully understand everything the girl (who was 9 years old) was telling her, but they were playing in all the pools together.
I believe they were from Beijing because her swimming cap had Chinese writings in simplified characters. That kind of underscored the international high-roller aspect of the guests staying in this hotel (as there were people from all over the world here).
But for over $370 USD for the night, we knew that all we could afford was this single night, and Julie only picked it because of the swimming pool.
So eventually at 10:30pm, we finally made it back to the room. However, they didn't have towels in the pool area so we managed to take one from a basket in the spa behind the desk.
I wasn't sure if that was sanctioned or not, but we needed the towel anyways. And we decided to drip and get up to the room so we could shower and get all that chlorine off in our own room.
And with that, we ended off this rather successful day where Mother Nature seemed to be kind to us (as opposed to the not-so-rosy forecast we had been fearing the whole time).
Tomorrow, we were expecting to experience glaciers of the Jostedalsbreen, but the driving wasn't going to be long to get to Olden.
So perhaps we could sleep in and have a good included brekkie at the hotel at around 7:30am before taking off…
Visitor Comments:
Got something you'd like to share or say to keep the conversation going? Feel free to leave a comment below...
No users have replied to the content on this page