Day 37 (July 19, 2019 – Olden, Norway): "Melancholy Beauty"
It was 4:15am when I awoke to my alarm. It was gray and raining in the Geiranger area outside.
Indeed, with the variable weather, it was a good thing that we managed to do our touring yesterday. For today was a transition day, and I had braced myself for a bad weather day even though we were supposed to be visiting glaciers.
Glaciers tended to be in high elevations since those would be the only places cold enough to support year-round ice. But with Global Warming, who knows where such places can exist anymore?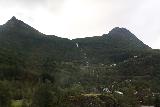 As much as I tried to get up and caught up on the blogging, I found myself going back to sleep at 5am. And it wouldn't be until about 7am when we finally woke up once again.
I guess that despite the limited space in our room at the Hotel Union, it was still comfortable enough to get a little more caught up on Zs.
So after a very impressive breakfast buffet, we finally left in the car at 9:15am.
It felt like we were one of the last ones to leave as we were one of the few people left in the dining hall for breakfast. And the tour bus crowds who were on a tighter schedule had definitely left by now.
Also with the late start, I was afraid that there would be many more cars on the road, especially the slow-moving RVs and buses. So that was something we just had to deal with.
It was raining outside in Geiranger. But as we drove out along the Rv63, we could see that the weather was somewhat holding up.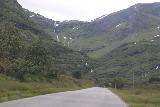 Then, we noticed waterfalls in the distance, and that triggered in me a memory of spontaneously visiting Kvanndalsfossen based on an obscure sign that we noticed on the way to Geiranger from Loen.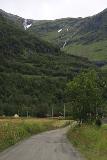 Well, this time around, it was those waterfalls we saw in the distance from the road, and so I just decided that if the weather was going to be bad anyways, why not make this stop and see what has changed on this trail over the years.
So after seeing the familiar turnoff and sign leading to the campgrounds right at the start of the trail to Kvanndalsfossen, we got there at 9:35am. However, just as we pulled up, I could see clouds already racing into the head of the valley.
And I just knew that that was my adversary when it came to experiencing the Kvanndalsfossen Waterfall – fog!
So I quickly geared up and headed out while Julie and Tahia opted to stay in the car and get caught up on some more sleep.
I then followed the familiar trail-arrowed path leading past someone's cabin (and a car parked on the trail) before making the familiar uphill hike to get closer to the waterfall.
There was some kind of stone wall and some agricultural contraption along the way (which I didn't recall from before), and then I promptly induced a sweat going up the steep mostly grassy, mossy, and bouldery path up.
It was a seemingly relentless uphill hike to get back up to the familiar view of Kvanndalsfossen, which was somewhat partial from what I recalled.
When I got there, I saw the same sight, but I also saw that the trail kept going up. So I decided right then and there to keep going beyond where I had stopped the last time.
As I kept climbing up, the trail continued to be steep. But by this time, the clouds that I tried to race to get to the falls before being fogged over had already overtaken me.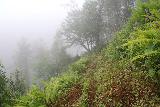 So I found myself climbing up into the low clouds and fog. And at this point, I was just trying to see where this trail was going even if the falls was now clouded over in fog.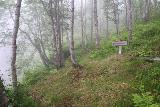 By about 9:55am, I finally got up to the Kvanndalsfossen sign. By this time, I was a hot and sweaty mess despite being drizzled on.
Even though the signs suggested that I was at the falls, I wasn't all that happy with the view.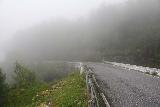 So I saw that the trail kept on going up, and I pursued it to see where it kept going to.
About five minutes later at 10am, I ultimately made it up to the Rv63 road. Unfortunately, there was nothing up here to see as there was no road shoulder so it wasn't like I could have pulled over then scrambled down to Kvanndalsfossen.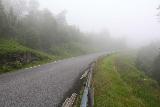 Indeed, I wasn't sure why this trail was here. So I scrambled back down the trail until I started to see Kvanndalsfossen again, and then I tried to document the falls as best as I could despite the subpar viewing experience.
At least the benefit of getting up here was that I could partially see a more vertical drop component of the falls than I had previously seen before.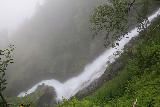 Once I had my fill of the falls, I continued the descent back towards the car. However, along the way, I saw a faint scrambling use-trail that went onto a bluff or ridge with dropoffs on all three sides (except for the side I had to use to scramble to).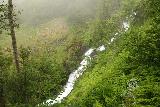 I had to really choose my steps carefully as this unsanctioned path was probably not kosher to most visitors seeking out the falls, and I'm pretty sure that DNT nor any other authority wouldn't recommend this path.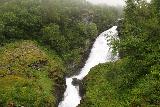 But whatever the case may be, when I finally got to the end of the spur at 10:05am, I found myself looking finally looking directly at the main drop of Kvanndalsfossen when I looked upstream.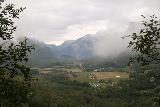 As luck would have it, the falls was no longer was shrouded in fog as the clouds lifted just enough for me to view it properly.
When I looked downhill from the bluff, I could partially see the valley that I had just come from (where Julie and Tahia stayed behind in the car at the Dalen Campgrounds).
Now, I could go back down the trail and return to the trailhead knowing that I had finally completed the Kvanndalsfossen experience.
By about 10:30am, I was back in the car and I had to have the AC turned on to both defrost the windshield as well as to cool myself off. By this time, it was raining once again.
Next, the drive continued climbing as we went higher up into the mountains and went up more narrow roads and switchbacks.
There were of course more slower drivers not using the pullouts so I had to pass each one of them given the few opportunities available on these mountain roads.
We'd eventually reach up to a point where the Rv63 junctioned with the Rv15. That's where we turned right and headed towards Stryn instead of towards Lom.
On our 2005 trip, we did go the other way towards Lom and ultimately towards Rondane National Park. I had recalled that that was where the fastest road of the trip took place as I swore there was a very high speed limit there as we were zooming through the highlands.
In any case, we were now passing through long tunnels and between scenic lakes backed by stark mountain scenery.
Julie was once again playing the role of shotgun photographer as the scenery was too compelling to not try to capture some of the beauty that was on display during this drive.
By about 11:15am, we had noticed a sign for Ovstefossen. Shortly after that sign, there was a very large pullout.
Surely a waterfall sign with a pullout of that size must be worth stopping for!
So we did just that and got out of the car. At first, we thought that Ovstefossen was this tall waterfall opposite the canyon that was cut by a rushing river.
But it turned out that Ovstefossen really pertained to that rushing river and turbulent, cascading waterfall right below us.
I saw that there was a walking path pretty much alongside some railings as well as some lower overlooks as seen from the pullout. So I decided to pursue them even though I hadn't budgeted time to do this during the trip planning.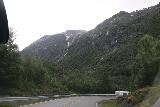 Given the hasty nature of my visit, I wasn't properly dressed for hiking on wet rocks and mud, especially since I could see that the falls was spraying parts of the trail.
However, I was spurred on by the sense of curiosity of where this trail led to and how much of the Ovstefossen that I might finally get to see. After all, the roadside views weren't great since we were upstream from the main parts of the crashing waterfall.
As I continued my descent (knowing that I was going to have another hot and sweaty climb back up) and reaching other lookouts along the way, I was seeing more of the profile of the falls though I was never able to get a clean look at it from the front.
When I got down to the lowest viewpoint, it didn't seem like the trail went any further. So I captured the falls as best as I could given the mist and close proximity to the falls, and then I hastily made my way back up at 11:30am.
By about 11:35am, I was back at the car where there were a few more people who had stopped to take a look at this waterfall.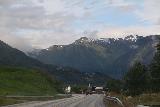 We then resumed the drive downhill as we encountered more breathtaking valley scenery with every descending hairpin turn. This was one place where I didn't mind being behind slower drivers who refused to use the pullouts.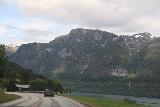 Once the road more or less flattened out at the bottom, we found ourselves passing through the town of Stryn, which seemed big and bustling.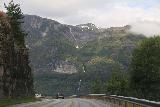 But we didn't stop here to have lunch knowing that we still had more places to go and things to do before checking into our accommodation near Olden.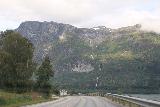 After passing through Stryn, we then followed the Nordfjord past other small hamlets lining the fjord until we got to the town of Loen.
Unlike the last time Julie and I were here 14 years ago, this hamlet seemed to be a lot more developed than before. I remembered this place being a quiet spot with a hotel that we stayed at (and probably wound up spending the most money we had ever spent on doing laundry as they charged by the piece).
Anyways, we knew that there was a road that went inland from the fjord at this town, and that would lead us to the Kjenndalsbreen Glacier.
Last time we were there, the road going all the way to the glacier was closed though we were able to get far enough for a non-direct view of the Ramnefjellsfossen waterfall as well as a few nice views of the Lovatnet lake under beautiful blue skies.
Although the skies weren't as clear as they were 14 years ago during our visit, the forecasted non-ideal weather still seemed to be held at bay.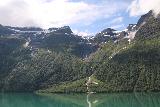 Anyways, we followed a caravan of cars along more single-lane roads deeper into the Lodalen Valley.
We'd eventually reach an old-fashioned envelope and drop-slot fee payment kiosk, where we were part of maybe a half-dozen cars that stopped to fill out the form, tear out the carbon copy, and drop the envelope part with a few kroner coins in it.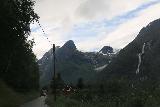 Then, we continued on the drive, which at this point was now unfamiliar territory as far as Julie and I were concerned.
As we continued the drive deeper into the valley, we started to notice the glacier in the distance. There were definitely some compelling blue-ice sections that really lured us close to its terminus.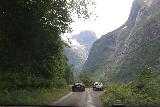 And after going past a junction (where the spur we didn't take seemed to have led to a cafe or cantina), we eventually got to a bridge crossing over the stream that was the outflow of the melting Kjenndalsbreen Glacier.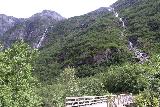 We saw that there was a pullout just past the bridge, and that was where we momentarily stopped the car to get out and check out the glacier from this vantage point.
In fact, the view was so compelling here that we took out the tripod and had that rare family shot with interesting background. It was the kind of scenario where I might be able to take this photo and use it to remind myself of where we've been when I'm at work looking at the desktop wallpaper.
As we resumed the drive, we finally made it to the end of the road at 1:20pm. Here, we saw a spacious car park but we were surrounded by pretty waterfalls including a few crashing ones that were clearly the outflow of some glaciers higher up the mountains.
One of the neighboring glaciers to the Kjenndalsbreen could be the Krunnebreen. And the crashing waterfalls that came from it could very well be the Krunnefossen.
Indeed, the scenery here was so beautiful that it compelled Julie to debate with me whether we should give this whole experience a 4.5 or 5, which would make this place world class compared with the likes of Iguazu Falls or even Kaieteur Falls.
While I think Julie got a little carried away with calling this a 5, there was no denying that this was at least a very solid 4 and possibly even a 4.5 experience though there wasn't a particular waterfall that we could point to and say that was the scenic rating it deserved.
Anyways, after having our fill of the car park area, we then took the short 400m trail to a lookout of the Kjenndalsbreen Glacier.
When we got there, we could see that plenty of people continued along a more bouldery trail leading closer to the glacier's terminus.
And in the past, we would have done that trail to get even closer to the glacier. However, with obvious signs of Global Warming, the glacier terminus was way up the mountain now. So we didn't even bother getting closer than this vantage point.
By about 1:55pm, we were back at the car, we then started to head out when we spontaneously decided to take the other spur road towards a cantina or cafe.
By about 2:10pm, we found ourselves parking at the Kjenndalsstova. At this spot, we were getting a nice direct view of the Ramnefjellsfossen waterfall as well as the head of the Lovatnet lake.
Apparently, this was one of the sites of the towns that got destroyed by a tsunami created by a major landslide that fell right into the lake.
The other town that was destroyed was apparently right across the lake according to the Norwegian literature (actually a Bergens Tidende headline and newspaper clip) that was on display at the cafe here.
While Julie and Tahia went into the cafe to order some lunch, I spent a good deal of time walking all the way to the lakeshore to capture the compelling scenery of Ramnefjellsfossen fronted by Lovatnet while flanked by tall and steep mountainsides.
The scenery here was so compelling that when Julie joined me in taking pictures here while waiting for the food, I told her that this was the kind of experience that really made me feel alive and fully aware that we were having one of those rare moments when we realized right then and there that we were having a magical moment within Nature.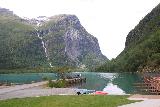 After having our fill of taking our photos and videos here, we then went into the Kjenndalsstova for a basic lunch of a reindeer burger as well as a local trout caught from this lake.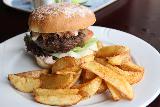 As we were enjoying the views from out the restaurant window, the Estonian worker that came by to see how we were doing chatted with us about this place.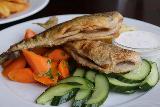 We were curious whether the relatively quiet (and magical) experience that we were having was typical, but she kind of bursted our bubble when she said that earlier in the week, there would be bus tours and a lot more people that would come here.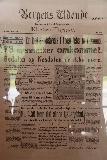 Julie and I looked at each other and wondered how buses could clog up the single-lane road it took to get here!
By about 3:15pm, we were fully satisfied with the lunch and we finally made it back to the car.
Now, we had to drive back out of the single-lane road where I'm sure we'd catch up to slower drivers while also stopping at pullouts to let oncoming traffic pass through.
It was the kind of road that would scare the heck out of me from our first trip, but as I was encountering more and more of these roads, I've been finding out that I'm not as intimidated nor as nervous about them anymore.
At about 3:35pm, we then stopped at a P along the single-lane road with a compelling view of both the Ramnefjellsfossen and the Lovatnet. There were about three or four other cars parked here, but it was really the wedding photography that was going on here that caught Julie and Tahia's attentions.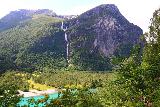 The wedding photographer seemed to have an American accent, which made us wonder if she was a transplant American living in Norway.
Regardless, we left them to their own business while we were simply mesmerized by the waterfall and the colorful lake.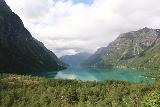 I could tell from the shape of the lake at this vantage point that this was the place we stopped and turned around to look back in 2005. After all, this was where the turning point where the road was closed back then.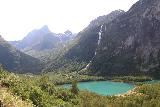 Boy were we glad that this time around, we could make it all the way! And we were even more thankful that the weather still hadn't turned on us despite the rainy beginnings when we had left Geiranger.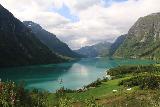 Eventually, we got out of Lodalen (and skipped the scary Bodalen side road, which was now a toll road apparently), and we ultimately got to the town of Olden.
Knowing that we were in a campground for this night but a shared kitchen, we decided to just stop by a Coop as well as a Bunnpris for some basic groceries so we could self-cook at the camp.
But we had to buy the supplies now before checking in since the Naesset Camping (where we were booked for the night) was a few minutes drive further west of Olden.
As Julie was doing her grocery run at 4:05pm, Tahia and I were busy resting in the car while also listening to Radio Stryn. It turned out that they were playing a couple of Highasakite songs that I was familiar with while listening to Triple J Radio at work (an Aussie station) and that really perked up my ears, especially when I heard Golden Ticket.
When they also played Samurai Swords back-to-back with Golden Ticket, I started to wonder if this local radio station really supported this Norwegian band because they might be from this area (or at least the Sogn og Fjordane county).
They also played Robyn and some other Scandinavian acts, and I thought to myself that this was the Norwegian radio station that came closest to the music experiences that Julie and I had back on our first Norway trip 14 years ago!
After all, that was how we discovered bands like Royksopp, Kent, and Robyn, but we also got exposed to Tsjiriau from Ravi og Dj Lov as well as Briskeby, Lene Marlin, Robert Post, and others.
It was too bad that most of the Norwegian stations didn't back announce or show on the display the names of the songs and bands being played because there were quite a few that we wanted to purchase and download when we'd get back home.
Regardless, when Julie came back with the foodstuffs, we then drove to the Naesset Camping, and we'd ultimately check in at about 4:40pm.
Once we got all settled in the very tight accommodation (basically their "motel" as opposed to their even more basic hytta, which were the red cabins lining the shores of the fjord) at 4:55pm, I then was finally able to solo my excursion to the Briksdalsbreen Glacier while Julie and Tahia would stay at the camp to chill out and to cook dinner.
So I headed out and followed the familiar narrow roads leading to the head of the Oldedalen Valley.
Knowing that there would be compelling scenery along the way, this time, I came prepared to stop at any pullouts that I could find or also double as shotgun photographer and stop the car in the road whenever there was no traffic around me.
Ultimately by about 5:45pm, I finally made it to the familiar car park for the Briksdalsbreen, where there was now an automatic dispenser for pay-and-display tickets. I didn't recall having to pay for parking here the first time we were here 14 years ago.
Anyways, after gearing up then paying and displaying 50 NOK ticket, I proceeded to go on the familiar walk.
Unlike the first visit, I noticed more signage as well as things like the Kaiser Wilhelm's Sti which I wasn't sure was pertaining to the trail I was on or whether it was referring to a different trail that somehow pertained to the German Chancellor.
Anyways, I had noticed that there was a more dedicated path for foot traffic that was apart from the Trollbil (Troll car) that was an ATV shortcut to bypass most of the walking to get up to the glacier.
In the past, I remembered having to walk the same road all the way up.
By about 6:20pm, I made it to the familiar footbridge fronting the Kleivafossen. Unlike the first time, this time there was a lot more spray going onto both the bridge and the road than last time. It made me wonder if all this extra volume of water was the result of Global Warming on the Briksdalsbreen.
I was a bit apprehensive about how much the glacier had been impacted over the years, and this would be the first time that I might have that before-and-after shot that we saw many examples of when we had visited Glacier National Park a few years ago.
Regardless, I kept going past the spray zone, and then I went up one of the handful of switchbacks before I noticed that there was a footpath that cut directly up most of the switchbacks. I could have sworn that the first time we did this, we had to walk up each of these switchbacks!
So with the relatively shorter hiking distance, I ultimately reached the top of the falls and ultimately past the bridge with a view of the Briksdalsbreen.
By about 6:40pm, I made it to the 1770 Terminal Moraine, where I could clearly see in 2019 that the glacier had been significantly smaller than what Julie and I experienced back in 2005.
Eventually after going past the end of the Trollbil dropoff, I then continued on the trail until reaching a moraine flanking a semi-lake/river with a view of the Briksdal Glacier at 7:05pm.
That was when it hit me.
On our first visit, Julie and I actually went all the way to the ice terminus of the glacier. Back then, we had even noticed icebergs in the lake fronting the Briksdal Glacier.
Now, it was no longer possible as the ice terminus was way up the mountain! Where the ice used to be, there were now waterfalls.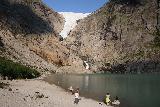 And where there were iceberg in the lake, the lake was so fast moving that there was no chance of seeing icebergs anymore. It would have floated away and ultimately broken up as it would be carried away over Kleivafossen.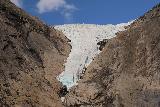 That was how far this glacier had retreated in the 14 years between our visits to Norway!
To think that this could happen so quickly within our lifetime really hit home that the demise of human habitability on planet earth could easily happen within our lifetimes.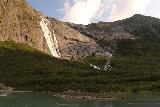 Forget about any of the predictions or headlines or whatever people want to say in the media these days. The reality painted a different picture.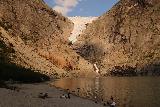 So even though I was once again witnessing how Mother Nature could showcase such natural beauty in the landscapes, it was a melancholy beauty in that it also exposed the stark realities behind what we were seeing.
And this was the very feeling that made me most concerned about Tahia's well-being as she was inheriting a world that may ultimately be unfit for human survival in her lifetime let alone ours.
But speaking of the beauty, I also noticed that across the valley, there was an impressive waterfall that I swore never had this kind of volume before.
Since it was coming from another bluish glacier high up on the mountain (which I believe was the Tjotabreen), it seemed to be a consistent theme that there are waterfalls where there were once glaciers.
Anyways, I didn't feel any need to hike further and closer to the rock wall where the glacier once stood on our first visit.
And so I headed back out by 7:25pm as clouds kept causing shadows to go in and out of the scene and muting some of the colors I was seeing on both the glacier as well as its surroundings.
Since the hike back was mostly downhill, it didn't take long for me to return to the car park some 50 minutes later with plenty more of photo stops.
When my wrists and hands were getting these familiar bug-bite bumps, that's when I also came to the realization that the annoying black flies that kept buzzing around me (on both visits) really do bite!
So apparently these flies were like midges or something. But none of them bit us on our first visit (maybe we were smart and had bug spray on when I didn't apply any of it on this visit).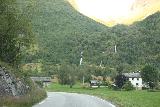 Anyways, I ultimately got back to the Naesset Camping at 9:10pm as I took my time driving back out of Oldendalen Valley (snapping a few more pictures along the way, of course).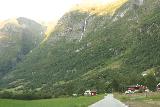 And that was when I was finally able to have a dinner as Tahia and Julie had already eaten and showered.
Not much later than that, I did the same and slept on the upper bunk.
And as we were further south in Norway as well as getting shorter days as we continued to drift past the Summer Solstice that we had experienced earlier on this trip, the nights were also starting to get properly dark so we wouldn't really need the eyepatches to sleep anymore…
Visitor Comments:
Got something you'd like to share or say to keep the conversation going? Feel free to leave a comment below...
No users have replied to the content on this page