Day 39 (July 21, 2019 – Skjolden, Norway): "The Hail Mary"
It was about 5:30am when I awoke. For the moment, it had stopped raining (or at least slowed down) but it had been raining all night long.
I wasn't sure when the wedding party ended, but with the music playing loudly during that time, I must have been dead tired to have been able to sleep despite the noise.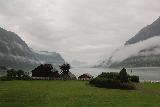 Given the lousy weather that was forecasted in addition to the resumption of rain this morning, we all took our time having the included breakfast.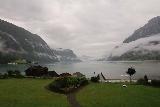 So after several visits both upstairs and downstairs as I kept forgetting stuff on the way to the car, it wouldn't be until about 9:25am when I was finally leaving on my own to hike out in the rain.
It was already raining hard, and I knew it wasn't going to be fun.
I was debating with myself whether to do the Vettisfossen hike first or whether to do the Drivandefossen hike, which was a new waterfall that we hadn't visited before.
I ultimately decided that since Drivandefossen was closer to Skjolden, I figured that at least that waterfall would be a slam dunk. With Vettisfossen, there was a lot more risk given the presence of clouds possibly obscuring the view of the falls.
So my GPS waypoint had me driving south on the nearly single-lane Rv55 towards Luster. Once I got down there, it then had me cutting inland.
Thus, I pretty much did just that.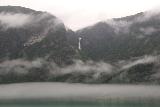 Along the way, I found a pullout allowing me to get a good look at the Mordolefossen which lookdd pretty much like a smaller twin of the Feigefossen waterfall.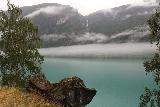 With low clouds swirling around, I got my shots before they drifted in and obscured the view of this waterfall across the fjord.
When I finally made it to Luster, I then drove inland as directed. I then found myself in a fairly attractive valley though the clouds were still overhead and there was a bit of a gloomy mood that the weather had created.
I then continued following the GPS which now had me going up some very narrow unpaved and switchbacking road. I didn't see any signage for the Drivandefossen, which got me worried.
By about 10am, I ultimately wound up at a junction high up in the clouds where one fork led to a barricade that wouldn't let me climb any further by car.
There was another sign for "Folafadle" but that seemed to lead to some kind of private set of farms.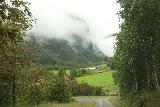 Did the GPS mess me up, I thought to myself?
Well, I decided that the waterfall wasn't up on this narrow and winding path. So I backtracked down to the base of the valley.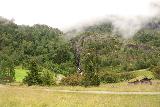 When I got back to the bottom, I then pursued the main road deeper into this valley. But then I found myself on a very narrow single-lane farm road leading towards more farms. Clearly, this wasn't the right way to go.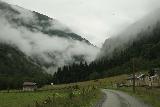 Upon a second inspection of some of the maps and place mats that I took with me from the Eide Gard Farm last night during dinner, I saw that the Drivandefossen was actually behind the town of Skjolden and not Luster!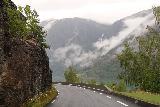 At least that explained why I didn't see any Asetevatnet signs!
So I backtracked the way I came. At least the weather seemed like it was holding up at this time. But I knew that this was turning out to be a waste of time.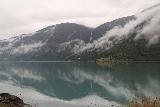 By about 10:30am, I was finally back at the town of Luster and the Rv55. Now, I had to head north on the Rv55.
On the way back to Skjolden, the clouds were definitely hanging low and obscuring the Mordolefossen though I had scout out and stop for a few more of the pullouts that would have yielded a view of the falls.
Most of these pullouts were before and after the Ottatunnelen. There was also some kind of B & B there on the south end of the Ottatunnelen.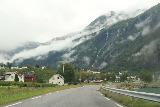 Then, I finally made it back to Skjolden where I then saw signs leading into the Morkrisdalen. I also noticed signage pointing the way to Drivandefossen as well.
As I drove deeper into this valley, I saw that the weather was improving even though it was still raining on and off en route.
I then noticed a fairly sizable waterfall to my left side behind a river rushing through the valley. As I continued driving across the falls, I noticed that there was a concealed upper drop that looked quite attractive.
When the paved part of the road ended, I then found myself on an unpaved road, which shortly thereafter led me to a signposted trailhead for the Asetevatnet.
There were at least three or four other cars here when I showed up at 11am, which was way later than I was expecting.
With the weather seemingly stabilized though still variable, I still had only my waterproof pants on but I decided I wouldn't need to wear the rain poncho right away. So I had it all crumpled up on the outside of my day pack for now.
The trail to Drivandefossen immediately started climbing, and it kept climbing and climbing.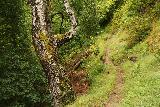 With the non-breathability of the waterproof pants, I was sweating beads. I was especially getting wet from the inside out of my waterproof pants.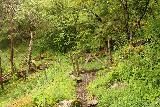 By this time, I had already given up on waterproof pants and would bring it back to the Skjolden Hotel for the Vettisfossen hike later this afternoon.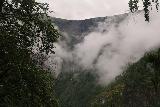 By about 11:25am, I made it up to some kind of gate that probably denoted the boundary of some pasture and the national park protected lands.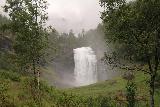 Ten minutes later, I finally climbed up to the misty Drivandefossen, which was pumping out a lot of mist and probably made getting the most frontal views a bit impractical.
With my camera lens already failing to auto-focus on a full zoom-in, I was resigned to the fact that this expensive but flexible Canon Lens was already on its last legs.
Meanwhile, the weather was stabilizing for the moment. As much as there were dark clouds around the area, the forecast seemed to have called for a momentary break in the action before the resumption of even more intense rain some time around 2pm or 3pm or so.
With hindsight being 20/20, I probably should have done the Vettisfossen hike first, but given the snafu that costed me an hour to find Drivandefossen, I guess it was what it was.
By about 12:05pm, I finally made it back down to the car. Now that I knew that the Drivandefossen was the same waterfall that I had seen on the drive in, I had it in my mind to stop for it as I was driving out.
There was some kind of van tour or shuttle that dropped off some more elderly visitors. I don't think they knew what they were getting themselves into, but the driver seemed to suggest that it was only a 15-minute walk to get to the falls.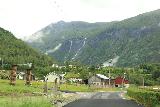 In my mind, it might be a bit longer than that given the slippery footing, but it was still not too teribble of a hike.
Sure enough, as I re-encountered the waterfall, I did just that. I even noticed some kind of rest bench on one side of the opening in the road that at least gave me a shoulder to stop at and get out of the way of passing traffic.
I managed to induce a lemmings effect as there were a couple of other cars doing the same thing as me right around the time that I was wrapping up with my photo and video run.
Finally at 12:30pm, I had finally returned to the Skjolden Hotel. Julie and Tahia were still in the room so I was able to change out of the waterproof pants and back into my normal hiking pants.
I think I had finally come around to never using waterproof pants again when it came to doing hikes in the rain. The non-breathability was a definitely deal-breaker for me.
Anyways, the weather was surprisingly turning out to be quite tame when I left the hotel to resume the main excursion for the day.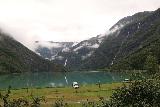 Right off the bat as I was heading east past Skjolden, I made another stop at some campground with a nice view towards Fortun over Eidsvatnet with both the Asefossen Waterfall and the Liingafossen Waterfall in the distance backing the lake.
It was a familiar spot where I recalled taking similar views from closer to lake level, but this time, I was on some hill that might have been private (not sure) that yielded better context than before.
Like I always say, lake views are always best when from the top down or at some kind of elevation looking down. That way, the lake doesn't make everything look flat.
Anyways, I resumed the drive up the Rv55 which involved going up a lot of switchbacks. But with the scenery becoming compelling the higher up I went, I frequently stopped to try to take pictures of the context of the valley below.
And in the process, I was letting motor homes pass by, which meant that I would have to be stuck behind them with limited opportunities to pass them (every time being a risky move especially on marrow mountain roads in Norway).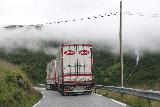 I would eventually get behind a big rig that was using the narrow switchbacks of the Rv55 as we were climbing up to Turtagro. And since I was planning to take the mountain pass road from Turtagro to Ovre Ardal, I wasn't sweating trying to pass this guy.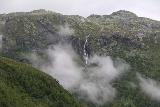 Once I was at the turnoff at Turtagro, I then took the signed junction which took me up a different climbing and narrow road.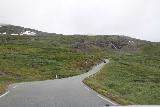 Along the way, I noticed a few more distant waterfalls appearing between some clearings in the clouds though for the most part, they were swirling and hanging low, which gave the scenery a bit more of a moody and mysterious air to it.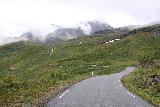 The road eventually got up to the highland moors where the stark beauty of the tree-less tundra sprinkled with some lakes and waterfalls made it really feel like I was driving on top of the world.
As the road descended, there were a few more impressive cascades that the road was skirting by before it got really narrow and steep in a series of switchbacks on a single-lane road.
Like with towns like Odda where there was an industrial town that could be deemed ugly, it happened to be situated in a very beautiful head of a fjord.
I guess the same could be true of Ovre Ardal, which seemed to be a big mix of residential buildings though there were also aluminum smelters I think, which was why there might also be a heavy presence of hydroelectricity, including on the road I was on linking Turtagro with Ovre Ardal.
I didn't have time to try to capture much of that scenery from above though because I had to concentrate on the narrow switchbacking road descending into town.
I could see that there was some break in the weather here as even the sun managed to peek through the clouds from time to time. But I could also see further in the connecting fjord that there appeared to be some menacing dark clouds on their way into this valley.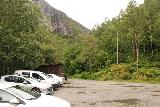 At about 2:05pm, I finally made it to the trailhead parking for Utladalen. I happened to find (or at least carve out) one parking spot so save myself from having to walk from the larger car park at Hjellefossen.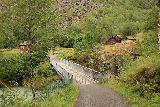 I had to race against the dark clouds coming over though I kind of knew that it would be a futile effort. I just hoped that Mother Nature had enough mercy on me to at least let me experience Vettisfossen without the clouds blocking the view.
That was all I was asking for.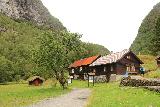 So I geared up and brought my rain poncho. Having ditched the waterproof pants, I hoped that the poncho was enough. However, I feared that depending on when the rain would show up, I might be sweating from the inside out again.
Regardless, I knew that I also had to try to protect the camera from getting too drenched from the incoming rain. So that was a necessary evil I guess.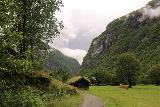 By about 2:20pm, I was finally getting started with the hike.
From checking the phone, the bad weather was supposed to take over at around 2pm. But so far, it seemed like it was momentarily at bay but it was definitely threatening to come with full force.
I hastily made my way past the Naturhus Exhibition and kept going past the crashing Avdalsfossen only pausing for a brief moment to capture the scene from beyond the spray zone, which seemed to be more extensive than the last time Julie and I were here.
It took me about 15 minutes to get to this point.
I then kept hiking beyond some narrow landslide-prone parts of the Utladalen Valley as many of the vertical walls showed signs of such landslides.
When I made it to a short spur trail descending towwards Holjafossen at about 3:05pm, I then went up a paved climbin road the eventually went before a series of segmented waterfalls as the road ultimately straightened out and led towards the Vetti Farm.
Just at this time, it was starting to rain.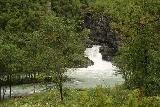 It appeared that the weather had finally caught up to this area, and now I was at a point where doubts started to creep into my mind about experiencing Vettisfossen because rain usually meant low clouds, which usually meant obstructed views.
Still, I went this far already, there was no turning back.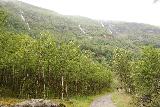 The rain was coming hard enough that I really should have donned the rain poncho at this point, but I opted to keep moving forward without it knowing that there was going to be a brutal climb ahead of me once I got to the Vetti Farm and then pursued the trail leading to the top of Vettisfossen.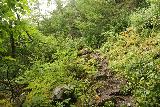 When I finally made it to the Vetti Farm turnoff at about 3:20pm, I was already started to feel quite a bit of wetness in my clothes from not putting on the rain poncho.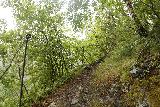 But at least there was some tree cover at this point as I followed the sign pointing the way up to the top of Vettisfossen (and opted to not continue along the other signposted path leading to the base of Vettisfossen that I had done before 14 years ago).
And as anticipated, the path was very relentlessly steep as it climbed for what seemed like forever.
With the rain still coming down, my clothes really started to feel wet. But I kept on without wearing the rain poncho because I knew that this ascent was making me sweat big time and that poncho would make the wetness from the inside-out worse.
If I was going to be wet one way or the other, I mind as well not handicap myself with the rain poncho.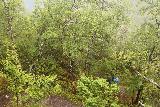 The persistent rain eventually made it where the relentless climb ultimately got up into the low clouds. At this point, I was hoping against hope that the hike would bear the fruits of finally seeing Vettisfossen from the top.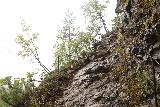 But it wasn't looking good, and it was almost as if my moving on was like a Hail Mary that the only shot I had at this point was to keep going. I already made it so far, why stop now?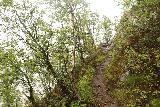 By about 4:05pm, I had finally got to a poorly-signed junction in the trail. I had already gotten past the apex of the climb and was going on somewhat flat and muddy stretches for a few minutes now. There were some planks set up to traverse the muddiest of stretches.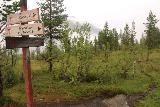 The weather was seemingly calm up here, but it was also spooky with fog.
Luckily at this poorly-signed signpost, someone scribbled "Vettisfossen" on the arrow that pointed towards Skogadalsboen. Indeed, this was a bad sign because there was no indication about Vettisfossen here so that could have been real confusing and easy to take one of the other trails leading away from the falls.
In any case, that scribble that someone was kind enough to do kind of assured me that I was on the right path.
After a few more minutes of getting through the swamps and towards the bridges traversing the feeding stream for Vettisfossen, the path then made another steep climb before ultimately reaching a wooden lookout platform a few minutes beyond the bridges and bluffs that were just upstream of Vettisfossen.
Once I finally made it to the lookout platform at about 4:20pm, I caught a break in the weather (there were at least two rain episodes that I had to endure to get to this point).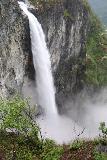 However, upon looking down at the falls, it looked like clouds had just rolled in and obscured the bottom parts of Vettisfossen.
I was cursing my luck that all that effort yielded this subpar view at the moment. However, experience also told me that these low clouds tended to come and go so I was determined to wait it out before I would finally experience the falls in its entirety.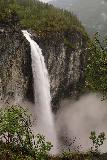 Sure enough, the clouds ultimately parted before the next batch of low clouds moved in and did the same thing. And it was during this window of opportunity that I saw that I still couldn't really see the bottom of this waterfall without some real daring scrambling to the edge of the cliffs beyond the railings.
There was no way I was going to entertain that given such slippery conditions.
Still, I could definitely appreciate that this was the highest freefalling and unregulated waterfall in Norway at 275m, and that height figure was no joke given all the climbing it took to get up here.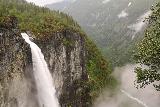 As I was trying to capture the scene with Julie's old iPhone (that served us well on this trip as a backup unlocked phone to take pre-paid sim cards), I found out that apparently my wet shirt might have done a little water damage to it since the cover was worn out so it exposed the connector at the bottom.
I also saw that my notebook that I was scribbling notes on was also wet and seemingly ruined.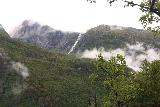 So after writing what I needed to write and fighting Julie's phone to at least document Vettisfossen with it so I could text Julie with this, I then put the stuff into my backpack so it wouldn't have to endure another round of rains and wetness.
At this point, my Les Stroud shirt was drenched. And it also felt like that with my pants, which I had enough foresight to put my wallet (but not the car keys) in the backpack to have another layer of protection against the wetness of the elements.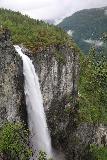 It was mesmerizing watching the low clouds drift in and out of the bottom of Vettisfossen, and I thought to myself that I had made the right decision to go to the top of the falls instead of the bottom like before because those same clouds would have made it a frustrating experience from the bottom.
Indeed, it felt like my Hail Mary was answered, and I was ecstatic that I had finally got to experience Vettisfossen in this manner, which haunted me for all these years that I was never really able to see more than a little over half of the falls from the bottom before.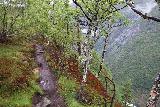 I was also aware that there was another steep path across the valley that would have yielded a complete view of Vettisfossen in full context. However, with the way the clouds were, I definitely didn't entertain that option. Besides, it would have been an even longer hike than what this was, which was already an additional half-hour in time commitment beyond going to the bottom, which was the shortest path distance- and time-wise.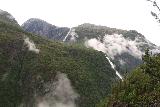 Ultimately at about 4:35pm, I started to leave the lookout platform, but then I noticed other trails of use that skirted by the cliffs.
While the views of Vettisfossen got worse along this path, I couldn't help but notice that there was another pair of gushing waterfalls right across the valley!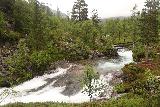 I knew there were other waterfalls that were unregulated in this valley, but I certainly didn't expect to see another one of those on this excursion! I'm pretty sure that this one had a name, but I'd have to figure out such information later.
In the mean time, I was spending time trying to document what I had been seeing before the next batch of weather was surely going to come.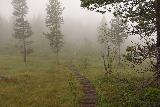 Eventually at about 4:45pm, that was when I finally had to leave the scenery and head back down the trail.
It was during this stretch that when the next round of rains finally came (and with even more vigor than before), that I finally unslung the backpack, took out the rain poncho, put the car keys in the backpack (hoping they didn't malfunction due to water), and put on that rain poncho to protect both my chilling wet body as well as the backpack's contents.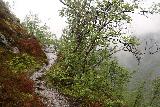 Going down seemed to be every bit as treacherous as going up was hot and tiring. I really had to watch my step as I was going down, and my knees were feeling the aches and pains of receiving so much pressure with each step.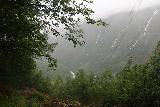 And it was during this long descent that the next round of rains definitely came down hard, which made the really steep parts of the hike even muddier and more slippery.
The shoes were getting heavier because the hiking boots were now completely soaked from the inside out and still accumulating water with the pouring rain.
For sure the new hiking boots that I used on this trip definitely got broken in big time given all the elements that it had to face.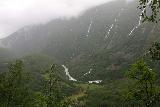 Mercifully, by about 5:35pm, I finally made it back to the Vetti Farm. Now it was pouring rain so I didn't even bother exploring the old path just to see how much things had changed over the years, especially the steep rope- or garden-hose-assisted descent to get back down alongside the river en route to the base of Vettisfossen.
With the conditions so miserable and now my hiking boots feeling the weight of accumulating water (so each time I lifted my legs, they felt heavier thanks to the waterlogged boots), I just tried to ride the momentum of the downhills and trail run.
Eventually by about 6:20pm, I had finally made it back to the trailhead in the pouring rain.
With everything practically a soaking mess, I had to turn on the heater and AC at the same time to try to de-humidify the car as much as possible to allow all the soaked stuff (including Julie's old iPhone and my notebook as well as camera bag, etc.) to dry.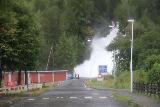 I did pause briefly to try to document Hjellefossen from the other car park, but it would be foolish of me to get out of the car and try to properly experience it under the inclement weather at this point.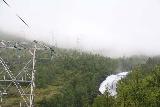 Now, I was trying to make it all the way back to Skjolden. It was getting late and the weather wasn't letting up.
When I finally climbed back up the mountain road leading to Turtagro from Ovre Ardal, I once again paid the 90 NOK to use this toll road, and then descended back down towards the familiar valley between Turtagro and Skjolden.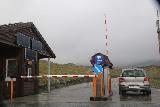 I was in communication with Julie as apparently now the iPhone was well enough to at least let me send Julie texts.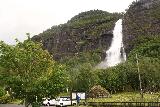 And eventually, when I got to the Vassbakken Kro, which I recalled Julie and I having a nice simple dinner here in the past, this time around, Julie told me to come back to the swim center next door to the Skjolden Hotel where they had already bought dinner and gave me Tahia's leftovers.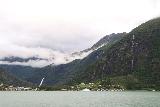 I'd eventually return to the join up with them at 8pm, where I gladly ate Tahia's leftover burger stuff and fries (having skipped lunch today).
I was gladly telling them about my adventures while they told me about their time in Skjolden where Tahia finally got to swim once again. She also got to go up the difficult rock walls in the same complex.
As I was getting towards the end of dinner, I then had this idea to try to pursue Kvinnafossen to at least see how much things have changed over the years for this waterfall.
It seemed like a very crazy idea to push my luck and fit in one last excursion out to the falls before it got dark and then return some time before midnight (hopefully), but I was thinking that perhaps the wet stuff in the car could use an additional opportunity for de-humidification.
Besides, I knew there was cheap gas along the way, and I also knew that Kvinnafossen was a roadside waterfall.
Before I took off though, we did converse with the Hotel Skjolden receptionist at the time, who offered to use a heater to dry off my wet hiking boots and socks. That was a nice gesture on his part.
We also made some small talk about the beauty of this area while he had a genuine interest in our backgrounds and about America.
Anyways, by about 8:45pm, I took off once again and was on my own.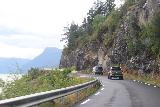 This time as I was going along the narrow parts of the Rv55 towards Luster and Sogndal from Skjolden, I was fortunate to be following a local driver, who was like the ideal pace car for me.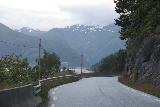 He also seemed to know when to anticipate oncoming traffic and when to gun it on the more visible parts. So we were making very good progress before he turned off at a campsite closer to the turnoff for Jostedalen (which I didn't bother with on this trip since we didn't have the time).
I was on my own at that point, hoping that I didn't set off the speed cameras as I was going as fast as I could towards Hella, where I knew the Kvinnafossen was not far from (just west of Leikanger).
Sure enough, by about 10:05pm, I finally arrived at the Kvinnafossen, which seemed to have a slightly larger car park area than before (but not by much – maybe room for three or four cars or maybe a half-dozen if people parked properly).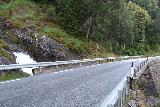 But I didn't have to contend too much with space issues considering how late in the evening it was at this point.
With the even lighting from the long shadows and the semi-overcast skies, I managed to capture Kvinnafossen which seemed to have slightly less flow than from our June 2005 visit. But it still seemed to possess the same character all the same.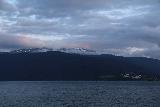 Looking across the vast Sognefjord, I could see pink clouds just getting the last of the sun's rays before sunset.
After having my fill of Kvinnafossen at 10:15pm, I then drove back the way I came. With the lighting low enough to make me use high beams, I had enough confidence to get through a bit of the narrow sections and even pass some of the slower drivers who were caught out in the dark and quite scared of the single-lane parts of the Rv55 (perhaps they were all too content to let me pass).
I also finally filled up on cheap gas and avoided the super high prices of over 17 NOK per liter (paying instead around 14.7 NOK per liter) somewhere near the Urnes turnoff.
By about 11:35pm, I had finally returned to Skjolden, where it took me some time to get the wet stuff out of the car and into the room to try to take advantage of the heater for a couple more hours before I'd finally go to bed at some time after 2am…