Day 1: WITNESSING THE MIDNIGHT SUN
At 6am in Mo I Rana, Julie and I awoke at the Comfort Hotel Ole Tobias and did our usual routine of packing up and loading the car. Then, we had our 7am koldtbord breakfast (this one was one of the more disappointing ones) before we checked out, filled up petrol at the bensinstasjon (petrol station), and headed north on the E6 by about 8:30am.
About half an hour later, we reached a signed turnoff leading into Plurdalen. We were already familiar with this area because yesterday we checked out the Grønligrotta cave as well as Bredekfossen further north.
I expected this detour to not take too long, but the road eventually became unsealed and a bit slow going. Since Rago National Park was on my mind for today, I didn't want this to take too long.
Well, we finally made it to
Sprutfossen at around 9:25am. But this was a very disappointing waterfall as we could only see the top part of it and we didn't really have the patience to search around for a way to get closer.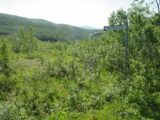 Even though there was a sign pointing the way to the waterfall, it seemed like the way it was pointing went into the bush or went to the cliff. It just didn't seem at all obvious that there was a way to get a closer look at the waterfall below us.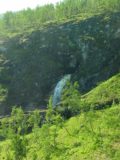 We certainly weren't in an exploratory mood and the thought of bushwhacking for this waterfall wasn't appealing. In the end, we just took whatever partial views of the falls that we could get, and we had to declare this somewhat costly detour a big dud.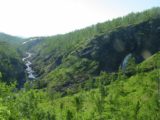 So it didn't take long before we headed back towards the E6 and by 10am, we were back on the main highway (for a fruitless one-hour detour).
Now with much of the morning gone, we still had to get past Hjartåsen, which was where yesterday's Bredekfossen hike started. Only then could we say we went into new ground.
After a long and tiring drive (I had been averaging 4-5 hours of sleep and Julie couldn't drive stick), we eventually made it towards the moors again. There was still a little bit of snow, but the elevation was much lower than Fjord Norway. I reckoned it was the latitude now that made it seem like we were higher in elevation than we really were. It was almost as if we were heading into tundra country or something.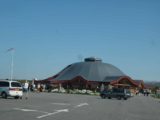 At 11:15am, we made it to the Arctic Circle (Polarsirkelen) boundary. There was a busy visitor center and loads of tour buses here. Julie wanted to have a look and use the facilities. I was in more of a hurried mood so I grudgingly stopped here.
After some more long and tiresome driving, we finally made it into a full blown town called Fauske at 12:30pm. It was probably the first sign of civilization since Mo I Rana. We were also very hungry, and we wanted to get a topo map of Rago Nasjonalpark.
So we ended up walking around town looking for a place to eat and looking for the visitor center. It was frustrating and fruitless because we couldn't decide on a place to eat so we ended up not having anything in town. Ultimately, we spent some time in the visitor center, which was really in the public library. It was kind of weird and hard to find, but anyways, we didn't really find what we were looking for. So in the end, our time in Fauske really felt like a waste of time.
With that we were back in the car at 1pm. But Julie really wanted to see the Lofoten Islands, and I hadn't really planned for it. It was another one of those decisions I made when planning this trip about whether it was waterfalls or other scenery. And given my limited vacation time, I chose waterfalls since it was our mission.
But with Julie's persistence, I eventually relented and went with her suggestion. I knew it was going to be a gamble because I wasn't sure we would be able to take the ferry from Bodø to Lofoten. You see, I knew we would need bookings to get on, especially with our car.
However, I figured we had the midnight sun working for us so it would still be like afternoon all night long, and I thought we could sacrifice a little sleep for a very late arrival in Narvik – site of our next accommodation.
So we took the hour-long drive west to Bodø. It was frustratingly slow due to traffic and road construction. Also, speed cameras were everywhere. I kept having this sinking sensation that Lofoten wouldn't happen on this trip. My mood was also continuing to sour since I knew there wouldn't be a chance to see some of the tall waterfalls in the remote Rago National Park just north of Fauske. The waterfall disappointment at Sprutfossen earlier in the day also didn't help my mood. Plus, I was tired and cranky from the lack of sleep. With the way things were going, this simply wasn't my day.
We finally arrived in Bodø at 2pm. We couldn't find parking so we just stopped in one of the parking spots and I had Julie run into the nearby Visitor Center to try to secure a ferry booking.
That was when she told me the bad news. The last ferry already left, and we wouldn't have gotten on anyways because we had to book at least a day in advance.
So the disappointing day continued. To make matters worse, a guy walked over to our car and insisted that we pay the parking toll. At this point, I wasn't going to put up a fight and we just paid up. I think we ended up overpaying though, but the guy didn't bother telling us that parking tolls no longer apply after 4pm (and we paid till about 5pm).
And with that, we just left our car and started walking around town to salvage something from this trip.
At least we had a decent cafe lunch on the waterfront. We learned once again that reasonably priced food exists in these self-help cafes where you order up front, get food on your tray, and find yourself a seat. The fish was fresh as always. Plus, this lesson learned would be invaluable for a future trip to Norway; to go for these types of meals and forsake the sit down ones. Heck, they were even more fulfilling than the expensive candies and chips we'd eat in the car.
Afterwards, we went into this mall called the Glass House (Glasshuset). It was hot inside as the glass effectively worked like a greenhouse. Not only that, it seemed that Norwegians didn't believe in AC as none of the shops had it. As a matter of fact, we hadn't noticed any AC since the good weather started back in Trondheim. We could tell from the sun burnt faces of other Norwegians that this was probably atypical weather we were experiencing.
Nonetheless, Julie and I went into a record store. We had heard a series of Norwegian songs on the radio, and we thought we might bring some home. Of course at 150 kr for a typical album (nearly $25 USD), it was hardly a bargain. Anyhow, Julie picked up some CDs from Lene Marlin, Amy Diamond, and Royksopp. I finally got a hold of a Norwegian rap song called "Tsjiriåu" (phonetic Norwegian spelling for "Cheerio") by Ravi and DJ Løv – a wonderful blend of Norwegian lyrics and an english chorus to the tune of "Cheerio, Bye Bye."
We also engaged in a political discussion with the record store owner. He asked us how we could re-elect Bush.
Needless to say we were embarrassed, but we couldn't really say anything. We had to apologize and say we didn't vote for him (for the record, we didn't vote for Bush).
But this wasn't the first time nor was this the first country we were asked this question. It seemed like we get that a lot wherever we go, and it's sad that many of folks back home simply aren't aware of the propaganda and government corruption – much of which drives the downright maddening foreign policy of ours. Anyways, this was beyond our control and all we could do was just roll with it and hope we don't become hapless victims from all this someday.
So with that, we left with our merchandise and headed back to the car. My mood improved somewhat, but it was still sour.
In terms of what I wanted to accomplish, this was a day to forget. Not only did we not have the time to see the waterfalls in Rago Nasjonalpark, but we lost our gamble that we might be able to catch a ferry to the Lofoten Islands without bookings. Furthermore, the disappointing Sprutfossen was our only waterfall experience for the day.
So now that it was 5pm and we still had to get to Narvik, which was 4.5 hours away with a ferry ride at Tysfjorden, we had to leave Bodø and backtrack to Fauske where the E6 continued north.
By now, I was not only emotionally spent but physically too. The drive felt like a long daze and I didn't quite pay as much attention to the scenery as I would have liked. It was a shame too because there were mountains around us that had all sorts of interesting shapes. It was almost a taste of what we would've seen at Lofoten.
The ferry ride was a blur for me because I used it as an opportunity to take a nap. Julie was busy taking photos, however, leaving me to catch my Zzzs.
We finally made it to Narvik at 10pm. After getting lost in town because there was this strange phenomenon where we could see street signs hidden on buildings in one direction but not in the other direction, we finally checked into the Norlandia Narvik Hotel, where we brought in our stuff to our room.
Once we settled in at the Norlandia Narvik Hotel, we decided to head up a cable car that was literally right in front of the hotel.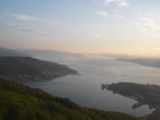 And so the cable car took us pretty high up over the town of Narvik. I didn't quite understand why the Lonely Planet book said this place was ugly, but we sure didn't feel that way.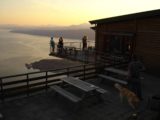 The warm glow of the late evening sun also made things a bit cheery. I was still in a bad mood, but things were looking up. At the top was this restaurant that made some basic shrimp salad with toasted garlic bread. Considering we were hungry again, it was quite a satisfying meal even though it was basic. The only thing really bothering us were mosquitoes, which were something we hadn't seen the entire trip!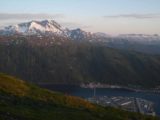 The restaurant had this strange overhanging platform with no supports at the far end of the platform. It was as if someone put a large rectangular board at the edge of a mountain and put some weight over a fraction of it – leaving the rest of the board to overhang like a spring board. When we did stand on the platform, we didn't stay on it for long. But there were other people who stood on there for ages and didn't seem to have the same reservations that we had.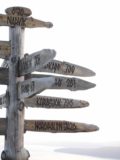 When we were done eating, it was almost midnight. The sun didn't seem to move any bit closer to the mountainous sea islands on the horizon to the west. The orange-reddish glow (from the sun's rays pinballing a long way through the earth's atmosphere) painted the building and the mountains behind us and was really calming. The skies were a dark blue and purple. The seas were calm.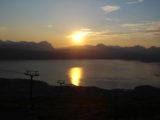 All of the sudden, the worries and disappointments of the day were forgotten. Julie and I held hands and watched the midnight sun as the clock struck zeros (midnight in military time). I don't think we had ever experienced anything as romantic as this. The surreal scene that brought peace to an otherwise chaotic and frustrating day couldn't have happened at a better time.
Now that it was starting to get cold (even with the sun up), We returned to the cable car and headed back to the hotel.
With Julie's eyepatches strapped on (she prepared us for the midnight sun) and curtains closed, we went to sleep and rested our tired bodies.