Day 2: THE FIRST AMERICANS IN TWO YEARS
Despite the relaxing and romantic midnight sun last night in Narvik, Julie and I woke up at 6am and proceeded to load the car and have a quick 7am breakfast. By 7:45am, we had left the Norlandia Narvik Hotel and embarked on a very long drive on the E6 to Storslett.
With all this driving, if I had to do things differently, I probably would make use of the Hurtigruta (a hop-on-hop-off cruise/ferry going up and down the fjords of West Norway), which would've allowed us to get on and off whatever port we wanted. If we played our cards right, we could've traveled by night (sleeping on the ferry) and have the day to explore. Oh well, that was for next time…
I was already sleepy and tired this morning as I drove deeper into North Norway away from Nordland county and into Troms county. We noticed a sign that said "Målselvfossen" and decided to check it out. This was totally unexpected and we didn't even plan on visiting this sight. I guess it couldn't have come at a better time because I was getting quite sleepy behind the wheel.
The paved highway roads to the waterfall were well signed. I thought this must be a major waterfall to get this kind of infrastructure. When we finally arrived at the huge car park at 9:35am (it had room for tour buses though we didn't see any), we got out of the car and hurriedly walked along the path to the waterfall to see what it was about.
Well the waterfall wasn't exactly anything to brag about. It was really a long series of rapids with a salmon ladder to let the fish go further upstream. But at least it was a welcome break from the monotony of driving.
Apparently Målselvfossen was Norway's national waterfall due to abundant yields of salmon. I'm not sure if it still has this status, but we saw lots of fishing signs and a supply store at the car park. So surely, it must be a popular spot for this.
By 10am, we were back on the E6 and continued to drive north towards Storslett, which was still a long way to go.
It was about noon when the E6 weaved around the Kå Fjord with a few waterfalls tumbling along its sides. Shortly beyond this fjord, we started to notice some regal-looking snowy mountains rising from the sea.
I didn't know it at the time, but they were the Lyngen Alps. Looking at these moutains jutting up sharply from the channel really reminded me of looking at the Grand Tetons over Jackson Lake. But the Lyngen Alps were longer and I could see massive waterfalls blending in with the snow out in the distance. Surely it was a place worthy of exploration, but we would have to do it on a future trip and be willing to spend lots of time there, which might be something we won't have given our limited vacation times and list of sights we still want to see.
The Lyngen Alps provided some great eye candy, but they felt so distant from the E6. So we motored on and continued towards Storslett.
It was nearly 1pm. By now, I was getting tired of driving. Just how much longer did we have to drive until we arrived at Storslett? Complicating the situation was that I badly needed a restroom break and there simply didn't seem to be any places in sight that we could do our deed!?! So with my bladder painfully pushing against my sides, we finally just pulled off a seemingly quiet road and did what we had to do – hoping nobody would see us.
Fortunately, no one did and we merrily continued the drive past Sørkjosen and eventually its neighboring town of Storslett. We arrived at the Norlandia Storslett Hotel at 1:30pm, but it was still too early to put our stuff in our rooms. So we asked if we could leave them at the front desk (which they gladly did).
We also asked the clerk if they could help us contact one of the traditional motor boat operators so we could see Mollisfossen this afternoon. At first, the clerk dialed then handed us the phone. Soon we heard someone respond in Norwegian. Unfortunately, the person we called didn't know much english so we quickly gave the phone back to the clerk and he translated our wishes to the other person on the phone (who happened to be the boat operator).
Eventually, the deal was set. However, we had to pay some 1200 kr between us even though it could support four or five people. Oh well, we weren't about to spend more time hunting down people to go on this excursion, and we weren't going to be denied a visit to Mollisfossen.
We were supposed to meet with the boat driver at Saraelv 2:40pm. There was a road (Rv865) that went directly inland towards Reisa National Park and ultimately ending at Saraelv after a fairly long stretch of unpaved roads.
So Julie and I went to the meeting spot. It was at the end of a pretty rough road that ultimately ended besides the river. There was one other car parked there but no one was around. With a few minutes to go, Julie and I stayed in the car because there were clouds of mosquitoes and wasps all around the car. We weren't going to wait outside for too long.
Finally, it was 2:40pm and I got out of the car to brave the mozzies and wasps. And there was the boat driver pulling up to shore. I asked him in Norwegian if he spoke english, and he said "Nei" (meaning nope). However, he did know a few words in english and we were able to work out a way to communicate with a mix of Norwegian and English. I was kind of excited that finally my informal Norwegian lessons were paying off!
So with that I told him in Norwegian that my wife was in the car. And I beckoned Julie out of the car. We both approached the boat and paid the boat driver in cash. He went on to say the boat ride was about 45 minutes each way. And then we left at 3pm.
The boat ride was a bit primitive. Both Julie and I sat on low lawn chairs with legs stretched out in front of us. In the back was the boat driver. It was hard to have a conversation over the noise of the motor so we basically looked around and took photos as the boat was moving.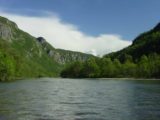 We went up the Reisa River with trees and valley walls surrounding us. The walls weren't quite as tall as what we had seen in fjord norway. This was more of the traditional river valley as opposed to the glacier-caused ones.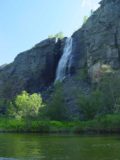 There were a few hairy spots where it almost looked like we were going to run over some rocks or shallow areas, but the boat driver definitely knew what he was doing.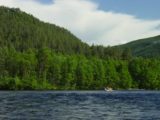 We eventually saw a waterfall plunging over one of the cliffs. No, it wasn't Mollisfossen, but it was impressive nonetheless. It was really a taster of what we were going to see next.
Shortly after this bit of eye candy, we saw another river boat going the other way. There were five passengers on that boat and they all waved at us as we waved back. Apparently, such tours like this are popular with local holiday makers.
Finally at 4pm, we could see Mollisfossen towering above the trees in the distance. Before long, the boat driver stopped the boat at a landing area and tied the boat to a pole. He gave us about half an hour to get to the falls and back, which was no problem considering it was a short walk on a flat trail.
As Julie and I approached Mollisfossen, there was another group of people enjoying the base of the falls already. There were wildflowers growing in the grass before the tall waterfall. But the waterfall itself was quite a beauty.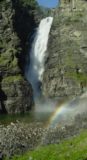 So as Julie and I took photos, I decided to scramble up a rocky hill and get a cleaner view of the falls with a wide angle lens. There was a rainbow refracting in the afternoon light and the cloudless sky provided the perfect contrast to the white of the falling water.
But as I was busy taking photos, I felt something sting through my thick wool socks. I was wearing Chacos so my foot was exposed. When I looked down, I was shocked to see a wasp clinging to my sock!
In my startled state, I frantically kicked and tried to swat at it. I think all it did was get the wasp to swarm around me. It got in another sting before I hurriedly scrambled back down the hill.
Still, I was going to seize the moment at the falls by taking a few more photos with Julie here. But hastening our departure was the fact that the wasp wouldn't leave me alone! We saw a few more wasps hovering around us, and that was our cue to get moving.
Grudgingly, Julie and I left the beautiful falls and returned to the boat where the boat driver was waiting. He had already set up a fire in a fire pit, and it seemed effective at keeping the insects away.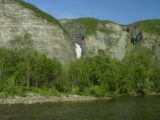 The driver asked me how I knew Norwegian, and I told him, "Jeg leser boker." (I read books)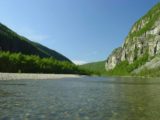 With a nod of approval, we went on to make more small talk in mostly english. Apparently, he knew a little more english than he led on. But he learned we were from Los Angeles, which I guess was unusual in these parts. He told us that he enjoyed driving the boat through the park and the slower pace of life.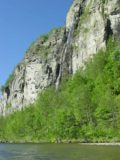 After the small talk ended, we were back on the traditional motor boat and headed back to the car park. We arrived at the car park at 5pm. But not before we exchanged final pleasantries and saying thanks ("Takk!") to him.
He went on to tell me, "Du må snakke mer norsk!"
In my limited Norwegian, I didn't process what he said in real-time so I went on to reply, "Ja!"
Of course in hindsight, he told me, "You must speak more Norwegian." It was fun practicing with him in a situation where it was actually needed. Julie chides me about this telling me I'm a show off.
And so we exchanged waves and said "Ha det!" to each other. Then, we headed back to the car.
We returned to the hotel at 6:15pm, where we promptly checked into our room and moved our belongings from the lobby to the room.
Apparently, Storslett was off the beaten track for tourists. This was because the front desk clerk at the Norlandia Storslett Hotel told us that we were the first Americans they've seen in two years. Now it made sense to me why we seemed to run into more people who didn't speak as much english as the rest of the Norwegians we had met.
Now that Julie and I were hungry, we headed into town and went to a restaurant where we ordered up front but picked a table and had the food brought to us (kind of Carl's Jr. style). Once again the price was reasonable (for Norwegian standards) and it reaffirmed the belief that this was what we should've done all along when it came to dining.
When we were brought our food, we were once again blown away by the freshness and flavor of the local grilled fish we ordered. The Norwegians really knew their fish!
As we happily ate our dinners, I couldn't help but notice the map on the paper place mat we ate on. I noticed there was a waterfall that was only minutes away from Storslett called Fosselvfossen. Since we were well north of the Arctic Circle boundary and knew we would have midnight sun, we had no problems going on this excursion before returning to our hotel room to shower and sleep.
So we left the restaurant at 8pm and noticed Fosselvfossen high up on the cliff at 8:20pm. Now we had to figure out where to park. But fortunately, the friendly lady at the camping place let me park the car on her property for free. So with a smile and a little guilt, I took her offer and hiked closer to the waterfall. Julie stayed in the car as she was tired from the food coma.
The path to the falls was consistently uphill. I tried to be quick on the hike, but I quickly ran out of breath and went back to walking as I got towards the grassy slopes with sheep on them. When I looked back behind me, I could see the late evening sun painting the grassy landscape and Straumfjorden orange.
Fosselvfossen looked so tantalizingly close, but the hills kept obstructing parts of the falls. So I did a little scrambling on the sloping grass towards the ravine to get a cleaner view – being careful not to step on the sheep dung. When I managed to get my photos, I now had the task of finding the trail again leading downhill.
It wasn't trivial, but eventually I found the trail and quickly made my way back down the hill. I was back at the car at 9:30pm. Julie commented that I was a sweaty mess, but that was ok. We were now headed back to the hotel to shower.
Back at the Norlandia Storslett Hotel, we cleaned up.
Then, we turned on the TV and noticed some commotion going on in London. The news was all in Norwegian and they spoke too fast for my comprehension, but I did hear the word "bomb" and the pictures showed a devastated subway. And from that it became apparent what had happened…
So as much as we had forgotten about the BS back at home, this bit of news was a sobering reminder that the realities of the world were never far away…