Day 3: BLACK MEAT
It was about 6:30am when Julie and I awoke. Today was going to be the last day of waterfalling (and last full day of sightseeing) on this epic trip through Norway. It felt like it was so long ago when we first came to Oslo, but it was really just under 2.5 weeks. Yet we did so much in this time, and I guess Julie and I were looking forward to returning home, especially for a little relief on my wallet from how expensive everything was out here.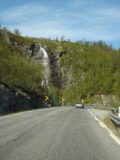 After our Norwegian koltbord breakfast (something we were now quite accustomed to at this point of the trip), we left Storlsett at 8:10am. We drove back down the E6 as we noticed another waterfall tumbling besides the highway. Indeed, the waterfalls really felt like they were becoming ho hum at this point. It just seemed like everywhere we went, we saw them. And the exercise of singling them out and identifying them seemed futile.
Continuing back down the E6, we once again checked out the impressive views across the Lyngen Channel towards the Lyngen Alps. Once again, the Grand Tetons-like view made us fantasize a little bit about what it might have been light exploring that area. But we had to keep pushing forward because it certainly wasn't going to happen on this trip.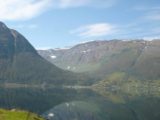 Next, we eventually re-entered the shores of the Kafjorden. And once again, we saw the waterfalls spilling into the Kafjord. Unlke the first time we passed through here, this time we stopped to get a better look at many of the waterfalls. After all, we only had one waterfall targeted for today before we would head over to Tromso.
Apparently there was a huge waterfall at the head of this fjord, which we stopped for at 9:30am, but we didn't drive much further into the valley for a closer look.
We then continued driving further south towards the town of Skibotn where we then turned off the E6 to go onto the E8 which led towards the border with Finland though it was also quite close to the Swedish border as well.
We'd eventually arrive at a narrow long pullout that was signposted "Rovijokfossen" though the sign was faded. It wasn't really easy to see and we actually missed it on the way in and had to backtrack (as we had gone about 10km too far towards the Helligskogen Forest. We stopped the car at about 10:50am.
As we walked along the walking path, it skirted the descending watercourse beneath the E8. It was hard to get a good look at this waterfall, and it was clear that we would need to walk all the way to the bottom to at least get a decent look at it.
So we followed the railings all the way down until the railings ended, then we followed a steep dirt trail that ultimately took us down to the misty base of the waterfall besides the twisting creek. It was a nice angled view of the falls and the flowing creek going further downstream, and it was a fine way to cap off this epic trip from a waterfalling sense since this was indeed the last waterfall of this trip.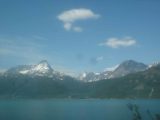 When we had our fill of the falls, we returned to the car and headed off for Tromso at 11:15am.
Ultimately at around 2pm, we arrived in the city of Tromso and checked into our accommodation. Once we dropped off our stuff, we then walked around town while looking for a place to eat.
It turned out that the most interesting place for a bit and a stroll was near some waterfront. I was a little taken aback when we were wandering around and some middle-aged dude decided to pull his eyes sideways in that derogatory anti-Asian gesture, but we thought nothing of it and kept about touring and trying to enjoy our last moments of sightseeing in the country.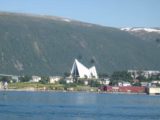 I recalled that we then caught a bus to the University of Tromso museum at around 4pm-ish, and then we checked out the museum itself at around 5pm-ish. There was a Northern Lights show, but it felt like a little bit of a waste since there was no commentary.
Anyhow, we were back in the town at around 6pm-ish, and we strolled around some more while looking for one last place to have a dinner.
This time, we allowed ourselves to splurge a bit.
We ended up eating at this place called Verthuset Restaurant, and the main claim to fame here it seemed was the whale and seal meat that was on offer here. We felt a bit guilty about wanting to try whale meat, but we instead went for seal meat.
I ended up getting some kind of sea fish (cod perhaps? I forgot) but it turned out to be a lot more bland than the seal that Julie got.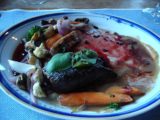 Speaking of the seal, it turned out that the meat was very dark (almost black). But it was very tender and tasty. We were told that whale meat was similarly dark, but I guess we would never know what that would taste like until we would come back and give it a try, I guess. Who knows when that will be, and who knows if whales would still be around if/when that happens?
And so when our dinner was done, we basked in the views of the waterfront which was still under what looked like late afternoon lighting even though it would've been night time in most parts of the world. It was pretty crazy that there didn't seem to be a night time since we were up above the Arctic Circle (Polarsirkelen), but this unsual scene definitely stayed in our minds and it would be one of those things that reminded us that we weren't at home.
Indeed, we would always try to get this unusually pleasant feeling of being in a foreign land doing things we could never do at home or seeing things we could never see at home; no matter which future trips we would go on…
And so we returned to our room so we could do some last-minute packing in preparation for the long travel day tomorrow. And by 10pm, we finally slept with the eyepatches on and curtains pulled.