Day 18 (June 30, 2019 – Hurtigruten Cruise, Norway): "Dark Skies"
It was 6:30am when I awoke up to Julie's phone alarm. Still, I felt pretty well-rested.
When I got dressed and finished tending to my hygiene, I then went upstairs towards the Explorer's Bar, which was quite the popular spot last night.
The boat was actually moving and rocking quite a bit. And when I looked outside, I saw that it was foggy outside. The coastlines were definitely shrouded in a thick layer of mist.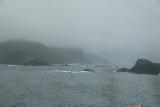 Well, if there had to be bad weather, it mind as well be while we're moving on a boat without much to see at the time.
The rocking and swaying of the boat kind of messed up my equilibrium somewhat (no surprise there as I get seasick very easily).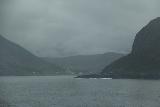 I used this time to try to get caught up on some of my photo and blogging work though it was getting increasingly difficult due to the motion sickness I was getting.
At some time after about 7:30am, Julie and Tahia found me at the Explorer's Bar at the front of the top deck of the ship.
They said they were going for the included breakfast buffet, and so I wrapped up and joined them soon thereafter.
After having last night's dinner buffet, the breakfast buffet seemed like a total indulgence in gluttony. There was simply too much food and too much temptation to get food.
We had been pretty frugal with portions and eating healthy, but it was all going out the window with the cruise meals.
That said, to the Hurtigruten's credit, the food served here was actually pretty good and fresh. Still, self control was hard to do, especially when we paid nearly an arm-and-a-leg per person for the privilege.
At around 9:15am, we were still in the Torget eating room on the ship, and we could see that we were getting to some town called Torvik.
It appeared that the weather there was improving, and it gave me hope that perhaps our Geiranger experience might not be so bad after all.
At 10am, we spent time listening to a funny presentation about the ship's excursions on offer before we then ultimately took some time having lunch at 12:05pm.
Once again, we overpaid for the buffet, and by this time, I was getting sick of overpaying for food as well as buffet food in general.
Whoever came up with this concept of all-you-can-eat was real devious, because portion control was near impossible, especially given that we were paying upwards of $80 USD per person on the lunch buffet!
As we were eating, we were seeing that there was starting to be more scenery as we looked out the window. Even though I suspected that we weren't in Geiranger, apparently we were in Sunnlyvsfjorden. And that place was no slouch itself in the scenery department.
So I wound up leaving the lunch a bit early (and removing myself from the temptation of overeating even more), and then I walked onto deck 5, which just so happened to have an outdoor deck that went all the way around the ship.
I took advantage of this as the weather was momentarily looking fine. However, I did see that there were some angry looking skies in the direction that we were headed.
I was hoping that it would be a short and temporary squall that we'd be passing through, but the skies looked really dark and angry with no end in sight.
Sure enough, we didn't even make it to the junction of Sunnlyvsfjorden and Geirangerfjorden and the rain was coming down quite hard.
On the 7th deck in the rear, there was a presentation by an excursion person pointing out the various sights along the way.
When I went up to that deck, I saw that all the people were huddled close together in the only shelter on the rear. It wasn't exactly a pleasurable touring experience.
So at some point, this way of touring was getting old, and I just kept the printout which let me know of the place names of the sights we were encountering on this part of the cruise.
However, I retreated back to the fifth deck where I was busy moving around trying to brave the bad weather while still trying to experience both Sunnlyvsfjorden and Geirangerfjorden despite my pants getting soaked.
As we went deeper into the foggy and heavily-rained-out Geirangerfjord, there were numerous waterfalls coming down like veins in much the same way that was reminiscent of the Milford Sound Highway in New Zealand.
Indeed, this was quite a different experience than what Julie and I had experienced the first time around when we were enjoying several consecutive days of sunny and cloudless weather, which included the Geirangerfjord.
Every time I tried to take a photo or a video, I knew I was risking water damage inflicted on the camera.
Even when I was under shelter, the rain was coming in at an angle since the cruise ship was moving around 18 mph.
As we got past the familiar Ljosurfossen, which now was accompanied by a plethora of thinner plunging waterfalls in parallel, the boat then went right into the tight bend where both Friaren and the Seven Sisters were right across from each other.
With the dark and low canopy caused by the clouds, I couldn't get the nice Geirangerfjord view framed by both waterfalls. It was kind of the scene that was re-drawn with creative liberties by one of the Frozen books from Disney when Tahia was all into it a few years ago.
Clearly, they had their inspiration from this place.
With my pants soaking wet, we eventually got past the worst of the squalls just as the boat was slowing down and coming to a stop near the head of the Geirangerfjord.
The boat didn't go all the way to the dock, and actually, we waited there a while so excursion passengers could ride a smaller boat to go ashore and go on their booked excursion.
The rest of us waved to those passengers (who would meet us further on in Molde). Meanwhile, other passengers may be coming aboard the Hurtigruten from Geiranger.
Eventually, after 15 minutes of stoppage, the boat then went back through the squally Geirangerfjord.
The weather seemed to have gotten worse at the Seven Sisters and it wasn't until we got past Ljosurfossen again did the weather finally start to improve.
By about 3pm, we had finally left the Geirangerfjord and I figured that the best of the photo ops had passed.
However, I was shivering from the combination of wet pants and wind chill from the moving ship. So I decided to go back inside and down to the 4th deck where there was an interesting lecture on how the fjords were formed.
This lecture finished some time near 4pm. But there was another one at 4:45pm, which was about getting to know Norway.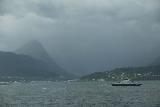 The lecture was finished at 5:15pm, and it was raining outside once again.
After listening to the pretty funny lecture, we then had Julie change the dinner reservations to 7:30pm upon learning that her original reservation of 6:30pm would have screwed us out of experiencing Alesund.
We so badly wanted to get out of the ship, and it would be a shame to be couped up in the ship in the lone hour that we had to get off the ship and experience a town before getting back on.
Once that was done, and once the ship landed after 6:30pm (we had put on waterproofs just in case), we then rushed our visit as we made a beeline to the main part of town as well as the Alesund church, which was quite a ways away.
In fact, we barely had enough time to simply walk all the way to the church before returning to the Hurtigruten about 7:20pm, which was ten minutes before departure.
Finally at 7:30pm, we had our dinner at the Kysten restaurant on the ship, which was actually their take on fine dining. However, we knew that ordering a la carte was cheaper than the overpriced dining room, which tonight was some 550 NOK per person for a three-course fixed-price menu.
We wound up getting a very good ravioli of king crab and reindeer stock bone broth, while Julie and I shared a couple of scallops.
Our mains consisted of a reindeer dish from Finnmark and I got a local pork dish from Trondelag.
And they prepared it with gluten-free in mind since they had time to prepare for this.
So in the end, we enjoyed the meal. And it was so good that we even indulged in the chocolate terrine, which was sweet and probably not a good cheat as far as healthy eats were concerned.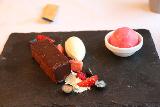 Dinner ended at 9:20pm. At that point, I asked the excursion person about Torghatten knowing that we woundn't have an opportunity to see it until around 1am tomorrow overnight.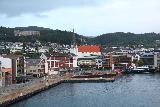 However, he said that the ship might not bother going there if the wather would be bad, and it was forecasted to be as such.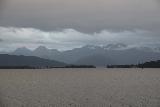 So, we'll just play it by ear and see if that's even worth staying up at night to check out. I know we're supposed to be checking it out as part of the Kysteveien (the famous coastal route) between Bodo and Grong.
Regardless, I finally retreated to bed to call it a day.
Visitor Comments:
Got something you'd like to share or say to keep the conversation going? Feel free to leave a comment below...
No users have replied to the content on this page