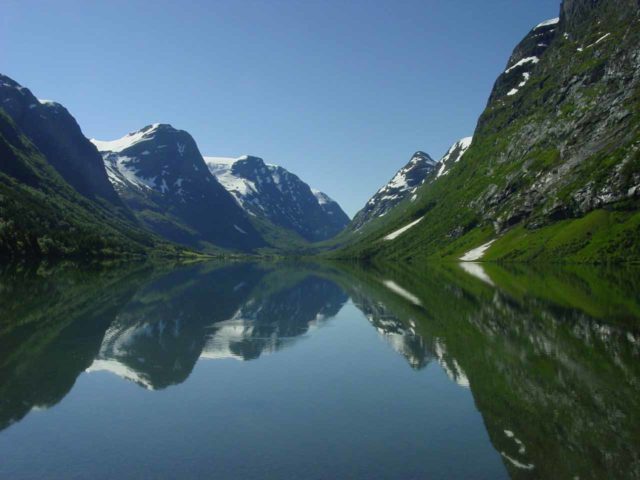 27-June 2005 to 1-July 2005:
It was now past 1am and we were desperate to find some sort of clue as to where the Trolltune accommodation was. As we drove through the darkness and sparse Dombås town lights, we finally found the visitor center (closed of course). Julie got out of the car and walked up to a town map taped onto the window. I tried to use a little high beam to give Julie some more light as she was reading the map. Just then, a police car with a pair of officers pulled up from behind us and had its high beams flashed onto us. Clearly, they must've thought we were up to no good…
Day 1: THE LADIES OF KJOSFOSSEN
I woke up at 3am and had only slept for about 90 minutes. The snafu that took place with our itinerary and the 24km detour away from Voss really cut into my sleep time. However, I was determined not to let this get in the way of my waterfall hunt.
So with Julie sound asleep, I made my way out the door of Vossestolen (which was left unlocked as I had told the proprietor last night that I would make an early departure), and was driving back towards Voss at 3:30am.
By 4am, I saw the Dyrvedalen signs and followed it into a quiet residential neighborhood. Trying to follow the topo map printout (from Norgesglasset), I slowly made my way towards an unsigned and unsealed road past a metal grating towards a station that looked like another self-help toll station. I didn't understand what was written on the sign so I just went ahead and proceeded onwards.
The road was quite rough and I really had to go slow to ensure the undercarriage of the car wasn't scraped. The road looked like it was more suitable to four-wheel drive, but so far the passenger car I was in handled it fine.
After passing over a scary bridge over a watercourse (possibly the river responsible for Dyrvedalen), I eventually saw the regal, two-tiered Siseljafossen. Since the rain was coming down hard, I wasn't going to get out of the car for a closer look. Besides, it was densely forested and the view from the unpaved road was just fine. So with the car window rolled down and the rain wetting parts of the interior, I took my photos then looked for a safe place to make a three-point turn.
There didn't appear to be any pullouts or clearings in which I could turn around. It was frustrating to say the least and I kept driving deeper into Dyrvedalen unsure of where this road was going.
Finally, I saw the driveway of someone's farm and used it as the spot to make my turnaround.
And with that I left Dyrvedalen and headed back towards Voss. It was a little after 5am when I returned to Voss. Then, I headed north on E16. By 5:30am, I was at Tvindefossen. Now that the light of the day was getting brighter, at least I could take better photos of the falls. However, rain was still on and off.
Anyhow, this waterfall was easy to photograph as it was set in a clearing that looked like a spot for camping. With my tripod and camera positioned carefully on it, I was careful to shield the lens from rain droplets. Then, I took plenty of long exposure photos of this light flowing waterfall.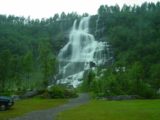 I was back at Vossestolen at 6am and climbed back into bed with Julie for a brief half-hour nap.
It was 7am when we got up again, packed up our stuff, and headed for breakfast. For a place that was as cozy and rustic (wink wink) as this, we were surprised at how good the hot breakfast was. Apparently, Julie and I were amongst the few people not on a bus tour, which dominated the dining area.
By 8:30am, we checked out and left Vossestolen Hotel and headed to Stalheim. We didn't realize how close we were already to the Stalheim Hotel and in a flash, we were already at the car park for the hotel by 9am. I guess it was a testament as to how far away from Voss Vossestolen was!
Anyhow, there was a sign at the hotel front that said the terrace with the view of Nærøydalen was for patrons of the hotel. Julie went in anyways and I followed her out to the terrace.
The terrace was a beautiful overlook. We couldn't see neither of the two waterfalls we knew were here – Stalheimsfossen and Sivlefossen.
However, we did get a nice sweeping view of the narrow Nærøydalen down below. Way up ahead, we could see Kjelfossen, which was one of Norway's taller waterfalls.
Next, we proceeded to take the slow, narrow, steep, and winding road down the famous Stalheimskleiva. It had something like 11 switchbacks with around a 10% grade. Needless to say, I had to leave the car on first gear and still use the breaks judiciously. As we made our way down, we could see Stalheimsfossen after the third switchback and Sivlefossen around half way to two-thirds of the way down.
Finally, we made it to the base of the old road and found a car park, which we decided to take. We proceeded to leave the car and do a short flat paved walk along the river to the base of Stalheimsfossen. It was pleasant and a nice break from driving for a change.
After the short walk, we regained the car and rejoined the E16. There were lots of cars and trucks whizzing by as they took a tunneled route that bypassed Stalheimskleiva.
Now, we drove right through the heart of Nærøydalen. Ephemeral waterfalls were plunging down the cliffs on both sides of the vertical valley. When we got close to the Shell Petrol Station up ahead, there was a pullout where we could get closer views of Kjelfossen (by the way, the letter combination "kj" sounds like "sh" so the gas station was appropriately located so to speak).
After taking a few photos of Kjelfossen, we proceeded through the tunnel and ultimately ended up at the township of Flåm. We continued towards the train station and parked our car in the massive car park.
Somehow, we had a sense that the train was about to take off. So we rushed our way to the ticket station and paid for our ride. Sure enough, the train was about to leave in less than 5 minutes! Talk about perfect timing!
So the train proceeded down the track at precisely 11am. It wasn't long before we saw the first waterfall, which was unofficially called Brekkefossen since it was near the community of Brekke. Not long after this waterfall, we saw Rjoandefossen.
Even though the train initially was crowded, it moved slow enough and smoothly enough that no one really stayed in their seats. That was cool because some folks like us wanted to take photos and we really didn't have problems with that.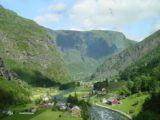 The train proceeded to get to the half way point between Flåm and Myrdal (the destination and turnaround point of our ride). It was here that the train stopped and had to wait for the other train (going the other way) to pass. It was the only spot in this stretch of railway where the trains could pass each other and hence the wait.
Finally, the train started moving again.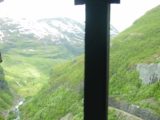 Now, the railway passed through numerous tunnels. When the window was open, you could hear the screeching of the brakes with an almost deafening high-pitched echo.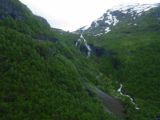 In between tunnels, we managed to get interesting photos of a waterfall that went besides a series of switchbacks. I believe the waterfall was unofficially called "Myrdalsfossen".
And so the Flåm Railway continued to screech and make its way through several tunnels. It was around this time that the PA announcer mentioned some kind of rumor that the area was haunted by some ladies. Now being the cynic that I was, I knew where this was going. You see, during my trip planning, I had already known about the ladies dancing before Kjosfossen – perhaps the waterfall highlight of the Flåm Railway. I had the feeling it would be cheezy, but at least I'd get to witness it in person.
And soon enough, the train stopped by a large wooden platform in direct view of the upper parts of the Kjosfossen waterfall. As people got out of the train to crowd the wooden platform, music started blaring from the train's speakers, and out came a lady before the giant waterfall.
My first thought was how cold she must be dancing before the mist of the waterfall. It looked like she was awfully close to the falls, but then again, maybe the rocky area she was dancing on was bigger than it looked from the platform.
The dancing lady would do a few moves then head back towards some stone building ruins. Not long afterwards, another woman would come out. I knew there was more than one of them, but they coordinated their routine to make it look like there was only one. Anyways, it was an amusing scene and cheezy like I expected. But, it was definitely a unique Norwegian sight and both Julie and I were glad to see them do their thing.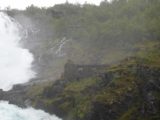 By noon, the train made its last stop at Myrdal where it waited for about 15 minutes before heading back to Flåm. It gave transferring train passengers a chance to hop onto this train as Myrdal was where a couple of rail lines intersected.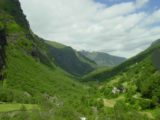 When the train headed back to the start, the PA announcer made the same announcement about the ladies haunting Kjosfossen. Sure enough, minutes later, the display before the big waterfall was repeated.
We ultimately made it back to Flåm at 1pm. At that point, Julie and I spent lots of time at the pay phone trying to get in touch with the Nordic Company about the mistaken booking of Geiranger instead of Dombås on July 1. It was obviously a mistake that ended up costing time and money – especially the long distance call. Anyways, Julie did get in touch with the Nordic Company somewhat and at least the matter was going to be addressed. So at that point, there was nothing more we could do and we headed back to the car after having a brief lunch.
When we got back in the car, we decided to drive into Flåmsdalen. I just had to get my curiosity out of the way in terms of whether it was better to self drive or to do the train.
Anyways, the road into the valley quickly became unpaved and narrow. We were sharing the road with hikers as well as mountain bikers. We did get less-hurried views of Brekkefossen, and we also got unusual views of Rjoandefossen across the green river in front of us. Quite interesting indeed…
Eventually, the road continued to narrow and even cross the Flåm Railway a few times. Along the way, we noticed the informally named Tunnshellefossen as well as numerous unnamed ones we couldn't identify.
By 3:15pm, we arrived at a sign and a large cul-de-sac. The sign read, "Blomheller." But we weren't sure if this was the end of the drive or not. So we continued to drive forward.
Now, the road really narrowed and started to look like a trail. Even the tunnels we passed through looked quite narrow. We also received strange looks for people on the trail. It quickly became apparent that perhaps this was meant to be a trail and not for automobiles. Oops.
Now we have to figure out a way to turn around. Unfortunately, the roads were too narrow to do a three-point turn so onwards we drove, looking for a place to make the turn. Finally, we saw a small widening of the road, but not by much. It was our opportunity to do our best Austin Powers imitation by making several iterations of driving back and forth the narrow road to turn the car around. Eventually, we'd end up successfully doing it, but not before some nervous moments.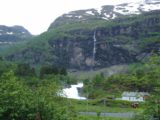 Well, at least the one positive from this adventure was that we got a photo of an attractive waterfall that spilled into a deep-looking pool (which I think is called Kårdalsfossen).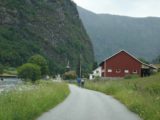 We finally made it back to the wider road, briefly read the Blomheller sign, then proceeded to return to the Flåm area. The progress was slow on the way back since we had to wait for bikers to let us pass as there really was no room to pass them.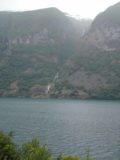 As we left Flåm and headed towards Lærdal, we went through a very long tunnel called Lærdalstunnelen. It had a pair of what I called "ice" sections where the blue light would break up the monotony of the dim tunnel lighting and high speed of traffic. Speaking of speed, they did have speed cameras strewn throughout all the roads (including the tunnels) so we definitely didn't want to take our chances paying a hefty fine.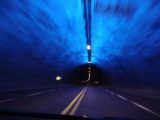 After getting through the tunnel, we hung a left and headed into the small but picturesque fjord-side town of Lærdal. We noticed a tall waterfall (Stødnafossen) on the north side of town and took some time to take photos of it from the residential area near town. By 6pm, we finally checked into the Lærdal Hotel.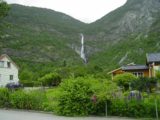 We spent a few minutes to unpack our belongings and then head back out towards Hemsedal at 6:40pm; taking advantage of the late sunset. The drive out east was a bit non-trivial as we followed more mountain roads. Along the way, we saw more miscellaneous waterfalls though we didn't see Sjurhaugfossen, which according to my pre-trip notes was somewhere along the way here.
We ultimately arrived at the trailhead for Rjukandefossen at a little after 8pm. There was still some afternoon sunlight so we got decent photos of the waterfall after a short walk through a confusing series of intersecting trails (most of them false).
Shortly after this, we drive past the ski town of Hemsedal in search of Hydnefossen. We finally found it at 8:50pm.
This series of waterfalls flowing side-by-side looked best in profile as we approached it. But as we saw it from the front, it hardly looked that impressive and it looked like it was short lived once the snow was gone.
After seeing Hydnefossen, we headed back into Hemsedal very hungry. None of the places looked like they were open, but we did see a pizza joint called Peppes Pizza that looked like they were taking customers. So in there we went and spent a relaxing time resting our bodies and satisfying our hunger.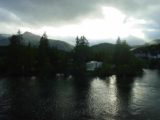 Of course, the dinner wasn't so relaxing when I saw the prices on the menu and the eventual dinner tab – $50USD!!!
Geez, I knew Norway was expensive, but this was taking it to the next level!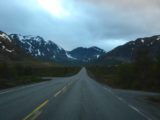 Anyways, the damage to my wallet was done and we were headed back to Lærdal in the fading light at 10pm. We did spend a few fruitless minutes in search of Sjurhaugfossen thinking it was something bigger than the salmon ladder rapids it really was. And, Julie managed to prop me awake when I started to doze off behind the wheel and swerve.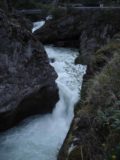 Whew! Good thing Julie was there do keep me up until we got to our hotel.
Finally at midnight we returned to the Lærdal Hotel, where we promptly cleaned up and slept. Another end to a very long day…
Day 2: THE HOME OF THE GIANTS
It was 6am when we woke up and packed our belongings. After 7am, the koldtbord breakfast was open. And at 8:30am, Julie and I checked out and left the Lærdal Hotel for the Utla Valley.
The Utla Valley (or Utladalen) was in the west end of Jotunheimen National Park. Jotunheimen was Norwegian for "Home of the Giants" (and you thought I was a San Fransisco Giants fan, didn't you?) and it got its name probably due to the fact that the country's tallest mountains could be found here.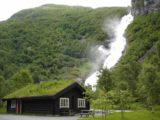 However, we were after waterfalls, and Utladalen had the greatest concentration of tall and wild unregulated waterfalls in Norway – including Vettisfossen, which possessed the highest free-fall of all the remaining unregulated waterfalls in Norway.
We arrived in Utladalen at about 9:15am and didn't start the hike until 9:45am. But that wasn't before we checked out the huge Hjellefossen, which stood over a nice bathroom building with grass growing on its roof.
After Julie and I finished preparing for the hike ahead of us, we checked out the "naturhus," which had some interpretive signs about the history and ecosystem of the Utla Valley. It was interesting, but we had work to do, so off we went…
The trail was on a road that was apparently only drivable by local Vetti residents. We had to walk to Vetti and had to be careful on one of the bridges, which was slick with oil.
It didn't take long before we saw Avdalsfossen towering over the power lines at its base. By now, it was about 10am.
The trail provided all sorts of angles for viewing the impressive upside-down triangular waterfall. We even had moments of feeling the waterfall's mist from the trail, which was quite a distance away.
Next, the trail entered a cleared rockslide area. It demonstrated to us just how fickle nature could be, especially when the valley walls are steep.
At about 10:45am, the trail started to climb. However, I noticed a small but powerful waterfall (Hyljefossen) spilling into a deep pool. Under a hot sunny day, I could see how this could be a spot for a swim, but today, rain threatened and I wasn't in the mood to get wet.
When the climb ended, the trail continued to follow the Utla River and the Vetti community could be seen up ahead.
By 11:15am, we had finally made it to the remote village of Vetti. It was reassuring to see Vettisfossen signs, which encouraged us to continue. Now the trail narrowed and was on the more familiar dirt paths instead of the unsealed road that we had walked up to this point. It wasn't long before we hit a very steep section with garden hoses and ropes secured to poles to help keep your balance. It seemed like every time we did a hike of any appreciable length in Norway, there was always a tricky steep section, and this one was no different.
At the bottom of the climb, the trail continued to follow the Utla River. We noticed a swing bridge going across the river, but we ignored it, knowing it didn't take us to Vettisfossen.
By noon, we had finally arrived at the towering Vettisfossen. It was too bad that the bottom part of the waterfall was obstructed by a cliff wall jutting out before it. I was really tempted to find a way across the creek downstream of the falls, but it looked like it was flowing too fast and it was too deep even for the gore-tex boots we wore.
So we settled for the views presented before us and tried to enjoy the falls for as long as possible before making the return hike back to the car park. The skies continued to threaten rain, but ultimately it didn't deliver.
It was about 12:45pm when we had our fill and headed back.
We ultimately returned to the car park at 2pm. But before heading for Skjolden – site of our next night's accommodation – we made another brief stop at the nice bathrooms before Hjellefossen. When we left Utladalen entirely, it was 2:30pm.
When we returned to the industrial Øvre Årdal, we decided to go up a mountain road that was mostly unsealed. Of course, we had to pay another toll to use it (they had tolls or bomstasjoner everywhere it seemed) en route to Turtagrø.
There was still snow up in the moors where the unsealed road passed through, but the road was cleared of the white stuff. We eventually made it to Turtagrø at around 3:30pm and after a steep brake-burning downhill stretch, we made it to our hotel in Skjolden (appropriately named the Skjolden Hotel) at 4pm.
After checking in and dropping off our stuff, we were both hungry for a dinner as we spent most of the day exerting ourselves. So we headed back towards the waterfall that a Dutch waterfall hunter friend of mine named Olaf called "Fureasfossen" and settled in on a little camping spot called Vassbakken. Inside this spot, there was a quiet little cafe, where both Julie and I had some very fresh grilled fish. The food really hit the spot and we left satisfied and ready to take on Jostedalen.
As we got back in the car, we took a few photos of "Fureasfossen," which tumbled directly in front of us. Then, it was time to check out some waterfalls in Jostedalen as well as a brief look at any of the easy-to-access glacier arms. We didn't have any in mind, but the Statens Kartverk road atlas seemed to suggest that Nigardsbreen was the one we should do.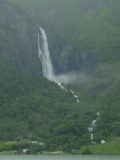 So we skipped past Skjolden and went around the Luster Fjord towards the Rv55's junction with Rv604, which headed into Jostedalen.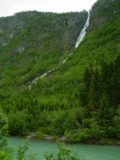 At 6:30pm, just before we reached the junction with Rv604, we took a few shots of the giant Feigefossen from across the fjord. This waterfall was the second tallest free-falling waterfall behind Vettisfossen, but that fact didn't really matter to us as we had a blast checking out that waterfall.
Now, we took Rv604 into Jostedalen. Along the way, we saw the attractive Ryfossen and the parallel columns of Geisdalsfossen as well as numerous other falls we couldn't immediately identify from our map.
We first tried to gun it towards the glacier first though it was hard to ignore the waterfalls along the way. But we stayed the course and ultimately made it to the turnoff near the Glacier Center leading west towards the Nigardsbreen.
By 7:45pm, we eventually made it to the car park for the Nigard Glacier. Given the grey weather and intermittent rain, the glacier didn't really stand out against the grey backdrop of clouds and dark mountains.
However, the twisting glacier did look attractive nonetheless and it was quite a satisfying first taste of the Glacier Country that we were after.
And as planned, we drove back through Jostedalen on the way back to the Lusterfjorden. And along the way, we saw a bunch of the waterfalls we had skipped by earlier on the way to Nigardsbreen.
This time, we stopped for these waterfalls and properly documented them.
And with that we headed back towards the Luster Fjord and then back to Skjolden. On the way back to Skjolden, we spent a bit more time to check out Feigefossen across the Lustrafjorden.
Then, when we had our fill of that waterfall, we continued north towards Skjolden and noticed another tall waterfall across the fjord called Mordølefossen, which looked an awful lot like Feigefossen, but was way north of it.
By 9:30pm, after a brief retake on "Fureasfossen" and the nearby "Lingafossen," we returned to the Skjolden Hotel and checked our email at the hotel lobby to see if the Nordic Company rectified the July 1st accommodation snafu.
Upon reading the email, it seemed they did book us for a place in Dombås at the Trolltune Hotel. So with that seemingly resolved, things looked like they were in order. And with that prevailing thought, both Julie and I went to bed in peace.
Day 3: WATERFALL COUNTRY
It was about 6am when Julie and I awoke. Contrasting the overcast skies from yesterday, we awoke to blue skies this morning, and the view outside our window at the Skjolden Hotel was gorgeous!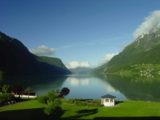 Looking out our room, we saw a light-blue colored fjord that was calmly situated between steep-walled mountains fringed by trees. We quickly took advantage of this photo op before getting ready for yet another koltbord breakfast at 7am.
By about 8am, we checked out of Skjolden, then we had to fill up on gas from a nearby station (headed the opposite direction we wanted to go as it was slightly east of Skjolden). Unfortunately, this gas station didn't take my credit card so had to pay by cash. That really hurt.
I was surprised by the lack of bensinstasjoner (gas stations) in the immediate area, but with the car running low on gas, I couldn't take any more chances of running out.
Anyhow, when that was done, we then took a rural road on the east side of the Lustrafjorden (the very fjord we saw from Skjolden and what we had been skirting around yesterday). I believe the road was Route 331. We'd eventually reach a signposted car park for Feigumfossen at 8:45am. I found it funny that there were multiple signs for the waterfall here, but they were all spelled differently!
At first, we left the car park and instinctively walked up a trail that actually turned out to be a driveway. Eventually, this driveway didn't go anywhere, and we eventually figured out that we had to backtrack to the car park to figure out where we had to go next. And that was when we saw a sign with an arrow pointing along the road. If we read the signs in the first place, we would've been a lot more efficient with our time and energy, I figured.
So eventually we made it to the signposted trailhead further down the 331 road at 9am. At that point, we had to hike all uphill. Even though the hike wasn't long, it still wasn't until 9:25am when we got to a somewhat decent view of Feigumfossen (and this involved trail running), but with the sunny weather, we were looking directly at the morning sun, which was rather hideous for our photos.
Once we had our fill of this falls (which we would've stayed much longer if not for the crappy lighting conditions), it was all downhill back to the car park, which we regained at 10am.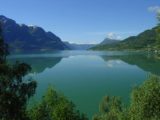 At that point, we then drove back towards Skjolden, then swung around the western side of Lustrafjorden like yesterday. I didn't trust the ferry schedule by driving all the way south on the 331 road to hook up with Solvorn (and possibly seeing another stavkirke on the way). Oh well, hindsight's 20/20 and we made our decision to just go around the long way.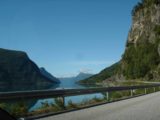 So we'd continue driving the Road 55 all the way down the Lustrafjorden and then swing west along the Sogndalsfjorden to eventually the large Sognefjorden. We'd eventually stop right before the Kvinnafossen at 11:45am near the town of Hella.
We spent some time checking out this waterfall from the bridge right in front of it, but it wasn't easy to photograph given how bright the falls was compared to its surroundings despite the backlighting we were getting from the late morning.
There was some story about how this falls either got its name from the screaming sounds of a woman or from a woman who jumped off the falls or how it was shaped like a woman (since Kvinna meant "woman" in Norwegian). Well, whatever the case, this was a quick visit for us.
As we were about to start driving off again, Julie and I noticed an open hood car with the steering wheel on the right side of the road (ala UK style). I wondered to myself how this guy could get the driving orientation straight since they drive on the right side of the road in Norway. Thus, the driver side of that car would be closer to the shoulder on the right than closer to the center of the road (which was one way I stay oriented whenever I had to drive on the opposite side of the road like in New Zealand last year).
Backtracking east along the Sognefjorden, we then turned northeast into Sogndalsfjorden. We noticed a small waterfall that wasn't major but it definitely got our attention going in this direction (it somehow escaped us on the way to Kvinnafossen). We checked out this falls briefly at 12:40pm.
Next, we turned left onto the Route 5 (Dalavegen) which left the fjord scenery we were just at and entered into some mountain road. We had to be careful of sheep on this road, but we also noticed another decent waterfall along this route. By now (1pm), they were really becoming a dime-a-dozen.
Somewhere along this route, there was a bomstasjon (toll station). When we surrended the payment for this toll station, it was something on the order of 150 Norwegian kroner (which was on the order of over $20 USD). Ouch! This almost felt like highway robbery.
Well, at least there were some nice views to be had. At about 1:20pm, we noticed some nice glaciers to the right side of the road. I believe the one we passed by at this moment was the Boyabreen Glacier.
We'd eventually make it to the car park for Huldrefossen at 2:25pm after going against the Mo-stein signs. There was some kind of museum here, but Julie and I went straight through the agricultural school, crossed a bridge, then entered a field of a lot of cows (and lots of cow dung looking like rocks) as we tried to get closer to the falls.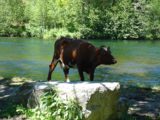 Unfortunately for Julie, she thought one of those dung piles was a rock and she stepped into it!
She was thoroughly disgusted at having the stuff in one of her shoes, but she had to deal with it until she could at least rinse some of the stuff off by the watercourse just downstream of the falls.
We were back at the car park at around 3pm, and then we drove into the town of Forde. This was where we were to spend the night so we checked into the Rica Sunnfjord Hotel, which was memorable to us because of some rather provocative drawings that we lined throughout the corridors of the hotel to our room. These disturbing drawings had a lot of gender bending, some twisted macabre depictions, and some role reversals of stereotypical male and female roles. It was quite unusual to say the least yet they definitely got our attention.
At 4:05pm, we were all settled in and now we left Forde to continue our waterfalling knowing that Forde and Gaular counties were essentially known as Waterfall Country.
First up as we went counterclockwise on the Forde-Gaular loop (a combination of E39, Rv610, and Rv 13) was a wide waterfall called Osfossen at 4:40pm. This one we were able to check out from the road. It seemed like it would be a good salmon fishing spot as the falls would be a barrier for further upstream travel.
After having our fill of this falls, we then continued west on the narrow Rv57 road along the southern end of Dalsfjorden. We drove this narrow 1.5-lane road all the way west to Laukelandsfossen when we finally stopped the car on some random dirt road for a better view of it across the fjord at 5:05pm. This was a neat waterfall to check out from a distance and clearly this was all we were going to get.
We then headed back east to rejoin the Forde-Gaular looping route we were determined to spend this afternoon doing. We'd ultimately get to some decent waterfall at around 5:50pm towards the southern end of this loop in Gaular county.
At about 6pm, we then were a little bit further east as we stopped the car at the Eikelandsfossen car park. After a short walk to get closer to the falls (and try not to get mired in the mud made wet by the waterfalls powerful spray), we took photos of this impressive waterfall.
It was a pretty neat waterfall and I'm sure we could've experienced it from other angles, but the angled view we got initially was just fine. We didn't linger for too long before we returned to the car and kept going. Indeed, we were basically driving to a bunch of near-roadside waterfalls and bagging them by the dozens.
At the far eastern end of the Viksdalsvatnet lake, we then took an out-and-back detour east on the Rv13. This detour was supposed to be a very waterfall-heavy route called the Fossestein, but it turned out that most of them weren't that readily seen from the road. Since Julie and I weren't really up for going on an extended walk this late in the afternoon, we just got what limited views we could from the road.
Maybe another time we might try to do this as more of a shuttle hike or something though I wouldn't be sure how we could arrange something like that.
Some noteworthy falls we saw along this route was the furthest east one we spotted at 6:41pm which featured cascades down in the river. Then, we saw another one at 7:02pm where the view of only the topmost tier was partially visible from the road. Then, we saw another one near Longstolen at 7:09pm. Probably the biggest falls of all that we saw on the Fossestein was at 7:27pm where I marked it as HOV on our GPS. Finally, we saw some wide but small waterfall at 7:43pm near the head of the Viksdalsvatnet.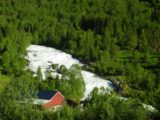 At around 7:50pm, we were back on the counterclockwise circuit and we stopped the car at Viksdalen where we saw what I believed was Vallestadfossen. This one was small but gushing but was framed by some local homes.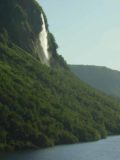 Continuing on the Rv13 heading north then swinging west, we caught a nice waterfall sidelit by the late afternoon sun across Hosavatn near the township of Holsen.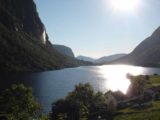 We were content to take our distant photos of this falls from the road though I'd imagine there probably could be other views of it as we walked or drive further along the lake's shores.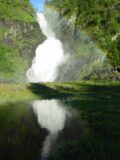 At 8:30pm, we then arrived at the Stakaltefossen power plant, which was near the junction of Rv13 and the E39. After going west of here, we then made one final visit to the Huldrefossen since it was on the way back to Forde.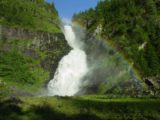 Julie and I wasted no time going straight for the familiar dung-infested agricultural field shared with cows. But at least this time, the waterfall featured a large arcing rainbow right across its misty front. And so we enjoyed taking photos of this well-timed visit, which were easily better than the shadowy and bright shots we took earlier in the afternoon.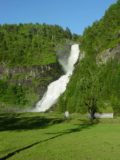 Finally by 9pm, we were back in the town of Forde and had ourselves a nice dinner (though I didn't recall where we had eaten).
And so ended this very busy day of waterfalls.
Day 4: ALL ABOUT THE GLACIERS
It was about 6am when we awoke after a fairly restful sleep last night. We then had the usual koltbord breakfast at 7am, and after our basic breakfast, we checked out of the Rica Sunnfjord Hotel at 7:55am and we were on our way northeast along the E39.
Once again, the day was quite bright and sunny. And so as we were motoring along the E39 heading northeast then north, a tall waterfall caught our eye at 8:45am. It was in some morning shadows and it was near the town of Heggheim or just north of the hamlet of Klakegg.
We didn't know what this waterfall was called (we just made up Eggefossen just for easier identification), but we pulled over a side road and took distant photos of it framing the valley we were passing through before we then continued driving and I had Julie take photos of it as we were passing before it.
As the E39 swung around and headed west, we got some pretty nice views over a calm lake called Breimsvatnet some time around 9:10am. Indeed, it seemed like no matter where we went in Norway, it was very easy to get picturesque roadside views of gorgeous mountain and lakes or fjord scenery. And we didn't even expect to seek this one out. It just happened to come to us!
Then, we continued further west as we were entering the town of Sandane. We happened to miss a signposted turnoff leading towards Eidsfossen so we tried to find a way to turn around inside the town of Sandane. We happened to find some obscure waterfall in town, but it was small and didn't seem to amount to much at 9:30am. I believed this one was called Holvikfossen.
So back east we went as we then turned right onto some maze of obscured narrow and unsealed potholed roads that ultimately led us towards some power station at around 9:45am. However, near this power station, we saw there was an area to get a closer look at the powerful Eidsfossen from above, which was flanked by what appeared to be a salmon ladder.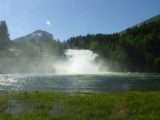 Plus, there were some bright rainbows coming up out of the powerful gush of the waterfall's forceful flow. This was quite impressive indeed even if it wasn't very tall by Norwegian standards.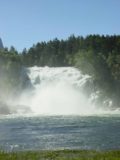 After having our fill of this perspective of the falls, we then continued driving down the road towards the large misty pool at its base near another power station facility. That building was actually kind of hideous since it was practically right next to the base of the falls so it was always in our photos. Plus, we were now looking against the morning sun.
The power and stockiness of this falls reminded Julie and I of Huka Falls in New Zealand, but this one definitely had a power all its own. Pretty neat, but we still had to be cognizant of spray drifting to us as we were trying to take photos of its front from its base against the sun.
Next, we drove further east and backtracked on the E39 towards the Rv60 in the town of Byrkjelo. Once we went up the mountain road in town, we then took a detour on the right towards the valley Myklebustdalen on the Road 693.
It was a gorgeous glaciated valley and there was a picturesque lake called Sanddalsvatnet. We gladly took reflective photographs of the gorgeous scene at about 10:25am. And as we were enjoying the scene unfolding before us, when we turned around, we saw there was an impressive waterfall higher up the valley!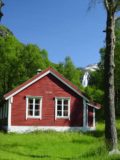 Naturally, we had to find a way to get closer to the falls after some head-scratching, we finally found a place to park the car somewhere down the road from the Fossheim Hotel downstream of this falls.
At this point, Julie and I got out of the car at 10:45am, tried walking the east side of the watercourse to get closer to the falls, but we eventually found ourselves walking on some dirt road that seemed to curve away from the falls and not yield any more views.
So we went back down the hill, then found a way to cross the creek over a bridge, and then walk onto some driveway that with a few tractors and industrial vehicles parked alongside. There were also some buildings or houses that appeared to be there for harnessing the hydro power generated by the flowing stream just downstream of this falls.
In any case, we made it up to a fence that seemed to mark the end of the track to take us closer to the falls. There was a mini-reservoir downstream of the falls, and it was kind of our little pool fronting the picturesque falls backed by blue skies. The falls looked a bit shorter from this close than it did from a distance, but it was still attractive.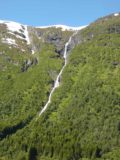 We weren't sure what the deal was with all the hydro facilities that seemed to be under construction further downstream, but whatever the case may be, we hope this pretty falls wouldn't be sacrificed in the name of harnessing more hydro power. It would be a real shame in this case.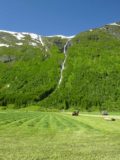 We finally returned to the car at 11:50am after walking back through a path that had a signpost saying PHS 1929 (public high school 1929?). In hindsight, finding parking for this track wasn't obvious, and perhaps that little spot we found just outside the main driveway and parking area for the Fossheim Hotel was the best we could do.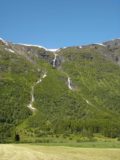 Next, we continued driving into the Myklebustdalen where the rural road now turned south around Sanddalsvatnet. Once we got beyond the end of the lake, we saw a nice waterfall to our right over some agricultural field someone was tending to in a tractor. I believe it was informally called Nonfossen because it was on the Nonselva, but it was a pretty tall stringy waterfall that definitely seemed like it was deserving of a name instead of being relegated to an unnamed obscure cascade.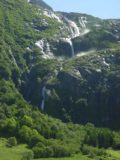 As we continued driving further south, we got to a point where the road became unpaved and it seemed like further progress wouldn't yield any more worthy rewards. So we turned around and then made a brief stop for a waterfall that was to the east against the sun, which we believed to be Strupen or Strupenfossen.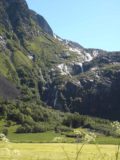 This waterfall crashed in multiple drops though it didn't appear to be nearly as tall as what some in the literature had claimed (as it was said to be one of the highest waterfalls in the world, which I highly doubt).
As we left Myklebust, we then continued driving north on the Rv60 as it would eventually go north towards the Innvikfjorden (which I previously thought was Nordfjorden). Well, whatever the case, we caught some gorgeous views of the fjord before continuing our drive at 12:25pm.
The road swung along the southern shores of Innvikfjorden as we eventually made our way to the town of Loen.
We used this opportunity to check in and get settled for a few minutes. We also had a pile of smelly clothes that needed washing, and seeing how a laundromat was not a possibility in these parts, we decided to just use the laundry service with our clothes by dropping off most of it at this time. Then, we continued on our way in search of Kjenndalsbreen at 2:30pm.
As we drove this narrow road from Loen towards the Lovavatnet, we noticed there was a tall waterfall that was believed to be Utigardsfossen or Ramnefjellfossen. It was believed to be one of the tallest waterfalls in the world, and I guess this one could be proclaimed as such though there wasn't anything terribly spectacular about it that would differentiate it from the other waterfalls we had seen in Norway so far.
Unfortunately, we then got to a barricade in the road where it seemed like we couldn't drive any further even though it was clear that there was more road to go. So we parked the car near the turnaround point at 3pm, and then we tried to take what photos we could of the impressive Ramnefjellfossen while also looking further downstream towards Lovavatnet.
In hindsight, we probably should've walked a little further down the road to get more angled views (and less awkward views) of Ramnefjellfossen, but alas, hindsight was 20/20. I definitely knew that it would be way too far of a walk to reach the Kjenndalbreen Glacier and Krunefossen with this road being closed, but we did see some people continue on the road by mountain bike. Perhaps that might give us ideas on how we might do this the next time we're here (whenever that will be).
Anyhow, the sun was somewhat against us as we were taking photos of Ramnefjellfossen. And it didn't take long before we had our fill of this view of the falls before we headed back out.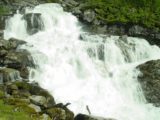 Along the way out, we saw a sign leading up a narrow single-lane road into Bodalen. We weren't quite sure where this road went, but we figured we mind as well explore it and see if there were more waterfalls to see up here.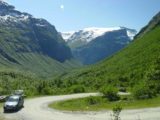 The road was a little scary to drive because it was a steep and curvy mountain road that was single-lane pretty much the whole way. I wasn't sure what to do if there was to be traffic going the other way. So that possibility always kept me nervous on this drive.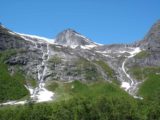 Eventually, we made it up to a pair of cascades. The first one we saw was at about 3:35pm that might be Huldrefossen. Apparently, there was some 30 kr toll here, but I wasn't sure how this would be enforced since it seemed like nobody was up here!
At a little after 3:40pm, we made it to the end of the road where we saw more cascades. The road was getting really rough up here, but it seemed like this place wasn't really for the cascades anyways. It appeared to be an access for a trail that would lead to some glaciers.
Julie and I didn't feel like walking up here so we drove back down the narrow Bodalen Road. There was one moment where someone was actually going in the opposite direction, but we were fortunate that there was at least some space for us to squeeze by each other when we encountered him. It definitely wouldn't be possible to pull that off for most of this route.
After returning to Lovavatnet, we then swung back out of this valley and returned to Loen again. Julie wanted to take this opportunity to at least eat something before we would continue on our way to see the Briksdalbreen Glacier. So we would leave Loen once again at 5pm.
And so we backtracked on the Rv60 as we swung back around the head of the Innvikfjorden and then headed south from the fjordside town of Olden. Once again, the road going south of Olden was very narrow (almost 1.5 lanes or so) as the road passed by a pair of lakes comprising Oldenvatnet.
As we motored our way south, we spotted a few waterfalls lining the valley we were in, but we were determined to first see the Briksdal Glacier and waterfalls around it before coming back up through this valley later in the day.
So by 5:40pm, we finally arrived at the end of the public road where there seemed to be ample parking. Apparently, this place was a pretty big deal. Anyhow, the car park was towered over by a tall waterfall, which we believed was called Volefossen.
We saw right away from the signs that reaching the glacier would require a bit of an uphill walk. There was also the option of taking a tram all the way up the trail, but with all the money we were spending on this trip, we just weren't up to spending it for something we could walk.
And so we walked.
Indeed, the track was wide and tame since we were on a road, essentially. At around the half-way point (or so we perceived), we saw an attractive waterfall called Kleivafossen. This was the waterfall we saw in brochures that would frequently have a carriage or tram fronting it. In any case, it was a pretty waterfall that fanned out as it was about to flow under the bridge before it, and we even saw a few late afternoon rainbows in its mist.
The road then switchbacked its way up and around the waterfall and its feeding watercourse, which we would eventually figure out was directly fed by the meltwaters of the Briksdal Glacier.
Once we made it to the top of the climb, the track then flattened out and we were finally starting to see the impressive Briksdal Glacier before us. That hastened our steps even more as we were eagerly anticipating getting right up to the impressive ice. Even though Julie and I had been to the terminus of Franz Josef Glacier last year in New Zealand, this time we were under gorgeous skies and this glacier seemed to be very reachable.
At 7:10pm, we finally arrived at the glacier terminus. There didn't seem to be any barricades or anything so we actually got pretty close to the ice wall. Whether we were doing this foolishly or not in hindsight, we were at least lucky that nothing happened to us given how prone ice like this would melt and break apart (possibly crushing anyone caught in it).
We noticed there were some people actually further up the glacier doing a glacier walk with crampons and other things to ensure there woudl be some grip on the ice. The crevaces before us looked inviting yet also very dangerous and we dared not venture in there.
Meanwhile, as we looked further downstream and across the watercourse, we could see there were small chunks of icebergs that must've come off in the past and still needed time to full melt. As we looked up the opposite valley wall, we saw there were more glacier remnants high up the cliff that also produced more streaky waterfalls with its glacier melt.
Indeed, the scene here was quite memorable and surreal. And it was all accentuated by the perfect early evening light under cloudless blue skies. We couldn't have asked for a better experience!
But all good things must come to an end, and Julie and I had to pry ourselves away from this scene as the sun's rays were getting lower and lower as the evening progressed. On the way down, we caught more views of Volefossen, which was now eye level with us.
And at 8:15pm, we eventually made it back to the car park. As we drove out of Oldendalen, we stopped a few times for the waterfalls that we skipped on the way in. One of them I believe was called Melkevollfossen, but honestly, we couldn't really tell which waterfall was what.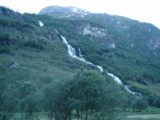 We pretty much just randomly captured waterfalls with our cameras as they caught our eye, and I guess we could figure out how to sort them out after the fact (though that would still turn out to be an insurmountable task).
Finally, we would return to the Loen Hotel where Julie and I were finally able to call it a day. We had dinner at the hotel, and we basked in the late evening afterglow of the sun as we just chilled out and let our uniquely Norwegian experience sink deeper into our soul.
Day 5: THE $300 LAUNDRY JOB
Julie and I woke up at 7am. I knew we had a full day today, but yesterday we had left most of our clothes with the reception who did full service laundry. We had gone nearly two weeks without doing laundry since our arrival in Norway and boy did we smell like it. It was too bad that none of the hotels nor towns we were at had laundry facilities we could use because we either showed up too late in the day or the hotel didn't offer it at the times we showed up. Our early afternoon arrival at the Hotel Loenfjord in Loen yesterday allowed us to finally do it.
We had slept quite well after a memorable walk to the terminus of the Briksdal Glacier and a satisfying dinner at the Hotel Loenfjord. But now we had to wait on our laundry so basically we did everything we could do in the mean time and packed up our belongings (sans clothing) and had another koldtbord breakfast.
It wasn't until after 9am that we finally regained our clothes and packed them into our luggage. But when we saw the price we had to pay for the laundry service (they charged by the article and not the entire load), it came out to about $300 USD (over 1800 NOK)!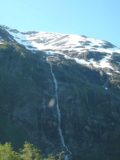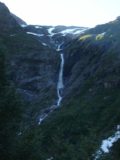 Now I had thought the $50 pizza in Hemsedal was bad, but this one was the worst! Both of us wondered what other expensive surprises were in store for the remainder of our trip to Norway.
To make matters worse, our clothes remained damp (even though most of them were quick-drying synthetics) and so we knew they would remain smelly. I guess we overhwhelmed their dryer.
So we left the Loenfjord Hotel and headed straight to Geiranger. The road initially hugged the Nordfjord's Innviksfjorden towards the town of Stryn, then headed inland up the mountains. As we continued to climb and pass through several tunnels, we were all of the sudden in a highway surrounded by snow!
It wasn't until we descended from the snowy moors that we noticed a sign saying "Kvanndalsfossen." So we took the signed spur all the way deep into a camping cabin area and found a place to park in front of one of the empty hyttas.
It was a little after 10am when I started the walk. Julie opted to stay in the car for this, thinking it was going to be small.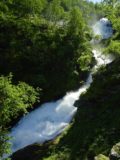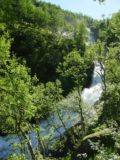 About 15 minutes later, I finally heard and saw the waterfall through lots of obstructing foliage. It was difficult to get a satisfying view, but at least it wasn't totally blocked (and hence a waste of time). I was back at the car just after 10:30am and we continued to take the road towards Geiranger.
We ultimately arrived in the township of Geiranger at around 11:15am. But that was not before getting a nice roadside view looking down into the township as well as the fjord.
The road into town was another narrow and winding descent with Grinddalsfossen tumbling underneath some of the switchbacks and buildings cozily clinging onto the steep hill while making room for the narrow road. There was even one moment where a tour bus and I had to exchange lanes in one of the switchbacks to get by each other. I nearly backed into a car behind me to make room for the bus before an emphatic car horn stopped me in my tracks.
Now originally I had this crazy idea to take a boat into the fjord and see it at our own pace. However, we soon learned that you're on our own when you hire a boat and they charge by time and how powerful the motor was. So we settled on doing the crowded tourist boat, and fortunately we were in time for the 11:30am tour.
Julie and I managed to find the base of a staircase near the front of the boat as our little spot. The folks behind me had the premium spot as they staked their claim to a nice sitting spot on the stairs a little higher up on the boat, which was great for photos as the boat and people wouldn't get in the way. There were a few occassions where I had to apologize because I actually got too caught up in my picture-taking and backed into them.
The tourist boat had a tape-recorded commentary that was synchronized (or selectively played by someone on the crew, I reckon) to the sights we beheld. There would be a few moments where a live voice would talk in place of the recorded monologue. The recorded commentary seemed like it went on nonstop because it spoke in at least seven different languages.
And so we collectively beheld waterfalls such as Gjerdefossen, Bringefossen, The Seven Sisters, Friaren, and Ljosurfossen as well as countless others.
We also saw the Eagle's Road, a few cliff-hugging farms, and the adjoining Sunnylvs Fjord with Hellesylt in the distance all the way to the south.
Particularly memorable were the Seven Sisters waterfalls and the Friaren waterfall. The Seven Sisters are really a group of parallel waterfalls of different heights plunging alongside each other into the fjord. The Friar is a heavy-flowing waterfall sloping and fanning out at its base. Both the sisters and the lone Friar are situated directly apart from each other, and it is said that the Friar was making his move on the sisters. Hence their current positions.
Another memorable story was about one of the cliff-hugging farms near the Friar. It was said that the resident of that farm never had to pay taxes because he would cut off the rope ladder providing the only access to his farm when the tax collector came. Since he was self sufficient, he could get away with this, and eventually the tax collector would just give up.
Of course today, these farms are abandoned because landslides and rock slides are common (a basic fact of life of having such vertical cliffs). Though restoration efforts have been made to preserve these farms. It was one of the reasons why this fjord was submitted to UNESCO for consideration of World Heritage Status. It eventually happened shortly after our Norway trip.
When the tour was about to end, we could see the town of Geiranger with Grinddalsfossen tumbling its way through. We would eventually finish the tour at around 1:30pm.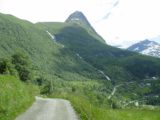 That gave us time for a little lunch and to make a phone call to the Trolltune accommodation in Dombås because we expected to check-in late. At least the Nordic Company came through in rectifying the Geiranger/Dombås swap that so troubled us several days before. Unfortunately, none of our call attempts were successful because apparently the phone number didn't work! That was indeed troubling because we might get locked out by the time we arrive.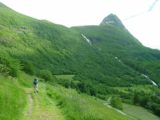 By 2pm, we regained the car and looked for the trailhead to Storsæterfossen. After going up a scary but short single-lane unsealed road to the Vesterås Restaurant near Hole Hyttas, we eventually embarked on our hike.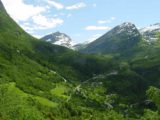 The weather was quite warm on this day so our waters were also a bit warm. The hike initially started along the road before going steeply uphill off the road. The hike was said to be about 2 hours return, and it was probably on the money. The relentless uphill climb was tiring to say the least, but it did provide interesting views back down the hill with the profile of Grinddalsfossen still visible.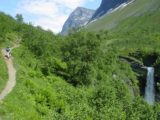 We eventually made it to the top of the waterfall at 3:45pm. However, we at first couldn't figure out how to get behind the waterfall. Above the falls, there was a dangerous-looking scramble. I had read before that people had fallen to the bottom of the falls and died so there was no way Julie and I was going that way.
Fortunately, we managed to find a far more tame approach to the falls with a fence to shield us from the drop-offs. We would eventually make it behind the cool shadowy cove behind the falls and get a little bit of relief from the warm sun.
As we were getting our fill of checking out the falls from the shady backside of Storsaeterfossen, we were also wondering where the other side of the track was that involved that dangerous cliff-hugging scramble to get here.
Maybe DNT let that trail fall into disrepair or something because it totally didn't look obvious how we'd even make it here going that way!
Anyways, we eventually hiked back and regained the car at 4:30pm. Now, it was time to make the long drive inland towards Rondane National Park and the famous trail of Peer Gynt…
We chose to go to the Rondane because we knew of a couple of waterfalls here – Bruresløret (or Storulfossen) and Vesleulfossen.
We zoomed along the Rv15 from Geiranger to Otta. Along this stretch, the road stayed in the moors before the scenery shifted towards a more alpine forest and mountain terrain. We hunted for Pollfoss along the way, but all we could see was rapids and not a real waterfall. There were a few other waterfalls we still couldn't identify, but they looked legitimately tall and noteworthy.
The road was surprisingly straight, and for once, we could go 110km/h! Up till now, all we could do was go up to 90km/h, and the curves of the mountains prevented us from going that fast anyways. Now, it felt like we were free – even if it was for this short period of time.
We'd eventually get to Otta at around 8pm. The town seemed like it had a little bit of a happening night life going on in one district, but the rest of the town was dead. The visitor center was closed, but Julie was able to find a pay phone and use it to make another attempt at contacting the Trolltune accommodation. And it was unsuccessful again…
Well we didn't have time to dwell on this little setback so we made our way towards the E6 then headed towards the small road that led up towards Mysusæter, which was at the gateway of the mountain plateau wilderness of Rondane National Park.
We eventually got to Mysusæter several minutes before 9pm, but we couldn't figure out which road we were supposed to take. Finally, we asked someone who managed to tell us to take a certain road towards a toll station (yep, another one of those). And so we took his advice and eventually were onto another unpaved road that headed deep into the seemingly barren yet beautiful moors under the fading sunlight. Dark and ominous-looking thunderclouds remained to the south of us, and I immediately thought of the lightning danger if we were to be overtaken by the storm.
We'd eventually make it to a large car park that was full of cars in a spot called Spranget. It was strange to see this many people in a place this remote, but I guess what they said was true about the Rondane being very popular amongst locals.
Julie was tired and stayed in the car. So I headed out for the nearby Bruresløret for a little trail run. At first it was slow going because I was confused about which trail I should take, but eventually I just went to the river and had the faith that it would ultimately take me to the desired waterfall. And sure enough, I was there at 9:30pm – peering at the small but beautifully located waterfall surrounded by the brown moorish flatlands with mountains in the distance clinging on to its last bit of snow.
I was back at the car park at 9:45pm and immediately headed to where the Vesleulfossen trail started. By 10pm, I was at the spot where I thought the trail began. I thought we could go closer, but a locked gate prevented us from going any further so I guess this was where I'd have to start walking. Once again, Julie stayed in the car.
The remaining daylight was fading fast so I walked as fast as I could with a few moments of trail running. I had to follow the famed Peer Gynt Trail, which had different red markings instead of the usual red Ts I was used to hunting for when hiking in the wilderness. Also, much of the trail was muddy as it passed before numerous cabins.
The legend of Peer Gynt was made famous by the playwright Henrik Ibsen. I don't know all the details about the play, but apparently, the main character Peer Gynt went on a journey to rediscover himself. And that journey featured the trail that I was on…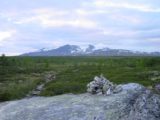 Eventually, I got to a point where the cabins were nowhere in sight and I went into a forest where the trail was a mix of dirt, mud, and boardwalks. I had a foreboding sense that I might have missed the turnoff for the falls, but I didn't notice any signs. Ultimately, the GPS told me that I had gone to about the same latitude as Bruresløret, which the map clearly told me could not be the case. Thus, I turned back towards the cabins along the Peer Gynt Trail.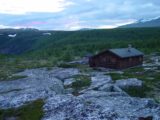 After getting back to the first of the cabins, I decided to start to have a look around. The description in the newsletter I picked up at the toll station in Mysusæter said to follow the Peer Gynt Trail until the last cabin. I assumed that cabin I was at was the last one.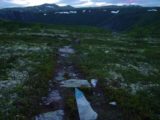 Finally, I saw some blue spray-painted markings on some rocks on the ground with a primitive trail leading behind the cabin towards what appeared to be a chasm in the distance behind the trees. With the light continuing to fade as the sun was going behind the mountains way off in the distance to the west, I had to hasten my steps.
It was 11:15pm when I finally arrived at the falls. With not enough light to take a normal photo, I had to really steady the camera and try to take a few long exposure photos. It was too bad the trees blocked the lower parts of Rondane's tallest waterfall, but I was in no mood to continue scrambling down the increasingly steep slope, especially under the ensuing darkness that was about to overwhelm the area.
And so with the best photos that I could manage, I trail ran my way back to the car. I would eventually make it back to the car park by midnight. It was dark, but there was still a little bit of twilight to make out objects before me. Plus, my eyes were already accustomed to the darkness. Fortunately, I got back to a worried Julie because I didn't bring a torch, which was kind of stupid on my part.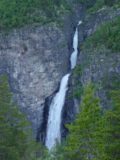 With the car started and Julie reassured that I came back in one piece, we headed back down towards Otta. We determined to make one last stop there so we could make another attempt at contacting the Trolltune Hotel.
So back to the pay phone we went. This time, Julie finally realized that Nordic Company provided the wrong area code for the Trolltune phone number! She was pissed at them, but at least that subsided when she managed to get a hold of the proprietor at the Trolltune and told him we were on our way.
As we finally arrived in Dombås, it was now past 1am and we were desperate to find some sort of clue as to where the Trolltune accommodation was. As we drove through the darkness and sparse town lights, we finally found the visitor center (closed of course). Julie got out of the car and walked up to a town map taped onto the window. I tried to use a little high beam to give Julie some more light as she was reading the map. Just then, a police car with a pair of officers pulled up from behind and had its high beams flashed onto us. Clearly, they must've thought we were up to no good.
So both Julie and I talked to the approaching officer as he asked us what the problem was.
And so we explained to him that we were lost and we were looking for the Trolltune accommodation. With that, he got into his squad car with his partner and asked us to follow him.
And that we did.
The squad car weaved through a few town streets before going up a hill. It seemed quite a ways away from the town and we were beginning to wonder where he was taking us. But our fears were allayed when he signaled towards the Trolltune.
Before we could thank the officers, they took off.
Without the aid of the cops, I couldn't imagine how we would ever find this place. We were nearly without a place to stay, and we were glad the police found us and helped a pair of poor foreigners like us.
Anyhow, we finally met the proprietor, who turned out to speak limited english. We tried to explain futilely what happened and how the cops led us here in our broken Norwegian, but he didn't quite understand what we were saying.
So with that, we quietly got into our rooms, showered, and went to bed. But that was not before we both took a glance out the window and noticed how the skies were already starting to get a little brighter. It was 2am…
Visitor Comments:
Got something you'd like to share or say to keep the conversation going? Feel free to leave a comment below...
No users have replied to the content on this page