Day 1: THE LADIES OF KJOSFOSSEN
I woke up at 3am and had only slept for about 90 minutes. The snafu that took place with our itinerary and the 24km detour away from Voss really cut into my sleep time. However, I was determined not to let this get in the way of my waterfall hunt.
So with Julie sound asleep, I made my way out the door of Vossestolen (which was left unlocked as I had told the proprietor last night that I would make an early departure), and was driving back towards Voss at 3:30am.
By 4am, I saw the Dyrvedalen signs and followed it into a quiet residential neighborhood. Trying to follow the topo map printout (from Norgesglasset), I slowly made my way towards an unsigned and unsealed road past a metal grating towards a station that looked like another self-help toll station. I didn't understand what was written on the sign so I just went ahead and proceeded onwards.
The road was quite rough and I really had to go slow to ensure the undercarriage of the car wasn't scraped. The road looked like it was more suitable to four-wheel drive, but so far the passenger car I was in handled it fine.
After passing over a scary bridge over a watercourse (possibly the river responsible for Dyrvedalen), I eventually saw the regal, two-tiered Siseljafossen. Since the rain was coming down hard, I wasn't going to get out of the car for a closer look. Besides, it was densely forested and the view from the unpaved road was just fine. So with the car window rolled down and the rain wetting parts of the interior, I took my photos then looked for a safe place to make a three-point turn.
There didn't appear to be any pullouts or clearings in which I could turn around. It was frustrating to say the least and I kept driving deeper into Dyrvedalen unsure of where this road was going.
Finally, I saw the driveway of someone's farm and used it as the spot to make my turnaround.
And with that I left Dyrvedalen and headed back towards Voss. It was a little after 5am when I returned to Voss. Then, I headed north on E16. By 5:30am, I was at Tvindefossen. Now that the light of the day was getting brighter, at least I could take better photos of the falls. However, rain was still on and off.
Anyhow, this waterfall was easy to photograph as it was set in a clearing that looked like a spot for camping. With my tripod and camera positioned carefully on it, I was careful to shield the lens from rain droplets. Then, I took plenty of long exposure photos of this light flowing waterfall.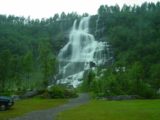 I was back at Vossestolen at 6am and climbed back into bed with Julie for a brief half-hour nap.
It was 7am when we got up again, packed up our stuff, and headed for breakfast. For a place that was as cozy and rustic (wink wink) as this, we were surprised at how good the hot breakfast was. Apparently, Julie and I were amongst the few people not on a bus tour, which dominated the dining area.
By 8:30am, we checked out and left Vossestolen Hotel and headed to Stalheim. We didn't realize how close we were already to the Stalheim Hotel and in a flash, we were already at the car park for the hotel by 9am. I guess it was a testament as to how far away from Voss Vossestolen was!
Anyhow, there was a sign at the hotel front that said the terrace with the view of Nærøydalen was for patrons of the hotel. Julie went in anyways and I followed her out to the terrace.
The terrace was a beautiful overlook. We couldn't see neither of the two waterfalls we knew were here – Stalheimsfossen and Sivlefossen.
However, we did get a nice sweeping view of the narrow Nærøydalen down below. Way up ahead, we could see Kjelfossen, which was one of Norway's taller waterfalls.
Next, we proceeded to take the slow, narrow, steep, and winding road down the famous Stalheimskleiva. It had something like 11 switchbacks with around a 10% grade. Needless to say, I had to leave the car on first gear and still use the breaks judiciously. As we made our way down, we could see Stalheimsfossen after the third switchback and Sivlefossen around half way to two-thirds of the way down.
Finally, we made it to the base of the old road and found a car park, which we decided to take. We proceeded to leave the car and do a short flat paved walk along the river to the base of Stalheimsfossen. It was pleasant and a nice break from driving for a change.
After the short walk, we regained the car and rejoined the E16. There were lots of cars and trucks whizzing by as they took a tunneled route that bypassed Stalheimskleiva.
Now, we drove right through the heart of Nærøydalen. Ephemeral waterfalls were plunging down the cliffs on both sides of the vertical valley. When we got close to the Shell Petrol Station up ahead, there was a pullout where we could get closer views of Kjelfossen (by the way, the letter combination "kj" sounds like "sh" so the gas station was appropriately located so to speak).
After taking a few photos of Kjelfossen, we proceeded through the tunnel and ultimately ended up at the township of Flåm. We continued towards the train station and parked our car in the massive car park.
Somehow, we had a sense that the train was about to take off. So we rushed our way to the ticket station and paid for our ride. Sure enough, the train was about to leave in less than 5 minutes! Talk about perfect timing!
So the train proceeded down the track at precisely 11am. It wasn't long before we saw the first waterfall, which was unofficially called Brekkefossen since it was near the community of Brekke. Not long after this waterfall, we saw Rjoandefossen.
Even though the train initially was crowded, it moved slow enough and smoothly enough that no one really stayed in their seats. That was cool because some folks like us wanted to take photos and we really didn't have problems with that.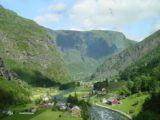 The train proceeded to get to the half way point between Flåm and Myrdal (the destination and turnaround point of our ride). It was here that the train stopped and had to wait for the other train (going the other way) to pass. It was the only spot in this stretch of railway where the trains could pass each other and hence the wait.
Finally, the train started moving again.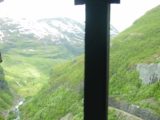 Now, the railway passed through numerous tunnels. When the window was open, you could hear the screeching of the brakes with an almost deafening high-pitched echo.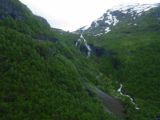 In between tunnels, we managed to get interesting photos of a waterfall that went besides a series of switchbacks. I believe the waterfall was unofficially called "Myrdalsfossen".
And so the Flåm Railway continued to screech and make its way through several tunnels. It was around this time that the PA announcer mentioned some kind of rumor that the area was haunted by some ladies. Now being the cynic that I was, I knew where this was going. You see, during my trip planning, I had already known about the ladies dancing before Kjosfossen – perhaps the waterfall highlight of the Flåm Railway. I had the feeling it would be cheezy, but at least I'd get to witness it in person.
And soon enough, the train stopped by a large wooden platform in direct view of the upper parts of the Kjosfossen waterfall. As people got out of the train to crowd the wooden platform, music started blaring from the train's speakers, and out came a lady before the giant waterfall.
My first thought was how cold she must be dancing before the mist of the waterfall. It looked like she was awfully close to the falls, but then again, maybe the rocky area she was dancing on was bigger than it looked from the platform.
The dancing lady would do a few moves then head back towards some stone building ruins. Not long afterwards, another woman would come out. I knew there was more than one of them, but they coordinated their routine to make it look like there was only one. Anyways, it was an amusing scene and cheezy like I expected. But, it was definitely a unique Norwegian sight and both Julie and I were glad to see them do their thing.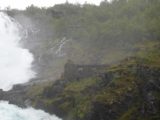 By noon, the train made its last stop at Myrdal where it waited for about 15 minutes before heading back to Flåm. It gave transferring train passengers a chance to hop onto this train as Myrdal was where a couple of rail lines intersected.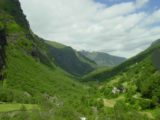 When the train headed back to the start, the PA announcer made the same announcement about the ladies haunting Kjosfossen. Sure enough, minutes later, the display before the big waterfall was repeated.
We ultimately made it back to Flåm at 1pm. At that point, Julie and I spent lots of time at the pay phone trying to get in touch with the Nordic Company about the mistaken booking of Geiranger instead of Dombås on July 1. It was obviously a mistake that ended up costing time and money – especially the long distance call. Anyways, Julie did get in touch with the Nordic Company somewhat and at least the matter was going to be addressed. So at that point, there was nothing more we could do and we headed back to the car after having a brief lunch.
When we got back in the car, we decided to drive into Flåmsdalen. I just had to get my curiosity out of the way in terms of whether it was better to self drive or to do the train.
Anyways, the road into the valley quickly became unpaved and narrow. We were sharing the road with hikers as well as mountain bikers. We did get less-hurried views of Brekkefossen, and we also got unusual views of Rjoandefossen across the green river in front of us. Quite interesting indeed…
Eventually, the road continued to narrow and even cross the Flåm Railway a few times. Along the way, we noticed the informally named Tunnshellefossen as well as numerous unnamed ones we couldn't identify.
By 3:15pm, we arrived at a sign and a large cul-de-sac. The sign read, "Blomheller." But we weren't sure if this was the end of the drive or not. So we continued to drive forward.
Now, the road really narrowed and started to look like a trail. Even the tunnels we passed through looked quite narrow. We also received strange looks for people on the trail. It quickly became apparent that perhaps this was meant to be a trail and not for automobiles. Oops.
Now we have to figure out a way to turn around. Unfortunately, the roads were too narrow to do a three-point turn so onwards we drove, looking for a place to make the turn. Finally, we saw a small widening of the road, but not by much. It was our opportunity to do our best Austin Powers imitation by making several iterations of driving back and forth the narrow road to turn the car around. Eventually, we'd end up successfully doing it, but not before some nervous moments.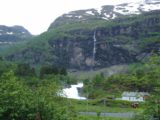 Well, at least the one positive from this adventure was that we got a photo of an attractive waterfall that spilled into a deep-looking pool (which I think is called Kårdalsfossen).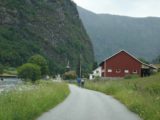 We finally made it back to the wider road, briefly read the Blomheller sign, then proceeded to return to the Flåm area. The progress was slow on the way back since we had to wait for bikers to let us pass as there really was no room to pass them.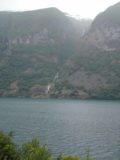 As we left Flåm and headed towards Lærdal, we went through a very long tunnel called Lærdalstunnelen. It had a pair of what I called "ice" sections where the blue light would break up the monotony of the dim tunnel lighting and high speed of traffic. Speaking of speed, they did have speed cameras strewn throughout all the roads (including the tunnels) so we definitely didn't want to take our chances paying a hefty fine.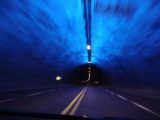 After getting through the tunnel, we hung a left and headed into the small but picturesque fjord-side town of Lærdal. We noticed a tall waterfall (Stødnafossen) on the north side of town and took some time to take photos of it from the residential area near town. By 6pm, we finally checked into the Lærdal Hotel.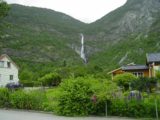 We spent a few minutes to unpack our belongings and then head back out towards Hemsedal at 6:40pm; taking advantage of the late sunset. The drive out east was a bit non-trivial as we followed more mountain roads. Along the way, we saw more miscellaneous waterfalls though we didn't see Sjurhaugfossen, which according to my pre-trip notes was somewhere along the way here.
We ultimately arrived at the trailhead for Rjukandefossen at a little after 8pm. There was still some afternoon sunlight so we got decent photos of the waterfall after a short walk through a confusing series of intersecting trails (most of them false).
Shortly after this, we drive past the ski town of Hemsedal in search of Hydnefossen. We finally found it at 8:50pm.
This series of waterfalls flowing side-by-side looked best in profile as we approached it. But as we saw it from the front, it hardly looked that impressive and it looked like it was short lived once the snow was gone.
After seeing Hydnefossen, we headed back into Hemsedal very hungry. None of the places looked like they were open, but we did see a pizza joint called Peppes Pizza that looked like they were taking customers. So in there we went and spent a relaxing time resting our bodies and satisfying our hunger.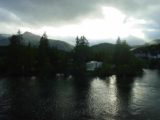 Of course, the dinner wasn't so relaxing when I saw the prices on the menu and the eventual dinner tab – $50USD!!!
Geez, I knew Norway was expensive, but this was taking it to the next level!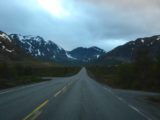 Anyways, the damage to my wallet was done and we were headed back to Lærdal in the fading light at 10pm. We did spend a few fruitless minutes in search of Sjurhaugfossen thinking it was something bigger than the salmon ladder rapids it really was. And, Julie managed to prop me awake when I started to doze off behind the wheel and swerve.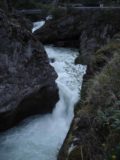 Whew! Good thing Julie was there do keep me up until we got to our hotel.
Finally at midnight we returned to the Lærdal Hotel, where we promptly cleaned up and slept. Another end to a very long day…