Day 3: WATERFALL COUNTRY
It was about 6am when Julie and I awoke. Contrasting the overcast skies from yesterday, we awoke to blue skies this morning, and the view outside our window at the Skjolden Hotel was gorgeous!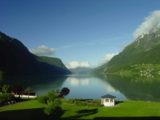 Looking out our room, we saw a light-blue colored fjord that was calmly situated between steep-walled mountains fringed by trees. We quickly took advantage of this photo op before getting ready for yet another koltbord breakfast at 7am.
By about 8am, we checked out of Skjolden, then we had to fill up on gas from a nearby station (headed the opposite direction we wanted to go as it was slightly east of Skjolden). Unfortunately, this gas station didn't take my credit card so had to pay by cash. That really hurt.
I was surprised by the lack of bensinstasjoner (gas stations) in the immediate area, but with the car running low on gas, I couldn't take any more chances of running out.
Anyhow, when that was done, we then took a rural road on the east side of the Lustrafjorden (the very fjord we saw from Skjolden and what we had been skirting around yesterday). I believe the road was Route 331. We'd eventually reach a signposted car park for Feigumfossen at 8:45am. I found it funny that there were multiple signs for the waterfall here, but they were all spelled differently!
At first, we left the car park and instinctively walked up a trail that actually turned out to be a driveway. Eventually, this driveway didn't go anywhere, and we eventually figured out that we had to backtrack to the car park to figure out where we had to go next. And that was when we saw a sign with an arrow pointing along the road. If we read the signs in the first place, we would've been a lot more efficient with our time and energy, I figured.
So eventually we made it to the signposted trailhead further down the 331 road at 9am. At that point, we had to hike all uphill. Even though the hike wasn't long, it still wasn't until 9:25am when we got to a somewhat decent view of Feigumfossen (and this involved trail running), but with the sunny weather, we were looking directly at the morning sun, which was rather hideous for our photos.
Once we had our fill of this falls (which we would've stayed much longer if not for the crappy lighting conditions), it was all downhill back to the car park, which we regained at 10am.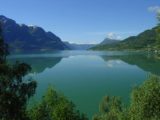 At that point, we then drove back towards Skjolden, then swung around the western side of Lustrafjorden like yesterday. I didn't trust the ferry schedule by driving all the way south on the 331 road to hook up with Solvorn (and possibly seeing another stavkirke on the way). Oh well, hindsight's 20/20 and we made our decision to just go around the long way.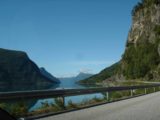 So we'd continue driving the Road 55 all the way down the Lustrafjorden and then swing west along the Sogndalsfjorden to eventually the large Sognefjorden. We'd eventually stop right before the Kvinnafossen at 11:45am near the town of Hella.
We spent some time checking out this waterfall from the bridge right in front of it, but it wasn't easy to photograph given how bright the falls was compared to its surroundings despite the backlighting we were getting from the late morning.
There was some story about how this falls either got its name from the screaming sounds of a woman or from a woman who jumped off the falls or how it was shaped like a woman (since Kvinna meant "woman" in Norwegian). Well, whatever the case, this was a quick visit for us.
As we were about to start driving off again, Julie and I noticed an open hood car with the steering wheel on the right side of the road (ala UK style). I wondered to myself how this guy could get the driving orientation straight since they drive on the right side of the road in Norway. Thus, the driver side of that car would be closer to the shoulder on the right than closer to the center of the road (which was one way I stay oriented whenever I had to drive on the opposite side of the road like in New Zealand last year).
Backtracking east along the Sognefjorden, we then turned northeast into Sogndalsfjorden. We noticed a small waterfall that wasn't major but it definitely got our attention going in this direction (it somehow escaped us on the way to Kvinnafossen). We checked out this falls briefly at 12:40pm.
Next, we turned left onto the Route 5 (Dalavegen) which left the fjord scenery we were just at and entered into some mountain road. We had to be careful of sheep on this road, but we also noticed another decent waterfall along this route. By now (1pm), they were really becoming a dime-a-dozen.
Somewhere along this route, there was a bomstasjon (toll station). When we surrended the payment for this toll station, it was something on the order of 150 Norwegian kroner (which was on the order of over $20 USD). Ouch! This almost felt like highway robbery.
Well, at least there were some nice views to be had. At about 1:20pm, we noticed some nice glaciers to the right side of the road. I believe the one we passed by at this moment was the Boyabreen Glacier.
We'd eventually make it to the car park for Huldrefossen at 2:25pm after going against the Mo-stein signs. There was some kind of museum here, but Julie and I went straight through the agricultural school, crossed a bridge, then entered a field of a lot of cows (and lots of cow dung looking like rocks) as we tried to get closer to the falls.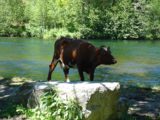 Unfortunately for Julie, she thought one of those dung piles was a rock and she stepped into it!
She was thoroughly disgusted at having the stuff in one of her shoes, but she had to deal with it until she could at least rinse some of the stuff off by the watercourse just downstream of the falls.
We were back at the car park at around 3pm, and then we drove into the town of Forde. This was where we were to spend the night so we checked into the Rica Sunnfjord Hotel, which was memorable to us because of some rather provocative drawings that we lined throughout the corridors of the hotel to our room. These disturbing drawings had a lot of gender bending, some twisted macabre depictions, and some role reversals of stereotypical male and female roles. It was quite unusual to say the least yet they definitely got our attention.
At 4:05pm, we were all settled in and now we left Forde to continue our waterfalling knowing that Forde and Gaular counties were essentially known as Waterfall Country.
First up as we went counterclockwise on the Forde-Gaular loop (a combination of E39, Rv610, and Rv 13) was a wide waterfall called Osfossen at 4:40pm. This one we were able to check out from the road. It seemed like it would be a good salmon fishing spot as the falls would be a barrier for further upstream travel.
After having our fill of this falls, we then continued west on the narrow Rv57 road along the southern end of Dalsfjorden. We drove this narrow 1.5-lane road all the way west to Laukelandsfossen when we finally stopped the car on some random dirt road for a better view of it across the fjord at 5:05pm. This was a neat waterfall to check out from a distance and clearly this was all we were going to get.
We then headed back east to rejoin the Forde-Gaular looping route we were determined to spend this afternoon doing. We'd ultimately get to some decent waterfall at around 5:50pm towards the southern end of this loop in Gaular county.
At about 6pm, we then were a little bit further east as we stopped the car at the Eikelandsfossen car park. After a short walk to get closer to the falls (and try not to get mired in the mud made wet by the waterfalls powerful spray), we took photos of this impressive waterfall.
It was a pretty neat waterfall and I'm sure we could've experienced it from other angles, but the angled view we got initially was just fine. We didn't linger for too long before we returned to the car and kept going. Indeed, we were basically driving to a bunch of near-roadside waterfalls and bagging them by the dozens.
At the far eastern end of the Viksdalsvatnet lake, we then took an out-and-back detour east on the Rv13. This detour was supposed to be a very waterfall-heavy route called the Fossestein, but it turned out that most of them weren't that readily seen from the road. Since Julie and I weren't really up for going on an extended walk this late in the afternoon, we just got what limited views we could from the road.
Maybe another time we might try to do this as more of a shuttle hike or something though I wouldn't be sure how we could arrange something like that.
Some noteworthy falls we saw along this route was the furthest east one we spotted at 6:41pm which featured cascades down in the river. Then, we saw another one at 7:02pm where the view of only the topmost tier was partially visible from the road. Then, we saw another one near Longstolen at 7:09pm. Probably the biggest falls of all that we saw on the Fossestein was at 7:27pm where I marked it as HOV on our GPS. Finally, we saw some wide but small waterfall at 7:43pm near the head of the Viksdalsvatnet.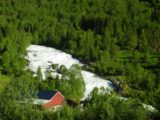 At around 7:50pm, we were back on the counterclockwise circuit and we stopped the car at Viksdalen where we saw what I believed was Vallestadfossen. This one was small but gushing but was framed by some local homes.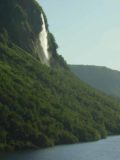 Continuing on the Rv13 heading north then swinging west, we caught a nice waterfall sidelit by the late afternoon sun across Hosavatn near the township of Holsen.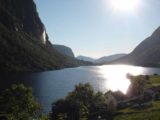 We were content to take our distant photos of this falls from the road though I'd imagine there probably could be other views of it as we walked or drive further along the lake's shores.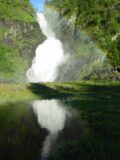 At 8:30pm, we then arrived at the Stakaltefossen power plant, which was near the junction of Rv13 and the E39. After going west of here, we then made one final visit to the Huldrefossen since it was on the way back to Forde.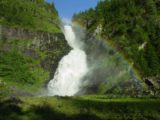 Julie and I wasted no time going straight for the familiar dung-infested agricultural field shared with cows. But at least this time, the waterfall featured a large arcing rainbow right across its misty front. And so we enjoyed taking photos of this well-timed visit, which were easily better than the shadowy and bright shots we took earlier in the afternoon.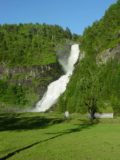 Finally by 9pm, we were back in the town of Forde and had ourselves a nice dinner (though I didn't recall where we had eaten).
And so ended this very busy day of waterfalls.
Visitor Comments:
No users have replied to the content on this page