Day 4: ALL ABOUT THE GLACIERS
It was about 6am when we awoke after a fairly restful sleep last night. We then had the usual koltbord breakfast at 7am, and after our basic breakfast, we checked out of the Rica Sunnfjord Hotel at 7:55am and we were on our way northeast along the E39.
Once again, the day was quite bright and sunny. And so as we were motoring along the E39 heading northeast then north, a tall waterfall caught our eye at 8:45am. It was in some morning shadows and it was near the town of Heggheim or just north of the hamlet of Klakegg.
We didn't know what this waterfall was called (we just made up Eggefossen just for easier identification), but we pulled over a side road and took distant photos of it framing the valley we were passing through before we then continued driving and I had Julie take photos of it as we were passing before it.
As the E39 swung around and headed west, we got some pretty nice views over a calm lake called Breimsvatnet some time around 9:10am. Indeed, it seemed like no matter where we went in Norway, it was very easy to get picturesque roadside views of gorgeous mountain and lakes or fjord scenery. And we didn't even expect to seek this one out. It just happened to come to us!
Then, we continued further west as we were entering the town of Sandane. We happened to miss a signposted turnoff leading towards Eidsfossen so we tried to find a way to turn around inside the town of Sandane. We happened to find some obscure waterfall in town, but it was small and didn't seem to amount to much at 9:30am. I believed this one was called Holvikfossen.
So back east we went as we then turned right onto some maze of obscured narrow and unsealed potholed roads that ultimately led us towards some power station at around 9:45am. However, near this power station, we saw there was an area to get a closer look at the powerful Eidsfossen from above, which was flanked by what appeared to be a salmon ladder.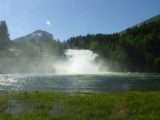 Plus, there were some bright rainbows coming up out of the powerful gush of the waterfall's forceful flow. This was quite impressive indeed even if it wasn't very tall by Norwegian standards.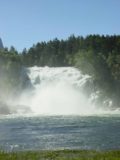 After having our fill of this perspective of the falls, we then continued driving down the road towards the large misty pool at its base near another power station facility. That building was actually kind of hideous since it was practically right next to the base of the falls so it was always in our photos. Plus, we were now looking against the morning sun.
The power and stockiness of this falls reminded Julie and I of Huka Falls in New Zealand, but this one definitely had a power all its own. Pretty neat, but we still had to be cognizant of spray drifting to us as we were trying to take photos of its front from its base against the sun.
Next, we drove further east and backtracked on the E39 towards the Rv60 in the town of Byrkjelo. Once we went up the mountain road in town, we then took a detour on the right towards the valley Myklebustdalen on the Road 693.
It was a gorgeous glaciated valley and there was a picturesque lake called Sanddalsvatnet. We gladly took reflective photographs of the gorgeous scene at about 10:25am. And as we were enjoying the scene unfolding before us, when we turned around, we saw there was an impressive waterfall higher up the valley!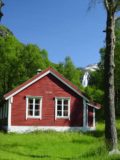 Naturally, we had to find a way to get closer to the falls after some head-scratching, we finally found a place to park the car somewhere down the road from the Fossheim Hotel downstream of this falls.
At this point, Julie and I got out of the car at 10:45am, tried walking the east side of the watercourse to get closer to the falls, but we eventually found ourselves walking on some dirt road that seemed to curve away from the falls and not yield any more views.
So we went back down the hill, then found a way to cross the creek over a bridge, and then walk onto some driveway that with a few tractors and industrial vehicles parked alongside. There were also some buildings or houses that appeared to be there for harnessing the hydro power generated by the flowing stream just downstream of this falls.
In any case, we made it up to a fence that seemed to mark the end of the track to take us closer to the falls. There was a mini-reservoir downstream of the falls, and it was kind of our little pool fronting the picturesque falls backed by blue skies. The falls looked a bit shorter from this close than it did from a distance, but it was still attractive.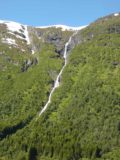 We weren't sure what the deal was with all the hydro facilities that seemed to be under construction further downstream, but whatever the case may be, we hope this pretty falls wouldn't be sacrificed in the name of harnessing more hydro power. It would be a real shame in this case.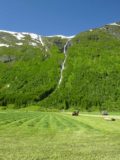 We finally returned to the car at 11:50am after walking back through a path that had a signpost saying PHS 1929 (public high school 1929?). In hindsight, finding parking for this track wasn't obvious, and perhaps that little spot we found just outside the main driveway and parking area for the Fossheim Hotel was the best we could do.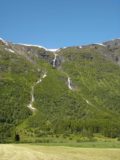 Next, we continued driving into the Myklebustdalen where the rural road now turned south around Sanddalsvatnet. Once we got beyond the end of the lake, we saw a nice waterfall to our right over some agricultural field someone was tending to in a tractor. I believe it was informally called Nonfossen because it was on the Nonselva, but it was a pretty tall stringy waterfall that definitely seemed like it was deserving of a name instead of being relegated to an unnamed obscure cascade.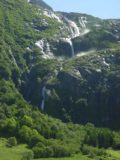 As we continued driving further south, we got to a point where the road became unpaved and it seemed like further progress wouldn't yield any more worthy rewards. So we turned around and then made a brief stop for a waterfall that was to the east against the sun, which we believed to be Strupen or Strupenfossen.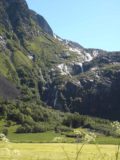 This waterfall crashed in multiple drops though it didn't appear to be nearly as tall as what some in the literature had claimed (as it was said to be one of the highest waterfalls in the world, which I highly doubt).
As we left Myklebust, we then continued driving north on the Rv60 as it would eventually go north towards the Innvikfjorden (which I previously thought was Nordfjorden). Well, whatever the case, we caught some gorgeous views of the fjord before continuing our drive at 12:25pm.
The road swung along the southern shores of Innvikfjorden as we eventually made our way to the town of Loen.
We used this opportunity to check in and get settled for a few minutes. We also had a pile of smelly clothes that needed washing, and seeing how a laundromat was not a possibility in these parts, we decided to just use the laundry service with our clothes by dropping off most of it at this time. Then, we continued on our way in search of Kjenndalsbreen at 2:30pm.
As we drove this narrow road from Loen towards the Lovavatnet, we noticed there was a tall waterfall that was believed to be Utigardsfossen or Ramnefjellfossen. It was believed to be one of the tallest waterfalls in the world, and I guess this one could be proclaimed as such though there wasn't anything terribly spectacular about it that would differentiate it from the other waterfalls we had seen in Norway so far.
Unfortunately, we then got to a barricade in the road where it seemed like we couldn't drive any further even though it was clear that there was more road to go. So we parked the car near the turnaround point at 3pm, and then we tried to take what photos we could of the impressive Ramnefjellfossen while also looking further downstream towards Lovavatnet.
In hindsight, we probably should've walked a little further down the road to get more angled views (and less awkward views) of Ramnefjellfossen, but alas, hindsight was 20/20. I definitely knew that it would be way too far of a walk to reach the Kjenndalbreen Glacier and Krunefossen with this road being closed, but we did see some people continue on the road by mountain bike. Perhaps that might give us ideas on how we might do this the next time we're here (whenever that will be).
Anyhow, the sun was somewhat against us as we were taking photos of Ramnefjellfossen. And it didn't take long before we had our fill of this view of the falls before we headed back out.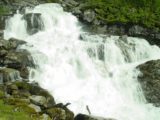 Along the way out, we saw a sign leading up a narrow single-lane road into Bodalen. We weren't quite sure where this road went, but we figured we mind as well explore it and see if there were more waterfalls to see up here.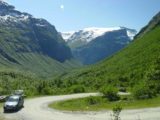 The road was a little scary to drive because it was a steep and curvy mountain road that was single-lane pretty much the whole way. I wasn't sure what to do if there was to be traffic going the other way. So that possibility always kept me nervous on this drive.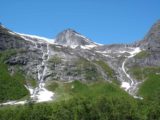 Eventually, we made it up to a pair of cascades. The first one we saw was at about 3:35pm that might be Huldrefossen. Apparently, there was some 30 kr toll here, but I wasn't sure how this would be enforced since it seemed like nobody was up here!
At a little after 3:40pm, we made it to the end of the road where we saw more cascades. The road was getting really rough up here, but it seemed like this place wasn't really for the cascades anyways. It appeared to be an access for a trail that would lead to some glaciers.
Julie and I didn't feel like walking up here so we drove back down the narrow Bodalen Road. There was one moment where someone was actually going in the opposite direction, but we were fortunate that there was at least some space for us to squeeze by each other when we encountered him. It definitely wouldn't be possible to pull that off for most of this route.
After returning to Lovavatnet, we then swung back out of this valley and returned to Loen again. Julie wanted to take this opportunity to at least eat something before we would continue on our way to see the Briksdalbreen Glacier. So we would leave Loen once again at 5pm.
And so we backtracked on the Rv60 as we swung back around the head of the Innvikfjorden and then headed south from the fjordside town of Olden. Once again, the road going south of Olden was very narrow (almost 1.5 lanes or so) as the road passed by a pair of lakes comprising Oldenvatnet.
As we motored our way south, we spotted a few waterfalls lining the valley we were in, but we were determined to first see the Briksdal Glacier and waterfalls around it before coming back up through this valley later in the day.
So by 5:40pm, we finally arrived at the end of the public road where there seemed to be ample parking. Apparently, this place was a pretty big deal. Anyhow, the car park was towered over by a tall waterfall, which we believed was called Volefossen.
We saw right away from the signs that reaching the glacier would require a bit of an uphill walk. There was also the option of taking a tram all the way up the trail, but with all the money we were spending on this trip, we just weren't up to spending it for something we could walk.
And so we walked.
Indeed, the track was wide and tame since we were on a road, essentially. At around the half-way point (or so we perceived), we saw an attractive waterfall called Kleivafossen. This was the waterfall we saw in brochures that would frequently have a carriage or tram fronting it. In any case, it was a pretty waterfall that fanned out as it was about to flow under the bridge before it, and we even saw a few late afternoon rainbows in its mist.
The road then switchbacked its way up and around the waterfall and its feeding watercourse, which we would eventually figure out was directly fed by the meltwaters of the Briksdal Glacier.
Once we made it to the top of the climb, the track then flattened out and we were finally starting to see the impressive Briksdal Glacier before us. That hastened our steps even more as we were eagerly anticipating getting right up to the impressive ice. Even though Julie and I had been to the terminus of Franz Josef Glacier last year in New Zealand, this time we were under gorgeous skies and this glacier seemed to be very reachable.
At 7:10pm, we finally arrived at the glacier terminus. There didn't seem to be any barricades or anything so we actually got pretty close to the ice wall. Whether we were doing this foolishly or not in hindsight, we were at least lucky that nothing happened to us given how prone ice like this would melt and break apart (possibly crushing anyone caught in it).
We noticed there were some people actually further up the glacier doing a glacier walk with crampons and other things to ensure there woudl be some grip on the ice. The crevaces before us looked inviting yet also very dangerous and we dared not venture in there.
Meanwhile, as we looked further downstream and across the watercourse, we could see there were small chunks of icebergs that must've come off in the past and still needed time to full melt. As we looked up the opposite valley wall, we saw there were more glacier remnants high up the cliff that also produced more streaky waterfalls with its glacier melt.
Indeed, the scene here was quite memorable and surreal. And it was all accentuated by the perfect early evening light under cloudless blue skies. We couldn't have asked for a better experience!
But all good things must come to an end, and Julie and I had to pry ourselves away from this scene as the sun's rays were getting lower and lower as the evening progressed. On the way down, we caught more views of Volefossen, which was now eye level with us.
And at 8:15pm, we eventually made it back to the car park. As we drove out of Oldendalen, we stopped a few times for the waterfalls that we skipped on the way in. One of them I believe was called Melkevollfossen, but honestly, we couldn't really tell which waterfall was what.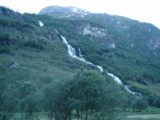 We pretty much just randomly captured waterfalls with our cameras as they caught our eye, and I guess we could figure out how to sort them out after the fact (though that would still turn out to be an insurmountable task).
Finally, we would return to the Loen Hotel where Julie and I were finally able to call it a day. We had dinner at the hotel, and we basked in the late evening afterglow of the sun as we just chilled out and let our uniquely Norwegian experience sink deeper into our soul.
Visitor Comments:
No users have replied to the content on this page