Day 2: COMING UP EMPTY HANDED
It was 6am when we woke up and got ready. We would eventually get all packed up and ready to go though I was still spending a bit of time trying to salvage the GPS-laptop solution. The only saving grace was to do the GPS-Palm Pilot solution, but somehow it seemed like we didn't quite have the software we needed for the Palm Pilot solution so all we were doing was logging our coordinates in the Palm Pilot and then saving the logs to a spreadsheet. There was no map to give those tracks any meaning as the newly bought Mapsource didn't seem to be compatible with it (plus I wouldn't know how to load the CD into there, especially with the serial port of our Dell getting busted somehow).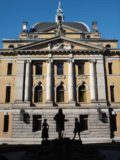 At 7am, we went downstairs to have a Norwegian breakfast. It consisted of a lot of salted cured fish that we were supposed to spread some kind of sauce onto while eating them with a variety of breads. It was pretty simple and basic. We also had some eggs, milk, and other things. But the included breakfast was definitely not something we were used to.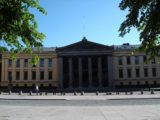 Next, we killed some time touring the city center of Oslo for a bit as the Avis office didn't open yet. So we merely meandered the streets around the Ring Road vicinity where we checked out the Parliament House and some other statues and parks in the area. Truthfully, we didn't really know what we were looking at, nor did we even know what were the must-see sights in town.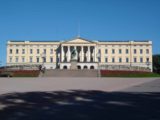 Eventually as it got a little after 8am, walked over to the Avis to pick up the rental car. It turned out that they didn't have automatic transmission in their vehicles so that meant that I would be the one driving as Julie couldn't drive stick shift. So I told her that she would have photo responsibilities if we happened to go someplace interesting while autotouring (something we realized last year in New Zealand that could happen quite frequently).
After picking up the car, we had a little trouble finding parking near the hotel. So after finding some illegal parking near our hotel, I stayed in the car while Julie went to pick up some groceries nearby. And after loading up the car with those, Julie then brought down our luggages one-by-one. There wasn't a whole lot of space in the car for our luggages, but we eventually made it work. Julie then checked out of the hotel, and we finally left Oslo at 9:45am.
Initially, the drive was a little chaotic as we tried to navigate out of the city streets and onto some kind of highway taking us in the direction we wanted to go. But fortunately, the traffic was light when we left and we would eventually make it onto the E18 headed west.
I originally thought we could drive a few hours east to some obscure waterfall found by the Swedish border, but the more I thought about it, the more I realized that it probably wasn't going to work given where we had to go on this day. So we continued west and turned a blind eye to the east.
We had a choice of driving the coastal route towards Kristiansand or head inland. We ended up going inland because I thought maybe it would be cool to check out Rjukan and its big waterfall. I had seen it in the pre-trip literature, and I was anxious to see if it would be flowing. Although I kind of read that it was hydro'ed, maybe the high Spring runoff of this late Spring might allow it to overflow so there would be a waterfall.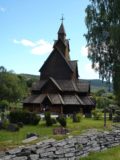 So the decision was made and we took the E18 to the E134. Although I was being blasted with a plethora of foreign sights from the Norwegian road signs, the speed cameras, the mountainous scenery, and more, it was also started to induce road fatigue. Thankfully at 11:50am, we arrived at an interesting-looking wooden house that had some kind of a medieval flavor to it.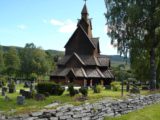 It turned out to be the Heddal Stavkirke (stav church), but Julie and I were so waterfall-focused that we didn't take the time to go inside to see what was going on in there. So after about 10 minutes, we continued about on our way.
Shortly after Heddal, we then took the Road 37 towards the town of Rjukan. Before we entered the town, we started noticing some impressive waterfalls though they seemed to be unnamed. They looked big and significant to us, but who knew if they were really something to brag about?
We'd eventually arrive in the town of Rjukan at around 1:20pm. We visited their turistkontor (Tourist Counter) and that was when we learned that the famed Rjukanfoss would only flow at specific times of the year, and today wasn't one of them. Bummer. But we did pick up some maps and free literature while we were there.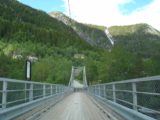 After leaving the visitor center, we then drove across a high bridge that looked scary and narrow. It was single-lane and for sure there'd be no way multiple vehicles would be supported on it (or so I thought). In any case, after crossing this bridge, we then drove towards the Vemork Power Station, arriving at around 2:20pm. Once we left the car, we weren't sure what we were supposed to do other than to look at some interesting waterfall across the valley that we knew wasn't Rjukanfoss.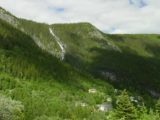 In fact, I didn't recall even finding Rjukanfossen. Where was it? Even if it was a bare wall, I would have at least liked to have seen what it would look like…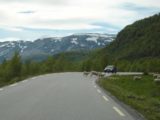 But alas, we left the power station pretty empty-handed, and for that matter, we left Rjukan in a similar state.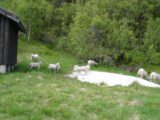 We would continue the rural driving (the roads were definitely narrower at this point as it was more like 1.5 lanes or something) as the Road 37 eventually joined up with the Road 45. We took the Road 45 into Setesdal Valley, but not before spotting a few more miscellaneous waterfalls from the road as well as trying to avoid running into sheep that would cross the road from time to time.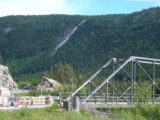 Eventually at around 5:30pm, we would finally descend into the valley, join up with the Road 9, and check out from a distance the Kallefossen waterfall. We merely bagged this waterfall by taking photos of it, but we didn't try to get any closer to it.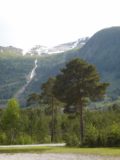 When Julie looked in the other direction, she noticed some other waterfall tumbling down the mountain. Could it be the Gloppefossen (something I'm speculating later as I thumbed through a useful book about Norwegian Roads that we'd pick up later on in this trip)? Well, whatever it was, Julie captured it, but I still couldn't give it a name or a geography to it.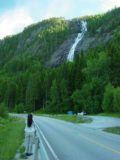 Next, we continued driving south on Road 9 until we'd eventually reach a significant-looking roadside waterfall called Reiarsfossen. At first, there was a car park by Road 9 but the views from here looked like it was a bit too close to the impressively tall waterfall. So we spent some time walking back along side the road until I was able to get a cleaner look at the impressively tall falls in full.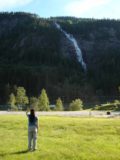 When we returned to the car, we then saw that there was a turnoff to our left that promised to give us more contextual views of the falls from its front. However, we were looking against the afternoon sun so the lighting wasn't the best. Still, we made a brief stop to take these photos before continuing on.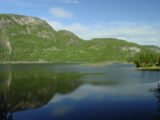 It was getting late in the day as today's long drive dragged on. While the scenery was very beaufitul in the Setesdal Valley, Julie and I were looking forward to checking into the our next accommodation in Kristiansand.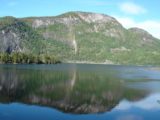 It wouldn't be until around 8:55pm that we would finally find the Rica Hotel Norge in Kristiansand where we would finally be able to check-in and drop off our luggage. Unfortunately, a lot of places were closed this late in the evening. Strangely enough, there was still quite a bit of evening sun at this time. I guess being here in the Summer had its benefits.
We would eventually settle on this somewhat busy place on some wharf where there were some restaurants that still seemed to be open. Thankfully, we went on one of these places (I forgot its name) and had ourselves a pretty delicious and fresh seafood dinner.
While Julie and I were relaxing over the dinner, we looked around and were still feeling a bit surreal as to how foreign this place felt yet was so beautiful. As the day was winding down, we were looking out towards the water and were in kind of a chill state of mind.
But given the late dinner, it wasn't until about 11pm that we finally got back to the hotel, cleaned up, and slept.