Day 3: DECISIONS, DECISIONS
It was 4am when I awoke. Both Julie and I had slept quite well after a peaceful and enjoyable late evening dinner in the 11pm twilight in an outdoor restaurant on the coastal waters of Kristiansand. I intended to do a little morning waterfall hunt while Julie slept peacefully. I figured I'd be back before she'd get up in time for the 7am smorgasbord breakfast that Jerry, the president and acting travel agent at Nordic Company, insisted we had every morning (even though we asked not to have this on our itinerary).
Anyways, I was in the car hire by 4:25am and was off to Flakksvann in search of both Flakkefossen and Teinefossen.
The morning light had already started to shine even though the sun didn't quite break the horizon. Kristiansand was very quiet except for a sparse scattering of cars and big rig trucks making deliveries.
After briefly driving through a pair of tunnels then a lengthy narrow 1.5-lane road (supporting bi-directional traffic) to Birkeland, I had arrived in the still-sleepy township by 5am. The town looked like a happening place, but I was on a mission.
So with my topo printout in hand (which I made prior to the trip using the Norgesglasset online map courtesy of Statens Kartverk), I slowly and carefully made my way through town in search of a sign or hopefully some indication that I'd find the waterfalls I was after. Still, I ended up overshooting the turnoff I was supposed to take and after a brief 15-minute detour, got on the right track.
And so I took a narrow road that headed to a bridge over the Tovdal River (Tovdalselva). However, just before the bridge, I noticed a sign in Norwegian. I didn't have the patience to slowly decipher what the sign was saying, but it had the word "Teinefossen" in it so I knew I had found a waterfall.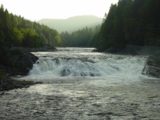 Instead of taking a primitive trail through the trees and along the shores of the river to the falls, I opted to walk towards the bridge, where I got a direct look at the wide river waterfall against the hazy early morning light. It was quite a nice waterfall, but I still had another waterfall to see.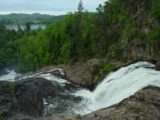 So after taking a few photos, I hopped back in the car and drove over the bridge, then made a left. By now, the road became unsealed and headed into the private community of Flakk. At this point, I was confronted with a confusing array of roads in which I couldn't tell which one was private and which one I could take. So to the best of my ability, I followed the topo map and took a very narrow dirt road that went uphill and eventually passed alongside a long cascade. This must be Flakkefossen, I thought. But there was no sign indicating such. So I just took some photos, then looked for a safe spot to make a three-point turn before heading back to Kristiansand.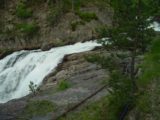 I was back at the Rica Hotel Norge in Kristiansand at about 6:30am. Sure enough, Julie was up and we were already packed and ready to get going. Meanwhile, the Norwegian breakfast was open and we treated ourselves to cold marinated herring, eggs, toasted bread, and some sour fruits all washed down with milk and fruit juices. It didn't quite live up to the varied breakfast we had in Oslo, but it fueled us up for the day ahead.
We were going to have a busy day that started in Kristiansand and ended in Sand in the Suldal municipality. It was a lot of driving for sure, and we intended to see waterfalls along the way such as Månafossen. Unfortunately, I didn't leave much time to explore the Fjord of Light (aka Lysefjorden), but I hoped against hope that somehow I underestimated the amount of time it would take to see what we wanted to see today.
So we checked out and left Kristiansand at 8am. We took a brief detour and visited the small but interesting Kvåsfossen. After about ten minutes here, we continued on our tour towards Jøssingfjorden.
Julie and I also read some signs here about some World War II history as this quiet spot was the scene of the first battle in the war on Norwegian territory (known as the Altmark Incident).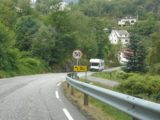 So onwards we drove. We ended up filling up some petrol and snacking up on expensive (well, we quickly found out that everything here was expensive) Norwegian treats in Egersund.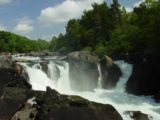 By 1:10pm, we found an unsigned cascade that looked familiar from what I had researched on the web. So I assumed this was Fotlandsfossen though I could be wrong.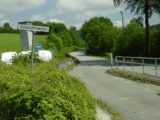 So far, we hadn't really seen much in the way of big waterfalls on the trip. But I knew Månafossen was up next and I really looked forward to seeing it. Julie started to get jaded, wondering whether we were wasting time on yet another tiny waterfall…
So we left E39, which headed for Stavanger and detoured up the R45 towards Gjesdal. During this drive, we went through a long, dark tunnel before the scene opened up towards the shores of the Fra Fjord backed by the same gnarled rocks and cliffs seen in Jøssing Fjord.
Eventually, we went beyond the headwaters of the fjord and then went through a valley before the road narrowed and started to climb. During the climb, I noticed an attractive waterfall putting out a small rainbow in the bright afternoon light. It was Eikeskogsfossen and I pulled over at a nearby pullout to take photos.
The trail was very steep. It looked like the trail was in the middle of being improved, but that didn't help us too much now. We had to rely on what stairs there were and then on chains and poles to keep us from sliding down the steep hill.
At 2:45pm, we could hear the waterfall nearby. As we hurriedly got to the edge of the cliff, we stopped in our tracks and beheld the glorious sight precariously below us…
…It was Månafossen, and a huge rainbow formed in its mist!
Excitedly, Julie and I took the best photos we could without getting too close to the edge. We certainly didn't want to fall into the turbulent abyss here.
Anyways, we took photos of the waterfall in every permutation we could think of. When that was done, we carefully made our way down the steep hill to the car.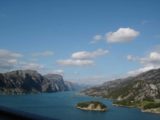 We returned to the car at 3:45pm and drove over to a ferry over the Lyse Fjord at around 4:30pm. After an uneventful and short ride across the fjord, we quickly made our way over to a visitor center.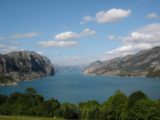 It was almost 5pm when we finally arrived at the visitor center at the mouth of Lysefjorden. From my travel research, I knew this fjord featured the famous Preikestolen (aka the Pulpit Rock) and Kjerag (the place with the rock wedged between two precipitous cliffs). However, when I had to choose between waterfalls and these features, I chose waterfalls. I mean, I had to since we were out on the hunt for waterfalls. It was one of those painful decisions that had to be made given the paltry vacation hours (at least compared to Europe and Australia) we get from corporate America.
Anyhow, the fallout from my choices was that we didn't plan this part of the trip to see Lysefjorden – at least not in an adequate amount of time. I was hoping against hope that we might be able to catch a brief afternoon ferry tour of the fjord, but alas it wasn't meant to be. That was because it was well past the departure of the last ferry for the day and we had to pre-book to bring the car along. So with a sigh of disappointment, Julie and I continued further on the drive hoping to do the Preikestolen hike.
It was 6pm when we got to the car park. And after paying the toll to park here, we laced our hiking boots, brought a backpack with water, and some rain gear (just in case – you never know). With hiking sticks in hand, we were off.
I had thought the hike took only 2 hours round trip, but it turned out that it was 2 hours one-way! It was about 7:30pm when Julie urged me to turn back, knowing we had to get to our accommodation in Sand tonight. Even with the later sunset up at this lattitude, Julie was right. And so we turned back to the car with sores from the difficult hike without anything to show for our Preikestolen effort.
Oh well, maybe next time (but I still had regrets about not seeing the famous pair of Norway's quintessential fjord attractions)…
We made it back to the car at 9pm and resumed the driving to Sand. There was another ferry along the way, and that passed without incident nor without too long of a wait. Sand was still three hours from Preikestolen so we knew we had our work cut out for us.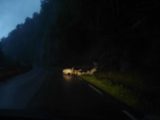 It got dark some time after 10pm and the weather started to turn towards rain. It contrasted from the fair weather we experienced thus far and seemed like a fitting end to the disappointment I felt for not seeing neither Preikestolen nor Kjerag. Julie kept her keen eyes open for wildlife, and sure enough there were some goats on the road, which we stopped in plenty of time to let them pass.
At last, we arrived in Sand at around midnight. I thought it was kind of strange that we had to drive through a residential area to get to the wide fjord-facing area where the Ryfylke Turisthotel was. Perhaps I took the wrong way, but either way, we finally made it to our accommodation in one piece.
Fortunately for us, the lobby was open 24 hours. So we checked in without any problems and got to our room. After cleaning up, we quickly slept.
There was no more time to dwell on today's disappointment nor the regrets I had for not planning this day better. I intended to do more early morning exploration while Julie was asleep starting at 4am so that left me with about 2 to 3 hours of sleep…