Day 12 (June 24, 2019 – Odda, Norway): "The Tourist Trifecta"
It was 4am when I awoke. With today being the big day to do the last of the big bucket list hikes (this time to Trolltunga), I made sure to obey the alarm.
Twenty minutes later, I was already dressed and ready to go. So into the car I went with a backpack full of snacks, 2L of water, and my usual GPS gear, camera, etc.
I also brought along rain gear just in case I was still out on the trail by around 5pm when the rain was predicted to come.
By 4:45am, the relatively light and uneventful short drive from Odda brought me up to the car park at Skeggjedal.
Right at the P3 gate, which didn't open until 6am, I found myself the fifth car in line (out of 30 for the day).
With over an hour to wait, I got out of the car and did a little walking around pretty much taking pictures of the P2 parking lot area.
The intent for getting this start and striving for the limited P3 parking lot at Magelitopp was to save myself 8km of hiking out of the 28km round-trip distance to hike to Trolltunga.
It was an epically long hike, but it was apparently one of the bucket list items that represented the third of such hikes (Preikestolen and Kjerag being the other two).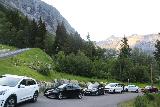 Of course, the car park pricing certainly reflected the highway robbery for the right to do such hikes as this time they charged 600 NOK (close to $80 USD) to park at the P3 while they charged 500 NOK to park at the P2 with an additional 130 NOK to ride the shuttle up to the trailhead by Magelitopp.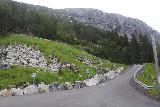 The cheapest was the P1 parking lot which was 300 NOK I think. But you'd only be forced to park there if there was no space at P2 or you had a larger vehicle with trailer. I wonered if there was a different shuttle to make up the insurmountable hiking distance had you started way down there.
Anyways, as I was killing time, I watched the P3 queue grow. By about 5:25am, I watched the queue grow to 19. It made me wonder if I could have slept in another 30 minutes before arriving, but then again, I might have taken the risk of getting shut out.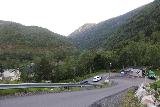 You just never know about these things and the extra wait was probably worth not doing the brutal 4km climb on 17 switchbacks that could easily be driven.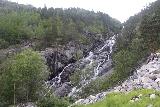 At least there was an attractive waterfall spilling right behind the P3 payment kiosk so that kept the scenery somewhat interesting during this wait. I also took advantage of using the WC at the car park.
Who knows if there'll be another one throughout the hike? And knowing how Norwegians view doing Nature calls as disrepectful (and especially given the popularity of this hike), I doubted there'd be any opportunity to do this throughout.
Finally at 5:30am, I saw two workers come down in one of the green shuttle bus vans, and they promptly set up the payment kiosk while one guy was busy explaining to each vehicle where to park while waving them through the boom gate one-by-one.
Eventually at 5:50am, I arrived at the limited car park for Magelitopp. Up at this elevation, it already felt like I was on top of a high mountain plateau.
I could see in the distance some waterfalls that might have spilled into Odda on one side. Meanwhile looking in the other direction, I could see another waterfall feeding one of the gullies that fed the dammed man-made Ringedalsvatnet.
That dam, by the way, was one of the reasons why I didn't bother doing this excursion the last time Julie and I were here 14 years ago. In fact, I wasn't even sure that this hike was available nor that it had already become as touristy as it was now.
Anyways, since I had already prepared everything (including putting on the hiking boots) back down at the P2 car park waiting for the P3 boom gate to open, I promptly got going on the long hike.
Initially, I had to go downhill to the first prior switchback. That was where the actual Trolltunga Trailhead was.
Then, the trail traversed a combination of dirt trail and granite surfaces, as it gently went uphill over a couple of bridges and roughly 1km towards some mountain huts in the distance.
Somewhere before the 2km marker (saying that there was still another 8km to go), the trail then started a brutally long ascent.
This was a real ass-kicker as the climb was relentless and it went over uneven terrain composed mostly of organized rock steps for decent footing.
Even though one worker I spoke with at Kjerag car park told me that the Kjerag hike was technical and difficult while saying Trolltunga was non-technical but very long, this climb certainly put this particular hike in the hard category.
It was definitely more than just distances involved here though it didn't seem to be technical as he stated.
By about 6:45am, I eventually made it up to the 3km marker, where it was at the end of the brutally steep part of the long climb. However, there was still more climbing to do over slick granite surface.
Looking back down at this lofty vantage point, I could see more people partaking in the brutal climb way down below. I was already passed by a couple of pretty fast and young hikers during this climb so I probably wasn't one of the first folks at this point any longer.
But then again, I did make frequent stops to take pictures and try to document the experience.
By about 7:10am, I made it to the 4km marker (still 6km to go). By this point, I was past the initial long brutal climb, including most of the granite friction pitch beyond the steep rock steps.
Most of the 400m ascent out of 1200m total was over, and the rest of the climb was going to be a mix of more gradual climbing with some short steep stretches, I'm sure.
At this point, I was traversing through moorish plateau with lots of alpine tarns and streams dotted throughout the exposed plateau.
The hiking was pretty uneventful as I passed the 5km point at 7:20am, but then the trail started climbing again. There was the first survival cabin not far from here as well as other mountain huts that I'd imagine were for workers.
Towards the top of this next stretch of climbing, the views of Ringedalsfossen in the distance became more dramatic as it sat at the very head of a man-made lake held up by a dam just upstream from the P2 car park.
I probably moved the slowest at this point as I tried to seize every moment I was getting views of Ringedalsfossen. After all, I wasn't sure how much more I'd get to experience this waterfall throughout the hike.
I've learned over the years that you take advantage of every opportunity now rather than punt for later because more often than not, circumstances prevent you from recapturing that moment. It's why I advocate being in the moment because such things are so fleeting.
So I made long pauses at 7:30am, 7:45am, and 7:55am. Each time, the views of Ringedalsfossen seemed to get better and better as the views became more direct while fronted by Ringedalsvatnet.
Anyways, I eventually got past the climbs yielding more and more of Ringedalsfossen and then the trail once again undulated (not really "flattened out") for a fairly long stretch.
By 8:05am, I passed a stream area where smaller mountain cascades flanked the trail while the trail itself involved walking on some kind of rocky stream bed. With hiking boots on, it was easy to get through such streams with no thought to getting wet.
I'd imagine with tennies on, they might get wet with a misstep.
At 8:10am, I managed to get to a spot with a full view of Ringedalsvatnet. Ringedalsfossen was still visible from this point.
Finally at 8:25am, I made it up to the second survival cabin, and this was at the end of another spurt of climbing.
Next, the trail followed more or less a flat stretch while flanking some power lines that I knew was probably responsible for the compromise of at least the Tyssestrengene waterfall, which this trail passed above.
When I approached what I thought was the Tysso stream, I saw there were a couple of dams holding up the stream. Downstream of the dam, it looked like there was hardly any stream. However, there were snow patches and I'd imagine if the waterfall was flowing at all, it would be due to those snow patches melting.
There was definitely no running water because of what this dam was doing to the stream.
Then, the trail started doing a gradual descent before dropping into a steeper one into a gully, which I knew was going to be brutal on the way back.
Right at the other side of the gully (which I'd imagine might have something to do with the stream resulting in the Tyssestrengene Waterfall but I tried and couldn't find a way to get a view of it on this hike), there was a steep climb involving some ropes to help with the slippery parts.
This was perhaps the only "technical" part of the hike, but it was nothing to the difficulty of the Kjerag hike.
After this next burst of climbing, I ultimately got to the 8km marker (or 2km left to go) at 8:35am.
Now, the hike pretty much went through another lengthy stretch of granite plateau hiking as there were definitely quite a few hikers going in both directions at this point looking for red Ts and rock cairns.
By about 8:50am, I got to the 9km marker (or 1km left to go).
And then, finally at 9:35am, I finally made it to the group of people gathered around the cliff edges to look down at the famous Trolltunga ("Troll Tongue").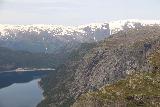 The view up here was quite breathtaking, but in order to try to recreate the views shown in the post cards, it looked like you had to be willing to brave the fear of heights and climb down to a very dicey spot (which I saw one person do).
No thanks.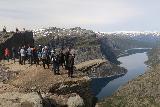 So I settled for a slightly more elevated spot and took pictures with everyone at other people taking turns at getting their moment standing on the tip of the Trolltunga.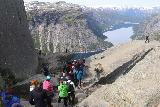 I did take a few moments to climb down the ladder and get into the queue which was only about a half-dozen or so people long at the time.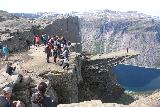 One person was kind enough to take a picture for me while I was on the tongue itself. And indeed, if anyone else was here without companions, there would definitely have to be some degree of coordination with total strangers going on.
Generally, most people were helpful and even offering to do such things.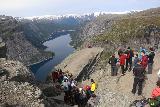 Finally, at 9:40am, I was having lunch with a nice view of Trolltunga and the procession of people getting their moment on the tongue itself.
It was getting a little chilly up here but the sun was also breaking through thereby causing a little more color to the scenery.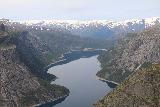 As I was enjoying the scene, there was one Russian lady who managed to pop a bottle of champagne right at the Trolltunga, and then she proceeded to remove her shirt and post topless.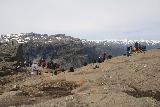 Eventually at 10:25am, I was done with lunch, which pretty much consisted of cherries, walnuts, and an apple plus water to wash it all down and dilute the sugars.
By this time, I saw that the queue as well as the population gathered around the plateau to have exploded. Now, in order to get your turn on the tongue, the wait grew all the way past the bolted ladder and onto parts of the viewing plateau itself.
Good thing I got the early start. I could totally see how some people wound up waiting for 4 hours to get their turn!
After a brief time climbing beyond the lookouts for Trolltunga, I managed to get one last look from the top back at Trolltunga and its queue. I also managed to get a different look at Ringedalsvatnet with some cascade that we must have walked upstream from way in the distance.
Still, I was always on the lookout to see if Tyssestrengene could be seen, but I still had yet to see such a thing (at least without a drone).
I did, however, see the outflow of the Tysso stream where it was supposed to feed Ringedalsvatnet.
By 10:40am, I finally got my fill of this spot and started hiking out.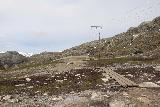 I was pretty much on a mission with very limited photo stops on the return hike. However, there was one moment where I was past the gully near the dam holding up Tyssestrengene, and I noticed (or was reminded of) balloons or orbs or something in the distance on some other plateau that I forgot to check out.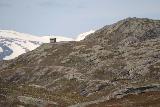 Could that plateau have my only shot at looking at Tyssestrengene?
Unfortunately, I was already well-past the gully at this point, and checking that out would mean backtracking and undoing the climbing I did on the return to get here.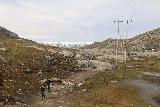 I made a decision at this point that I'd just keep on going with the return hike hoping that I wouldn't regret this decision. I kept telling myself that the falls wasn't flowing, but now I had this doubt in my mind that perhaps I didn't truly complete the experience from a waterfalling perspective without at least doing this.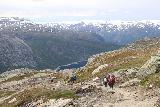 Anyways, there was nothing definitive about what I was missing out on. All I knew was that I did notice some people on the plateau. So clearly, it was a sanctioned hiking spot, but I didn't recall seeing much in the way of getting there (unless there was a trail junction with signage that I ignored or forgot about on the way to Trolltunga?).
Regardless, I continued on with the return hike as I also watched more people going up the other way as I was making my return.
It made me realize that I must have been one of the first people on the way out.
By about 11:35am, I had returned to the second survival cabin. At this point, I knew that most of the return climbing had been done and now it was going to be downhill for the most part.
After a fairly lengthy stretch on the plateau from the second cabin, I ultimately got back to the first cabin at 12:10pm.
Then, after another lengthy stretch of plateau hiking from the first cabin, I got to the start of the brutally long descent at 12:45pm.
It started with friction pitches before going down steep steps that were really jarring on the knees (reminiscent of how brutally hard the hike was on the knees for Preikestolen).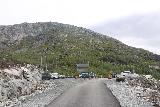 Eventually at 1:35pm, I finally made it back to the Magelitopp car park.
I was still hoping that I wouldn't regret not pursuing the plateau that potentially could have yielded a Tyssestrengene view, but at this point what's done is done.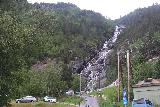 That last uphill stretch to go up the paved road to the P3 lot was brutal. But in the end, I got out of my gear, out of my hiking boots, and then finally drove down the road to the P2 parking lot.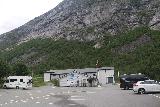 By about 2pm, I made it back down to the larger and more public lot where I finally got to use the WC. The entire time throughout the hike, I didn't once go pee and I didn't see an opportunity to do so either the whole time.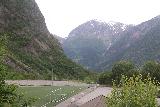 Then, at 2:20pm, I finally made it back to the Blue House in Odda, where Julie and Tahia were in the midst of having their lunch.
As I joined them and talked to them about the hike, we enjoyed a Thai food lunch since it was just downstairs from us.
However, we were reminded of how sugary eating out can be (especially when it came to Thai or Vietnamese foods) and I don't think Julie's gut appreciated this momentary cheat.
With still so much daylight left to go, I told Julie that the forecast was going to deteriorate starting tonight and would get worse tomorrow.
So she finally decided to go out to Voringsfossen, which I knew was a long drive from Odda out past Eidfjord and back, especially given how narrow the Rv13 road is.
One thing I realized when driving that road back and forth was that it was a heavily-used throughfare.
And even though it seemed like there had been lots of changes over the years with better tourism signage for things we only guessed at back in 2005 (e.g. the blue scenic icon symbol signs were now replaced with more descriptive signs showing the place names in brown) as well as no more manual tolls, more tunnels, etc., the Rv13 still remained narrow and quite dangerous to the uninitiated not acclimated with the bi-directional traffic on such a limited width road.
Anyways, we got back out of the apartment at 3:30pm and then did the drive way out to Mabodalen.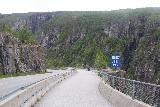 Eventually at 5:10pm, we finally arrived at the lower car park for Voringsfossen. To my surprise, there was no one collecting a fee for parking here like there was the last time we were here.
However, it looked like it just started to sprinkle and drizzle so we had to make our visit quick.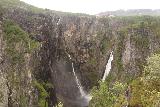 Once we got back to the familiar lookout, we could see that the falls still looked nice but it didn't quite have the volume (at least on the thinner and taller component on the left) as it did back in 2005.
There was definitely no rainbow at the base of the falls this time around. However, in the distance, we could clearly see more developed catwalks and lookout railings.
The rain got harder and harder the longer we tried to take our shots.
So after having our fill, we then retreated to the gift shop, where Julie and Tahia took a lot of time checking things out. During that time, I was looking at postcards, and I saw that it was actually possible to take a 90-minute or longer trail to descend into Mabodalen to reach the base of Voringsfossen.
I think that trail was closed due to landslide at this time, but it definitely opened up the possibility of doing such a thing in my mind that I had never considered up until now. Of course, we'd have no time for such an excursion even on a trip as long as this one.
Finally at 5:40pm, we got back in the car and then proceeded to drive up to the car park by the Fossli Hotel. This was the place where I remembered purchasing my good-luck Norwegian socks back in 2005 because I had completely forgotten to bring hiking socks on a hike to Valursfossen. So I wound up buying that lucky pair just so I wouldn't be hiking bare-footed in hiking boots.
Indeed, at 5:50am, we were back at the Fossli Hotel vicinity, and to my surprise, there also wasn't a person collecting a fee to park here as well!
With the rain coming down, we hastily went onto the catwalks where there were views looking right down at Voringsfossen. And unlike the last time, these railings actually allowed everyone to safely get good views.
I recalled the sense of vertigo that we got when there were no such railings and it seemed crazy now thinking how the best views required braving the fear of heights to get as close to the edge without falling to get that better view of Mabodalen and Voringsfossen.
It seemed like despite the weather, the overlooks still got crowded as more pushy tour bus groups would show up, but eventually we'd have our fill of all the overlooks here, and by 6:20pm, we were back in the car.
At 6:50pm, we were back in Eidfjord as Julie had fancied eating out in this area, but when she saw that the food served at the Eidfjord Fjell og Fjord Hotel restaurant didn't have compliant stuff, we decided to head back to Odda to self-cook and at least have control of what went into our own food.
Finally at 8:15pm, we were back at the Blue House. By this time, it was raining for sure though I wondered in hindsight if I could have snuck in a wet excursion to the Furebergsfossen, which wasn't far from where we were staying.
But with the long day that I already had, I decided against it thinking that I might be able to do it tomorrow…