Day 13 (June 25, 2019 – Odda, Norway): "Long Workday"
It was about 6:25am when I woke up. On this day, I intentionally ignored the alarms and tried to let my body recuperate from all the sleep-deprivation and activities from the entire trip leading up to this point.
As I looked outside, I could see that it was definitely raining pretty hard so it was good that we managed to get in what we could yesterday, especially the Trolltunga hike, which would have been miserable under such conditions today!
So with such dreary weather, Julie and Tahia decided to make this a relatively easy day. They were going to stay behind in Odda town while I was going to make it a day dedicated to waterfalling.
The forecast said that the weather was slated to improve at around late morning depending on the region. So I was in no hurry to get started.
And indeed, after having full breakfast with the family, it wouldn't be until 9:55am when I started to leave the apartment and go out solo.
It was very cold and still rainy as I got out to the car.
I was hoping that the forecast would be correct in that the weather would improve by the time I would arrive to the first waterfall for the day, which would be Espelandsfossen in Granvin municipality.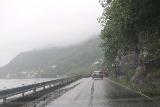 This was one of those waterfalls where I didn't properly see it the first time around. So I was hoping to correct that mistake this time around.
Anyways, the drive up the Rv13 was busy as expected, but it was also raining pretty hard.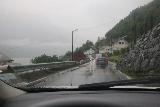 The Sorfjord was all fogged up so there would be none of the gorgeous fjord views with waterfalling tumbling as seen from across the way.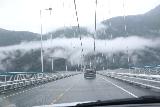 Eventually after taking the underground roundabout and following the path to Ulvik, I found myself driving across the new Hardanger Bridge (something that definitely wasn't there on our first visit as we had to ferry across Hardangerfjorden) though that came with the hefty toll price of 146 NOK.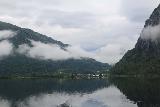 I was afraid that I'd have to do this three times (once to get back to Odda and once more to go back across when we head over to Bergen tomorrow).
Anyways, by about 11:30am, I found myself driving the narrow Rv572 east towards the lake Espelandsvatnet and stopping informally at a view of both the lake and the Espelandsfossen waterfall together.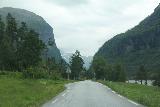 I wasn't sure if there were any legit parking spots and the Espelands camping probably had to deal with uninvited guests in the past so parking there was also out of the question.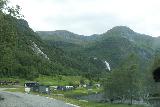 Regardless, I managed to find an informal "pullout" in front of someone's driveway where I did manage to put on emergency blinkers and then take a few shots before continuing on to closer to where the actual trailhead was supposed to be.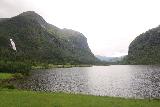 I had seen before that this trailhead could have the access blocked off as I had seen on Google Maps.
In any case, when I showed up at 11:30am, I was surprised to see that the trailhead car park was actually open! It was really no more than a small clearing and it looked like someone's little parking area.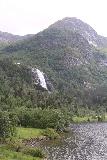 There was no signage suggesting that this was the starting point. However, I did see signage suggesting that a hike started from here.
Seeing that the terrain looked to be very wet and muddy, especially from this morning's rains, I had to change out of Chacos and put on hiking boots.
Once that was done, I then proceeded to go up the steep and informal-looking path uphill, which seemed to lead to some kind of cabin.
There were wooden red arrows on the ground pointing the way away from the cabin and further up the ridge towards the front of Espelandsfossen.
I'd ultimately get up to the front of the falls, but it was throwing up so much mist that it was difficult to capture adequately without potential damage to the camera.
So I continued to follow the muddy and informal trail of use to get beyond the spray zone and have a more angled back look at the falls.
By this point, I was able to look back towards Espelandsvatnet as well as some smaller ephemeral waterfalls tumbling around. It was quite the scenic spot to be sure.
It also looked like the trail kept climbing up, but I had no interest in doing that (though I was curious to see where else this trail would go).
Indeed, I was merely content to capture the falls and then head back down after documenting the experience.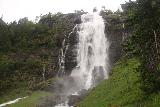 By 12:20pm, I was back at the car. I was quite surprised that I was the only person doing this visit as I had recalled the Rv572 was a fairly busy stretch of road between Granvin and Ulvik back in 2005.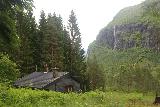 However, with the tunnels that pretty much bypassed this whole area, it seemed to have restored a sense of quiet to this part of Norway.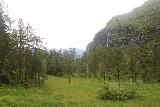 And maybe the landowners here wanted it to be that way (and perhaps why the trailhead was available to me as the landowner probably graciously allowed access now that the crowd problem wasn't as much of an issue – but this is just my theory).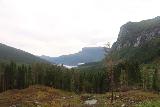 Next, since I had already driven past the bridge and paid a somewhat hefty toll for that priviledge, I decided to drove over to Skjervsfossen and see Skarvefossen or (Skorvefossen or Skorvofossen) along the way.
I knew those were roadside waterfalls worth a short stop.
Anyways by about 12:45pm, I made it to a pullout just beyond the bridge in front of the upper drop of Skjervsfossen. Somehow I had missed Skarvefossen near Spildo along the way.
I made a mental note to come back to that waterfall after having my fill of the Skjervsfossen.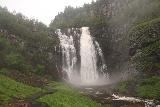 And like last time, there was a path leading closer to the upper drop of Skjervsfossen, which took me out of the spray zone and into a much calmer and easier-to-experience part.
I was hoping that with all the new developments that I knew was going on here that there'd be a sanctioned path going up then down the road to the switchback with the full view of the falls.
However, only the stairs going up was there, and it only led up to the brink of the falls.
So after having my fill of this upper falls, I wasn't going to go up the steps and instead, I'd drive up to the last switchback and look for a place to pull over.
So at 12:55pm, I did just that. Oddly, there were a bunch of folks with lawn chairs sitting at the switchback looking at me with smiles.
I wasn't sure if they were just chilling out over there, or if there was something else going on. But regardless, I said hi to them and then went about my business.
Indeed, this still was the best position to view Skjervsfossen as well as the valley below. And I still found it rather incredible that most people still don't realize that the best view was here and not the sanctioned spots.
Finally, after having my fill of this spot, I then went to the sanctioned WC and parking area at the top of Skjervsfossen. There, I checked out the overlooks, which included the brink as well as a cross profile view of the brink of the falls.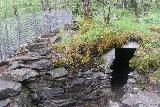 I also didn't realize that there were remnants of what appeared to be a mill (or at least the foundations of it) here. Along with signage, that made for a little more intrigue to this area than just another pretty waterfall.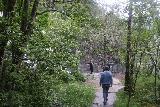 When I was done with the falls, I finally used the facilities once more, but this time, I came to realize that this was one of the prettiest public toilets I had ever seen.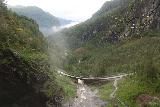 There was a window allowing you to do your business and look at the rushing stream below. Meanwhile, the stainless steel toilet looked modern as did the sink and soap dispensing facility.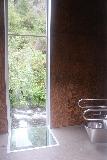 The ceilings were high and slanted.
If there ever was a display of public infrastructure being more like a splurge rather than the bare essentials, then this would be it.
I wondered if I'd get a chance to use the WC again if passing by again.
Anyways, at 1:25pm, I was back in the car. Then, I was about to drive back down the switchbacks below Skjervsfossen when a lady suddenly stopped me at that first switchback with those people in lawn chairs chilling out.
She told me that the road was closed. I asked her whether this just happened now and she said that it had been closed all morning (though I mentally thought how did I get up here in the first place if it had been closed?).
Anyways, that would explain why there were people sitting in lawn chairs at the top switchback. I guess the road was only closed in one direction, and I just happened to show up right when they closed.
So it was a good thing I got the view of the falls when I did.
Thus, I went back in the other direction and it turned out that the Rv13 was just over 1km away so it wasn't that bad of a detour. The only drawback was that I'd have to pay another road toll to go back through the tunnel on the way back.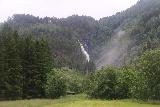 Then, I turned back onto the narrow road towards Spildo, where I finally managed to pull over at a bus stop and check out the familiar Skarvefossen at 1:45pm or so.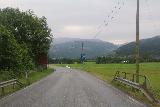 Once I had my fill of that falls, it just started to rain again.
Next, I drove back down towards Eidfjord again. By this time, I made the decision to pursue Valursfossen instead of the Husedalen Waterfalls given the added trail length for the latter that I simply didn't have the time for.
The weather definitely looked like it had improved in that area though the low-lying clinging clouds was evidence of the weather that was here just this morning.
I then proceeded to go up the Hjolmo Fjellvegen, and at first it didn't look good as low lying clouds caused fog in the lower reaches of the valley.
However, soon enough, the road climbed above the fog and did allow me to get a good look at Vedalsfossen at 2:40pm.
For some reason, this road didn't seem as scary as it did the first time we drove it back in 2005. But then again, I was a newbie in driving Norwegian roads let alone European roads in general, and there was a lot I didn't know or wasn't experienced with back then.
This time around, I was able to zip through this single-lane stretch (actually the whole road was single lane with a few pullouts to let traffic pass), and then I went up the switchbacks alongside the misty Berastoldafossen.
Eventually, I got up to the lower car park for Valursfossen though I didn't see any explicit signage for the falls here anymore like last time. It made me wonder whether this was no longer the official trailhead for it.
By about 3:05pm, I made it up to the uppermost car park at the end of the road right on the Hardanger plateau. There were many more cars up here than I had ever recalled back in 2005.
Indeed, it just seemed like Norway was no longer the boutique destination it once was 14 years ago. Now, it seemed like even remote spots like this were no longer secluded spots as it seemed like everyone knows about some obscure place.
Regardless, I did some scouting of this area for about 15 minutes before I drove back down to the lower car park and got there at 3:30pm.
At that point, I geared up and got going on the hike. My curiosity was really getting the better of me for this part of the hike because I never did it this way.
So I was wondering what I was missing out on.
Anyways, the hike began across a bridge over a rushing stream that was responsible for Berastoldafossen down below.
The trail was already on the steep and somewhat rough side marked with the familiar red Ts as it skirted by one of the mountain cabins.
Next, the trail followed alongside the river with a partial view over what appeared to be an attractive gushing waterfall in the distance. I knew this wasn't Valursfossen, but yet there really didn't seem to be a satisfying spot to get a fill for this intermediate falls.
As I continued on the trail, there were more potentially confusing spots as I really had to pay attention and to trust the red Ts when I found them.
There were some parts of the climb that seemed both muddy and quite vertical, and it made me wonder how this could be the official Valursfossen trail (though that might be why they got rid of the signs I saw for it from before?).
Eventually, I got past a few more cabins and I noticed more signage for places like Vivelid (which I realized after the fact that it was some kind of remote mountain cabin) as well as Asbyrget, Liset, and other random names.
I also saw a sign for Valursfossen in more improved DNT signage that definitely made the trails seem more legit than they did 14 years ago when we were hesitantly taking paths that weren't all that well signed.
I had to make a mental note that perhaps I should use this junction to take the upper trail that I had scouted out earlier in order to avoid the trail I had just taken to get to this point.
Once I was on the official Valursfossen Trail, the trail immediately got muddy and rough. It started to climb up a steep rock wall, which revealed a nice view of Hjolmodalen at the top.
I got there at 4:10pm, and at this point, the valley was filling in with clouds that seemed to be growing and getting worse (could the weather be getting worse while I'm out here?).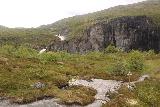 Next, the trail traversed a combination of muddy moors as well as up-and-down rock walls along the way.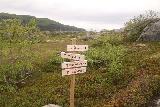 Julie and I remembered how hard this hike was in the past, and yet this trail seemed to be a bit harder than I remembered it. It definitely seeed more up and down that I had recalled.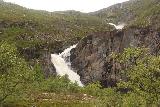 And some of the muddy spots looked like they couldn't be avoided. In one instance, my foot went in deep and mud seemed to be coming in over the top of the boot!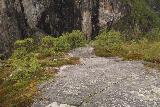 After what seemed like a long time of doubts and incredulousness at how this trail bordered on sanctioned scrambling as opposed to a hiking trail, I finally reached Valursfossen.
I had to descend a bit further down than my memory suggested, but then again, memories tend to fade and perhaps little details like that tend to be forgotten over time.
Unlike the first time Julie and I were here, the weather was quite a bit overcast.
However, like the first time, I was all alone. So what were all the other cars parked at the trailhead going for?
Anyways, it was getting late in the day and I had to get moving. So I wasted no time going back towards the trail junction, which I managed to do by 6pm.
Next, I took the longer trail to the upper car park, and I got back there by 6:20pm.
Finally, I walked down the switchbacks on the road and eventually made it back to the trailhead that I parked the car at by about 6:40pm.
On the drive back down, I managed to get a few views of Vedalsfossen's top along the switchbacks alongside Berastoldafossen. There were a pile of pocks at the best switchback for views of Vedalsfossen though it was nothing official.
Once I was back on the main roads, I then decided to make one last detour towards Skytjefossen or Skykkjedalsfossen.
I was curious about whether they didn't allow driving to the falls anymore or not. But I had to see for myself.
Along the way as I drove into the scenic Simadalen (seeing god beams over the Hardangerfjord en route), I then found myself driving an unpaved stretch of road with grass growing in the middle.
I still wasn't sure if this unpaved part was sanctioned driving, but I pressed forward.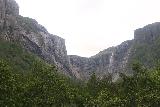 Eventually at 7:40pm, I finally made it to a tiny informal pullout beneath power lines right in front of the familiar waterfall.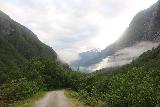 Just when I took some time to document the experience, I saw that clouds suddenly rolled in and started to block the views of the falls just above me.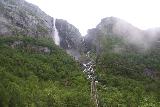 The clouds continued to get worse and worse before the falls was completely covered up and didn't seem like they would leave any time soon.
So that pretty much ended my brief visit though I did check out what was at the end of this road, which was basically a dead-end in a clearing.
There was someone camping here, and I wondered if this was the better view of Skytjefossen without the ugly power lines in the way.
Anyways, by about 7:45pm, I started to drive back to Odda.
As I was going back down the Rv13, the weather once again seemed to be improving and the scenic Sorfjorden seemed to reveal itself and its waterfalls once again.
By about 9:30pm, I finally made it back to the Blue House in Odda again, and it was just in time for one last dinner at our apartment before heading to Bergen tomorrow.
I did fancy a late after-dinner out-and-back excursion to check out Furebergsfossen, but Julie talked me out of it citing that I need rest so I can drive fully alert.
So with that, this long workday of waterfalling was over. And like with the Tyssestrengene yesterday, I wondered if I would regret not fully re-visiting Furebergsfossen nor the Husedalen Waterfalls on this trip.
I guess it's not always perfect no matter how well you plan your trip. And I'll just have to live with the results.
Regardless, it's now time to look forward and try not to look back…