Day 14 (June 26, 2019 – Bergen, Norway): "Love and War"
It was about 5am when I had awoke, but I had intended to get up at 4am. Apparently, I had overslept the alarm.
That wasn't good in terms of trying to leave Odda and allow ourselves more time to check out waterfalls along the way to Bergen let alone the city itself.
After getting all packed and ready to go as well as having a last full self-cooked brekkie before leaving, I finally managed to go over to the sentrum parking lot to retrieve the car then park in an ad hoc (and illegal) manner inside the private parking area since all the Blue House parking spaces were taken up last night.
By 6:40am, we finally left Odda and went about our day's activities en route to Bergen.
Like with other mornings, the weather was wavering between cloudy skies and some odd bouts of rain. This seemed like par for the course as far as weather in the Norwegian fjords were concerned.
I guess from our trip back in 2005, our experiences must have been the exception rather than the rule when we went almost the entire 2nd half of the trip with beautiful sunny weather!
However, as far as the forecasts were concerned, we should be expecting rain almost every single day. And so far, the weather forecasts have been pretty spot on. So this wasn't looking good as far as our hopes of experiencing the Lofoten Islands with good weather.
Anyways, with such a cloudy and semi-rainy morning, which I knew would improve as the day went on according to the weather forecast, as long as the bad weather was happening while we were driving and the roads weren't closed, then we'd be in good shape.
Sure enough, as we were cruising along the roads (at least the best I could with this being like the 4th or 5th time I had driven up and down the narrow yet highly-trafficked Rv13), we finally arrived at the Skjervsfossen WC at 8am.
After my experience with this place yesterday and knowing that we all needed a potty break (with WCs few and far between), at least I knew where it was and I knew that Julie would appreciate the fancy interior.
Anyways, we had no intention of revisiting Skjervsfossen and it was only 1.2km from the Rv13 (which was now a pretty wide two-lane road). Besides, it was very foggy and visibility was poor.
Once we did our business (and Julie was getting a kick out of this place while taking pictures; one of the finest public toilets ever), we then continued driving towards Voss and then to Tvindefossen to take advantage of the cloudy weather.
After all, I knew that the waterfall was perfect for long exposure photographs. The only complication with this waterfall was whether the clouds would persist and impact the overall experience by blocking the visibility of it (thus making the detour to the waterfall a useless endeavor).
I guess we won't know until we get there.
Eventually at 8:30am, we made it to Tvindefossen.
We were the only car parked at the butikk there though there was one other couple visiting the falls who walked over from the nearby camping.
So for a few minutes, we had the whole waterfall to ourselves and I even started using our tripod for the first time on this trip.
However, roughly 15 minutes later, a tour bus just showed up and I knew at that point, the tourist bus madness would begin.
Sure enough, after getting our fill of the falls (or what we could of it in peace), then we had to deal with the mass of humanity descending upon the falls and getting in the photos.
So my mentality shifted from nature shots into using these people as subjects to communicate what the scene was like.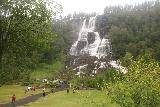 Then, another tour bus showed up. The first one was apparently a Korean bus tour. The next one was a Spanish one since I heard the language being spoken.
By this time, Julie and Tahia were briefly checking out the gift shop though Julie did have to spend 10 NOK to go use the restroom one more time.
Meanwhile Tahia and I knew that we could return to the Skjervsfossen WC one more time since the GPS had us return back that way in order to take the Fv7 towards Norheimsund from Granvin so we could pursue visiting Steinsdalsfossen.
Anyways, we left Tvindefossen at 9am and then we managed to return to the Skjervsfossen WC at 9:25am. It was still foggy over there.
After doing our business, we then followed the GPS's instructions and took the Fv7 after leaving the Rv13 near Granvin.
I'm sure the tolls were adding up by this point.
The Fv7 was like the Rv13 in that we were on narrow roads that supported bi-directional traffic. However, buses and trucks also shared the road so it created a few tense spots.
It was still raining on and off and the clouds were still hanging low.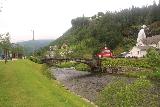 But eventually the roads started to widen as we got closer to the town of Norheimsund, and then by 10:45am, we arrived at the familiar Steinsdalsfossen.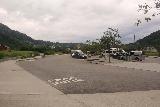 Unlike the first visit 14 years ago, this time, the gift shops appeared to be on the other side of the bridge over the stream responsible for the falls.
There was also a fairly-sizable dedicated car park with a visitor center further east of the bridge.
It definitely felt more legitimate this time around with good signage as opposed to last time.
Not surprisingly, there were still also lots of tour bus traffic here as I knew this was a popular one for the convenience of dropping off dozens of people at a time.
Anyways, we wasted no time walking towards the falls though I went up to the backside of the falls first.
Although the skies were bright, it was still cloudy. So that kind of wreaked havoc on the light meter when taking pictures.
So after what seemed like some 20 minutes or more, I was pretty much done documenting the falls from its backside as well as from a viewing platform on the other side of the falls.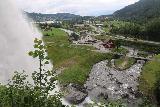 The whole time, I was waiting for Julie and Tahia to catch up to me, but they never bothered to come up after all this time.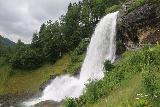 Eventually, I went down to join them and we took our photos besides and on the bridge itself. There also seemed to be a picnic area with memorial to some astronomer by the picnic tables there.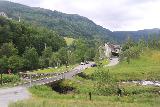 This picnic table area seemed to be where the old souvenir center there as well as the area for tour buses that I had recalled from before.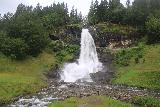 Either my memory had faded me or things did indeed change over the years. There was even a residential area nearby that I didn't recall was there before.
Regardless, once we were done taking pictures, we then went into the gift shop since Tahia seeemed to be drawn to them. Unfortunately, we noticed some people were gathered around some woman who was laying down in the grass.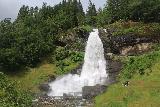 Apparently she might have collapsed as she was touring, but I knew something was off when the people around her were calling around for anyone to ask for help.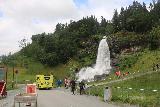 So while all this was going on, after another 15 minutes or so, the yellow ambulanse showed up and now sanctioned experts showed up and were in control.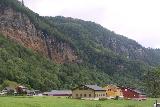 Only when that happened did we finish our tourist mode and then we returned to the car at 11:45am.
I did find it interesting that dozens of other tourists were completely oblivious to the scene and kept on going on as life the ailing lady wasn't there.
Next, we drove further west on Fv7 through some tunnels and past some bigger waterfall alongside the road that we couldn't pull out for. I knew that one was there, but I think Julie managed to help me take a picture of it as I was driving back on our first trip (either that or we were successful in finding a pullout which we didn't see this time around).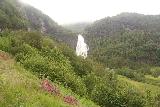 Finally at 12:05pm, we exited the Fossenbrattetunnelen and pulled over on the opposite side of the road at an elongated pullout just like before.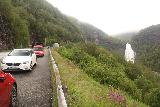 But unlike that first time, there were many more cars there than just the odd car or two the first time. Of course, the reason why people would stop here was to visit Fossen Bratte, which translated to mean "the steep waterfall".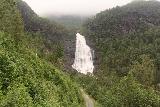 I also noticed that there was quite a bit more signage about it than before when it just kind of came up on us suddenly when we were heading east on the Fv7 en route to Steinsdalsfossen from Bergen back in 2005.
Regardless, we got out of the car and we had intended it to be a short visit (or at least that was Julie and Tahia's expectations), but I was determined to really get a sense of the significance of this place.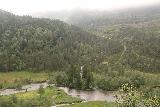 After all, after that first trip, I had read that there was some kind of WWII thing going on here. And I was keen to learn more.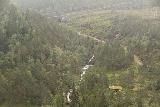 So when we walked towards the WC building there, Julie and Tahia maybe walked a few steps down the trail going down towards the base of the falls before turning back.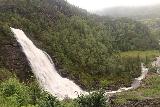 However, I took the upper path signposted for Krigsminne, and we didn't know the meaning of the word at the time though I suspected it might have something to do with "war" since I knew the German word for war was krieg.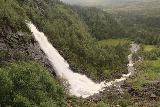 In any case, I was well up the gradual uphill path hugging the cliffs when Julie yelled in my direction that krigsminne translated to mean "war memorial", which was what I kind of suspected.
That hastened my steps further and along the way, I got alternate views of the impressive Fossen Bratte, and see for myself just exactly how steep this waterfall was.
Once I got up to the top of the falls, there was a cannon here as well as some signage explaining what happened regarding the fighters who fought an overly optimistic (and hopelessly suicidal) mission for the soldiers who attempted to delay the German advance towards total occupation of Norway in WWII.
The names of the brave soldiers who gave their lives here were immortalized for as long as the monument stood and people can remember. There were also flowers planted near the signage as well as nice views back in the direction of the farm closest to the bottom of the Fossen Bratte.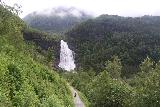 After having my fill of this spot, I then returned to the WC at 12:35pm before descending the even steeper gravel path down to the base of Fossen Bratte so I can finally get better documentation of this falls as compared to 14 years ago.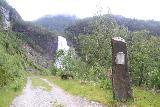 I also knew that along the way, I'd pass by another memorial. This time, it had some verbiage in French though I'm sure that over the years, the signage had worn and now it's difficult to read.
Someone on the website told me that this plaque had something to do with forbidden lovers who somehow lost their lives here over the falls.
So in either case, tragedies took place. However, one was for war and the other was for love. So I guess you could kind of think of this waterfall as the "Love and War Waterfall".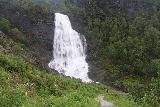 At the bottom of the falls, I got towards the wet and slippery rocks and right into the mist zone. There was one young couple down here, too, but the dude scrambled higher up on the rocks perhaps for a different vantage point or something.
I was ill-equipped for that and was content just taking the typical frontal views of the falls.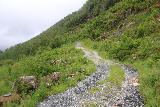 When I got back to the car at 12:55pm, Julie and Tahia (not surprisingly) were upset at me for taking so long. Still, I now left the waterfall was a better sense of its significance and thus I figured it was worth the momentary chewing out knowing it might be awhile before we would return to Norway again (if ever; you just never know about these things).
Next, we pretty much followed the heavy traffic caravan of cars and trucks on the way to Bergen. And eventually at 1:50pm, we finally arrived at the Hotel Ole Bull, where we were checking in and dropping off the luggage for storage since our room wasn't ready for at least another hour (check-in was technically starting at 3pm).
So once we accomplished that, we then drove to the nearest Q-park car park, and that was where we finally left the car at 2:15pm. However, I saw that the parking rates here were on the order of 55 NOK every 2 hours, and so this could add up really quick!
By my estimation, 24-hour parking would cost us on the order of $80 USD or something like that. So it was going to be a painfully expensive parking here, but I guess the price of staying this close to the sentrum of Bergen was justified.
Anyways, we walked right down the familiar pedestrianized zone with some kind of squarish fountain with people facing outwards (we saw that fountain on the first trip and I learned later that it was the Seafarers' Monument), and then we walked through the atmospheric Torget (the square; though it was really the famous fish market) before finally arriving at this place called Bryggeloftet at 2:35pm.
Julie was drawn to this place because apparently they had gluten-free options for mains, and that seemed to be hard to come by in Norway.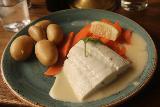 This was especially the case since gluten-free doesn't necessarily mean excess-sugar-free nor does it mean soy-free nor other non-compliant things as part of the plant paradox regimen that Julie had to follow that it seemed not many people around the world have caught on.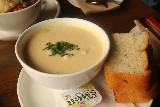 We each wound up getting different kinds of fish soups while Tahia got a kid-menu halibut.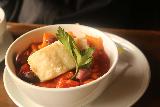 The food was pricey for lunch, but it was still manageable albeit not terribly filling.
Still, we were done at 3:40pm, and then we promptly walked back through the atmospheric fish markets at Torget.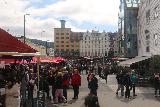 Then, we walked around the harbor taking pictures of the Bryggen (the famous old houses there) from across the waterfront as well as Julie and Tahia doing some grocery shopping at a very small Rema 1000 there.
I also managed to get a map and some info from the visitor center there, where I took a number, waited my turn, and then got some basic questions answered by the young lady who helped me.
It seemed like that they answer so many of the same questions that I could kind of sense the disinterest in her responses. But at least I now had a better sense of the city and how we would get onto the Hurtigruten on Saturday afternoon.
Eventually after having our errands done and having food to self-cater back at the apartment, we then finally checked in and got settled in the apartment at 5pm.
Once we were unpacked and all good to go at the apartment, Julie didn't feel much like cooking on this night. And so she wanted to go back to Bryggeloftet for dinner.
I knew that this was going to be a splurge, but we hadn't really had such a dinner on this trip.
So by 6:10pm, we headed out of the apartment and walked into town.
Twenty minutes later, we had returned to the Bryggen vicinity and entered the Bryggeloftet og Stuene once again.
This time, we sat towards the back of the atmospheric establishment and proceeded to have reindeer, lamb, and wolfish (i.e. the scary-looking catfish we saw at the fish market).
The food was good, but we certainly paid up through the nose in order to pay for all three mains and the gluten-free bread orders.
Once we were done with dinner at 7:50pm, we then walked off a bit of the dinner by strolling through the crooked and narrow alleyways hidden behind the front facade of the famous houses of Bryggen.
It was nice to visit those areas at this time because most of the tour bus crowds and cruises have left for the day.
So it made for a more peaceful and less hectic experience. However, a lot of the exhibits and shops were also closed at the time, which made for a bit of that classic catch-22.
You never can really have it all. Even if it you did, word would get out and it would get busy and unaccessible soon thereafter.
It was a short visit strolling around the Bryggen alleyways, and eventually by 9:30pm, we returned to our apartment for end off this day.
We also took our time returning to the apartment as Julie and Tahia kept visiting shops and cafes along the way.
We were all exhausted from the day's activities, and I personally had been out cold lying in bed. So I didn't even get a chance to do my night time routines of showering and brushing and flossing before sleeping.
That didn't happen until after midnight when I got up from my spontaneous sleep and finally did the hygenic routines before going back to sleep.
I guess all that sleep deprivation combined with my age (I wasn't the young buck I once was when we were first in Norway 14 years ago) was certainly catching up to me…