Day 15 (June 27, 2019 – Bergen, Norway): "The Essence of History"
It was 5:30am when I awoke. Apparently, I once again overslept my alarms but this was intentional considering that I didn't have to drive anywhere on this day (however I knew I'd be paying up through the nose in parking fees at the Q-park).
Having woken up in the middle of the night to shower and brush, I guess the cumulative hours of sleeping on this night had to have been at least over seven hours, which was the most sleep that I could recall getting on this trip (except maybe when we stayed at Gamlestan in Stockholm on that first jetlagged night).
Julie apparently didn't feel much sense of urgency in getting up because she got up at around 7:35am. So whatever plans we'd have of touring Bergen wouldn't be happening until later this morning.
The hope was that upon a Rick Steves recommendation to do the Bryggen guided walking tour, maybe we should try doing the 10am one so we'd have the rest of the day to do Mt Floyen via the Floibanen and perhaps re-visit some of the museums that came with the price of doing the guided walking tour.
However, we couldn't pre-book this tour since we're trying to do it last minute on the day of, and we wouldn't know if we're shut out from the tour being sold out today until the office opens at 9am.
In any case, we'd learn that the tour wasn't sold out and we could pay at the door as long as we're in line 5 minutes before the tour began.
So after having brekkie and getting dressed, it wasn't until about 9:40am when we finally left the apartment.
That didn't leave us very much time to get to the Bryggen Museum in time for this tour.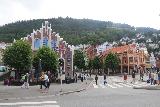 So we made a beeline right through the familiar walking streets and past the Torget then past the front facades of the famous houses of Bryggen.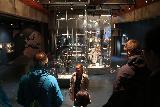 Eventually at 9:55am, we found the proper museum entrance right in front of the Radisson Blu hotel and there we waited in a fairly long line of other mostly English-speaking people also waiting to pay and be part of the same tour.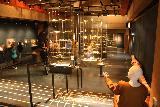 Julie and I paid our 200 NOK per adult and Tahia was free.
Shortly after the scheduled 10am, the tour began with our tour guide apparently a last-minute replacement or something as apparently she had just learned that she was giving this tour.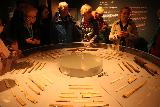 The first thing our guide did was to hand out blue-tooth hearing aids, which allowed us to hear her without her needing to shout.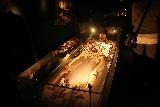 Then, she led us downstairs into an exhibit on the lower floor where apparently parts were once under water (hence the walls painted blue to symbolize this).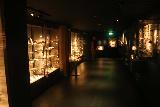 Down at this level, there were numerous excavated artifacts and trinkets showing things that were perfectly preserved because of the lack of oxygen levels when these things were buried beneath layers upon layers of development.
I forget the phenomenon that caused the oxygen levels to go away, but it was currently happening and causing the famous Bryggen structures to sink (thus causing the places like the original Hanseatic Museum to be closed for years).
In any case, the tour guide was good and she was doing a good job explaining a lot of how Bryggen came to be and how these items were excavated as well as how they told the story of the area from the 1100s through the rise and fall of the Hanseatic League and up until modern times.
She said this underground exhibit just opened yesterday, which was rather extraordinary.
Next, we walked around the exterior of the museum where we saw the St Mary's Church as well as the red brick ground demarcating the size of the excavation area. Some of the excavation work remained in progress as we could see in one section through the windows underneath the foundations.
Then, we briefly saw the backside of Bryggen (which was already being inundated with tourists) before we went around to the front.
There, our guide explained how there were new facades made to look like the rest of Bryggen though they had straight walls and they were meant to be store fronts for the Radisson BLU.
And we could clearly see how the old school houses had crooked door ways and some houses were leaning against each other. Those imperfections definitely held a charm all of their own.
Next, the tour guide then took us into a not-for-public part where there was the foundations of the old town hall, which sat beneath a street.
We went in there and saw a very helpful video showing how Bergen developed over the years, and how the excavations told such a story. It definitely helped us visualize the very things that the tour guide was saying to us.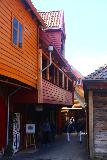 We also learned about the Hanseatic League, how it got started, and how it diminished in importance.
It began as a conglomeration of countries for the purposes of gaining trading favors by banding together to form a trade association. She said it was not unlike the European Union that was going on today.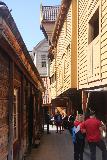 Perhaps more fascinating was how the League of Nations fell in importance as there was greater nationalistic sentiment and less emphasis on cooperation between other countries.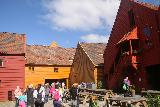 In a way, it was like history was repeating itself with the EU as we could see it was being torn apart as there was a rejection of the EU due to higher cost of living, more cheap labor replacing incumbent labor, and thus you get things like Brexit, the Scandinavian Countries not joining the EU, Switzerland not joining, and troubles with Greece, Italy, and Spain as far as them pulling their weight in the organization.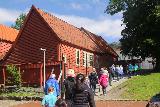 When we were done seeing the video and getting a closer look at the foundations, we then went back to the back of the Bryggen area where the guide showed more details of some of the construction of the old houses.
While most of them required re-work, it took the efforts of Norwegians with an interest in learning the old ways of doing things and applying them themselves did they properly do the restoration work.
In fact, she said there was a Norwegian TV show about this very thing, which drew more young Norwegians into the project and turned into a pretty successful campaign. And now we can see the fruits of their labor in the old Bryggen.
Finally, the guide took us to the Schotstuene, which were the assembly halls. While there were already other tour groups occupying the largest of the rooms, we went to one of the other rooms to learn a little more of what went on here.
Eventually by about 12pm, we were done with the guided Bryggen walking tour, and we were glad that we had done it. We were especially glad that we had fit in our own tour of Bryggen the evening before, which allowed us to appreciate the tour guide narrative even more this time around.
We then slowly walked back across the front of the Bryggen towards this Ethiopian restaurant called Naomi, which happened to be pretty close to the Torget (the famous fish market on the harbor of Bergen).
It turned out that the food here was way more affordable than the place we ate at yesterday, and they served up gluten-free bread (which was fermented and you use it to pick up the food with your hands).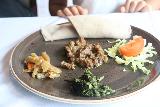 I ended up getting some kind of spicy dish in a very big plate with two kinds of lentils, cabbages, spinach, and a beef.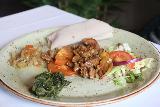 Julie got some kind of beef lunch special dish that wasn't as spicy, and Tahia got a specially made kids lunch meal with a non-spicy beef meat as well.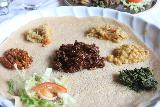 Needless to say, the explosion of spices and flavors were very welcome, and it really hit the spot. I don't think anything else we had eaten on this trip came anywhere close to being as flavorful, and it kind of rekindled in us a desire to give another go at Ethiopian food back at home as long as they do the bread gluten-free.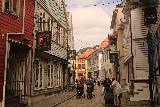 At 1:25pm, we were done eating. I think Tahia really enjoyed being able to eat with her hands, and I'm pretty sure that anything else we eat throughout the rest of this trip will be bland by comparison.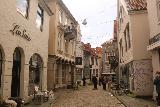 It made us wonder why we didn't find any Indian food in Norway so far.
Anyways, we then walked towards the Floibanen to do the long-awaited ascent to its summit for a classic view over the Bergen sentrum and harbor. We waited in a long but quickly moving line at 1:50pm.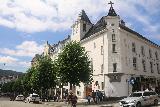 We managed to get the bottom seats for the funicular ride, which allowed us to take pictures as we were quickly ascending to the top of Mt Floyen.
Once we were at the top at 2:30pm, there was a large crowd of people checking out the views from a stadium-like steps arrangement before reaching the railings.
Of course the railings were busy with people busy taking selfies or people shots as well as just taking the breathtaking panorama of the busy harbor itself.
We saw one of the Hurtigruten ships pulling into the harbor, and we instantly saw how small that ship was compared to the giant cruise ships that had also pulled into the Bergen harbor.
After having our fill of the views, we then went over to the playground area to let Tahia play in there for a bit.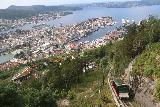 There were some rather unique apparati over there like a slide that only consisted of two parallel slanted bars in slide formation but nothing to sit on. I guess you were supposed to slide with your armpits down that "slide".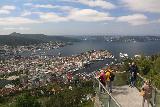 There was another one where kids could try to spin on a slanted rotating thing where it was hard for kids to hang on as it required being able to shift weight as the thing was spinning.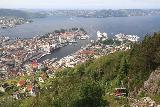 Tahia had a hard time with that one though there were some of the older kids who managed to figure that out.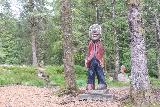 Since we had bought a one-way ticket up to Mt Floyen, we had to hike the 3km back down to the city center.
There were many ways to get down there, but I did manage to pick up a turkart (tourist map) showing the hiking options available. One of the things that caught my attention on the map was Starefossen though it looked a bit out-of-the-way from what we were prepared to do on this beautifully sunny day.
After climbing up and walking past a Trollskog (Troll Forest), we then took one of a pair of descending paths going through a paved but well-shaded forested area providing welcome shade.
We were quite high up but the downhill hiking wasn't difficult as we at least had gravity to help with the momentum.
Eventually, we got down to a part where the descent then followed along a combination of sidewalks and pedestrianized slanting paved roads.
There was one really long slide that Tahia really liked to do, and she liked it so much that she went up and down it three times.
After that, we then walked besides some narrow alleyways with charming residences flanking them. We weren't sure if they were tourist attractions themselves, but they certainly drew photo clicks as we passed by.
Eventually, we made it to the bottom (Julie noticed one girl who we saw on the way up and she passed us on the way back down meaning she was pretty fast), we then walked some of the back alleyways behind the streets of the Torget.
During this walk, we tried a reindeer hot dog with fried onions, lingonberry sauce, and mustard at this stand called 3-Kroneren at about 4:15pm.
We then slowly walked back to the apartment where we snacked on some raw cakes and hot soups at the Daily Pot, which was very close to the Ole Bulls Plass.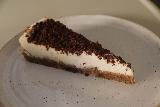 Julie ended up getting a berry raw cake as well as a vanilla raw cake. Her soup was an Asian chicken soup since it was the only gluten-free and "compliant" option she believed she could handle.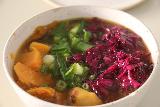 Eventually at 5pm, we were back at the Hotel Ole Bull. We were pretty much done for the day even though there was a part of me that wanted to go back out there after dinner to soak up the fine weather as well as the seemingly festive atmosphere that seemed to be going on outside.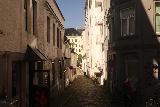 However, I was too exhausted and I wound up napping until about 7pm and awoke to very cloudless skies! Who knew that our best weather was happening in Bergen when it had the reputation of being rainy.
If only the Lofoten Islands could have such weather, but the forecast said something else…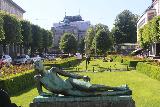 Anyways, Julie was busy preparing dinner at around 8:05pm when the range suddenly stopped working. It turned out that there was some kind of sensor attached to the vent that was complaining, and we couldn't get it to stop singing.
When we called the receptionist for help, he tried all sorts of things for a couple of hours. But it wasn't until I suggested that perhaps we should power cycle all the circuit breakers that maybe it might work.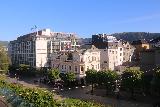 Only when that was tried at around 10:05pm did we finally have dinner. But during that time, I did do a little more research about Starefossen as well as Fantoft Stavkirke, and thus I was planning for tomorrow and Saturday.
Tomorrow was going to be a solo waterfalling day for me (including Starefossen) while Saturday would be reserved for places further afield from the Bergen sentrum where we could take advantage of our rental car to get to them. That included Gamle Bergen, Fantoft Stavkirke, and Gamlehaugen (the palace).
We'll see how it all plays out, but at least we have a plan in place now.
Plus, the receptionist seemed relieved that it all worked out. For we were about to go without self-cooking for the rest of our stay if we couldn't figure this out.
When it came time to sleep, I wound up not sleeping until after midnight. However, there were lines outside for something that we weren't sure about.
But I could have sworn that there was something about the Foo Fighters going on (at least that's what I thought I heard the receptionist saying something about over his phone when taking a call). Though it wasn't clear to me whether there was a rock concert going on around here this evening or not.
There was definitely commotion going on all "night" long throughout the perpetual twilight and when I went to bed at around 1am, the outside was still buzzing with people.
Something was going on, but I couldn't put my finger on it. And part of me wished I could be out there to experience it – whatever it was…