Day 16 (June 28, 2019 – Bergen, Norway): "Low Key Intrusions"
It was 4:50am when I awoke. It turned out that I didn't shower last night given my late night bedtime.
However, my sleep was further compromised with all the commotion that happened last night. I had no idea what was going on, but there had to have been some kind of event that got a bunch of people out on the streets partying and getting hammered.
It was kind of reminiscent of the Icelandic runtur, except I didn't think Norwegians were known for this.
It took me about an hour to prepare and have breakfast, get dressed, tend to my hygiene, and make sure that I had all the stuff that I'd need on my solo outing on this day.
By 5:50am, I kissed Tahia and Julie before leaving the apartment (kind of reminiscent of the routine I'd do before going to work every morning).
They were both still asleep.
Anyways, when I rocked up to the Q-park P-hus, I found that for the 1.5 days that I had parked there, I had to pay 460 NOK, which wasn't as bad as I had anticipated.
I mean, it was still a lot of money, but it wasn't over $100 USD, which was what I was bracing for.
Regardless, with the morning being pretty quiet, I decided that I was going to drive to Starefossen first. After all, if there was a waterfall in Bergen's city limits, I ought to go find it.
I hadn't planned on visiting it, but that all changed when I noticed it on the turkart we picked up from Mt Floyen.
Anyways, I didn't have it on my Nuvi so I had to use Julie's old iPhone to route to it.
Without those directions, the driving would be confusing. It was already confusing considering all the one-way streets and narrow unmarked streets that the phone told me to go on.
Imagine if the traffic was heavier, how much more difficult it would be to make this drive.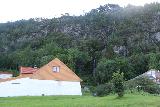 Indeed, the route was said to be only 2.6 miles but it still took me nearly 30 minutes to finally find Starefossen though I still had to find parking.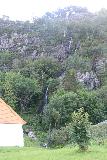 And by 6:20am, I finally just parked somewhere in front of Starefossen though it didn't look like things were set up here to expect visitors to park and check out the falls.
There were no parking signs or no parking zone signs everywhere. So I just decided to pull up into a "pullout" next to the kindergarten fronting the falls.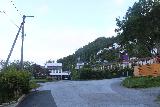 Then, I walked around looking for a sanctioned way to get closer to the base of the waterfall, which wasn't flowing all that well. Yet it was still flowing in a photographable state so I was still gladly documenting the experience.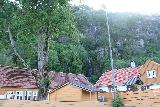 Yet the whole time, I wasn't sure if I was trespassing on someone's backyard or something as I initially followed a trail then scrambled in the thick weeds next to the stream to get to a small clearing with perhaps as cleanest of a view of Starefossen that I was going to get.
The views from the street were fronted by buildings.
There was one person who looked like he was going to work who wished me a good morning (so that helped to alleviate some of the anxieties about trespassing), but I had the feeling that perhaps most visitors would only come here from an extended hike from Mt Floyen before returning to the sentrum.
Regardless, the scene was very serene. And who knew that there could be a waterfall this close to the city center of the famous Norwegian city?
By about 6:35am, I was back in the car and then tried to follow the iPhone instructions to get out of the city and onto the E39 on the way to Modalen.
That was where I was hoping to correct a past wrong about capturing the Kvernhusfossen and Geitaskardet in the sleepy town of Mo i Modalen.
Back then in 2005, we faced bad weather. But this time around, the weather was predicted to be considerably better.
I also never took the E39 route to get to Modalen before. So I'd imagine I might get to that town sooner than I anticipated since the amount of single-lane roads to at least get there would be more limited.
Still, it was a bit of a ways away to get to Mo, and it wouldn't be until about 8:10am when I finally would stop the car at what appeared to be an unmarked car park (which turned out to be for the Mo Church).
Along the way, I took some snaps of a distant view of Kvernhusfossen as well as a look at the same falls fronted by a farm right at its base (after crossing the bridge by foot which was barely wide enough to allow one vehicle and a cooperating pedestrian standing on the very side of the bridge itself).
From across the bridge, I explored a little more of the sentrum of the sleepy town of Mo, where there was a small beach as well as an arched memorial. That was an alternate spot I could view both Geitaskardet and Kvernhusfossen from the same spot.
I also took advantage of the fact that there was a public WC by a building called the Bryggjeslottet, which seemed to be the center of activities in town.
After having my fill of Mo at 8:50am, I then drove south on the Fv569, which remained mostly single-lane as it passed through a familiarly long and spooky tunnel before arriving in the sleepy hamlet of Eidslandet.
There, I managed to get informal views of Stigfossen and Fjellfossen though the uppermost of the falls remained partially viewable because there was a persistent cloud blocking the uppermost parts of its drop.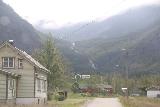 I then drove towards Myster to pursue a trail to get closer to the waterfalls, but it turned out that there was no such option, especially the property at Leiro which said the road was a "private veg".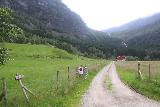 So by 9:25am, I gave up on trying to hike closer to the waterfalls, and left for Hesjedalsfossen.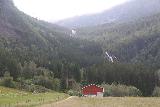 By 9:40am, I went through the Hesjedalstunnelen and stopped the car at a pullout for two or three cars a short distance south of the bridge fronting the waterfall.
I then got out the car and backtracked towards the bridge before briefly scrambling for a view of the falls with the bridge.
I did no more additional scrambling as I didn't deem it to be necessary.
So by 9:55am, I had already had my fill of this double-barreled waterfall and returned to the car.
Of course, I did find it strange that no one else that drove by bothered to stop for this falls. I'd imagine that they were either locals who had been there and done that here, or they might have been other holidaymakers who obliviously drove past not realizing the waterfall that was here.
Anyways, with my little Vaksdal loop being close to finished to soon, I decided that perhaps I should extend this morning's excursion by visiting Siseljafossen, which was one of the dicey waterfalls that I had visited back in 2005 under pretty gnarly weather.
With the better weather this time around, I figured that I mind as well give that one a try.
So with that, I slowly made my way south on the mostly-single-lane Fv569 towards Dale. Then, I zoomed my way east on the E16 towards the turnoff for Dyrvedalen.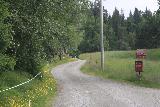 Once going up Dyrvedalen, I then followed the Dryvedalsvegen towards the famiiliar gated turnoff leading onto an unpaved road with an unmanned bomkasse (toll collection booth, I think).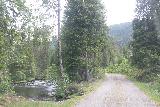 The gate was actually not all the way open, which made me wonder if I should proceed or not.
But I did, and then I followed the familiar road leading all the way to what I swore was the place I had viewed Siseljafossen 14 years ago. However, this time around, it looked like the falls was a shadow of itself.
In a week where we saw persistent rain, this was a bit of surprise for me, and perhaps I had given this falls a bit too much credit given its gushing flooded state that I had seen it in the last time.
So it didn't take long for me to document this falls as well as the scenic head of the valley up ahead. But there was really nothing keeping me here.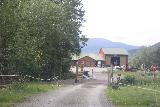 There was one lady on a bike who had to walk her bike past my rental car since the car pretty much occupied the whole road.
But other than that, I continued forward to a driveway where I could finally make a three-point turn and return to the Dyrvedalsvegen and eventually back to the E16.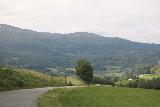 I wound up leaving Dyrvedalen at around 11:20am, and the mentality not shifted to getting back to Bergen for lunch before doing some more sentrum touring that we might have missed over the last day-and-a-half.
The drive on the E16 was a bit painfully slow because there were trucks driving well below the speed limit, and it caused a bit of a caravan of cars following one another with little to no opportunities to pass.
So it wouldn't be until about 12:55pm when I finally returned to the familiar Q-park. This time, I parked on the H lavel since this car park was quite a bit busier than it was the first time we had parked here.
By about 1:15pm, I had finally returned to the apartment. With Julie and Tahia already back at the Torget area, we agreed to meet up at the Naomi Restaurant once again. After all, we figured that getting good ethnic food like this would be even more rare further north in Nord-Norge.
Finally at about 1:25pm, I left the apartment and then ten minutes later, I met up with Julie and Tahia back at the Naomi Restaurant.
There, we had pretty much the same dishes as before except Julie opted for the Doro Wat instead of the lunch special she had yesterday. Other than that, Tahia and I had the same things.
Once again, the food really hit the spot. It left me wanting more, but I knew that we had to control ourselves and walk towards the Haakon's Hall and Rosenblatz Tower, which was pretty much the last items on the Rick Steves walk that we didn't do yet.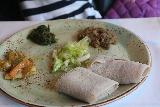 But before leaving Naomi, we chatted with the restaurant owner where Tahia got to show slime videos on the iPhone to the owner's daughter who was named Naomi. So I guess this restaurant was named after her.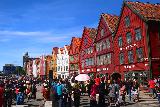 Anyways, the owner told us about this place called "Paradis" as a suburb of Bergen not far from the city center that the locals would go to on a sunny day like this.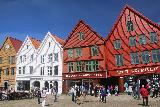 When looking at the maps, we learned that both the Fantoft stave church and the Gamlehaugen were in that area. So for sure, we'd have to punt all those things for tomorrow our last day in Bergen.
He also recommended the Edvard Grieg house but we weren't really music buffs so we probably weren't going to do that.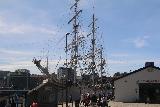 By about 2:40pm, we left the restaurant and proceeded to walk all the way to the Bergenhus Fortress.
There, we paid to get into the Haakon Hall exhibit at 2:50pm, where we visited a bunch of rooms furnished with seemingly new wooden furniture. Apparently, these rooms were still actively used for assemblies or something.
But the main attraction was the impressive stone hall itself, which looked like it could support many people at the same time.
There really wasn't a whole lot to a visit to the Haakon's Hall so we left and proceeded to check out the Rosenkrantz Tower after about 3:05pm.
This particular excursion had a lot more rooms and things to see and do. Plus, the half-price of admission certainly helped (with our purchase of entrance to the Haakon's Hall).
The self-guided tour went down into the dungeon, which really spooked Tahia out. However, there were also rooms with armaments that people can try and take photos with.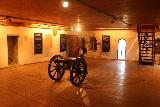 The legitimate chain-mail was definitely one really heavy item that made me realize just how much of sitting ducks knights could very well be with such armor on them.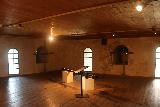 We then went up and down spiral stairs checking out one room after another.
The self-tour topped out at some kind of religious exhibit but any further uphill progress was stunted due to restoration work going on. Thus, we wouldn't be able to go all the way up to the top to get that regal view back towards Bergen's harbor.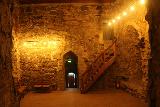 By about 3:50pm, we were done visiting the Rosenkrantz and then proceeded to walk all the way back to the apartment.
Along the way, we helped ourselves to another helping of reindeer hot dog as well as another visit to the Rema 1000 so we'd have meats for dinner tonight and breakfast tomorrow morning.
After getting those grocery duties done, we started the laundry before heading back into town so Julie can have her raw cake fix at Daily Pot.
We wound up having some kind of mango cake as well as the familiar vanilla cake. I personally wasn't nuts about these cheesecakes (essentially that was what they were), but Julie helped herself to both since this was largely obtained for her.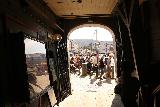 Finally at 6:05pm, we returned to the apartment to call it a day.
There was some loud music blaring from a door adjacent to the Hotel Ole Bull, and it was probably one of those hidden bas where people suddenly leave from it when I guess they'd have enough from the bar hopping scene.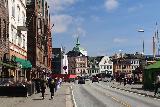 Back at the apartment, we talked with the female receptionist. And upon having small talk with her, we had learned that the Foo Fighters were indeed in Bergen. So that explained all the commotion I saw outside last night.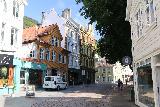 We also learned from her about DAB, which was adopted in Norway and was about to phase out AM and FM frequencies.
I don't think that our Swedish rental car was equipped with DAB, but I figured I might give it a try while tending to business back upstairs.
She also told us that the stations she listened to on DAB were P6 and P9. I'm not sure whether we'd get those stations unless we used the cell phone and just play it aloud as we self-toured.
And so ended this rather eventful day in Bergen though we really didn't do much walking. And on a beautiful day for tomorrow, perhaps that would be the opportunity to try out the car stereo to see if we could at least get some kind of local Norwegian alternative acts…
With yet another full day in Bergen before boarding the Hurtigruten, we figured that we might as well hit the more far-flung spots, especially sine we have our own wheels…