Day 17 (June 29, 2019 – Hurtigruten Cruise, Norway): "The Sign of Theta"
It was about 6:30am when we awoke to Julie's alarm. I intentionally ignored my own alarm, which was at around 4:30am.
Thus, I felt quite rested since I had slept on time last night (despite all the music going on at adjacent bars for a Friday night).
When we looked out the window, we could see that the skies were overcast with fog. I knew that the weather had been forecasted to change today, and perhaps this was the first evidence of that.
Regardless, per our usual routine by this point in the trip, it took some time to get breakfast ready. And then, it took even more time to get all packed up and ready to go.
Meanwhile, I went to retrive our rental car while Julie and Tahia also met up at the lobby to bring out our belongings, which I had already brought downstairs at this point.
They were busy taking care of the checkout while I went to the Q-park a couple of blocks away. By now, this was pretty typical routine, especially considering that this was now our fourth day in Bergen.
It was very quiet when I went to retrieve the rental car at about 9:30am, and eventually by 9:45am, we had loaded up the car in front of the Hotel Ole Bull and then headed out.
It was a little later than I had hoped considering that we wanted to visit the Gamle Bergen Museum when they opened at 9am, then the Fantoft Stav Church some time after 10am, the Gamlehaugen some time after 12pm, and finally the Theta Museum after 2pm. Then, do all this before boarding the Hurtigruten with the car at the end of the day.
The parking fee this time around was on the order of 260 NOK, I believe. It wasn't cheap considering this only paid for about an overnight worth of hours, but at that price for only parking overnight, it wasn't too bad.
With a pretty busy plan for today, the first order of business was to visit the Gamle Museum since that had the earliest opening times of all the attractions that we had targeted today.
We managed to navigate our way over to the Gamle Bergen Museum, which we knew was some kind of an open-air museum not unlike the folkmuseum we did in Oslo but on a smaller scale.
They moved or re-created a bunch of old houses from Bergen's older days to this museum for a consolidated community experience.
We started touring the museum at about 10:20am. We didn't expect this visit to take long, but we were quite captivated by the colorful wooden homes along with distictly Norwegian architectural styles and furnishings.
While most of the homes allowed us to take a sneak peek inside the cabins to see how they were furnished, there were other rooms that had live actors who were in character as of the 18th and 19th centuries.
This was a very nice touch as we found them to be very good and very engaging. So that kept Tahia very entertained, and we hoped that the period acting helped Tahia to paint the picture of how things used to be.
One lady was a wealthy wife who had a bunch of animal collections (seeing that Tahia was young) but she had trouble identifying things like an elephant, tiger, etc.
She said her husband was usually abroad and brought back stuff.
Meanwhile, she also had us talk to her servant, who was showing us running water (as if that was the biggest thing since sliced bread) while also showing us the cooking appliances and the loo.
In another house, we conversed with a sailor who was having it hard. He said that he finally got a chance to sit home for the first time in months.
He also said that he was sharing the little house with 9 other siblings. He even showed a creative use of a dresser where the bottom one had beddings that Tahia might have been able to sleep in.
After walking around some more, including noticing a house that had "Bergens Tidende" just like the more modern one we saw by Ole Bulls Plass where we were staying in the Bergen sentrum, the last house we visited had a bunch of childrens' rooms as well as a shop full of candies.
It was actually a functioning shop and we gave Tahia 10 NOK so she could purchase a few pieces of candy.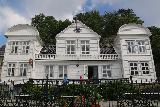 The proprietor there mentioned that there was a device that allowed him to charge "modern" prices as well as to run "some sort of a card" to make payment. However, Tahia's payments were being recorded manually on a ledger.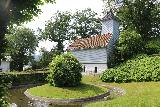 After having had our fill of visiting all the available open houses and even buying candy at one of the old shops, we then got out of the Gamle Bergen museum at 11:35am.
Next, we drove south along the E16 then E39 towards a suburb called Paradis. I had recalled the owner at the Naomi Restaurant saying something about this area being a good chill spot for Norwegian locals on a sunny day.
He said it featured a lake, but he also said that there were things like the Edvard Grieg house.
And so far, it appeared that the early morning fog had burned off, and thus it was sunny skies once again.
Regarding the weather, we couldn't have asked for a better Bergen experience given all this fine weather we had been having in each of the three prior days leading up to this fourth day in perhaps Norway's most charming city.
So the drive to get to Paradis traversed through a rather long tunnel. We then eventually emerged on the other side and followed the directions for the Fantoft Stavkirke.
Unlike the one at Heddal, we looked forward to actually going inside one of these stavkirkes. However, in this instance, the one at Fantoft was arsoned and looted back in 1992.
We pretty much did local driving to get to the stavkirke, and we didn't see any signage until one that had us turn left into a small and unassuming area that almost looked like it was private.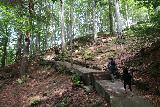 After a little asking around, we concluded that this must be the car park, which we stopped at around 12pm, and then we started to walk up a steep but paved trail leading for a few minutes up to the Fantoft Stavkirke.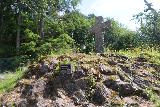 After paying about 160 NOK for the three of us, we then entered the fenced zone around the stavkirke, where we could clearly see that the interior was a re-creation of the original.
There was some details in the wooden carvings of the seats facing the aisles, and there was an altar at the front.
The ceilings and the upper section was undecorated. And the place smelled of wood.
It didn't take long for us to conclude the visit of the interior of the stavkirke, but then I hiked briefly around to see if I could get a better top down view of the church like in the post cards that we saw.
And sure enough, I managed to find a spot between some trees to look against the sun (using some of the trees as a shade against the sun directly) to take a few shots before calling it a visit.
By about 12:25pm, we were back at the car.
Next, we made a short drive towards the Gamlehaugen, which was the royal residence of the first prime minister of Norway though it was now being used intermittently by the current king.
After a little confusion with the parking situation (because the main one was full and the next one was private), we managed to park along some railings thinking that was sanctioned.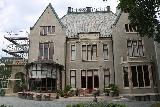 Then, we got a little confused about whether the residence was open or not because there were scaffoldings everywhere, but we couldn't figure out where to enter the facility.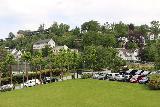 The signage here suggested they were open, but it took a while before we finally noticed in the signage that the entrance was by the tower!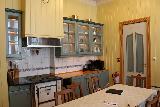 Once we found the right spot, we happened to get a personalized tour of Gamlehaugen at 12:45pm seeing that no one else was around to join this tour.
So we promptly put on shoe bags to protect the flooring before we were escorted from room to room as one lady was giving us the spiel while another one was watching and closing doors as we went from one room to the next.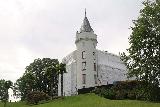 I couldn't take pictures so there was no memory that I could document, but we pretty much went from the welcoming room (which featured a couple of taxidermed animals like a moose and a polar bear rug) as well as some Hardanger embroidered textiles.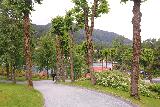 Then, we went into a ladies room as well as an office that featured a self-playing piano with human pacing with pedals.
I believe the last room we saw was a gentleman's room which had a pool table as well as a library and tobacco-spitting bowls.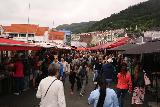 Eventually, by 1:50pm, we were done with our tour. By the time we got out of the residence, we saw that the weather had considerably changed and became more overcast than before.
We then got back into the car (no citations, I guess), and we proceeded to drive back to the Bergen sentrum, and we parked back at the familiar Q-park since that was where I knew best where to park the car.
I didn't want to park at other car parks that might have been closer to Bryggen because I didn't want to deal with the confusing traffic patterns on the fly.
So we managed to park the car at about 2:15pm, and then we promptly made a beeline back to the famous Bryggen.
There seemed to be significantly less people at the harborfront this time around, and from looking over to the other side of this harbor, I didn't see any cruise ships.
Big difference!
Anyways, we then snuck back into the familiar alleyways between the houses of the Bryggen, and we finally found the Theta Museum signs, which led us up some seemingly private and ordinary stairs leading up to chairs and tables flipped upside down.
Finally, we found another stairs that took us to the third floor though another set of steps leading to the attic was closed.
Indeed, there was nothing about this place that suggested there was a museum here, but I think that was the point.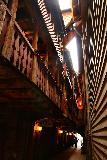 After all, the Theta Museum was pretty much a single furnished room that was a re-creation of how a group of courageous young students who called themselves Theta (I'm guessing it was part of some fraternity or something like in the typical university traditions) managed to covertly communicate with Allied forces (particularly in London) to inform them of Nazi movements.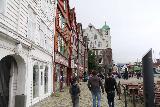 When we showed up in there, it turned out that once again, we got a personalized tour (more like a storytelling) from a lady working there. After paying 120 NOK, we sat on a couch and got to hear from her the story of the brave people who operated out of here and how they managed to go back and forth between Shetland (north of Scotland) and Sweden.
To make a long story short, the big takeaway I got about this experience was how random and on-a-dime that history can be. After all, it was the Nazis who found this place by accident as they entered the room from a weak spot in the attic!
Had they entered via the front door without the proper set of keys (to close the circuit behind the door that was rigged to dynamite), the whole of Bryggen could have been destroyed at that moment!
Indeed, such a fragile chain of events and luck helped to save the last vestige of the Hanseatic League that now the world gets to enjoy to this day (though climate change and the sinking of the foundations of the old homes remain a major threat to their existence at this point in time).
After descending the Theta Museum, I was amazed at how there were so many people walking the alleyways and taking pictures and yet we were the only ones at the time who got to experience that bit of WWII history.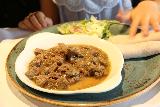 So after 3pm, we were back in the Bryggen and five minutes later, we had returned to the Naomi Ethiopian Restaurant for the third time in as many days.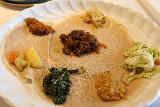 Julie wanted to experience this food knowing that we weren't going to have this kind of ethnic cuisine for a while (quite possibly throughout the entire time we'd be touring Northern Norway where we knew it would be mostly seafood).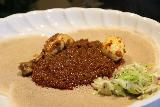 We wound up getting the very same things we had yesterday, which consisted of Mahaberawi (the spicy dish that I liked), Julie's Doro Wat, and Tahia's Alich Wat.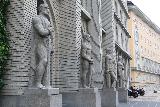 We were done eating at 3:50pm, and then we briefly walked back towards the Q-park while making one last Asian food stop so we could pick up dried up durian chips and sticks just in case we needed to snack on something on the Hurtigruten.
After paying around 120 NOK for parking (pretty pricey considering we were only here for a couple of hours or so), we then drove towards the Hurtigruten terminal.
It wasn't clear where we should be parking nor what the procedure for check-in was, but eventually we got all that straightened out.
We only brought Julie's and Tahia's full luggage on board but I only brought a bare minimum set of clothes. The rest of my luggage stayed with the car, because I knew how cramped our cabin on the ship would be.
Eventually at 5pm, we were checked-in and we had boarded the ship about 5:10pm.
Indeed, the quarters were cramped, and it was clear that we wouldn't want to be spending that much time in our cabin except to sleep and shower.
We then attended an mandatory safety briefing given by a lady who seemed to be fluent in at least Norsk (naturally), English, German (though there were no one speaking Deutsch in attendance) as well as French.
That's pretty impressive, but then again, we figured Europeans tend to be more exposed to multiple languages and are more able to be multi-lingual as they're more apt to use the various languages on a daily basis.
We ended up eating a hefty-priced but good dinner buffet (that meal probably costed us at least $160 USD or thereabouts considering we paid probably nearly 1400 NOK).
The buffet consisted of all sorts of gluten-free options and they actually discouraged Julie from doing the a la carte dinner since almost all of those had some sort of allergen that she couldn't have whether it was gluten or dairy.
During that time, I also moved the car into the ship through a fairly lengthy process as they loaded one car at a time then surrendered the keys so crew would take over the positioning of the car once I got it on the ship.
When all was said and done, it was about 9:25pm when Tahia and I went to the jacuzzi, but that was when I realized that I didn't have my swimming trunks with me (it was in the larger luggage sitting in the car).
So I had to sit only legs in the water but my pants every once in a while got splashed by Tahia.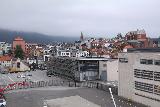 Still, she got to have her moment in the water, and we got to watch the boat tilt and move away from Bergen's harbor.
The weather by this time was cloudy and starting to rain just as the boat was taking off at precisely 9:30pm as scheduled.
And so we were off on our way to Northern Norway marking perhaps the longest and most uncomfortable part of our epic Scandinavian trip.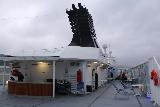 I knew we'd be dealing with very long driving distances, but since we've got an automatic car, maybe Julie can help relieve me when I'd get too road fatigued. Plus, we are taking at least three days of long driving away from the trip by using the Hurtigruten.
We'll see how it all plays out, but I don't expect it to be as exhausting as our first trip to Norway back in 2005, when I was really sleep-deprived and really underestimated what it took to get from Trondheim to Storslett then finally to Tromso.
In this time around, we'd be cruising from Bergen to the Lofoten Islands, then driving from there all the way to Nordkapp before returning gradually all the way down to Kristiansand. And from there, we'd be ferrying to Denmark and driving all the way back to Stockholm to end off this epic trip…